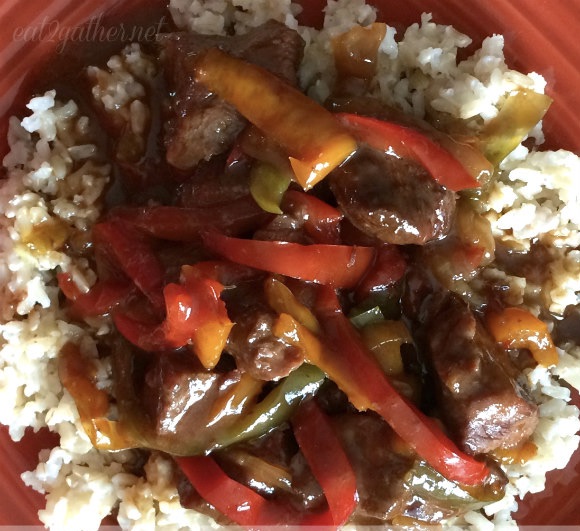 Getting my family around the table all at the same time never gets any easier!  Let me say this, if you have little ones that are not in evening school activities and sports,  ENJOY!  Make meal time a priority.  Get those cute snot nosed faces around the table no matter how hard it may be to keep them seated for more than 10 minutes, JUST DO IT!  Believe it or not you will miss these days.  I look back at how frustrated I used to get about meal time, all the whining, wiggling, and fussing but at least we were all together around the table.  That's what really mattered.  Not that meal time was perfect, but that we were together!
My kids tease me now, when we finally get our hineys seated around the table at the same time, inevitably someone says "hey! we're eating 2 gather!!".  LOL.  They're so sassy.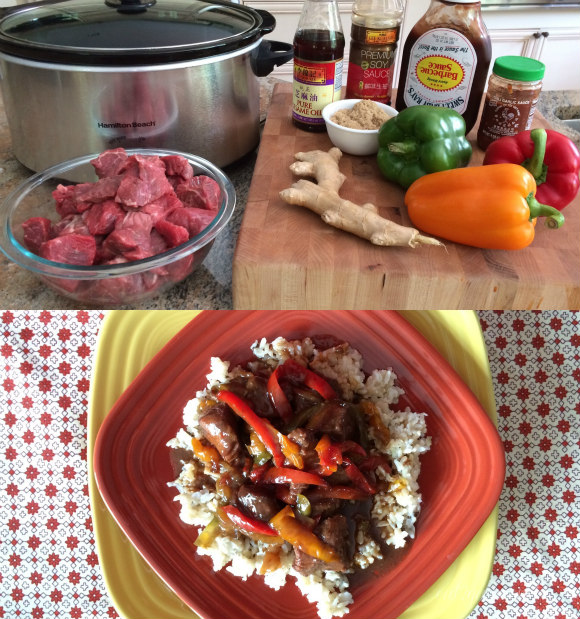 I'm missing my oldest.  He left for the U of M on September 4.  I'm still numb and my eyes are constantly on the verge of over flowing.  If I blink too hard water squirts out.  The littlest things set me off.  Like coming across a t-shirt in the laundry that didn't make the cut for college, mail addressed to him, and making any of his favorite foods.  I always want to send him a picture of what he's missing at the dinner table….like a "hey wish you were here" post card type thing, but maybe that's not a good idea.  I don't want him to be sad about what he's missing for dinner at home, I honestly want him to enjoy every minute of college life and well get good grades!  I feel guilty sometime that I'm so sad about him going, I just miss him.  I like all my kiddos close by, but I know that's not realistic, so I'm praying really hard about embracing this stage of life.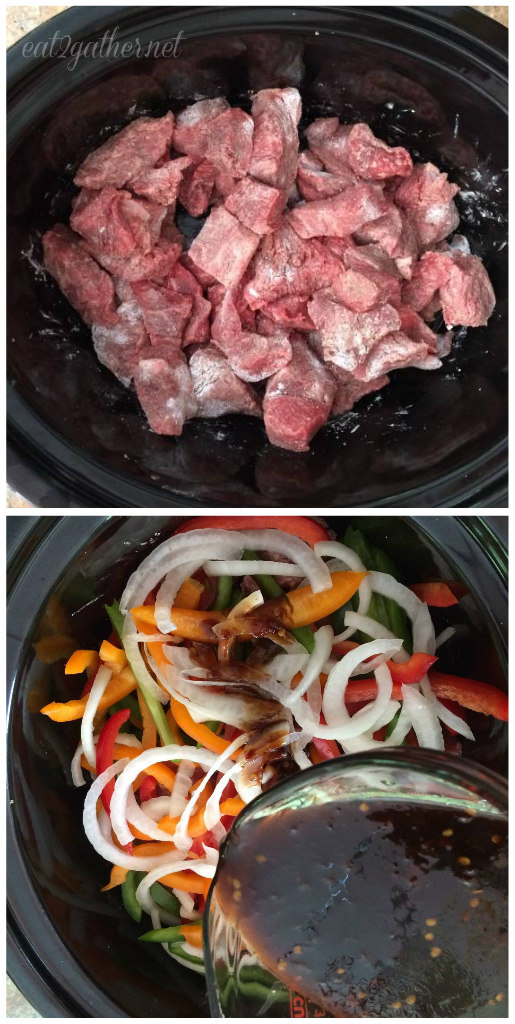 Slow cooker Korean bbq beef is a favorite of Noahs!  Hey No (that's what I call him, sometimes I call him NOwah, sometimes I call him Cuzzy, but mostly when I think about it I just call him No) this ones for you buddy!  Maybe you can pass it on to your friend Nort who's roommate is all into crock potting.  I'm laughing out loud right now….LOLing about Matts crock potting roommate.
[print_this]
Slow Cooker Korean BBQ Beef
serves 6
3 pounds Beef Stew Meat
3 tablespoons Corn Starch
1 tablespoon Sesame Oil
3 Peppers, multi colored, cored and slice thinly
1/2 sweet Onion, sliced thin
1/2 cup Brown Sugar
2/3 cup Soy Sauce
1 1/2 tablespoons Chili Garlic Sauce
1 tablespoons finely grated fresh Ginger (or 1 teaspoon ground Ginger)
3 tablespoons bottled Barbecue Sauce, my favorite is Sweet Baby Rays Original
Toss meat with corn starch, place in slow cooker, drizzle with sesame oil. Layer onions and pepper over meat.  Mix remaining ingredients together in a bowl whisk to combine. Pour over meat and vegetables. Cook on low for 6-8 hours or on high for 4-5. Serve over rice with a side of green vegetables such as broccoli, beans, peas or asparagus.
Enjoy!
Freezer Meal directions:  Place meat, and cornstarch in a one gallon sized freezer zip-loc bag, toss. Place onions and peppers in bag with meat.   Whisk together remaining ingredients; sesame oil, brown sugar, soy sauce, chili paste, garlic, ginger, bbq sauce pour over meat and vegetables, remove as much air as possible and seal.  Label bag with cooking directions, freeze.  When ready to cook, thaw and cook as directed above.  Or you can place in slow cooker frozen and cook on low for 8+ hours.
[/print_this]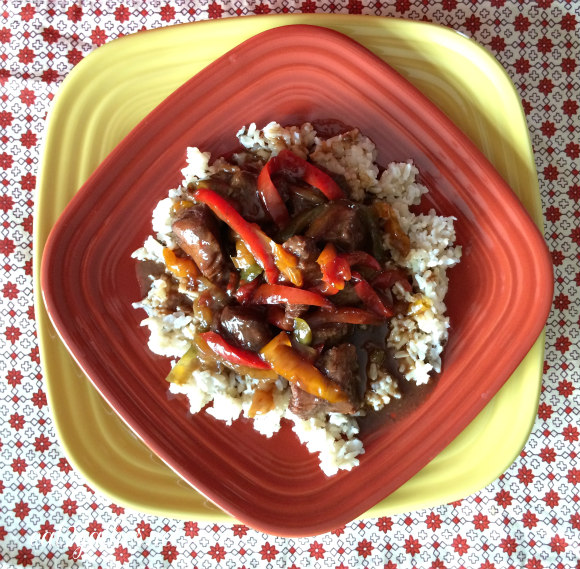 What's meals send your family running to the table??  Feel free to share links or full on recipes in the comments!
XOXO, Sheila
PS  I feel the need to give my super smoochy husband of 21 years a shout out today.  Happy Anniversary Kenny!  I'm a lucky gal!
Looking for more slow cooker recipes that will help you spend more time with your family and less time in the kitchen? Look no further!!
Follow Eat2gather 's board Crock Pot Recipes on Pinterest.