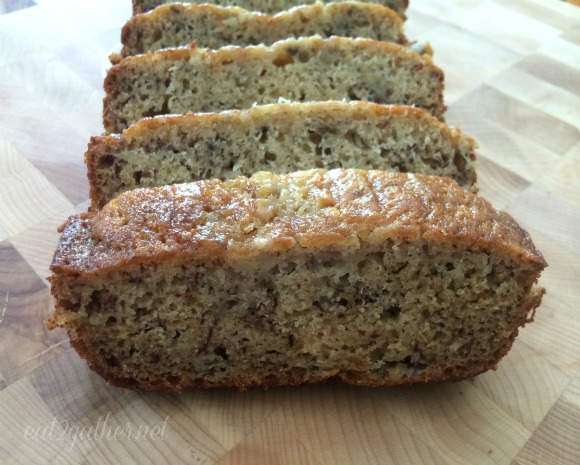 Banana bread is a bit like chocolate chip cookies…like really everyone claims to have "the best' chocolate chip cookie recipe.  There are a gazillion recipes for banana bread out there.  How can this one be the best?  How can I claim that this IS the best banana bread, clearly this issue is subjective.  But hey this is my blog right, I can claim what I want to.  But seriously folks.  THIS.  IS.  THE.  BEST.  BANANA. BREAD.  EVER!!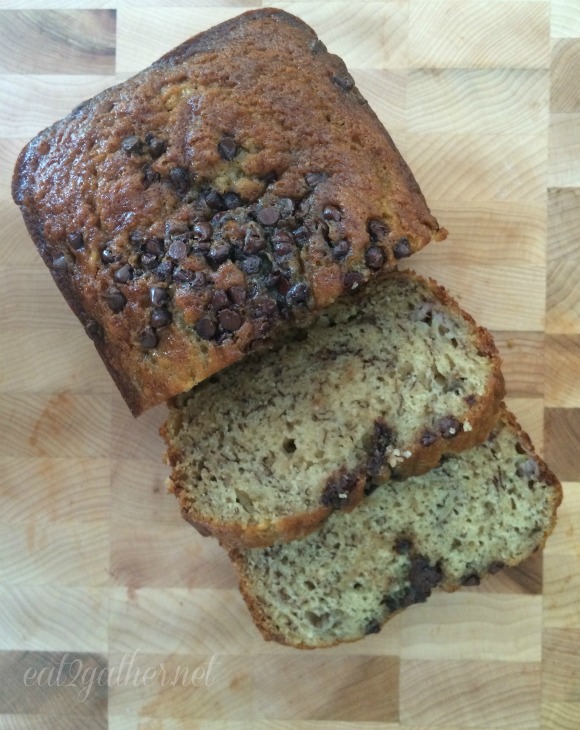 I can claim this because I have heard with my own ears,  more than a hundred times, "THIS IS THE BEST BANANA BREAD EVER!"   And truthfully it is.  I always turns out.  It never flops in the middle.  It bakes evenly.  It's super most, but not wet and gummy.  It freezes really well.  Let's see what else can I boast about this bread?  It tastes amazing!  I think it's the vanilla and the smidge of cinnamon, which BTW I sometimes add a pinch of nutmeg too, it's not enough spice to really stand up but just a enough to give this bread a spin on its heal.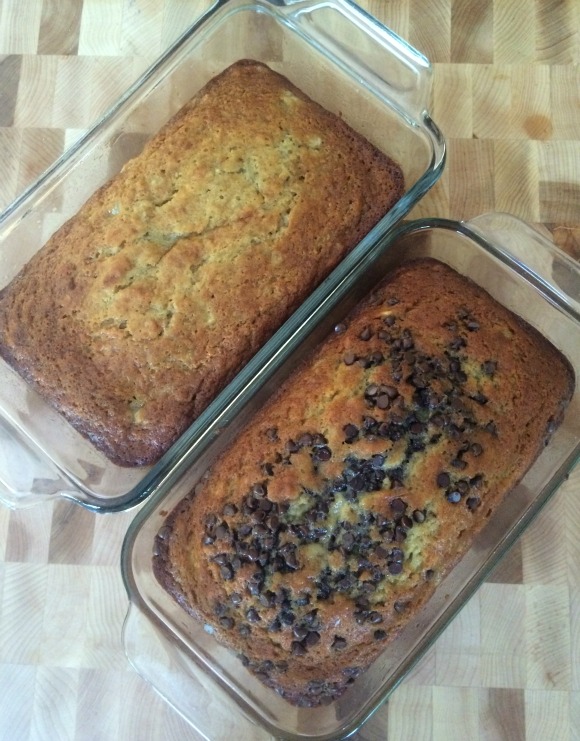 As you can see some people like their bAH-new-new bread (A certain senior in high school may or may not have called banana bread bah-new-new bread when he was three.) with chocolate chips.  Easy enough!  Add in 1 cup of mini chocolate chips.  Why NOT regular chips?  Well, because they add blobs of chocolate and sometimes they sink to the bottom and burn…blahck…this is not good!  Same goes for nuts if you love nuts add a cup of your favorite nuts, chopped.  If some like nuts or chocolate chips however some do not, well then just sprinkle one of the loaves with add ins and EVERYONE will be happy!
[print_this]
Best Banana Bread
makes 2 loaves
1/2 cup Vegetable Oil
1 1/2 cup Sugar
2 Eggs
3/4 cups Buttermilk (see note below)
1 teaspoon Vanilla Extract
3 or 4 Bananas, mashed
2 cups Flour
1 teaspoon Salt
1 teaspoon Baking Soda
1/2 teaspoon Baking Powder
1/2 teaspoon ground Cinnamon
Preheat oven to 350 degrees, spray 2 loaf pans with non-stick cooking spray or spread a thin layer of butter or shortening on the inside of each pan before adding the batter.
Mix sugar and oil on high-speed until light and fluffy, add eggs one at a time beat until just combined. Add vanilla to buttermilk slowly pour into sugar mixture while mixing, add smashed bananas continue to mix. Measure out 2 cups of flour add salt, baking soda, baking powder, and cinnamon to flour, mix in with measuring spoon. Gradually add dry ingredients to the wet until completely combined. Scrape sides of bowl with a spatula and mix for another few seconds. Do not over mix batter.
Pour batter into prepared loaf pans and bake at 350 degrees for 45 minutes or until toothpick comes out clean or when lightly pressing down on the top of bread it pops back. Allow bread to rest or a few minutes before inverting loaves on to a cooling rack. You may need to run a knife around the edges of the pan before inverting. Wrap cooled bread in aluminum foil or store in a zip-loc bag.
Enjoy!
Best Chocolate Chip Banana Bread ~ add 1 cup mini chocolate chips to the batter. Or if some like chocolate chips and some don't, you can sprinkle 1/2 cup over the top of one of the loaves.
Best Banana Nut Bread ~ Same goes with nuts; add 1 cup chopped nuts (your favorite variety) to the batter or sprinkle on the top.
Note: If you don't have buttermilk on hand no worries you can make your own! Add 1 tablespoon lemon juice or white vinegar to 1 scant cup of milk, stir, allow to sit for 5-10 minutes at room temperature.
[/print_this]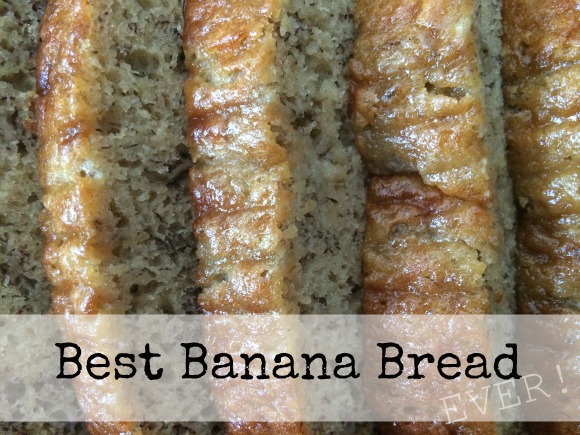 So there you have it!  The Best Banana Bread EVER!  I  was shocked that I had not shared this recipe before.  One of Ainslie's friends had been at our house, eaten some banana bread, went home and wanted to make it, but couldn't find the recipe here!  So here it is Emma.  This recipes for you kiddo!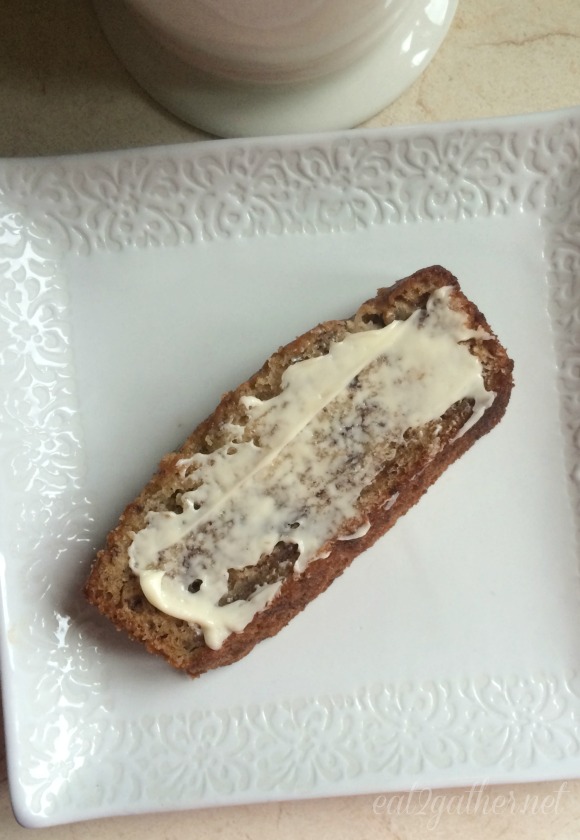 Here's a horrible little trick my mother taught me.  Spread cold salty butter on a slice of  sweet warm bread and let it melt in.  It's ghastly I tell you!  Simply awful.  Never ever try it.  Unless your into adding random fat calories to your diet.  I happen to be one of those people.  Butter.  Bring it on!
Enjoy this holiday weekend!  Hey make some bread and bring it to a friend 😉
Your welcome, Sheila