As declared by my family these buttermilk pancakes are the worlds best! No one can even come close to how fluffy, moist, and tender these pancakes are, and the best thing is they can be whipped up in minutes, no need to leave the comforts of your home!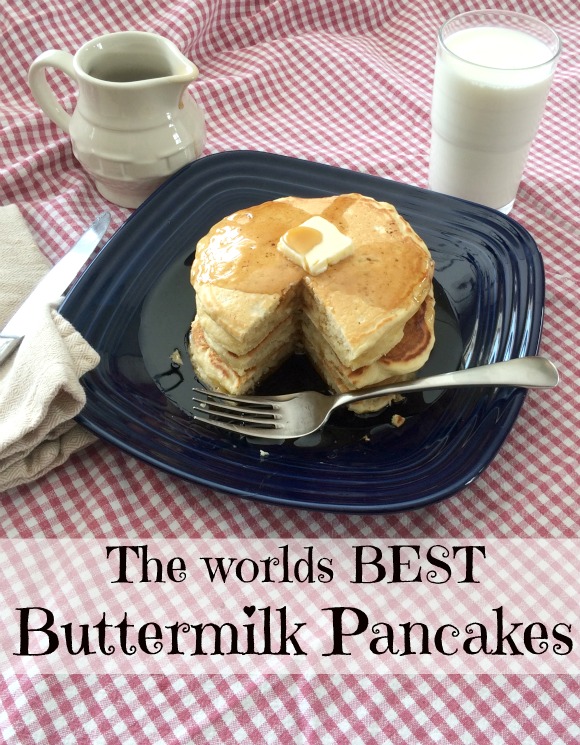 My children are my biggest critics, when it comes to cooking, so when they say that something I make is the best, even the worlds best, I puff my chest out, put my goofy grin on, and run with it!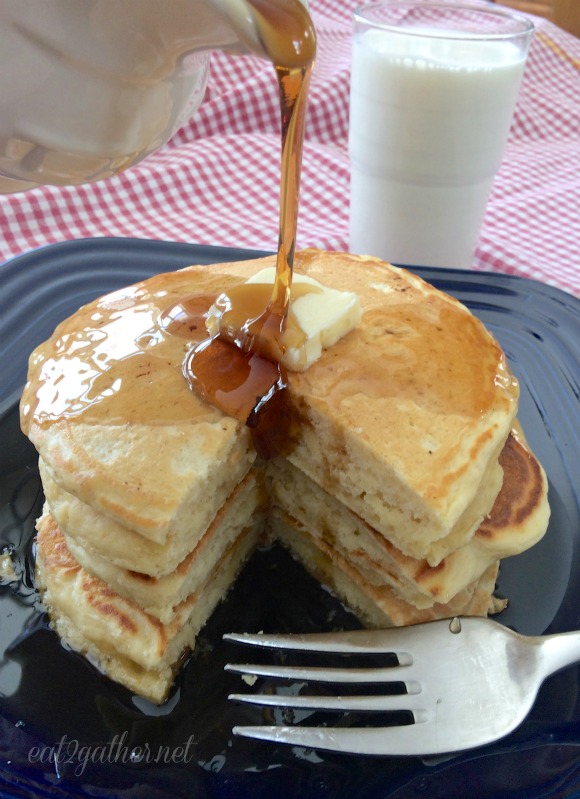 We love to eat breakfast out, but rarely does anyone of us ever order pancakes.  Why? Because it's always a disappointment.  Delicious tender pancakes are so easy to make why is it that so many restaurants mess them up?
Here are a few of my theories: #1 They're from a box!  YUCK!  They are not home-made/from scratch.  #2 They don't use real butter, or enough eggs.  #3 They use too much baking soda, I've tasted it, like a bitter blah taste….eeegs, er maybe that's the bisquick I'm tasting. Whatever it is its gross, and it saddens me to think that most people don't know what a good pancake tastes like!!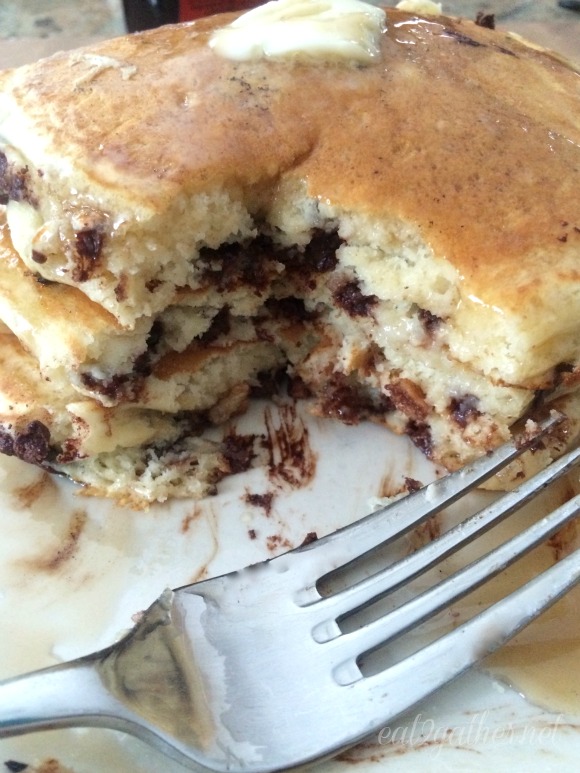 Another reason my family isn't a fan of pancakes in restaurants is because they LOVE chocolate chip pancakes, and Chocolate Chip Pancakes are something that no restaurant can get right!  Not that we've found anyway.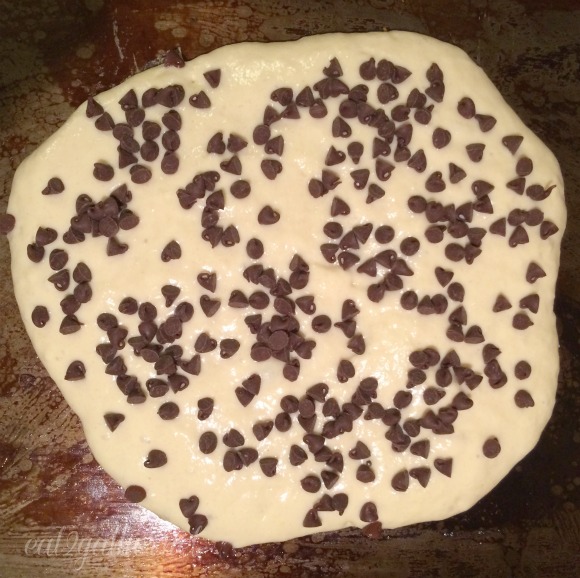 The key to perfect chocolate chip pancakes is MINI chocolate chips, lots of them….more cowbell!  Place your pancake batter on the griddle/pan sprinkle generously with mini chocolate chips, then with your spatula gently poke them in to the batter.  The reason for this is if you don't poke the chocolate chips into the batter right away,  covering them up with a little bit of batter, when you flip the pancake the chips burn and you have a burnt chocolate chip pancake.  Also the mini chocolate chips melt into the pancake allowing for the tender moist texture of the pancake to shine through without a big lump of (burnt) chocolate chip in every bite.
My Pancakes are perfect. Call me a bragger.  I know its sinful to boast, but well these pancakes are darn good!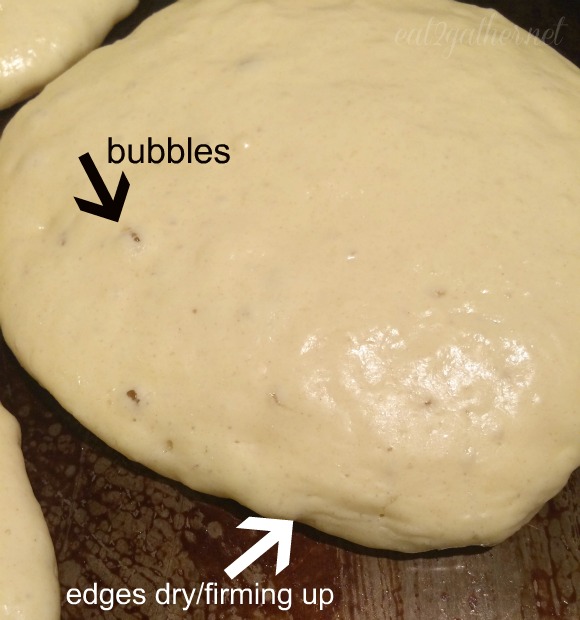 A couple of things about this pancake batter and how to make the perfect pancake.  1. It's thick.  It's ok if it seems a little lumpy.  It should not spread easily on the griddle,  it should need a little nudge from your spatula to get it moving into a round shape.  2. How to know when to flip? When the edges are looking dryish (that's a word) and bubbles are starting to pop through the surface, then flip. Not before.  3. Never, ever flatten a pancake with the  back of your spatula!!!!  This a pancake not a grilled cheese sandwich!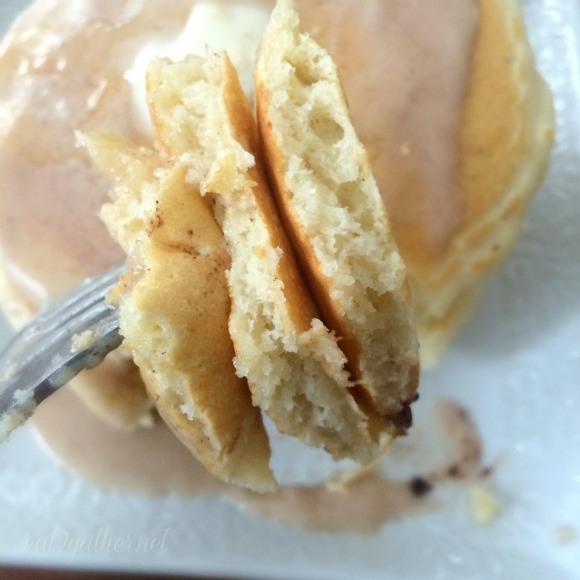 Sigh….MMMMmmm there you have it the worlds best buttermilk pancake!  Are you drooling?  I am. Tender, buttery, moist, these pancakes will most certainly get your family around the table!
[print_this]
Buttermilk Pancakes
makes 8 (depending on size)
3 cups Unbleached All-purpose Flour
1 tablespoon Baking Powder
1 tablespoon Sugar
1/2 teaspoon Salt
2 cups Buttermilk + more if needed (see note below for making buttermilk)
2 Eggs
1 teaspoon Vanilla
4 tablespoons Butter, melted and slightly cooled
Easy as 1, 2, 3!
1. Mix first four ingredients together in a medium sized bowl.
2. Whisk together buttermilk, eggs, and vanilla
3. Combine wet and dry ingredients.   Stir in melted butter until combined. Batter does not need to be smooth, it will be somewhat thick and clumpy. If it seems too thick add a splash or two more of milk.
Spoon onto a hot griddle, wait until bubbles start to form on top of pancakes, and the edges appear dry before flipping.
Enjoy!
NOTE on how to make your own buttermilk: If you do not normally have buttermilk on hand, this is an easy alternative.   Add 1 tablespoon of white vinegar per cup of milk.  Pour cup of milk, just under the measurement line, and then add vinegar, let stand 10 minutes before using.  (Psst 10 minutes is a very long time in my kitchen, sometimes I only get 5 minutes in before I use the milk.)
[/print_this]
I am in Louisville this weekend with my girls and my sister.  We are here for the Blue Grass JVA volleyball tournament, my oldest daughter is on a 17u nationals team this year, so we have been on the road many weekends for volleyball.  It has been busy, but fun, and this weekend we get to have my Seestor with us so we are super excited to spend time with her.  Who knows maybe we will get time to see if anyone in Louisville knows how to make a good pancake!  LOL! By the way I am super duper self-conscious about how to say Loo-Ah-vuhl.  Did I get it right?  It's not Loiy-ville?  Or is it Lu-es-ville?  I feel like when I say Loo-ah-vuhl, I'm pretending to have a southern accent or being some sort of imposter….aaahhh maybe I'm over thinking it.  I'm still scarred from the time I was in Oregon and I kept saying Or-eh-GON, and a dear sweet friend corrected me and said "ya know, no one says it like that….it's Ore-ah-GUN."  Oops.
Well have a good weekend Ya'll 😉
XOXO, Sheila
PS If you are wondering what is on the pancakes in the last picture, well then stay tuned I will be sharing with you some alternatives to topping your  pancakes with syrup.  You won't want to miss this one, its a doooozy! As in lip licker, bib wearer, drool extractor.