Pasta Salad with Lemon Yogurt Dressing
Pasta Salad with Lemon Yogurt Dressing is fresh, healthy and full of Spring flavors!  It pairs perfectly with any grilled meat or to eat on its own for a light and refreshing lunch option.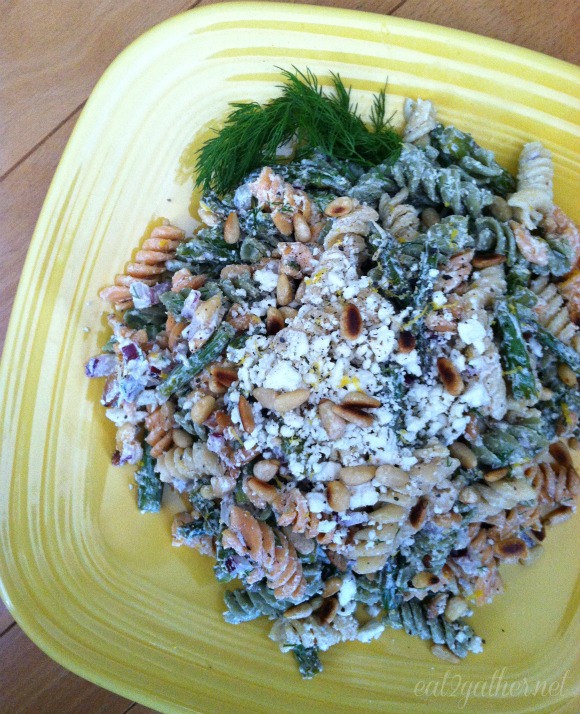 After this endless winter I think we could all use some fresh, healthy recipes to brighten up our lives!  When I think Spring flavors asparagus immediately comes to mind! I love asparagus, and when it's in season in Michigan I cannot get enough of it.   The flavorful yogurt dressing with lemon, and dill is fresh and bright and it pairs perfectly with asparagus!  Did you know that 3 servings of low-fat or fat-free milk, cheese or yogurt each day as part of a nutrient rich, balanced diet may help maintain a healthy weight?  I am all for anything that tastes great and helps me stay healthy and maintain or even lose weight!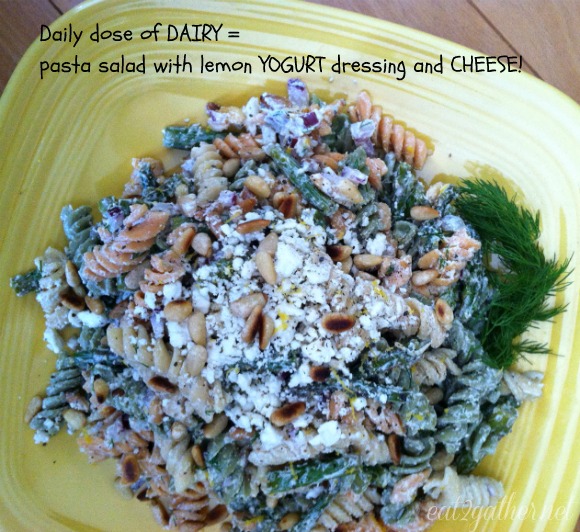 I always keep yogurt on hand for a snacking.  Snacking on healthy dairy foods between meals helps keep hunger in-check without breaking the calorie bank!  Most of us need to add at least one serving of nutrient rich dairy to our diet to meet the daily recommendations.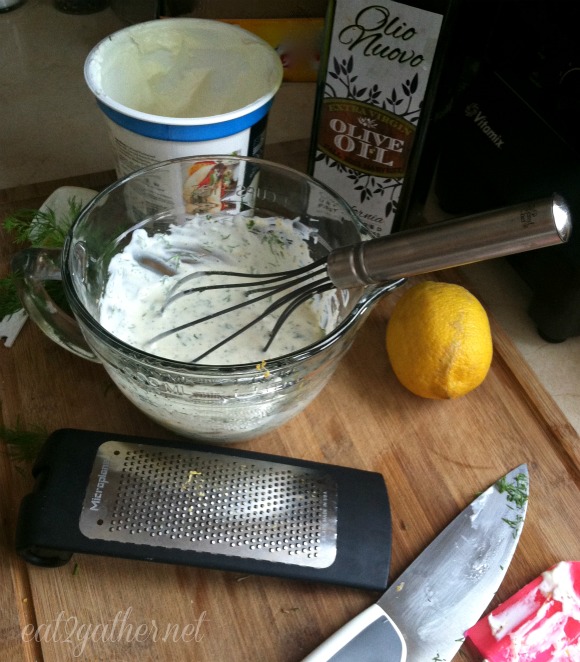 I love using Greek yogurt in place of mayonnaise in recipes.  It lightens the recipe up while at the same time packing a punch of protein that will keep you energized and full longer.  Greek yogurt is my goto yogurt, but not everyone in my family is a fan, so we always have regular low-fat yogurt on hand for snacking and using in smoothies and salad dressings.
What's your favorite way to get your recommended daily dose of dairy?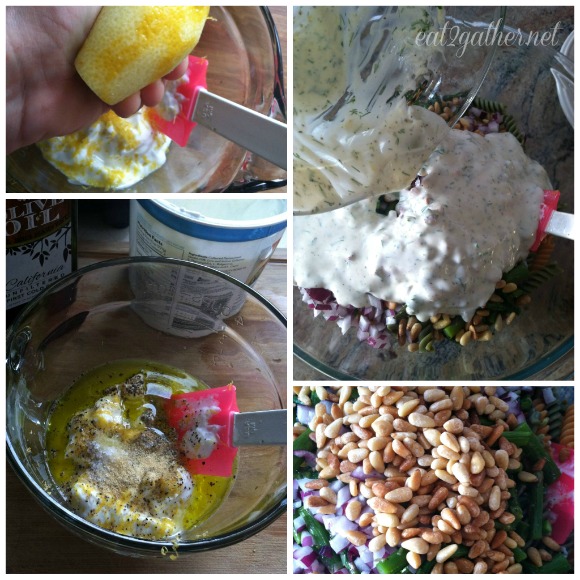 This pasta salad is so versatile, you should feel free to make it your own. If I had olive lovers in my house I would have added chopped olives for sure!  Not a lover of asparagus, leave it out or substitute your favorite vegetable.  This recipe is great as a side to grilled fish, lamb, or chicken or just on its own for a light lunch.  It's perfect!
Go GREEN!  Yes I am a Michigan State fan, but that's not what I'm talking about.  Green as in we need SPRING! Well yes we do, but that' really not what I was trying to say either.  Go GREEN as in get more vegetables and fruits in your diet!  Pairing dairy, like cheese, milk and yogurt,  with fruits, vegetables and whole grains will help people eat more of the recommended food groups!  So again I say, "GO GREEN…with dairy!" 😉
I also think of recycling when I think green.  Did you know that dairy farmers are some of our nations best recyclers?  Cow manure is used as an organic fertilizer for crops and compost, which may be used by neighbors when planting their gardens or crops in the springtime.  The water used on farms is recycled several times each day to wash alleyways in dairy barns and to irrigate the fields.  Dairy farmer are working hard to reduce their carbon footprint! That gallon of milk in your fridge (or if you are us that 4 gallons of milk in your fridge) is produced with 90% less land, 65%  less water, 75% less manure and a 63% smaller carbon footprint than in 1944!  I had the chance to see this first hand when I  traveled to Ohio a while back and visited several dairy farms, it was super cool to see how it all works up close.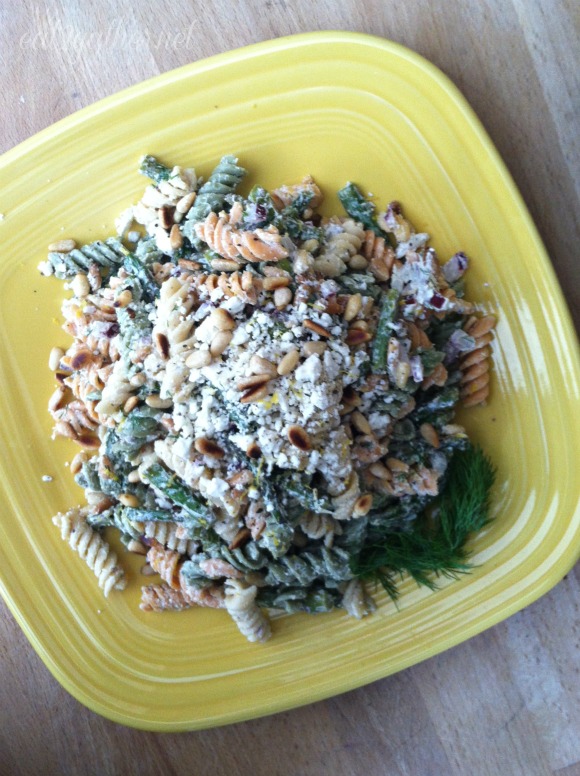 You can find the complete recipe for Pasta Salad with Lemon Yogurt Dressing (and cheese) on the American Dairy Association Mideast's website.  Dairy, fresh citrus, green vegetables, and whole wheat pasta, this salad packs a nutritious punch!  Full of flavor and good for you too!  What's not to like?!  You can find more dairylicous recipes like this at DrinkMilk.com.
Enjoy, Sheila
Disclaimer:  I am being compensated by the ADA Mideast, for the recipe development and writing of this post. I will be representing the American Dairy Association Mideast at Blogher Food in Miami in May. Stay tuned for more healthy and amazing recipes featuring dairy!