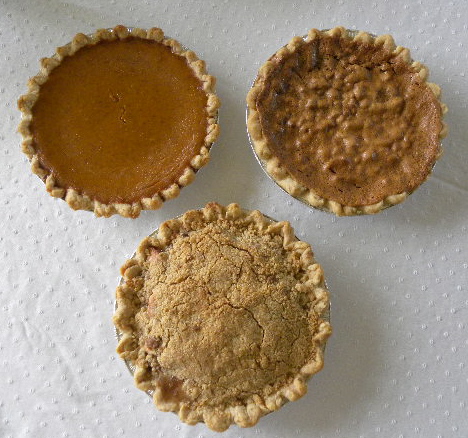 Dutch Apple, Maple Pumpkin, and Pecan Pie are the three pies that will always be found at our Thanksgiving Day table.  Every once in a while my sister or I will get a bug in our bonnet and try a new fangled pie for Thanksgiving Day dessert, but inevitably we always say, "it's good BUT I think I like.blah…blah.. and blah better!".  These three pies are our tradition they are what we look forward to on Thanksgiving Day.
What's your pie/dessert tradition on Thanksgiving Day? 




I wanted to start PIE WEEK by  sharing all three of our Thanksgiving Day Pies.  All three of my pies can be found in my recipe box at Tasty Kitchen….feel free to browse my recipes at Tasty Kitchen any time.
Here is where you can find my crust recipe.  Every amazing pie starts with a really good crust!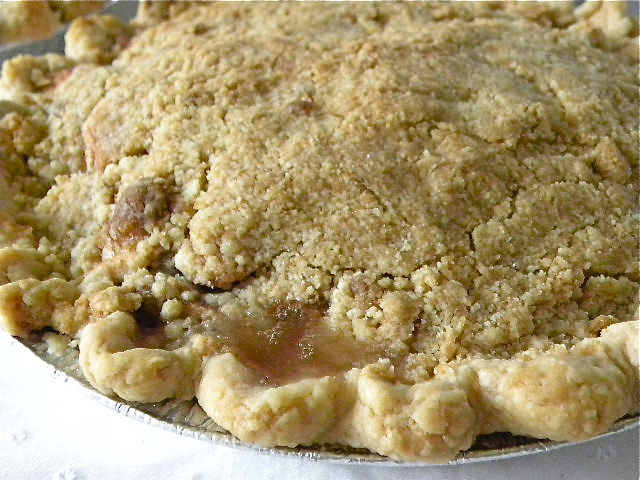 Dutch Apple Pie
Printable recipe found at Tasty Kitchen
5 whole Apples, cored, peeled and sliced
3/4 cups Sugar
2 tablespoons Flour
1 teaspoon ground Cinnamon
1 dash Nutmeg
1 9″ Pie Crust, unbaked
Crumble Top
1/3 cup cold Butter
1/3 cup Brown Sugar
3/4 cup Flour
Core, peel and slice apples.  toss apples with granulated sugar, flour, cinnamon, and dash of nutmeg.  Roll out pie crust, put rolled out crust in your pie pan, crimp edges, and fill crust with apple mixture.  Crumble Topping: combine butter, brown sugar, and flour until mixture is a crumbly consistency.  I use my food processor but a fork works just as well.  Pour crumble topping over apples, make sure it gets in all the nooks and crannies of the apples.  Bake in 350 degree oven for 60-70 minutes.  Let pie set for 30 minutes before cutting.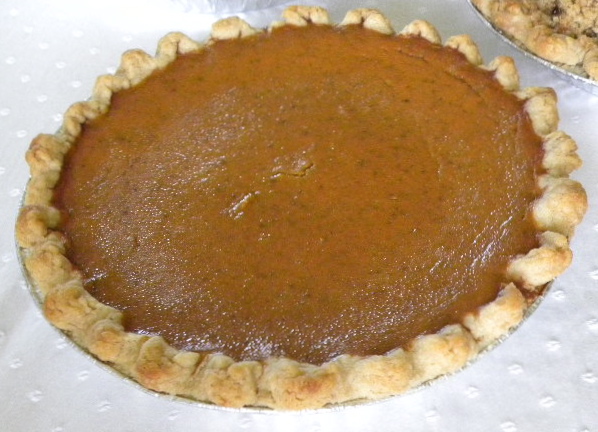 Being from Michigan, I like to use maple syrup to sweeten up my recipes every chance I get.  Maple adds the perfect OOMph! to Pumpkin Pie.  I am not even sure people quite detect it, but they definitely can tell there's something extra special in this pie when they eat it.  Serve Maple Pumpkin Pie with a dollop of maple syrup sweetened whipping cream and you will think you are in pie heaven!
Maple Pumpkin Pie
Printable recipe found at Tasty Kitchen
1 9″ unbaked Pie Crust
1 15 ounce can Pumpkin puree plain
3/4 cup granulated Sugar
2 whole Eggs
2 1/2 teaspoons Pumpkin Pie Spice
1/2 teaspoon Salt
3 tablespoons real Maple Syrup
1 12 ounce can Evaporated Milk
Preheat oven 425 degrees.
Roll out pie crust.  Place pie crust in pan, and crimp the edges real purdy.  Mix remaining ingredients in order given for 2-3 minutes, until smooth and creamy consistency.  Pour into unbaked crust.  Bake at 425 degrees fro 15 minutes, then turn oven temperature down to 350 degrees and bake for an additional 40-50 minutes, until pie does not appear fluidy in the middle, and a cake tester comes out clean.
Let pie cool completely before cutting. Serve with Maple Syrup spiked whipping cream.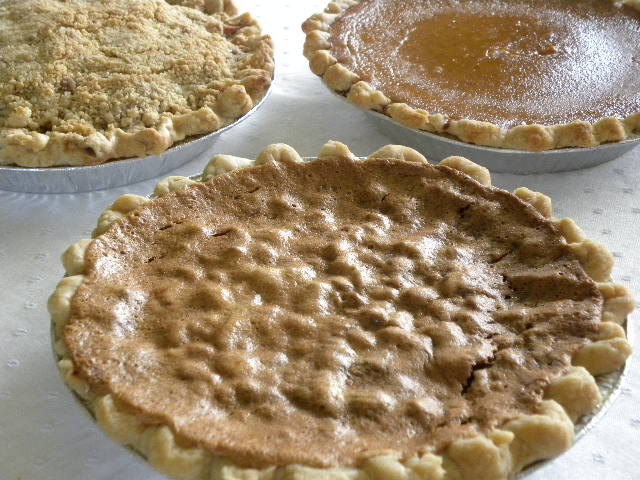 Oh my, my, my, MY! I do love me some Pecan Pie. I've done my pie homework and my studies have shown that people are very particular about their Pecan Pie. I too am particular about this pie. The filling has to be buttery and dark, with bits of chopped pecans mixed in, the crust needs to be substantial, don't wimp out on the edges of the crust…just because there isn't any fruit in this pie doesn't mean it shouldn't have a purdy crust, plus after a super buttery sweet piece-O-pie you need a nice crust cookie to bring your palate back down to earth. Last year I baked 70 some pies for a fundraiser, and my Pecan Pies got the rave reviews.
If you've ordered Pecan Pie in a restaurant and the gelatinously sweet, gooey middle with a few stale crumbs of pecans turned you against Pecan Pie forever….I beg of you please, please give Pecan Pie one more chance.  I'm on my knees people….
Pecan Pie
Printable recipe found at Tasty Kitchen
1 9″ Pie Shell unbaked
3 whole Eggs
2/3 cup Granulated Sugar
1/3 cup Brown Sugar
1 cup Butter, melted
1 cup Dark Karo Syrup
1/2 teaspoon Vanilla
1/2 teaspoon Salt
1 1/2 cup Pecans, 1/2 cup chopped
Preheat oven to 375 degrees.
Roll out pie crust and place in pie pan, crimp edges.  Combine all of the above ingredients (except pecans) in order in your mixer, mix until creamy, 3-5 minutes on medium speed. Chop 1/2 cup of the pecans, pour them in the bottom of the crust, lay the remaining 1 cup of whole or partially chopped pecans on top, pour pie filling over pecans. Lay a sheet of tin foil over pie, so the crust doesn't burn, being careful that the foil doesn't get stuck in filling, tent foil slightly. Bake at 375 degrees for 50-60 minutes.  Let pie cool completely before serving.
This week I'm going to show my true Pie Geek self to the world!
Are you a Pie Geek?
Do you have a pie that you would love to share?
If you do get it out and dust it off because Tidy Mom is having a Pie Party!  Head on over there on Wednesday and SHARE your favorite pie recipe! Hip-hip-Hooray it's a Love the Pie Party!
If you want to DOUBLE SHARE you can come back here on Friday (and well, everyday in between please and thank you) and share your FAVE pie RECIPE in my Pie GEEK linkup!