Chicken Fajita Sandwiches
Chicken Fajita Sandwiches are a great way to make a scrumptious budget friendly meal that will satisfy your whole family.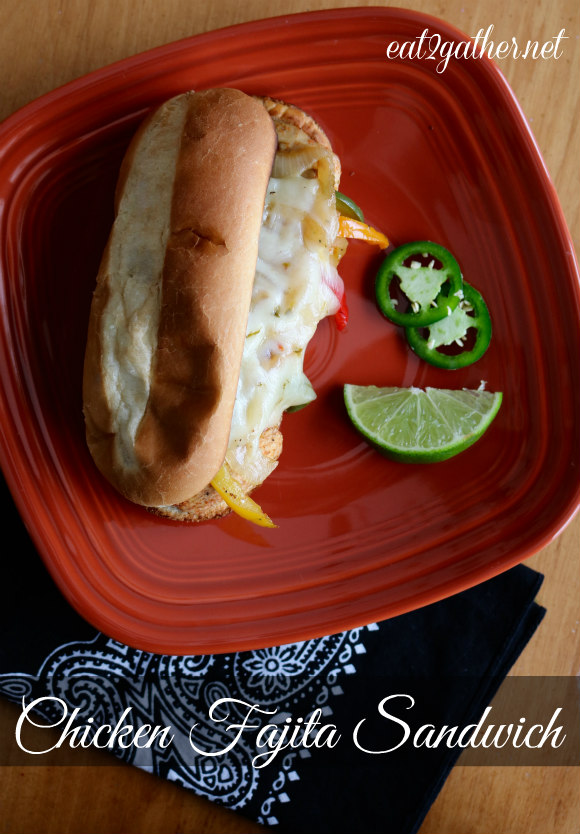 HAPPY 2016!!  I do like the idea of starting new, wiping the slate clean, getting a redo. I'm looking forward to making a conscious effort to cook healthier this year, and be more cost conscious.  We spend a lot of money on food.  Part of the problem is poor planning, on my part.  So I'm getting back to the menu planning and stocking the fridge and pantry with fresh food; yogurt, cheese, fruit, and veggies!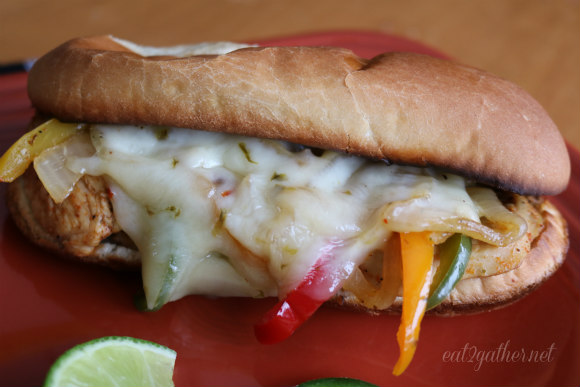 Growing up we lived on a very tight budget, but my mom always managed to get amazing meals on the table.  Now that I'm a big girl I can see that she was smart with how she shopped.  She used her freezer.  She bought on sale, and in bulk when possible.  She bought cheaper cuts of meat such as chicken thighs and legs, chuck roast, or pork chops.  She repurposed leftovers.   Nothing we ate was fancy, but it was delicious and for the most part all homemade.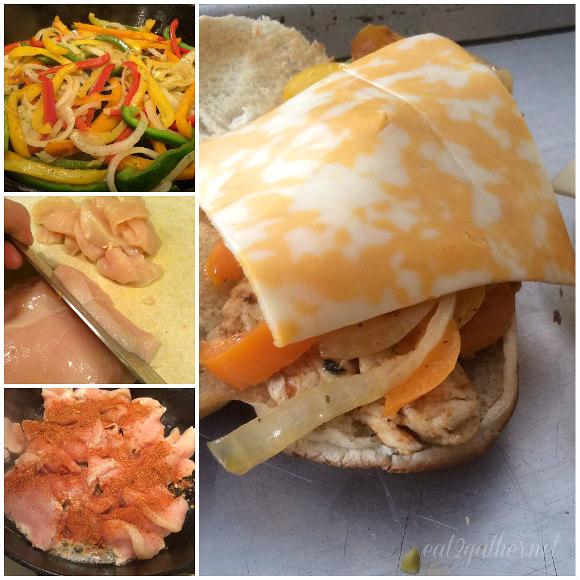 A great way to make a little go a long way is by making a meal out of sandwiches.  My oldest daughter loves sandwiches she would eat them morning, noon, and night if I would make them for her. You can stretch your dollar with Chicken Fajita Sandwiches by slicing two chicken breasts into thin slices across the grain you get enough chicken for eight sandwiches! Season the meat with a tablespoon of your favorite taco seasoning and Voila! you are on your way to an inexpensive and hearty meal!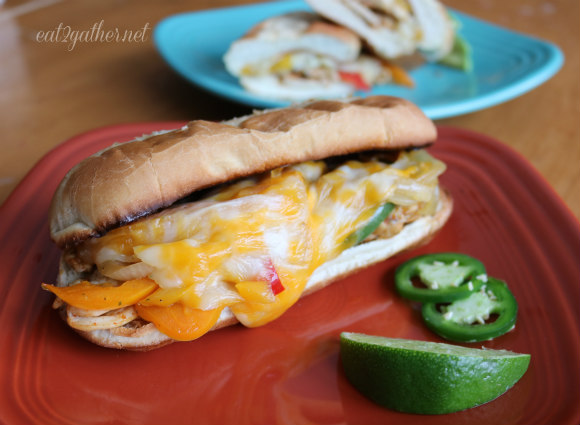 By making Chicken Fajita Sandwiches for dinner you can feed a family of four for less than $20!  You couldn't order a one sandwich in a restaurant for much less than that.  Add a small tossed salad and some tortilla chips with salsa as a side and your family will think they've just eaten at their favorite little sandwich shop!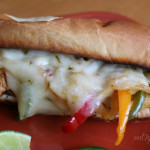 Print Recipe
Chicken Fajita Sandwiches
Quick scrumptious meal that will not break the bank!
Ingredients
2

tbsp

butter

1

cup

sliced onion

3

cups

sliced bell peppers (green, red, yellow or orange)

salt and pepper to taste

2

whole

boneless chicken breasts

approximately 1 pound of chicken

1

tbsp

taco seasoning

use your favorite brand

4

large sub buns sliced in half

8

slices

Colby jack or pepper jack cheese
Instructions
Melt 1 tablespoon butter in a large frying pan add peppers and onion, salt and pepper to taste. Saute over medium high heat, for 5 minutes intermittently moving vegetables around in pan. Once vegetables are starting to get soft and slightly brown, turn heat off and remove vegetables to a plate.

Remove any grizzle, tendons, fat from chicken and slice against the grain in very thin slices.(this can be done while you are cooking vegetables) Add remaining tablespoon of butter to pan when butter is sizzling add chicken slices and sprinkle with taco seasoning. Cook until all chicken is no longer pink, cooked through, and brown around the edges, about 5 minutes maybe a little longer.

While you are cooking chicken place buns open faced on a baking sheet and place in oven on top rack with broiler on low. Allow buns to just start to become brown, approximately 2 minutes. Remove and set aside.

Sandwich Assembly: lay slices of chicken on bottom half of sub bun, cover with peppers and onions, if using small buns lay a slice of cheese on top of vegetables. (larger sub bun calls for 2 slices of cheese) return sandwich to broiler and watch while cheese melts this will only take a minute so don't walk away!
Notes
Serve sandwich as is or drizzle with home 
buttermilk ranch dressing
. Add a small salad or corn chips and salsa and you've got yourself a meal!
Do you meal plan? I'd love to hear some of your strategies!
Thanks for a great year!
Sheila
Follow Eat2gather 's board Meal Plan Mondays on Pinterest.
Disclaimer:  I am proud to be a part of  blogger network that works with the United Dairy Industry of Michigan.  Thank you for helping support Eat2gather by supporting your local dairy farmers!