Everyone needs to have an easy versatile pasta salad recipe on hand for potlucks, lunches, last minute side dish.  This Tangy Pasta Salad is easy versatile, and full of flavor!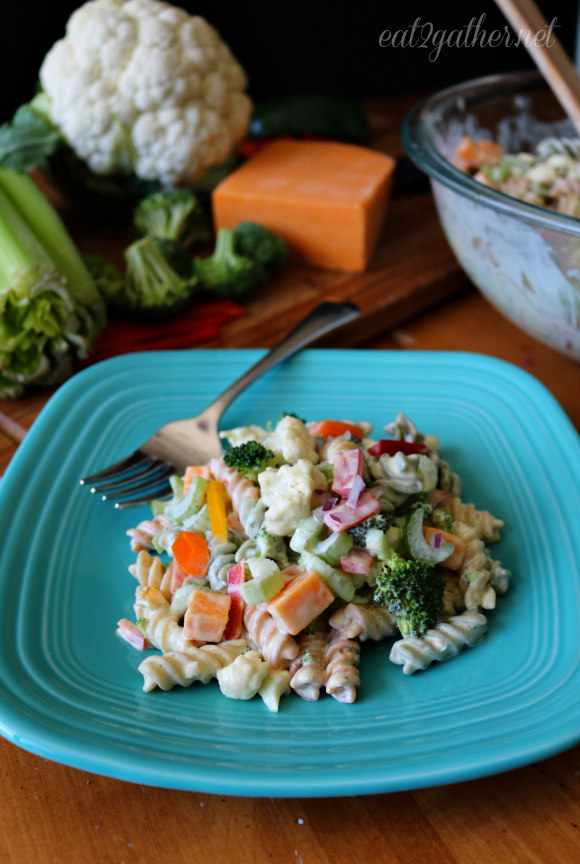 You can take my recipe below and make it your own with what ever vegetables and cheese you like or have on hand in your refrigerator.  I like to load it up with lots of colorful vegetables and small chunks of cheddar cheese.  Cheddar seems to be the crowd favorite but I have used Monterey Jack, and Colby.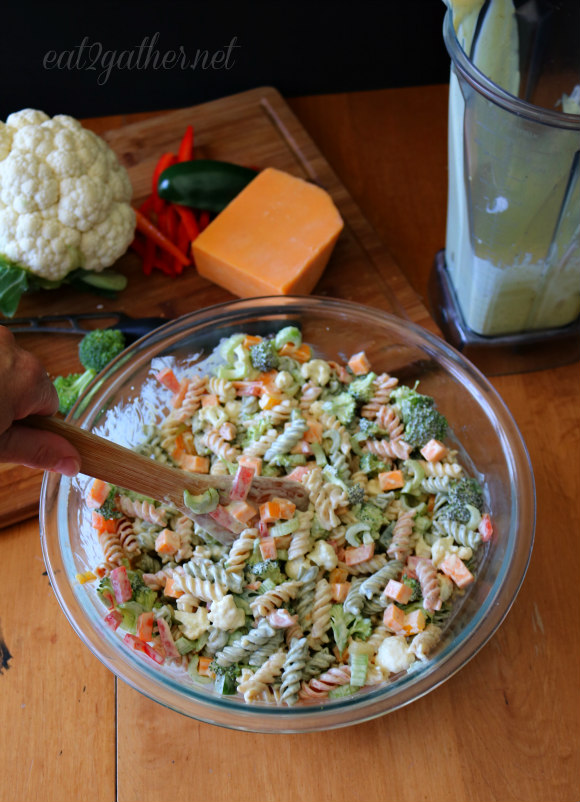 The first time I had this salad it was at a women's luncheon after a bible study, I hesitantly put a dab on my plate, ya know how you do at potlucks.  Either you don't want to be stuck with a whole plate full of something gross, or you just want to try everything, I'm always somewhere in between.  To be honest, I'm usually somewhat of a chicken at potlucks and I usually stick to what and who I know.  Well this tangy veggie filled pasta salad was so good, I went back for seconds and brazenly went back for thirds!!  Then after the fact I wished I would have figured out who's salad it was and procured the recipe, but I was too busy stuffing my face! Oink!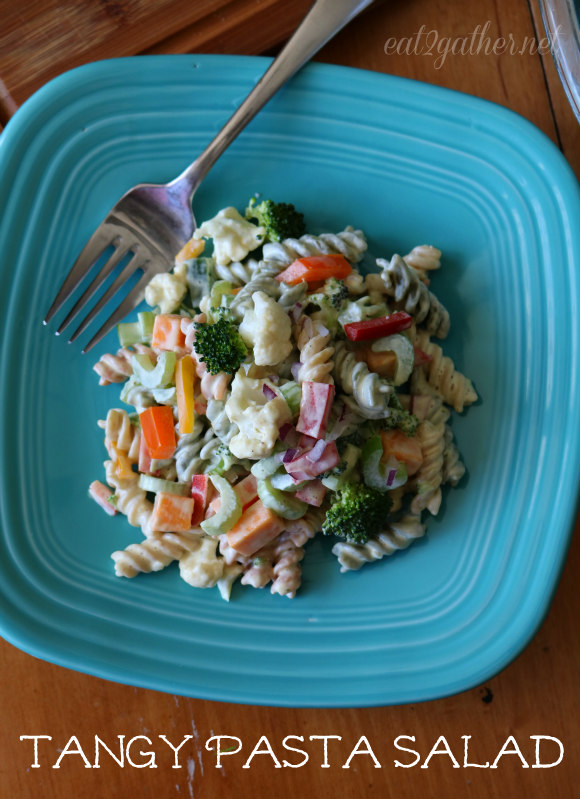 So after a few tries, and some sleuthing around about different tangy pasta recipes I came up with this tangy, and slightly sweet dressing with a smidge of mustard and a generous shake of celery seed, I think it comes pretty close to the beauty I sampled (scarfed down) at that ladies luncheon years ago.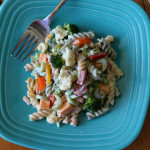 Print Recipe
Tangy Pasta Salad
 Tangy Pasta Salad is easy versatile, and full of flavor!
Ingredients
salad ingredients
1

pound

tri-colored rotini pasta

cooked el dente, and cooled

4

ounces

block mild cheddar cheese

cut into small cubes

2

cups

broccoli florets

but into small pieces

1

cup

diced celery

1

cup

diced red bell pepper

1

cup

diced yellow pepper

1

cup

diced green pepper
salad dressing
1/4

cup

sugar

1/4

cup

apple cider vinegar

1

cup

mayonnaise

1/8

tsp

garlic powder

1

tbsp

yellow mustard

1/2

tsp

celery seed

1/2

tsp

salt

pepper

to your taste
Instructions
Place cooked, cooled pasta in a large bowl along with vegetables, and toss together.

Pour dressing over pasta and vegetables, use your discretion I use all of the dressing, however if you prefer your pasta salad dryer you may not want to add all of the dressing. Stir to combine, cover, and place in refrigerator until ready to serve.
Notes
Note: If you want to add some meat to this salad, I have added diced ham or crumbled bacon and its delicious!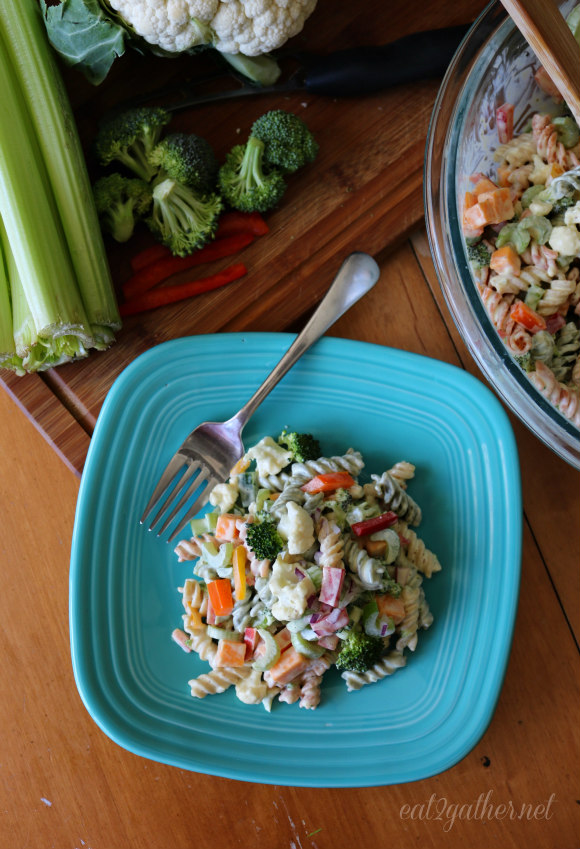 Hows that saying go?  "A good pasta salad recipe is worth more than gold."  or is it " A pasta salad in the hand is worth two in the fridge."?  no that's not it um er maybe its " There is no sincerer love  than the love of pasta salad!"
All so true, nothing better than to have a good ol pasta salad recipe in your recipe arsenal, great for a side dish, for lunch, a light dinner, and a perfect potluck dish!
Enjoy! Sheila
Disclaimer:  I am proud to be an ambassador for the United Dairy Industry of Michigan.  Thank you for helping support Eat2gather by supporting your local dairy farmers!