Book Club: Zeitoun and The Distant Land of My Father
I've got a little book club catch up to do with you all.  Our book club, "Babes under the Covers" meets every other month.  One would think this is a bit infrequent, but for me it's perfect.  It keeps me reading, but it's not too much pressure.  Sometimes I even have time to read a book of my choosing in between! Yeh Me!
The last update I gave you was on the book Room.  Since then we have read two more books.
Zeitoun was our November book.  It was not a group favorite.  In fact most of the Babes had a hard time getting through it.  I personally really liked it.  If not only to quell my guilt regarding my ignorance to all that happened to the city of New Orleans and it's people during and after Hurricane Katrina.  But you know me I often have my head in a pan.
Zeitoun written by Dave Eggers is a true story of what happened to Abdulrahman Zeitoun's family, and how they were "caught between America's two biggest policy disasters: the war on terror and the response to Hurricane Katrina."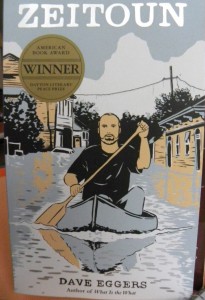 The book gives us the story before, during, and after hurricane Katrina hit New Orleans.  Don't get me wrong, I remember hearing about it on the news, my good friend Big D even went down soon after to help clean up.  I do remember her saying  "you cannot even imagine the mess down there, it's beyond what anyone could ever comprehend".  But "Oh well life goes on…..", until I read this book I really didn't get it, and I'm not sure I could ever "really get it" unless I had lived it.  But this book helped me to realized the true, sad, untold disaster of hurricane Katrina and how poorly it was handled.  Dave Eggers tells the story in such a way that, I felt as if I were there.  I could smell it, taste it, and my back hurt thinking of sleeping on wet cement caged up like an animal.  But you will have to read the book to see what that's all about.
Overall: Babes Under the Covers gave this a thumbs sideways. I will say the discussion was one of our best.  Funny how that is.
Details of the Night: Rebecca hosted and she kept the food simple but delicious.  She spruced up the buffet with Mardi Gras beads.  It was very fun and festive.  She also served her signature Cosmopolitan, which I will share the recipe for one of these days…..(wink).
January Book: The Distant Land of My Father by Bo Caldwell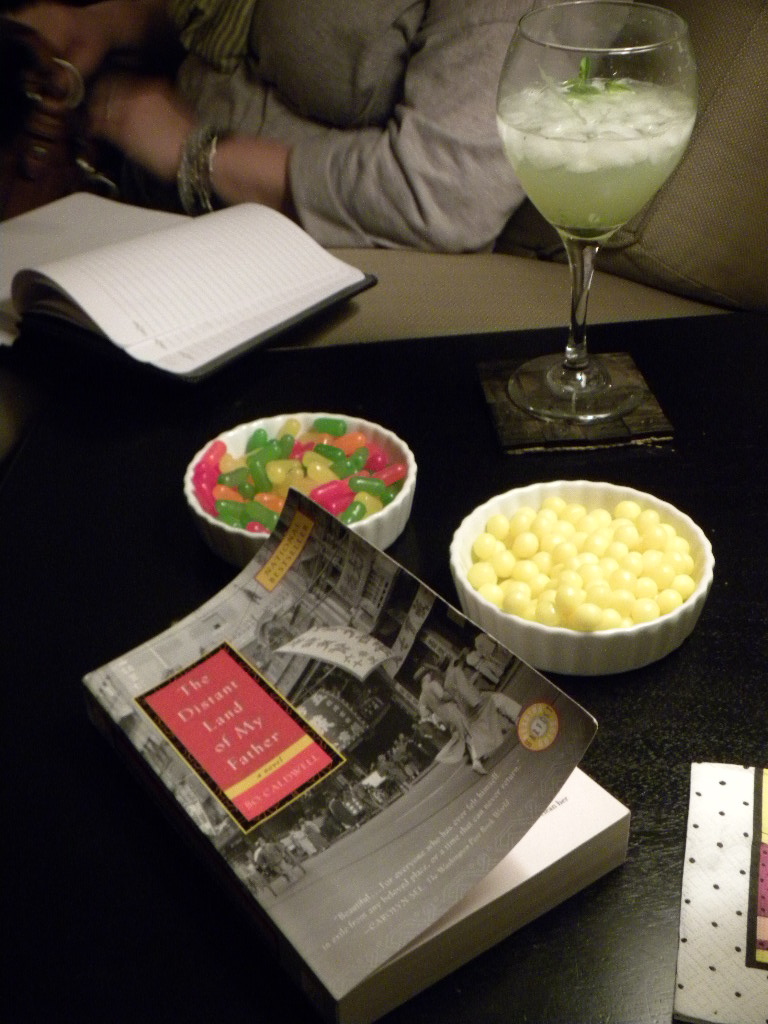 "Anna, the narrator of this riveting first novel, lives in a storybook world: exotic pre- World War II Shanghai, with handsome young parents, wealth, and comfort. Her father, the son of missionaries, leads a charmed and secretive life, though his greatest joy is sharing his beloved city with his only daughter. Yet when Anna and her mother flee Japanese-occupied Shanghai to return to California, he stays behind, believing his connections and a little bit of luck will keep him safe.
Through Anna's memories and her father's journals we learn of his fall from charismatic millionaire to tortured prisoner, in a story of betrayal and reconciliation that spans two continents. The Distant Land of My Father, a breathtaking and richly lyrical debut, unfolds to reveal an enduring family love through tragic circumstances."

We all loved this book. It was unanimous.  Most of us admitted to sobbing throughout.  Now here's the funny thing.  We were all not thrilled with Zeitoun but the discussion was good.  We all loved Distant Land,  but the discussion was wah, wah waaaaa….not great.  Maybe it hit too close to home with many of us,  and the relationships we have with our fathers, I don't know, but we kept getting easily side tracked.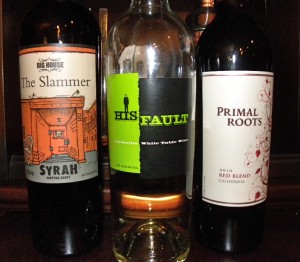 Details: Big D hosted.  She was very cleaver with her choice of vino, and how the names connected with the story.  Love it!!!  She also served Asian themed appetizers, and a Mojito with ginger infused simple syrup that was super yumm!
Overall: I think we would all recommend this book.  It was well written.  Although the discussion wasn't great.  It could have just been an off week for all of us.  I personally did not want the book to end, I kept thinking about the characters as if they were real.  I wanted to hear more of the story after it was all done.  To me that's a sign of a really good read.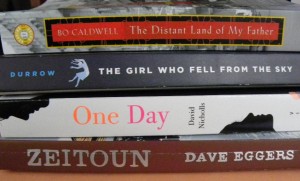 In between November and January book clubs I managed to read The Girl Who Fell From the Sky by Heidi W. Durrow.  I loved this book, my girlfriend who gave it to me did not.  It is a very unusual story, which is why I liked it so much.  I would agree with some words that other reviewers gave this book. " Achingly honest, hauntingly beautiful."
"This debut novel tells the story of Rachel, the daughter of a Danish mother and a black G.I. who becomes the sole survivor of a family tragedy.
With her strict African American grandmother as her new guardian, Rachel moves to a mostly black community, where her light brown skin, blue eyes, and beauty bring mixed attention her way. Growing up in the 1980s, she learns to swallow her overwhelming grief and confronts her identity as a biracial young woman in a world that wants to see her as either black or white."
I think the fact that our family is multi-racial made this book even more interesting to me personally. I give it a thumbs all the way up!
One Day by David Nicholls was a book I wanted to read last summer, but never got around to.  I didn't love it.  I think maybe I had been anticipating it for too long.  Have you ever done that?  I do that with movies all the time.  I want to see it, and then when I finally do, it's a let down.  (I've never seen The Titanic for just that reason, well and my fear of drowning……)  Girls friends of mine loved this book.  I liked it.  I didn't love it.
"It's 1988 and Dexter Mayhew and Emma Morley have only just met.  But after only one day together, they cannot stop thinking about one another.  Over twenty years, snapshots of that relationship are revealed on the same day- July 15th- of each year.  Dex and Em face squabbles and fights, hopes and missed opportunities, laughter and tears.  And as the true meaning of this crucial day is revealed, they must come to grips with the nature of love and life itself."
But even though I didn't love it, I would recommend it.  It's a great spin on "love story".   I did see the movie, if you just saw the movie and didn't read the book the movie is a spoiler for the ending of the book, but there is so much the movie cannot say that the book does.  With that said if you liked the movie, read the book!
Are you in a Book Club?  What are you reading?
Here are the next two books we have lined up to read.  I'd love it if you read them with me!
March: Birds of Paradise by Diana Abu-Jaber
May: 11-22-63 by Steven King