Italian Turkey Meatloaf Muffins
If you don't already follow my friend Liz's blog The Lemon Bowl, you may remember her from the recent surprise baby shower that two other blogging friends and I threw her.  Liz and I could not be more different as far as our blogs go.  Which is why I love that she was willing to take the time to be my What's 4 Dinner ~ Dinner Dilemma guest blogger today!  I definitely do not have all the answers and I want to be able to provide you with as many choices as possible to solve your dinner dilemma, luckily some amazing bloggers have been willing to add their expertise on how to solve the dilemma!!

First, I want to take the time to introduce you to Liz and her blog.  The Lemon Bowl is a healthy food blog focused on simple, real foods that just so happen to be good for you! Liz has an incredible and inspirational weight loss success story that you just have to read, from this she started her blog as a way to share the recipes that she was enjoying as a way to maintain a healthy lifestyle.  Liz has an 80/20 philosophy on eating that I really need to implement!! Like ASAP.
 "I am a firm believer in the 80/20 rule and try to eat clean foods 80% of the time so that I can indulge with out guilt 20% of the time."  Liz of The Lemon Bowl 
I am fortunate to call Liz a "real life" friend, she lives only 20 minutes from me with her husband and their 2 year old son, who I might add loves his "Aunt" Sheila!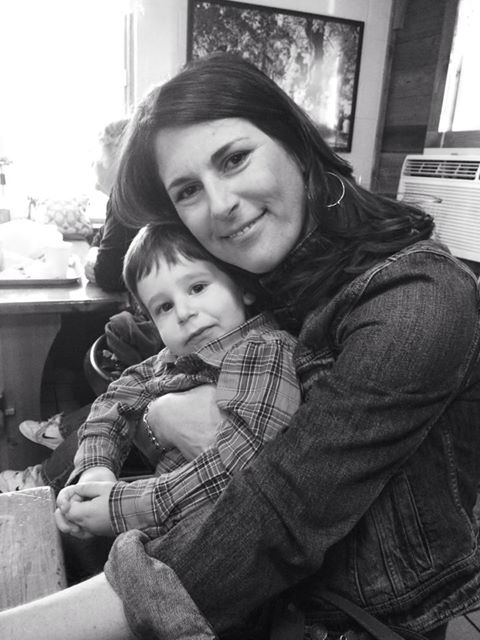 Right now getting dinner on the table for Liz is hard because being in the third trimester of her pregnancy  is exhausting her!  Her energy tends to plummet after 2pm every days so dinner time is not easy.  Liz says that she imagines that once baby arrives, the exhaustion will be endless do to sleepless nights and caring all day for busy toddler and baby……. fast and easy will be essential to getting dinner on the table.  And to that I would say BINGO!  Those toddler years were tough.  Luckily for Liz her 2 year old (and her husband 😉 )  appreciate her good cooking!  So her work in the kitchen is not for not!
So with out further ado I'm going to hand this post over to Liz…..
Hi Friends! My name is Liz and I'm the healthy food blogger behind The Lemon Bowl where I share simple recipes with an emphasis on seasonality. Sheila is one of my dearest friends and best blogging buddies so I am thrilled to be here today to share one of my family's favorite go-to weeknight dinners.
My husband is Italian and could eat meatloaf every day of the week so these meatloaf muffins make a common appearance in our house. The great thing about cooking meatloaf in a muffin pan is that the cooking time is reduced in half. Since I'm a busy mom of a toddler and expecting a second baby any day now, I am all for time-saving dinners!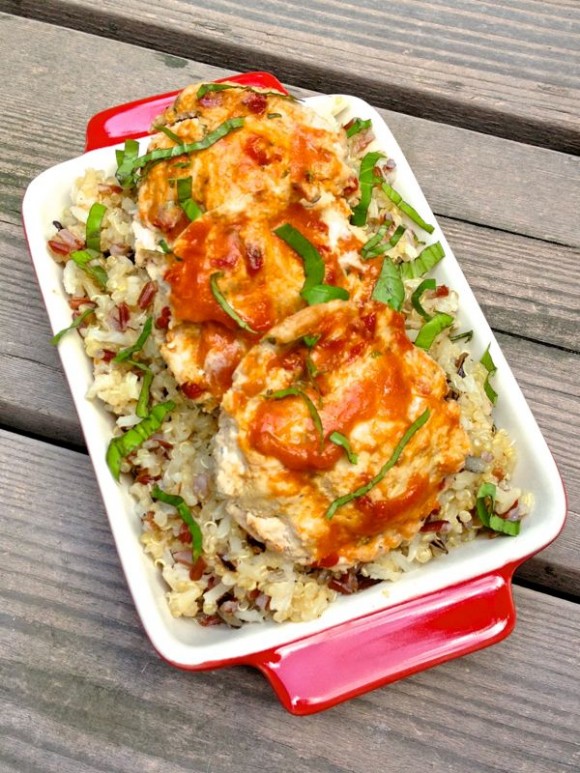 As with all of my recipes, they are more of a method than an exact science. Feel free to swap out your favorite ingredients and flavors to make it your own. For example, if you have ground beef on hand go ahead and use it instead of turkey. If your family has gluten allergies, skip the bread crumbs – they aren't 100% necessary and the meatloaf will still turn out fine. Hate garlic? Leave it out. Love spicy foods? Add a couple pinches of red chili flakes.
Whatever you do, just get in the kitchen and share a delicious meal with your family. You won't regret it.
Your fork is waiting.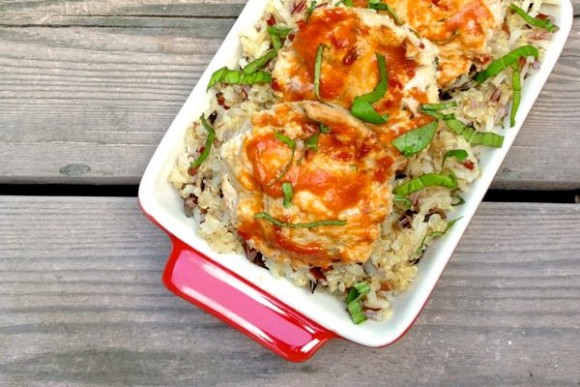 [print_this]
Italian Turkey Meatloaf Muffins ~ from The Lemon Bowl 
serves 4
Ingredients:
1 pound ground Turkey Breast (or ground sirloin)
6 Sun-dried Tomatoes packed in oil – minced
¼ cup grated Parmesan
¼ cup Parsley – minced
¼ cup Italian Bread Crumbs
2 tablespoons fresh Basil – minced
1 Egg
1 clove Garlic – grated
½ teaspoon Salt
¼ teaspoon Pepper
Topping: 
¼ cup Ketchup
2 tablespoons Dijon
Directions:
Pre-heat oven to 450 degrees and spray muffin pan with cooking spray.
In a medium bowl, combine all meatloaf ingredients (ground turkey through pepper) until well incorporated. Don't be afraid to take your rings off and get your hands involved!
Divide mixture evenly between muffin tins. Mix together ketchup and Dijon topping in a small bowl and brush evenly on top of each meatloaf muffin.
Bake for 20 minutes and serve over rice blend (shown), mashed potatoes or starch of choice. Garnish with extra basil or fresh parsley if you have on hand.
[/print_this]
Liz thank you so much for being her today!  Make sure that you stop by Liz's blog. She really has some amazing recipes, and I love that every recipe gives you all the nutritional information along with it.
Make sure to follow Liz on Pinterest  Facebook and Twitter to keep up to date on healthy made delicious!!
FOLLOW the Dinner Dilemma Pinterest Board and never miss a What's 4 Dinner blog post!!!