Chopped Chicken Salad…Let's Pretend This Never Happened ~ Book Club
If you've read Jenny Lawsons book Let's pretend this never happened  you might be wondering where Chopped Chicken Salad falls in to this whole scenario.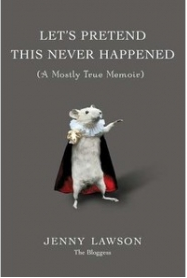 First let me start by saying I loved this book….we'll get to the chopped salad later.  We all did,  in fact we  laughed so hard we peed ourselves.  All of us.  The whole dadburned book club needed depends.   Remember a while back when I was whining about how short our book clubs were, and that no one hung around, no one ate enough?  I was complaining and grumping I wanted my BUC's  to savor the book, the food, the discussion and not be in such a hurry to get home.  Well maybe we need to read more books with profanity, and taxidermy in them, because this was our most savored night yet!
DETAILS OF THE NIGHT
Heather hosted and she couldn't get us to leave, we just sat around peeing ourselves eating her amazing brownies and chop chicken salad.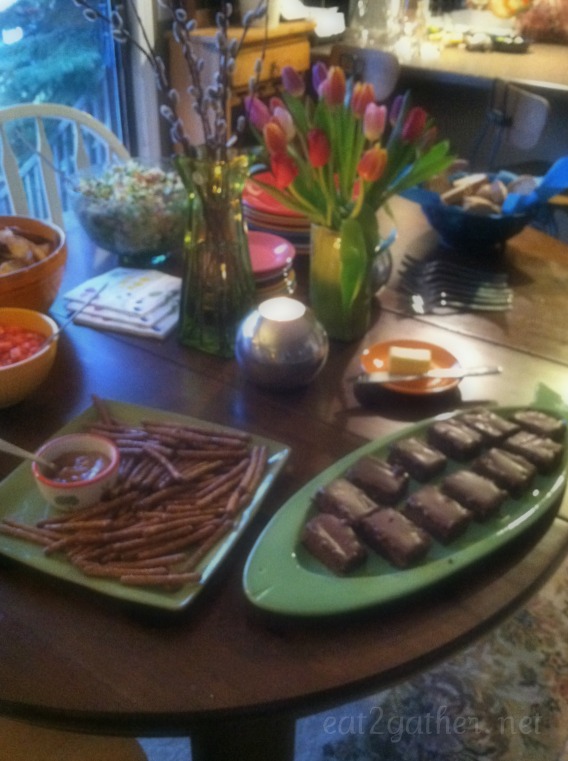 I found it rather interesting that many of my fellow book clubbers, who are also very close friends of mine said that this book reminded them of me.  Really? What part?  The four letter word part?  Because outside of the P word (poop) I don't really use profanity.  The blogger part?  I'm a food blogger, and although I do blog about life experiences I just wasn't getting the connection.  Was it the want to hide from the world behind a wig part? Because I am rather anxious and awkward when meeting new people.  I don't have a wig…but I did really like this idea.  They all thought this was something I would do.  How do these ladies know me so well??!!   They also thought I tell weirdo stories (minus the profanity).  What?! I don't tell weirdo stories on my blog…well sometimes.  Mostly I just share them up close and personal because I'm a actor outer…I use my hands and motions to tell stories and sometimes this is hard to translate to the page.  I had just shared a about how I recently used my karate moves when I got attacked in a hotel parking lot in Detroit.  This they said was a prime example. Oh, I'm fine….no worries  Well I did get a little bit hurt.  I threw my shoulder out trying to defend myself against my attacker.  Which was a volleyball bag.  Yes my attacker was a volleyball bag!  I had spastically  slung over my shoulder trying to hurry and get all our stuff out of the van in a dark hotel parking lot and as I leaned in to my van to grab more stuff it hit me full force  KAH-WHAMMY in the back and I thought someone was throwing themselves on to my back.  Because this happens everyday in Detroit, people hopping on your back in parking lots. So I pulled out my fiercest elbow thrust on my attacher which was actually my daughters volleyball bag and I yelled at the top of my lungs HI-JAH!  in my most terrifying Miss Piggy voice…heart racing, mouth dry, I looked behind me to see if I had laid my attacker out cold, only to find no one but a man two cars away just getting out of his jeep, door half open, one leg out, mouth gaping, eyes popping, looking at me like lady have you lost your mind!  And  you know what?  I went back to my business of unpacking my van thinking to myself I'm going to pretend this never happened. 
HA! OK they had me!  Maybe I do have a little bit of Jenny in me.  Once when I was a wee girl my dad made me hang on to him around the waist while he hung out our kitchen window with a rifle so he could shoot a rabid cat that was throwing itself up against our house.  I thought nothing of it.  Yes it's true I can totally related to some of Jenny's stories…minus the pizza delivery man that delivered hallucinogens.  I don't really have any stories quite that good or bad or what have you.
I feel the need to share that  Heather (our book club host and chop chicken salad maker extraordinaire) is the weirdoest of all, she needs to start a blog.  She would be the next Bloggess for shizzell! There I said it use that domain name that I know you have and start a blog Heathah.
So after seeing Heathers husbands headlights swoop through the culdesac for the 100th time, as if to say GO HOME BUCS!  We decided it was time to shlep our soggy butts home. Our cheeks hurt from laughing.  It was one of our best book clubs to date.
One more detail of the evening that I feel I must share. On the way home a chupacabra jumped out of the ditch in front of my van as  I was getting off  the highway.  Big D was with me…thank goodness I have a witness to it!  I slammed on the brakes, Big D shrieked CHIMICHANGA (cause Big D loves mexican food and she really wanted to say chapucabra but could only think of chimichanga.)  The Chupacabra was there on the off ramp in front of us…it was a sign, I'm sure of it.  I'm just really glad a zombie didn't jump out of the ditch!   If you haven't read the book…I'm sure you are lost here, so you better read the book. It's really good, and wierd and funny. Laugh out loud funny, and a little offensive in parts…you've been warned.
MINI BOOK REVIEW~ from GoodReads
Jenny Lawson realized that the most mortifying moments of our lives—the ones we'd like to pretend never happened—are in fact the ones that define us. In the #1 New York Times bestseller, Let's Pretend This Never Happened, Lawson takes readers on a hilarious journey recalling her bizarre upbringing in rural Texas, her devastatingly awkward high school years, and her relationship with her long-suffering husband, Victor. Chapters include: "Stanley the Magical, Talking Squirrel"; "A Series of Angry Post-It Notes to My Husband"; "My Vagina Is Fine. Thanks for Asking"; "And Then I Snuck a Dead Cuban Alligator on an Airplane." Pictures with captions (no one would believe these things without proof) accompany the text.
OVERALL 
This book may not be for everyone, but even the gals I thought for sure would not like this book at all, loved it.  They were shocked by it, but it made them cry and  laugh.  Seriously come March in Michigan we all need a good laugh…March madness takes on a whole new meaning when it's still 28 and snowing on the first day of Spring.  Let's pretend this never happened: a mostly true Memoir  by Jenny Lawson was just what the doctor ordered!!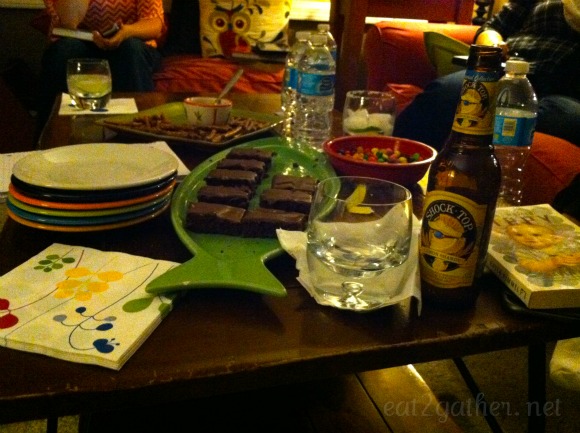 [print_this]
Hairless Bears Chopped Chicken Salad
serves a bunch of ladies
3 bunches of Romaine Lettuce, cleaned and chopped
5-6 Roma Tomatoes, diced
1 bunch Green Onions, sliced thin
1/2 pound Ditilini Noodles, cooked al dente
1 Roast Chicken, chopped into small pieces (a roast chicken from your grocery store works great)
8 ounces crumbled Feta Cheese
1/2 head of Red Cabbage, chopped
1/2 pound thick cut Bacon, cooked and crumbled
2 firm Avocados, diced into small pieces
1 bottle (more or less) Old Cape Cod light Sweet and Sour Poppyseed Salad Dressing
(or you can see recipe below if you would like to make your own Poppyseed Dressing)
Make sure all of the above ingredients are chop, chop, chopped  and then chopped again in to small bits, combine ingredients except for dressing. Just before serving toss salad with dressing.
Hairless's Poppyseed Dressing
1/3 cup White Sugar
1/2 cup White Vinegar
1 teaspoon Salt
1 teaspoon Dry Mustard
1 teaspoon grated Onion
1 cup Vegetable Oil
1 tablespoon Poppy seeds
Put first 5 ingredients in a blender for 30 seconds, with blender on high slowly drizzle in vegetable oil until completely incorporated. Stir in poppy seeds. Store in a mason jar in your refrigerator until ready to use.
Enjoy!
[/print_this]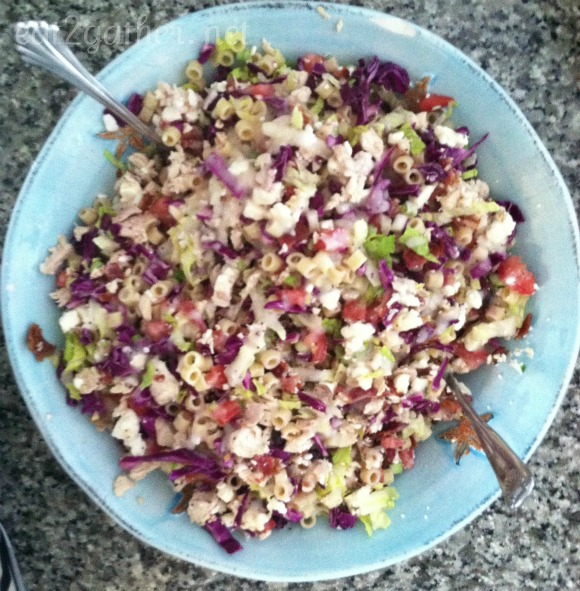 Are you wondering why this is called Hairless Bear Chop Chicken Salad?  Someday when Heather finally becomes the next bloggess all the world may know, until then just make the salad and forget about the wierdo name.
Next week is Spring Break I have my books already.  At the present I'm reviewing Bread and Wine by Shauna Niequist (It comes out in April…reserve your copy here.) I have Unbroken by Laura Hillenbrand, and Firefly Lane by Kritin Hannah loaded on my nook.  We are road tripping with friends to Destin, Florida in search of warmer weather, peace, and relaxation!
What are you reading these days??
Happy Reading! Sheila