Recently (three weeks ago…time flies!) I had the pleasure of  traveling to Miami, Florida for Blogher Food where I represented the American Dairy Association Mideast.
For me trips like this are all about…..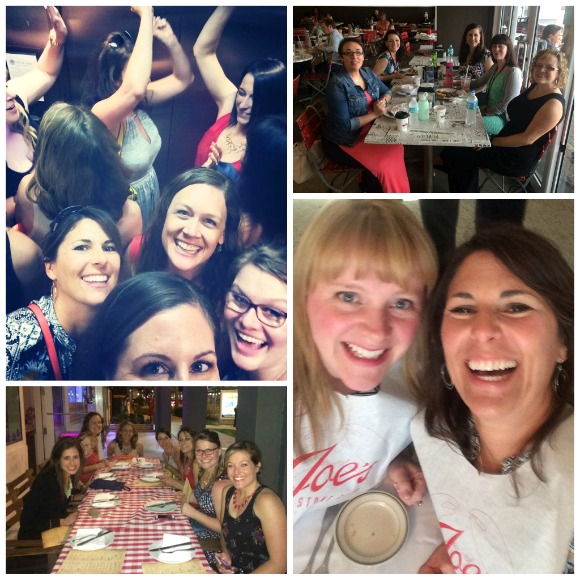 The PEOPLE:  Meeting up with old friends, and meeting new.  Finally getting to meet the people behind blogs that I have read for years!   Laughing so hard your cheeks and sides ache the next day. (Amanda)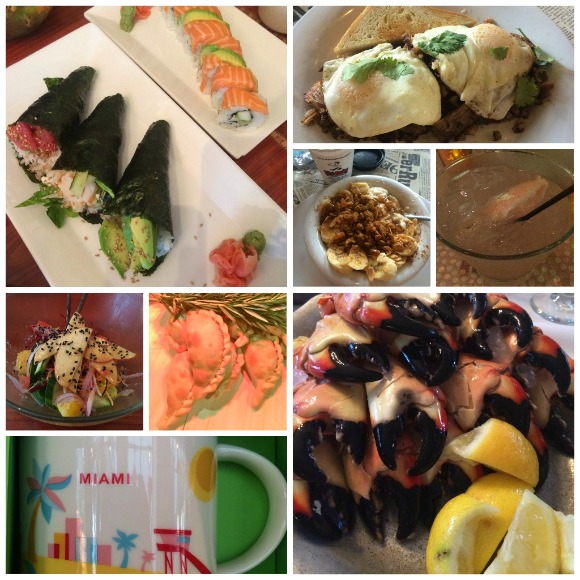 The FOOD:  It is a food conference after all, and I'm pretty much all about the food all of the time.  Blogher Food is always takes place in a foodie town.  Miami did not disappoint when it came to food options!  Sushi, empanadas, stone crab, coffee, ice cream, cuban coffee, cocktails…..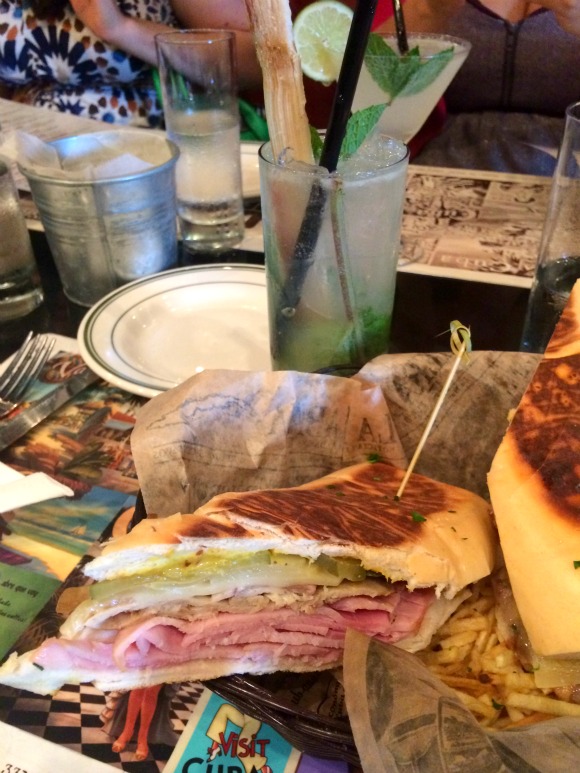 Cubano Sandwich and a Mojito.  If this was the only thing I ate the whole time I was in Miami I would have been as happy as a pig in the mud!  This is my wich is my ish.  Crispy fresh bread, salty smoked ham, cheese always cheese, and briny pickles and to wash it down a refreshingly sweet minty mojito.  Yes mother can I have another.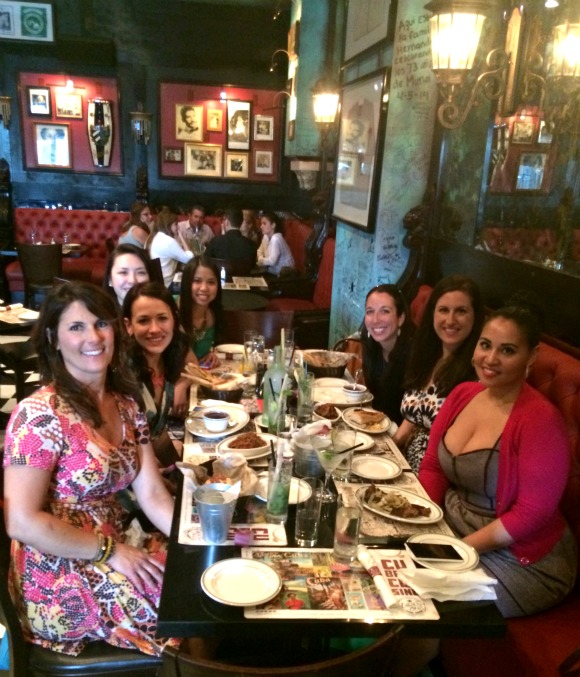 I met up with these brunette beauties at Havana 1957 for  a quick lunch, this is where I partook of the above sandwich and cocktail.  Good friends, good food, Amen.
So as I was saying.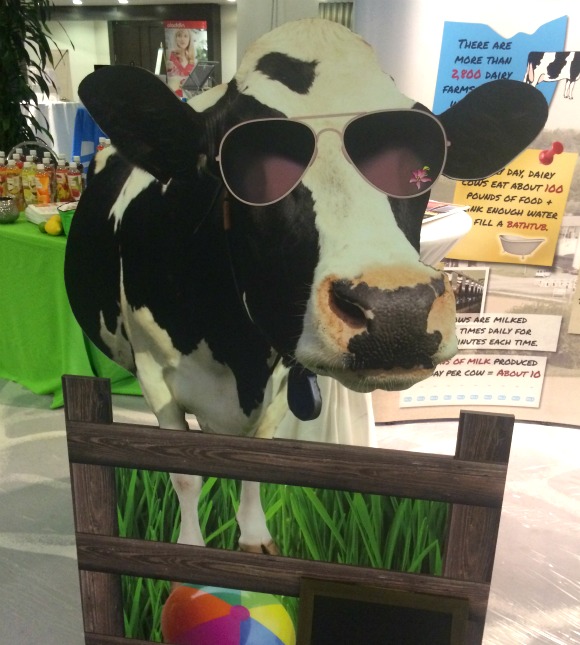 Trips like this are all about the people, the food and  the COWS!!
Meet Daisy.
HI Daisy!!
In't she purdy?  I got to hang out with Daisy quite a bit.  In fact I got up bright and early Friday to say good morning to her, and well check out the ADA Mideast booth.  I was just a titch excited about hanging out with my ADA Mideast friends!  I'm very thankful to have been able to partner with them this year and develop several recipes that include protein rich dairy, two of which were served during the conference.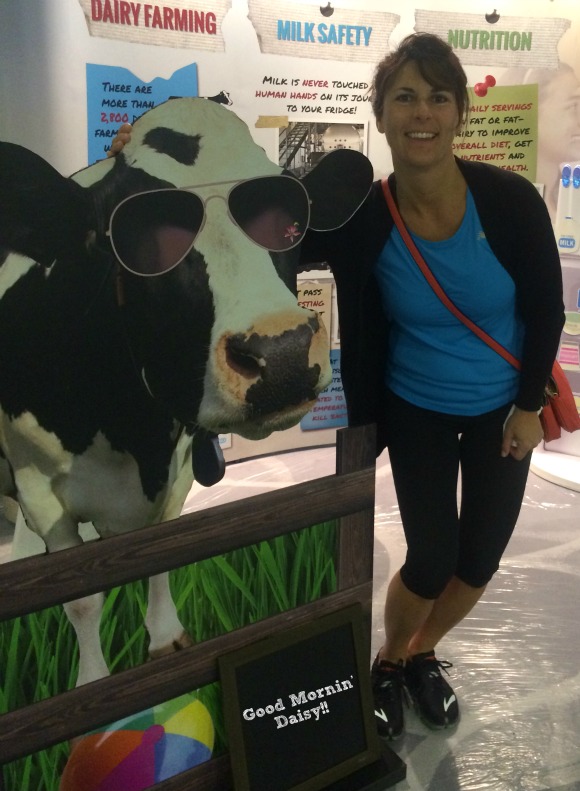 I know I should be embarrassed at my stance, my puffy eyes, and well my poofy weird hair, but I'm not.  We're all friends right?  I think Daisy might have been embarrassed.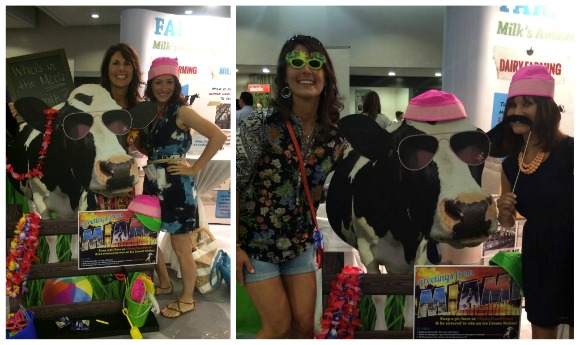 Daisy and I became real pals!  As you can see we  hung out with some other dairyling ladies as well!    I miss Daisy.  She was really moo-vulous to hang out with! (Whats with the weird knock need squat I'm doing again?)  Thanks for putting up with me Daisy! Moo-wah MOO-wah!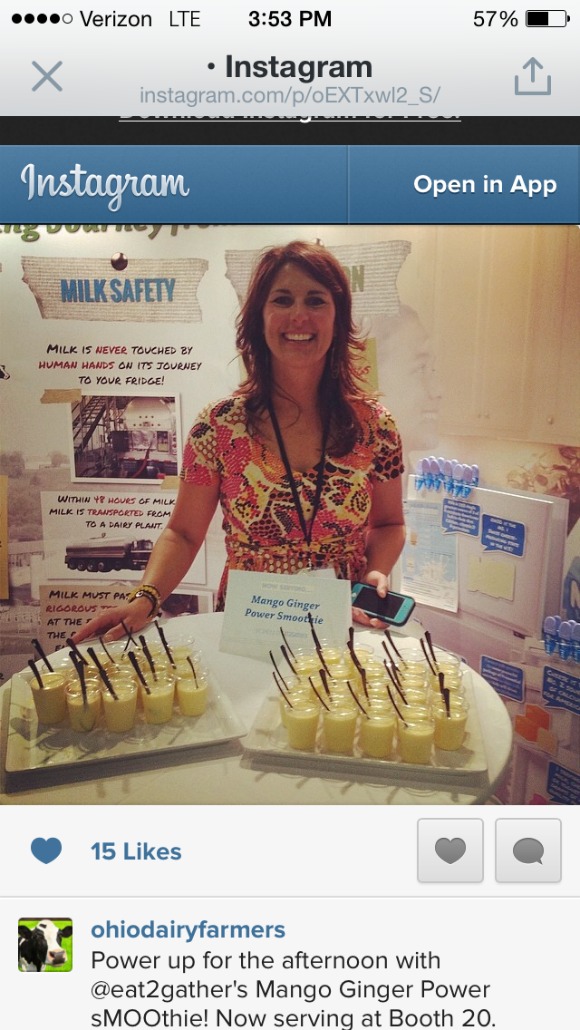 Posted on Ohio Dairy Farmers instagram feed.  That's me!  Serving up my Mango Ginger Power Smoothie for the American Dairy Association Mideast sponsor booth.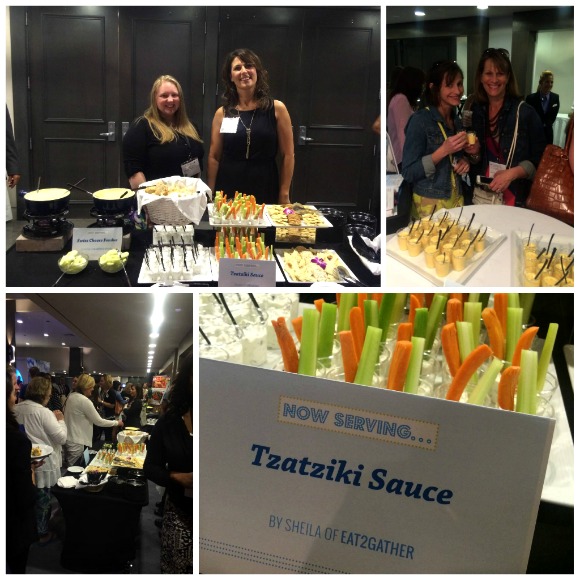 Saturday night Katrina and I were served our dairylicous recipes at the sponsor reception. Katrina's White Wine Swiss Fondue was ahmoozing!  If you've never stopped by Katrinas sweet blog you need to!  As you can see by the pic I served up my Tzatziki  with pita wedges and veggies.  The line was quite long for our table.  It was really quite humbling having my recipes prepared by a hotel kitchen and served to so many!  I was over the MOOn about it!
(OK sorry I'll stop with the dairy-lingo.  I know I was milking it for all it's worth 😉  Ha!)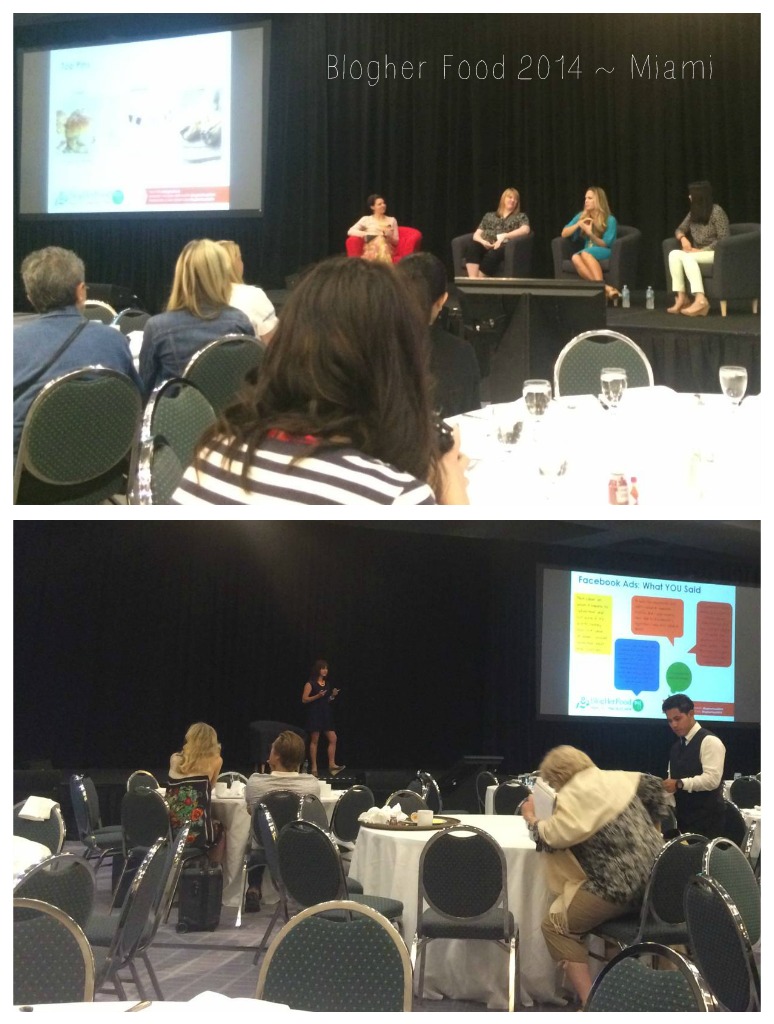 The Blogher Food conference is a great place to learn and hone your skills.  I have to admit I did not sit in on as many sessions as I usually do.   I did, however,  take in a few sessions on social media, because I feel like I struggle with balance in this area trying to make the most of my time and not being on my phone too much tweeting, pinning, and such!  I also sat in on a Pinterest session that was very eye-opening, and I also got to hear the author of one of my favorite foodie books speak!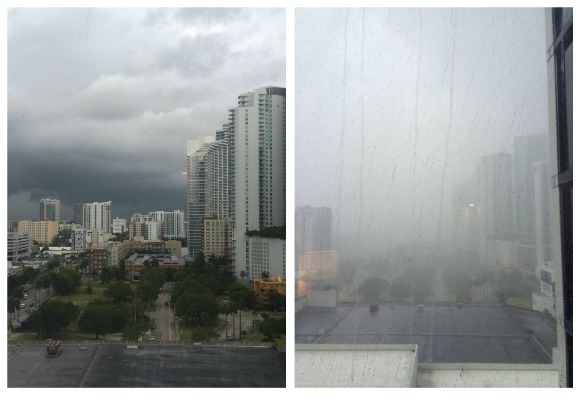 What else?   Well the weather was less than aMOOzing. (sorry I couldn't help myself I will stop now).  In fact it really put a wrench in some people's travel plans!  Luckily my two room mates and I made it in before the tornadoes started touching down.  It was seriously a tropical storm. This is the view from our hotel window. Flights were diverted, canceled and delayed.  Roads flooded. It was not good.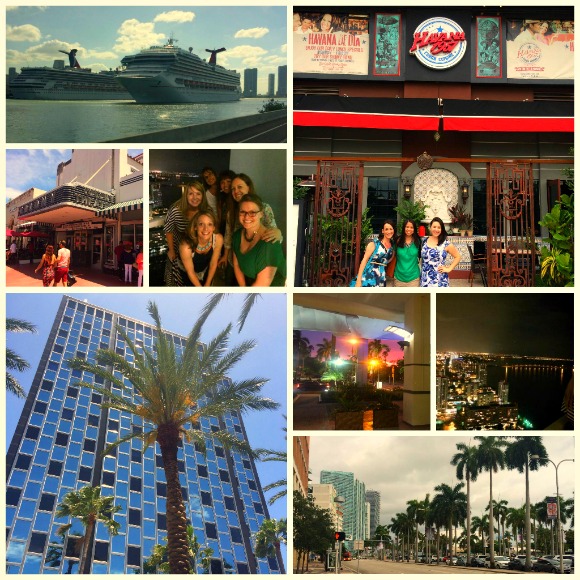 The weather finally cleared on Saturday so my roomies (Nikki and Liz) and I took a cab to South Beach to do a little sight-seeing, and of course more eating!!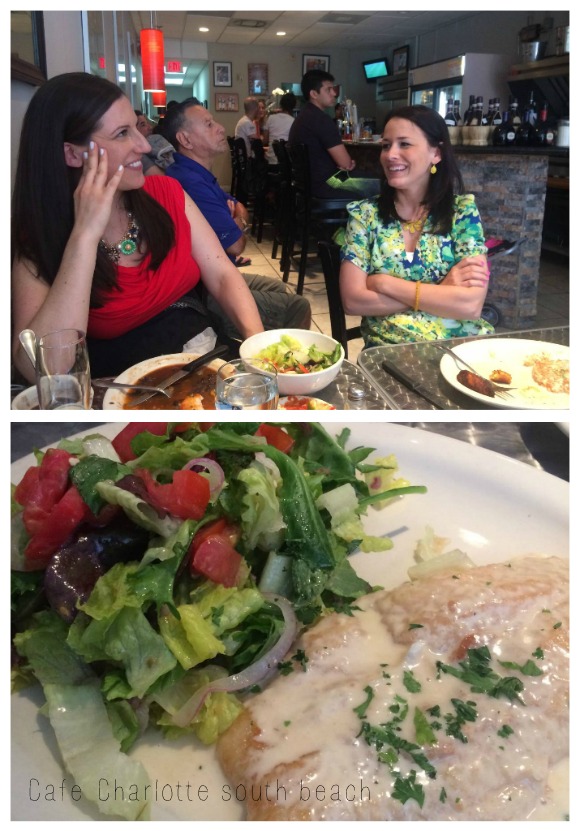 Aren't they just darling?  I had so much fun with them.  Luckily Liz lives close, and Nikki although she lives in Mississippi is from West Michigan so I get to see her when she visits her family.  These two are like two little sisters to me!  I was trying to give you a view of the restaurant without being too obvious. This place was the real deal, we were the only people speaking English, and everyone was glued to the soccer game on the TV!  We found Cafe Charlotte on Yelp.  I would recommend it if you want a real local experience.   My only complaint no mojitos.  Wah.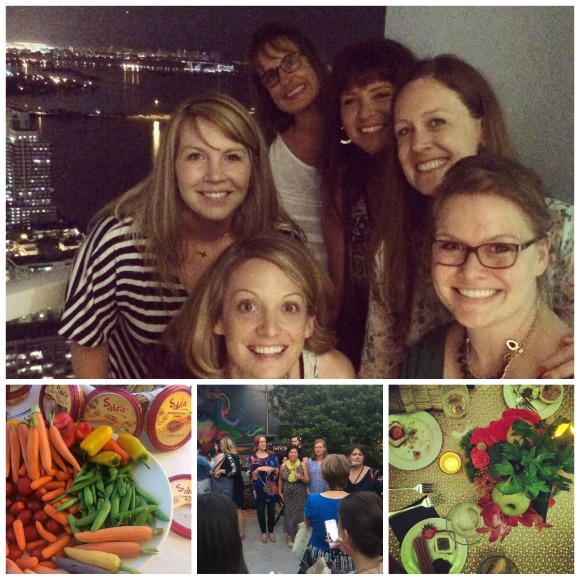 Almost forgot to mention all the other fun parties by the other Blogher Food sponspors that I was was able to partake of.  Amanda and Jenny hosted a party with Cliqueme on the 53ersomething floor in a condo with spectacular views.  I had a great time with all the purdy ladies in the main pic.  And Sabra…yes I love me some Sabra as do my kiddos so I was very excited to meet them and go to their party as well! Stoneyfield and Applegate event was informative, and the food was amazing!  The Crunch Pack/Duda Farms event at the Epic hotel, the desserts and drinks were just that!  Epic.  All you PW fans out there I only got as close to her as the little picture above, her travel was delayed because of the awesome weather and I ended up with a little tummy issue that kept me in my room Saturday night :(, so I missed out on catching up with my dear friend Ree.  This was the only disappointment of the trip.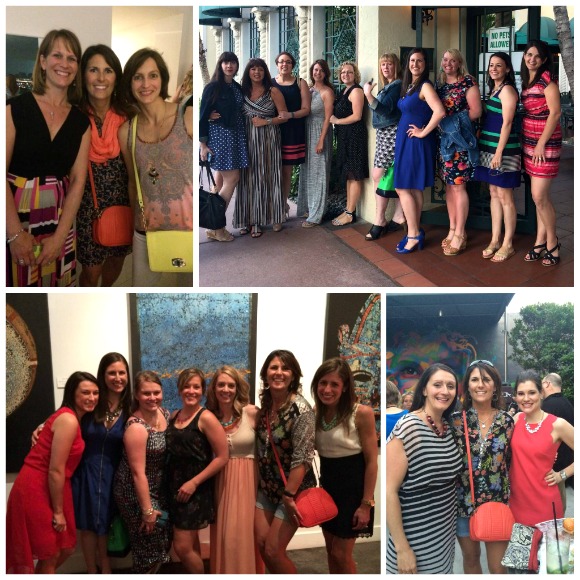 Allow me to introduce you to a few awesome food blogger friends of mine from left to right: Lisa and Anna from Garnish with Lemon, then Rebecca Foodie with Family, Sandy The Reluctant Entertainer, Meseidy The Noshery, Sommer A Spicy Perspective, Mary Barefeet in the Kitchen, Amanda I am Baker, Liz the Lemon Bowl, Angie (Amanda's sister), Nikki Seeded at the Table, Maegan The Baker Mama. bottom: Cassie Bake Your day, Liz, Megan Country Cleaver, Katie Hill Country Cook, Lauren Climbing Grier Mountain, Me, Erin The Lawstudents Wife.  I was so excited to finally meet Julia of A Cedar Spoon and the extra bonus was meeting her very sweet roomie Jessica Stuck on Sweet. (forgive me if I left someone, it was not intentional)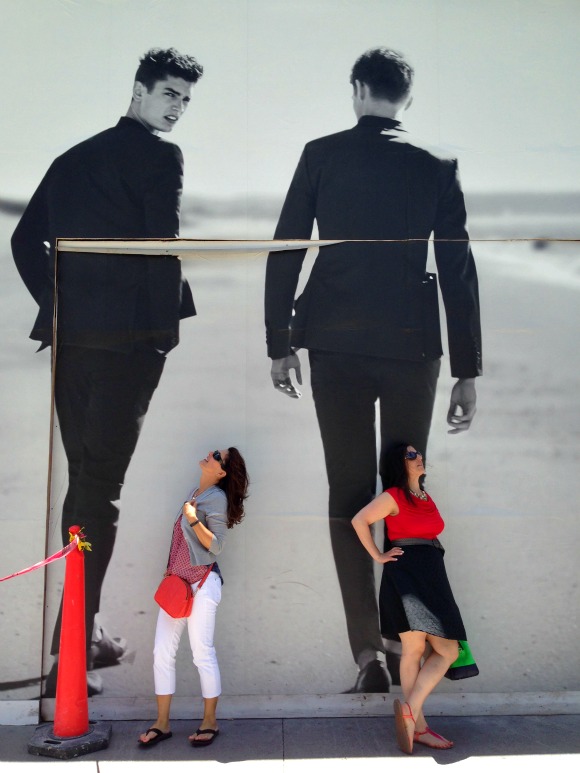 One last pic.  My favorite one of the trip. Nikki gets photo creds.  She took it of Liz and I while we were perusing Lincoln Road Mall in South Beach.  Ahhh I had such a good time.  I definitely am blessed to be able to attended conferences such as this and meet up with so many talented and amazing people!
Thanks to the American Dairy Association Mideast for making this all possible, it's because of partnerships such as these that I am able to stretch myself,  learn more, and be inspired so I can serve my readers better.  I look forward to working with the ADA Mideast for the remainder of 2014, so look for more dairylicious recipes, starting with this Friday!  To celebrate June being National Dairy Month and the last day of school for my kiddos I have a surprising ice cream recipe for you!
You can connect with the ADA Mideast here-> website…facebook...pinterest…twitter
Disclaimer:  I want to thank the ADA Mideast for making this trip possible. In return for recipe developement and and representation at the ADA Mideast Booth my trip was covered by them.