We had  our annual Chili Cook-Off at our church this fall.  I felt the need to attempt something different.  I decided to go with a chicken chili this year.  Something with a kick.  I love Jerk.  As in Jerky food.  Oh believe me(!) I have loved a few jerks in my day, but that's all in the past sistahs.  The only Jerk in my life, now,  is the one I season food with!
Well, hmm hmmm I really hate to brag, but this Jerk Chicken recipe did win me the Prized Ladle for most unusual, or was it unique?  Huh? Now that I think about it maybe I won the spicy award….Oh heavens this brain is gone baby gone.  What ever the name of the award was, I won a new ladle!
If you take a a few minutes to prep, this Jerk Chicken soup/stew/chili can come together rather quickly.  The recipe below is the soup version.  If you want this to be Chili then you can add beans, or if you are looking for something thicker and heartier cut down on the liquid and up the cooking time to let sauce reduce.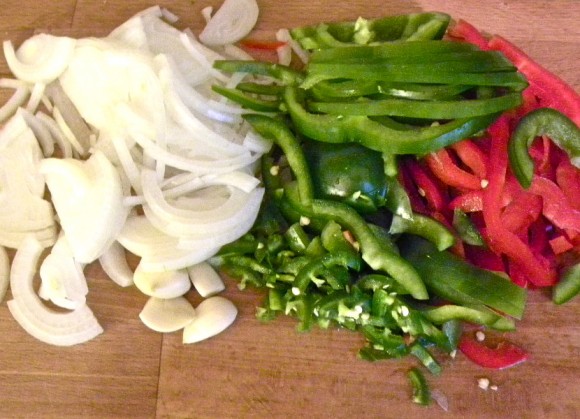 [print_this]
Jerk Chicken Soup/Stew/Chili
serves 6
2 pounds ground Chicken or Turkey (chicken breast cut into thin strips can also be used)
2 Garlic Cloves, minced
1 tablespoon Vegetable Oil
1/2 teaspoon ground Cinnamon
3 teaspoons Ancho Chili powder
1/2 teaspoon Allspice
1/2 teaspoon Smoked Paprika
1 teaspoon Thyme
1/4 teaspoon Cumin
1 Red Pepper, julienned
1 Green Pepper, julienned
1-2 Jalepeno Peppers, minced (optional)
1 medium sweet Onion, sliced thin
1 quart Chicken or Vegetable Stock (32 ounces)
salt to taste
In 6 quart dutch oven heat up vegetable oil over medium-high heat add garlic and chicken to the heated oil. Cook until meat is no longer pink. While meat is cooking combine spices (cinnamon, ancho chili powder, allspice, smoked paprika, thyme, and cumin) in a small bowl. When meat is cooked through sprinkle spices over the meat and continue cooking on medium heat for 1 minute. Add in peppers and onion, saute until peppers start to soften. Add stock, turn heat down to low, continue cooking for 30minutes. Salt per your taste. Serve as is or over rice.
Stew version: cut stock down to 24 ounces and cook over med-low heat uncovered for 1 hour to let stock reduce.
Chili version: add two cans northern beans along with the stock, cook for one hour uncovered, on med-low heat.
[/print_this]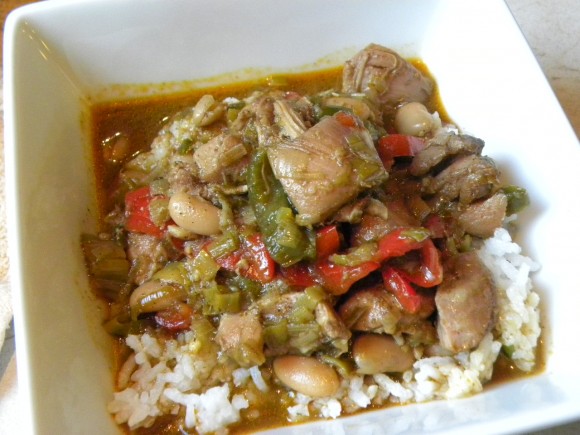 As you can see I added beans to the soup this time around, I did add extra cooking time I just added beans.  The Legumes added the extra protein that my very active kiddos need.  I love the word legumes.  Legewwmz.
Rice with cilantro and lime add the perfect twist of flavor to this dish.  If you prefer to leave your rice plain, no problem the soup has plenty of flavor on it's own.
[print_this]
Cilantro Lime Rice
serves 6
2 cups Jasmine Rice
4 cups Water
1 teaspoon Kosher Salt
juice of 1 Lime
2 tablespoons Cilantro, minced.
Add rice, salt, and water to 6 quart pot. Bring to a boil. Turn down to low, cover and let simmer for 18 minutes. DO NOT remove lid while rice is cooking. After 18 minutes remove lid, fluff rice with fork, drizzle the juice of one lime over rice and add chopped cilantro, fluff again. Serve with Jerk Chicken Stew or whatever else might catch your fancy.
[/print_this]
There are never any leftovers when I make this easy stew/chili/soup.  Jerk Chicken Soup has become one of my families new favorites dinners.
Hoping it becomes one of your family favorites too!
Enjoy!
Sheila