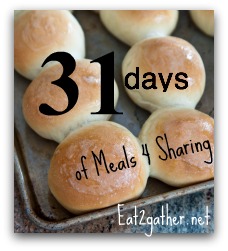 Chicken Supreme is the first meal that somebody brought to us after we came home with our first born.  It was wonderful!  It quite simply was the most comforting meals I have ever eaten!  Chicken Supreme tastes like Thanksgiving all wrapped up in one dish.  What could be more perfect than giving someone Thanksgiving in a dish right after they have brought baby home.   It's all about comfort.  What would someone, paddle out in the kitchen at 3am to eat?   Chicken Supreme is an eat it straight out of the dish kinda comfort food.
Forget what I said about soup laden casseroles, I don't know what I was thinking.  I must have been off my rocker.  Because Chicken Supreme had two cans of creamed soup in it, and it's lovely.
This dish can be assembled to bake right away, to freeze, or to let them cook when the time is right for them.  It's versatility is perfect.…aaand the leftovers are sublime, especially at 3am cold straight out of the casserole dish.
I prefer ground chicken over ground turkey, either works great.  It's really your preferance.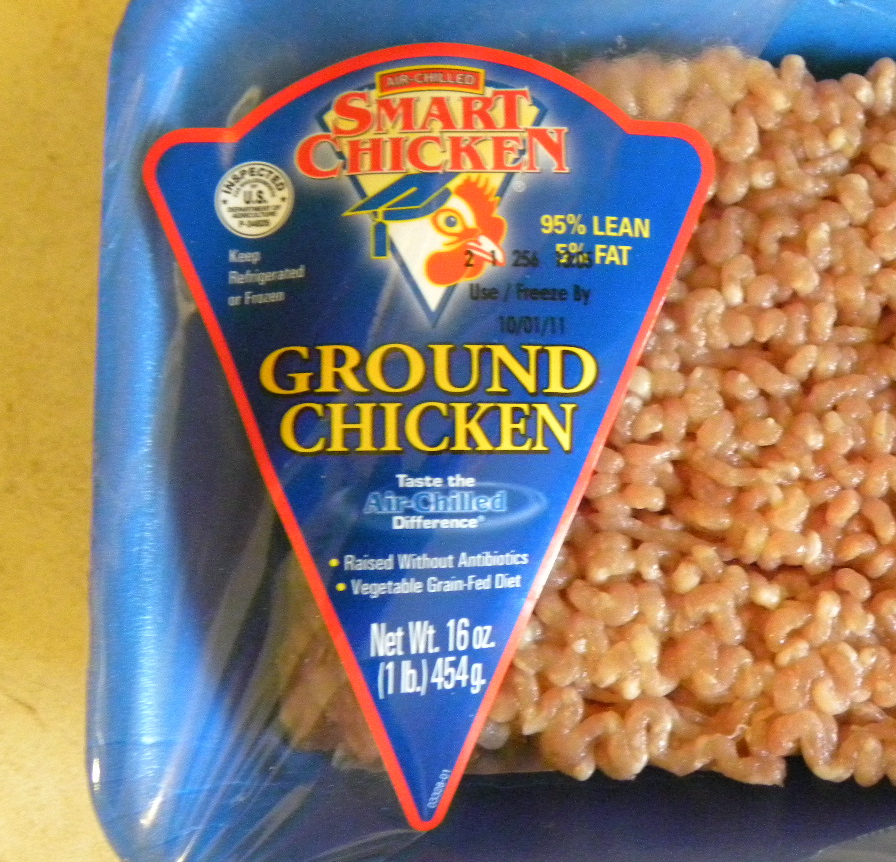 I love having ground chicken on hand.  It cooks up fast and sometimes I can sneak it into thing undetected by my nine year old who would prefer to not to eat big chunks of meat.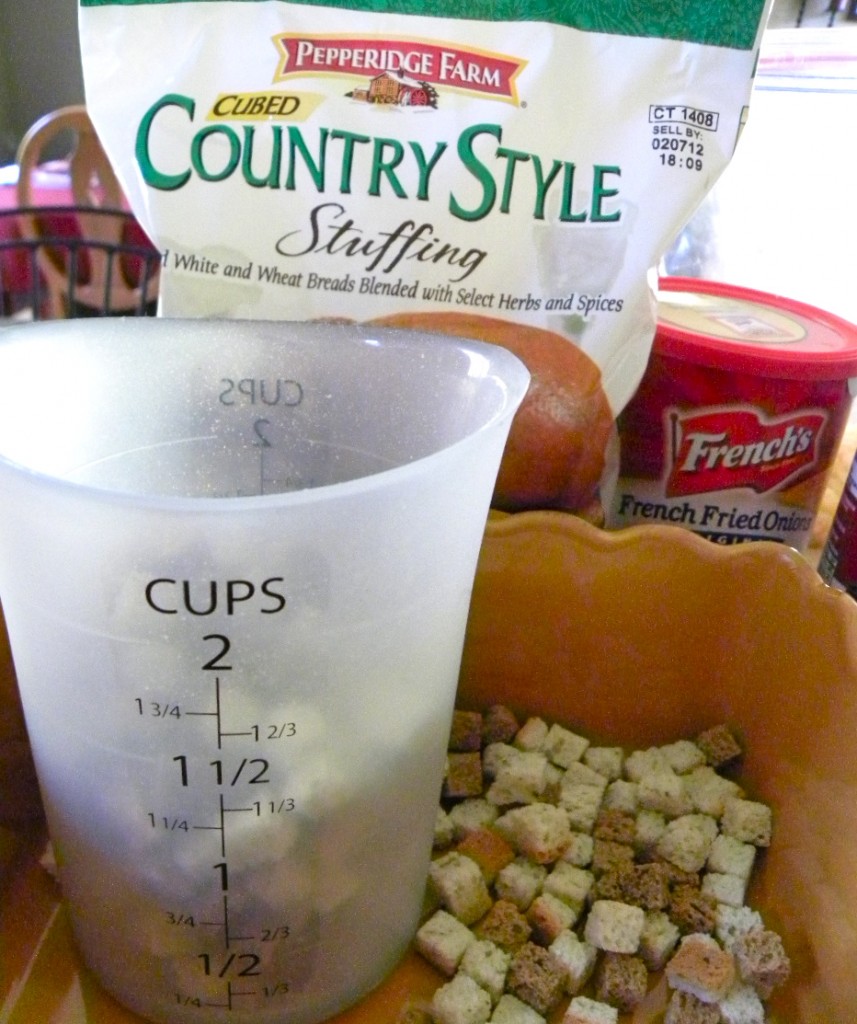 Pepperidge Farm dressing.  measure out 2 1/3 cups spread it out in bottom of  9×13 baking dish.  No need to grease.  Preheat oven to 375 degrees.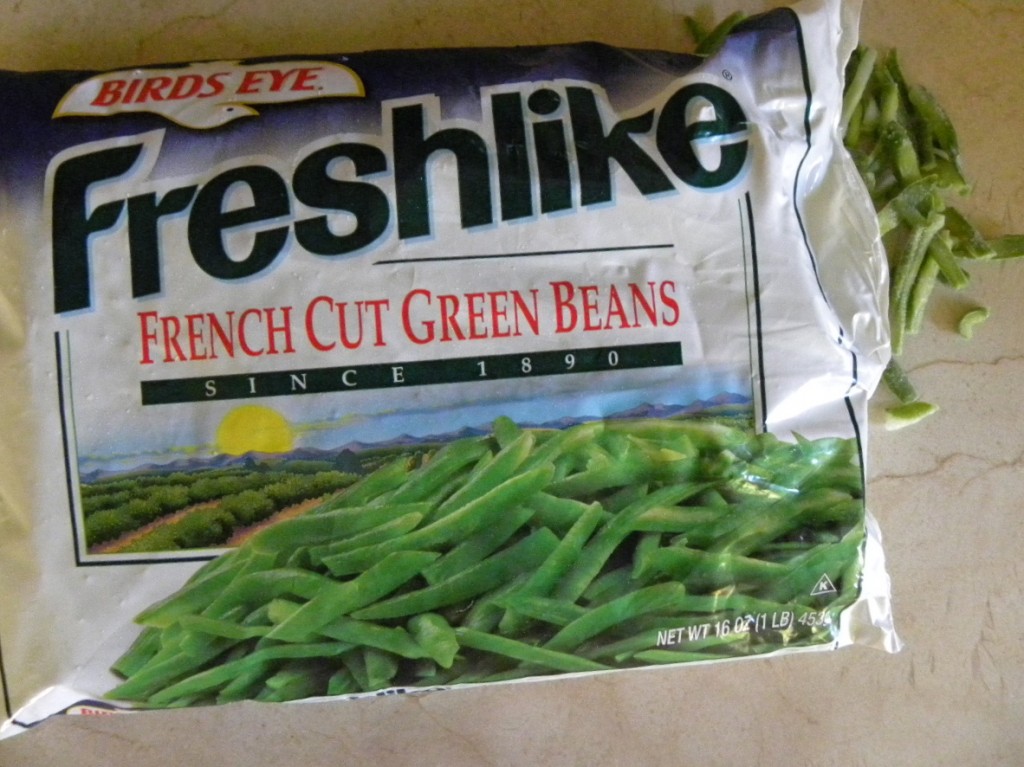 If you have canned green beans on hand you can use those.  I prefer to use frozen they taste more like fresh!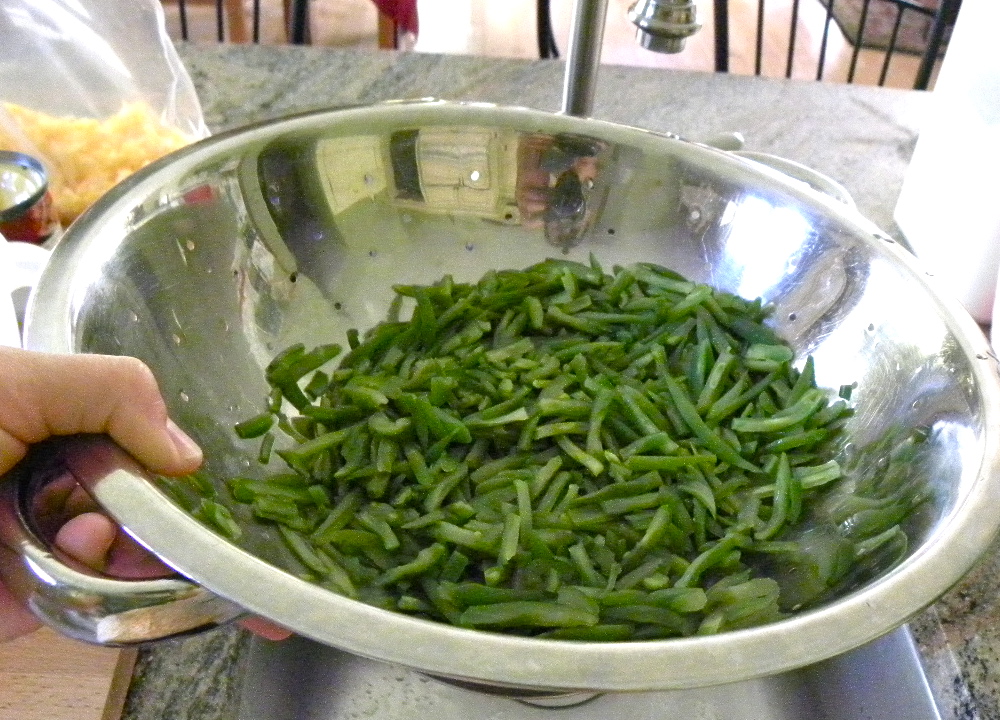 Blanch in boiling water for 2-3 minutes drain in colander.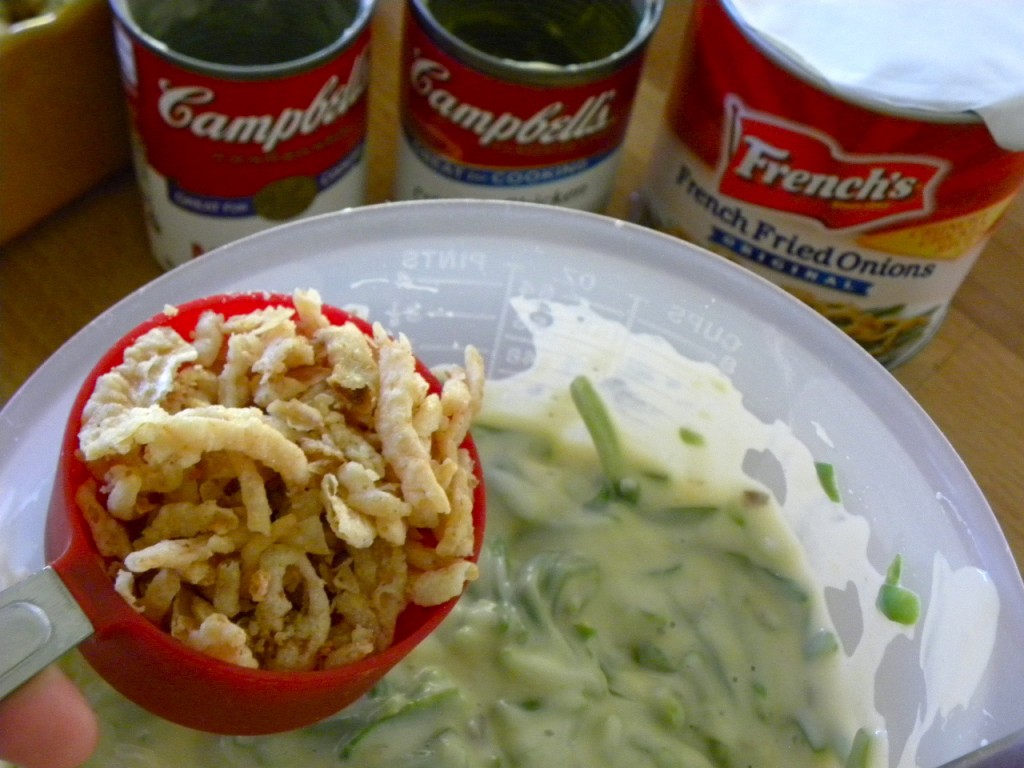 Mix greens beans, cans of soup, and 1/2 cup of milk together in a medium sized bowl.  Now add 1/2 cup Frenches Fried Onions.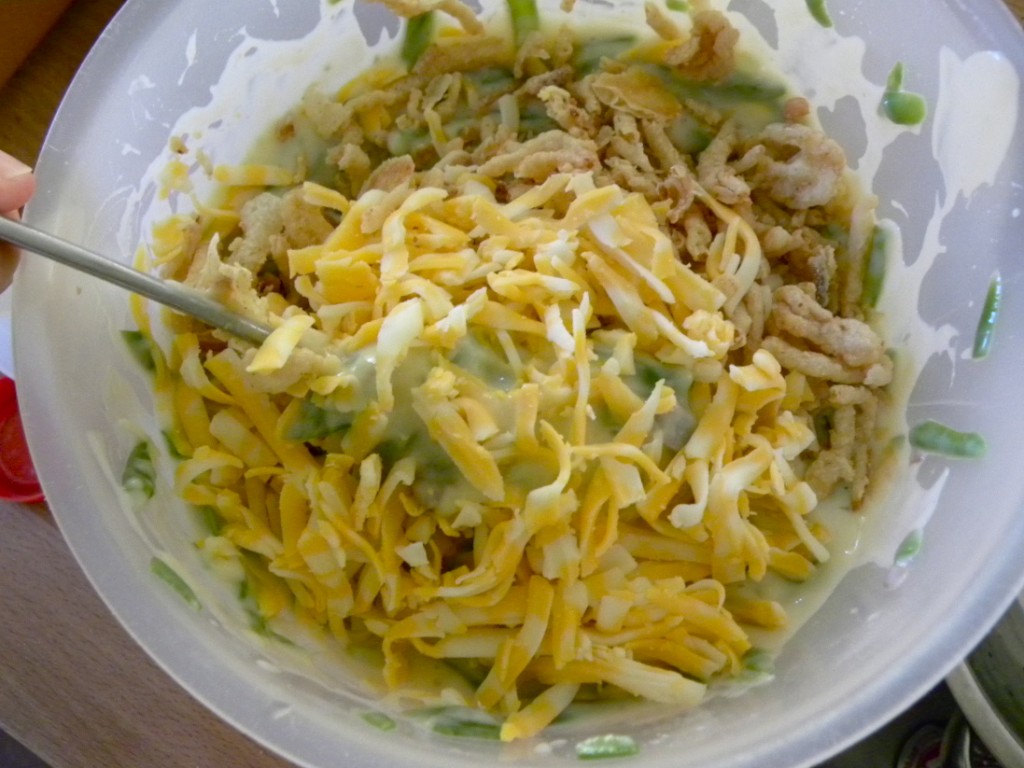 And a 1/2 cup shredded cheese.  The onions and cheese were not in the original recipe, I just thing everything is better with onions and cheese!  Mix well to incorporate all the ingredients.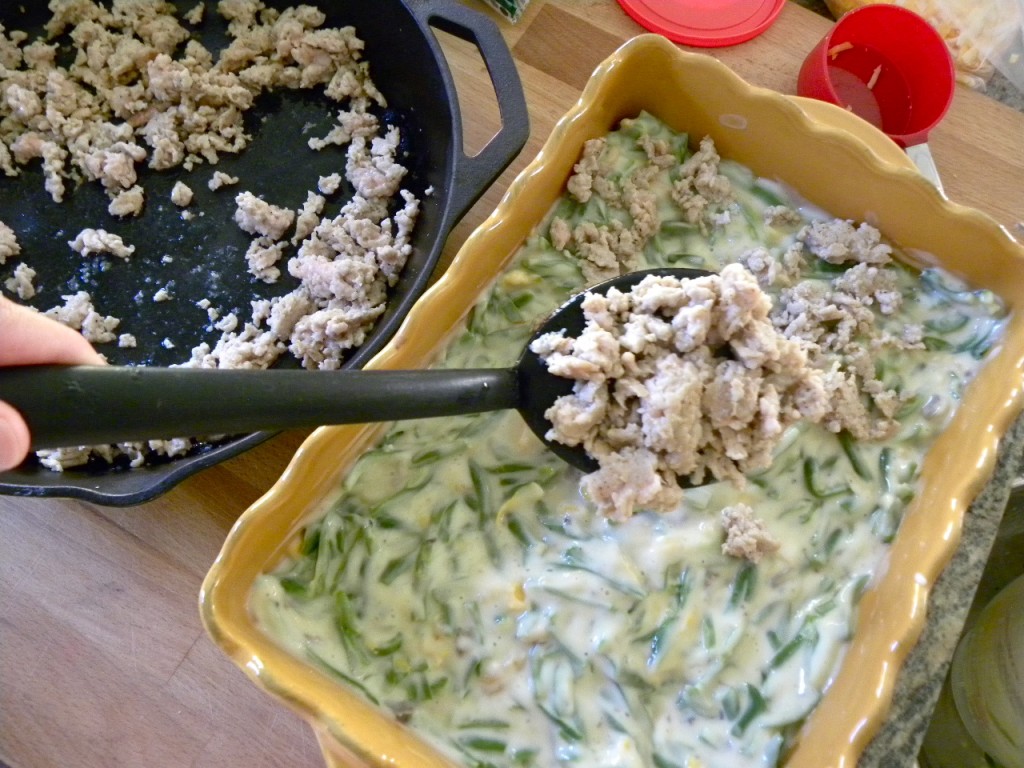 Brown the ground chicken in 1 tablespoon of butter, season with salt and pepper to taste.  Spread green bean mixture over dressing.  Layer chicken over top of green bean layer.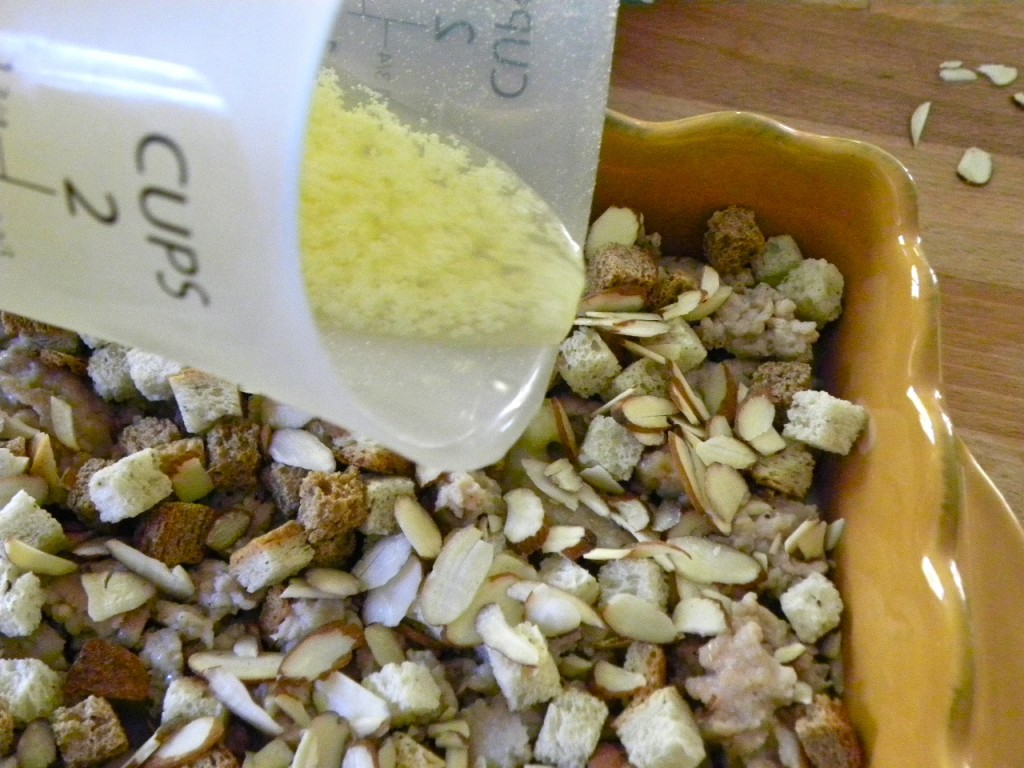 Sprinkle remaining 1 cup of dressing and 1/2 cup slivered almonds over chicken, drizzle with 1/4 cup melted butter.  Bake in 375 degree oven for 30-40 minutes or until top is browned and casserole is bubbly.
This so dad-blamed easy!  20 minutes tops to put this dinner together.  I had not made this recipe in years, so my kids didn't remember it.  They all scrunched their noses up, but once they took a bite, they loved it and went back for seconds.  Luke my picky eater said, "I just wish I didn't know there were green beans in it, cause it tastes good."  Goofy kiddo!
[print_this]
Chicken Supreme
1 pound ground Chicken (or Turkey)
salt and pepper to taste
1 tablespoon Butter
3 1/3 cups Pepperidge Farm Packaged Dressing (reserve 1 cup for topping)
1 16 ounce package Frozen French style Green Beans
1 can Cream of Mushroom Soup
1 can Cream of Chicken Soup
1/2 cup shredded Colby Jack Cheese
1/2 cup Frenches French Fried Onions
1/2 cup milk
1/2 cup slivered Almonds
1/4 cup melted Butter
Preheat oven to 375 degrees.
~Spread 2 1/3 cups of dry dressing into bottom of an ungreased 8×11 or 9×13 inch baking dish.
~Cook beans in boiling water for 2-3 minutes on stove top, drain in colander. Pour beans in a bowl and combine with both cans of soup, French fried onions, and cheese. Pour this over the dressing, spread evenly.
~Brown ground chicken in 1 tablespoon of butter, season with salt and pepper. When all pink is gone from the chicken, evenly layer the ground chicken over top of the green bean layer.
~Sprinkle remaining 1 cup dressing and 1/2 cup slivered almonds. Drizzle with 1/4 cup butter. Bake at 375 for 30-40 minutes until bubbly.  Serve with cranberry sauce and rolls.
[/print_this]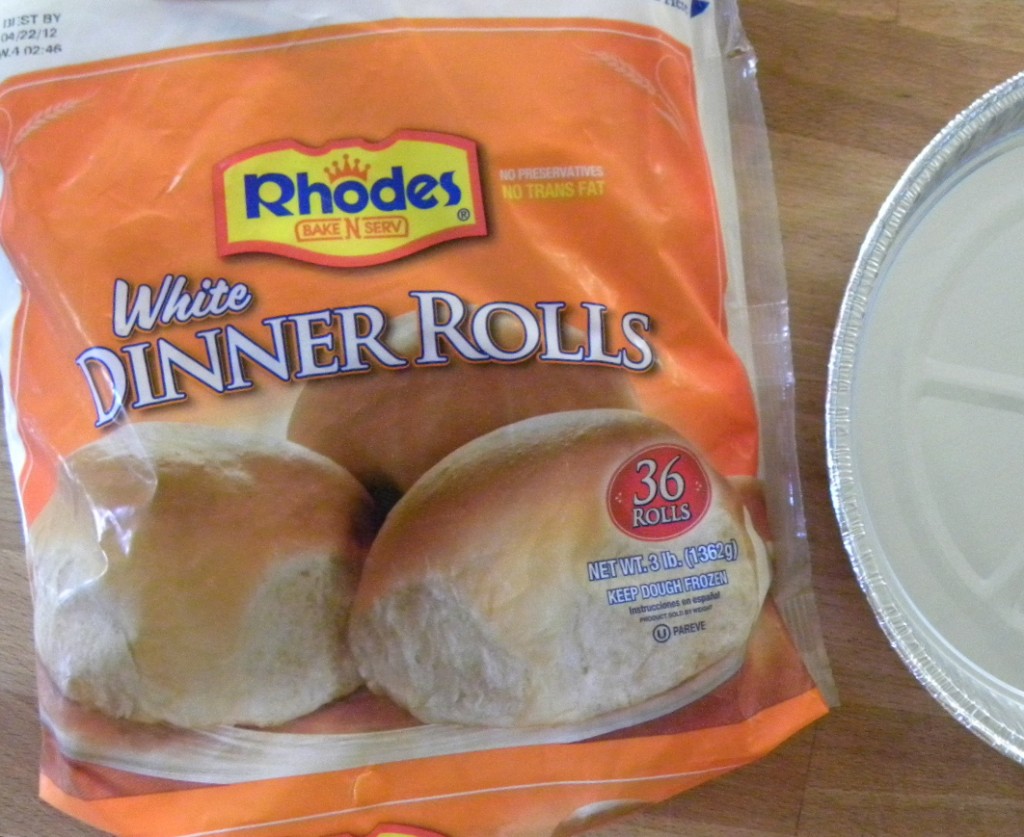 I love bringing warm rolls with a meal.  I don't always have time to make my homemade rolls.  That's why I love Rhodes Rolls!  I always have them in my freezer.  It takes a little forethought, because they need to thaw and rise.
But if you can remember to take them out, and pop them in a pan and cover them with a cloth to rise, right away in the morning by early afternoon they will be ready to bake.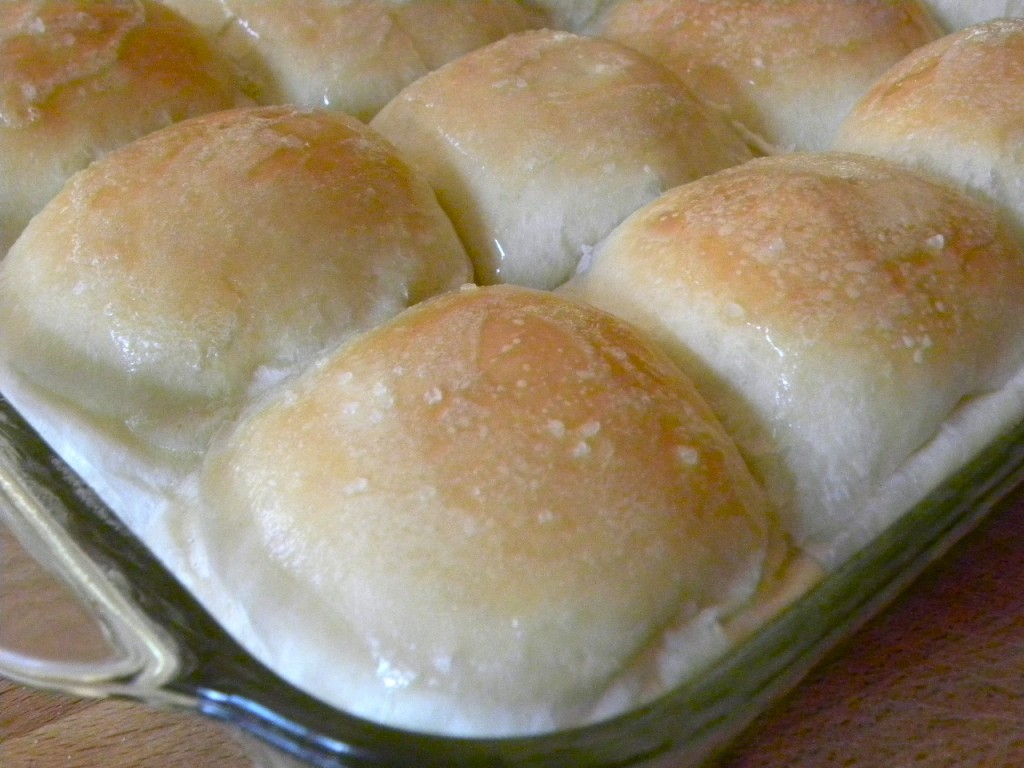 Oh my can you smell that yeasty, butter smell?  Right when I take them out of the oven I give them a good slather with softened butter and a sprinkle of course ground salt, and if I have it chopped fresh rosemary, then a sprinkle of that too!  MMMmmm mmm mmm Mhhh!

.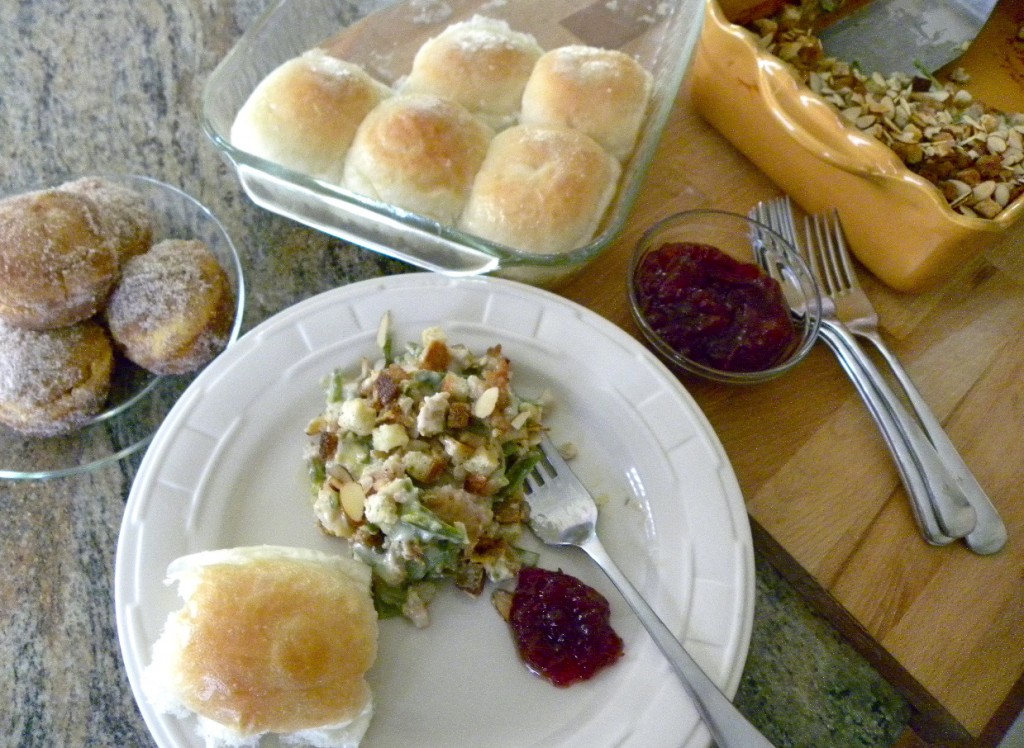 Like I said Thanksgiving on a plate!  Chicken Supreme, rolls, cranberry sauce, and Pumpkin Spice Donut Muffins for dessert.  This meal is super easy and is sure to please any starving new mother! Or welcome any new family, or comfort any one in hard times.  I have to say this is the perfect Meal 4 Sharing!
Thanks for following 31 days of Meals for Sharing ~ a guide to blessing others through the gift of food!
If you are just popping in on my series today, here's what you missed.
Day 1 ~my Heart for Meal Ministry
Day 2~ "I'm not comfortable with bringing someone a meal"….
Day 3~ Reasons 4 sharing a meal.
Day 4~ Quick Easy Apple Sauce
Day 5~ Organizing a Meal Schedule
Day 6~ #1 reason-No reason at all!
Day 7~ #2 reason 4 sharing a meal ~ Baby…baby..baby..ooooo
See You 2morrow!
Sheila