31 days of Meals 4 Sharing:: Reasons 4 sharing a meal.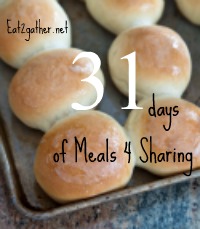 I want to you think BIG.  There are many reasons to bring someone a meal.  I am going to share with you 15.  Yes I said fifteen different reasons for sharing a meal/food with somebody.   And here's the thing I'm sure there are more that I haven't even thought of!
I wrote meal/food.  Did you catch that.  I know my series is 31 days of Meals 4 Sharing, however sometimes you don't have to make a full meal…..I will expand on that laytah.
Why would we share food/bring someone a meal?
~To help them out, to fill a need.
~To show them we care about them, and their basic needs.
~To celebrate.
~To say thank you.
I will be sprinkling the 15 reasons for sharing a meal here and there throughout the next 29 days!  I am not sharing them in any specific order.  I will give you meal ideas, recipes, timing techniques,  and what to say/not to say, for each reason.
Are you thinking out of the box when it comes to Meals 4 Sharing?
I would love to hear some reasons people have brought you a meal.
Stay tuned for #1…it's really not THE #1 reason, but well blah blah blah…you know what I mean!
AND be sure to check out the other bloggers taking up the 31 day challenge!  You can find them all HERE.
hug hug  kiss kiss,
Sheila