Rambler Warning!!  This post is a get ya up to speed post, so many times I want to sit down and write about this or that, but then time goes whizzing by and I never finish what I started, and some of you have asked me questions that I haven't answered so here it is folks!
So what picture did I end up with?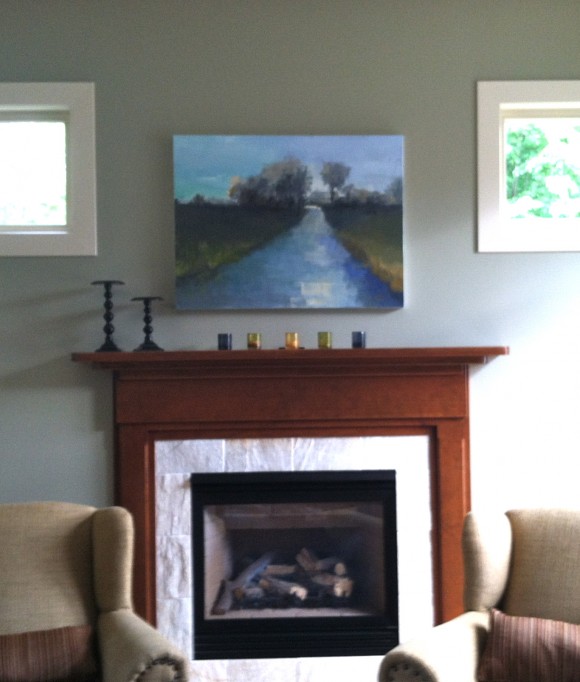 This one!  I love it….but now it's going to take me 100 years…well maybe days to decorate the mantle under it.  Have I told you I stink at decorating?  Or maybe more accurately I have no patients for it!  Any help of advice is welcome ; )  And no I did not get the Pear painting. The boss put me on a spending freeze.  Maybe in a few months!
Why was I holding a pig recently on Instagram?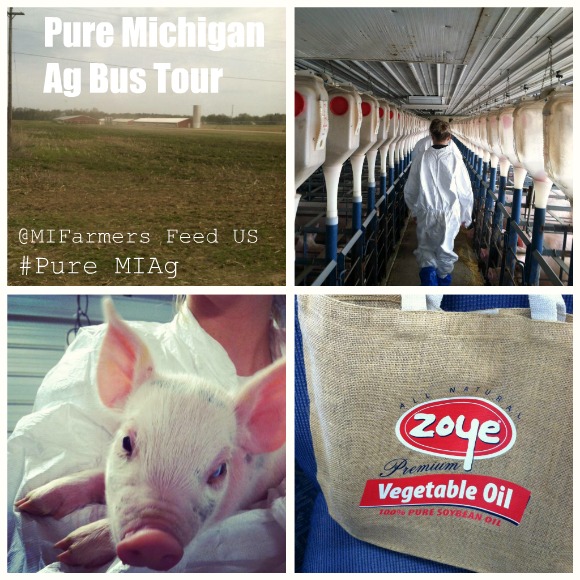 Awe…sigh.  Are baby pigs not the cutest things ever?  If only they stayed small and cute then maybe we would have a pet pig instead of a golden retriever….which was also cute as a baby but got big, and stinky so you see I've learned my lesson.
A few weeks back I boarded a big comfy bus for a Pure Michigan Ag Adventure!   Myself and several other bloggers, a chef, and agricultural experts set off across the Mitten for a day of Sows and Soy!  Dykstra Farms and ZFS hosted the event.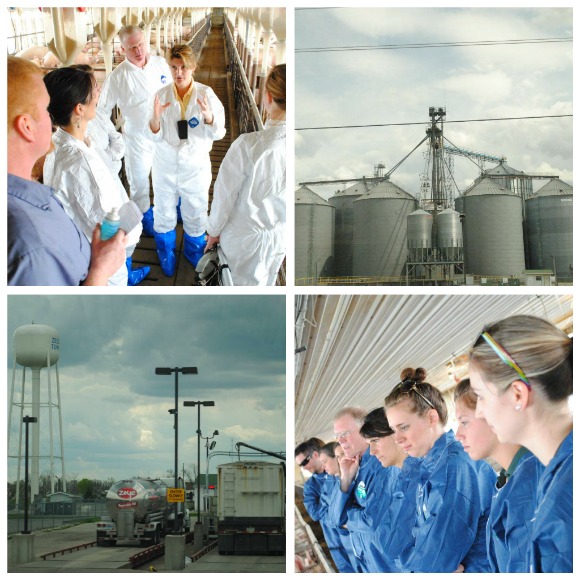 Does the look on our faces reveal how fine the odor was?
Spending the day with Pure Michigan Agriculture at Dykhuis Farms and ZFS was an amazing eye opening experience….you just never know what's in your own back yard!  At Dykhuis Farms (the state's largest pig farm) we journeyed with the pig from conception to grown hog, the care given these animals was surprising, in a good way, when you think of the numbers of animals the farmers are working with.
I have passed ZFS (Zeeland Farm Services) hundreds of times and never knew what it was, to find out the amazing story of how one family has grown a business out of hard work and soy beans was truly inspiring!  ZFS is Michigan's only soybean processing facility.
All that the state of Michigan has to offer agriculturally and recreational never EVER ceases to amaze me!  We truly live in a mitten full of endless possibilities.  Pure Michigan you can quote me on that!  See end of post for Pure Michigan Ag GIVEAWAY!!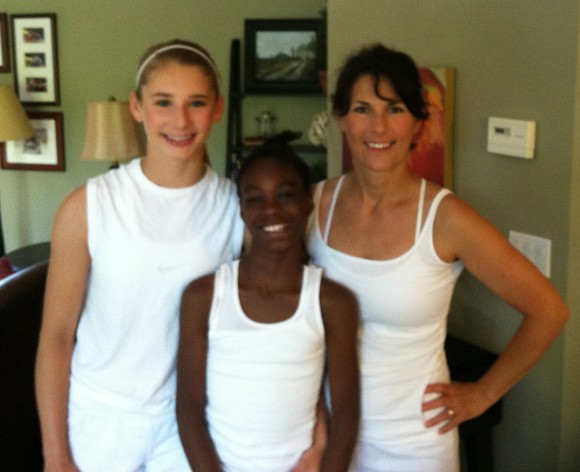 Weight Loss.  Yes I have lost weight.  How?  You asked….Complete and utter deprivation and starvation, and oh yeh a little bit of exercise!  OK maybe it didn't totally deprive myself…but it felt like it.  And I really didn't starve…but I was sure I was gonna die, most days.  Over the past four years I have packed on about 18 extra pounds.  I think turning 40 and deciding to start a food blog, miiiiight not have been the greatest decision as far as my waste line goes.  EGADS!  I've always been a cooker and a baker but not to the extent that having a food blog pushes me to.  Also if I might add prior to my 40th year I was blessed with an amazing metabolism (thank you Dad), but that metabolism got on the bus and headed straight out of my life.  Wah me…it was fun while it lasted!
So this December when I honestly couldn't fit in to any of my cloths.  My good friend Kim (At Home with Kim) gave the advice on her Weigh in Wednesday to put those jeans that don't fit back on, quit buying bigger or worse yet always wearing stretchy.  Oh yeah baby I live in my black stretchy pants….or I did anyway.  I took her advice and it was so painful…my jeans actually hurt me in more places than around my waist…..erg, no comment. This step was a huge motivator to me.  So I decided January 1 was the day I watched what I ate and exercised more, and drank more water and less alcohol and coffee.  I also used the My Fitness Pal app, which was life changing in showing me where all my calories were coming from.  I cut cheese, bread, and alcohol almost completely out of my diet for 3 months.  Apparently I ate a lot of cheese and drank too much beer….sheesh!  Who knew.  My fitness pal did that's who.  Slowly the weight came off.  The first pound took 3 weeks!!!
As of yesterday I have lost 15 of my 18 pounds!  I feel so much better, and my cloths fit me ; ) Yehaw and Yahoo!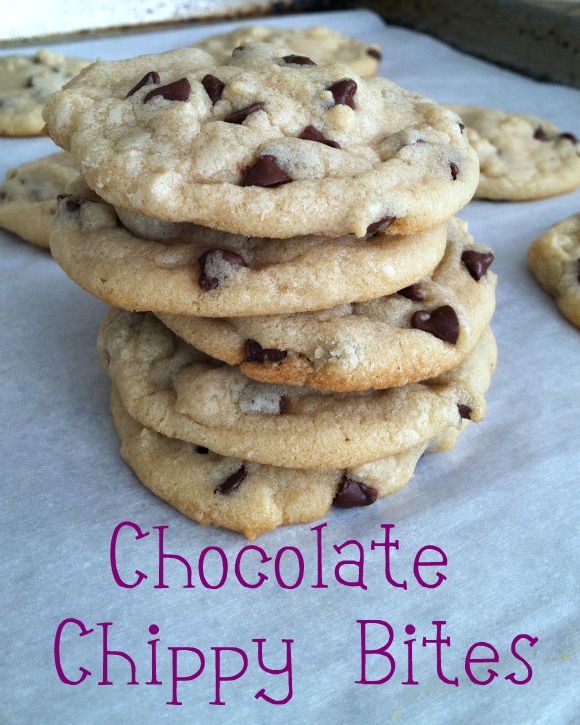 I wanted to thank all of you who took the time to vote for my Chocolate Chippy Bites.  I made it to the final 15 in the Pompeian Change your Oil recipe competition,  but did not move on from there to win a ticket to BlogHer Food.  Pompeian Oils and Vinegars are still a staple in my kitchen…even though I did not win.  Waha ahaha ahah. JK
I'm still going to Blogher Food which is in Austin Texas this year.  A city I have never eaten in, or been to or through.  I am so excited!!  I will be meeting up with old friends and meeting some new!  I'll be rooming with 6 beautiful ladies 5 of which I have never met in person, it's going to be a blast.  At this point I am not attending the conference, only events surrounding the conference and of course exploring Austin.  I would still love the chance to attend BlogHer Food, I am pursuing sponsorship so if you are a brand and would like to sponsor me shoot me an email…let's talk!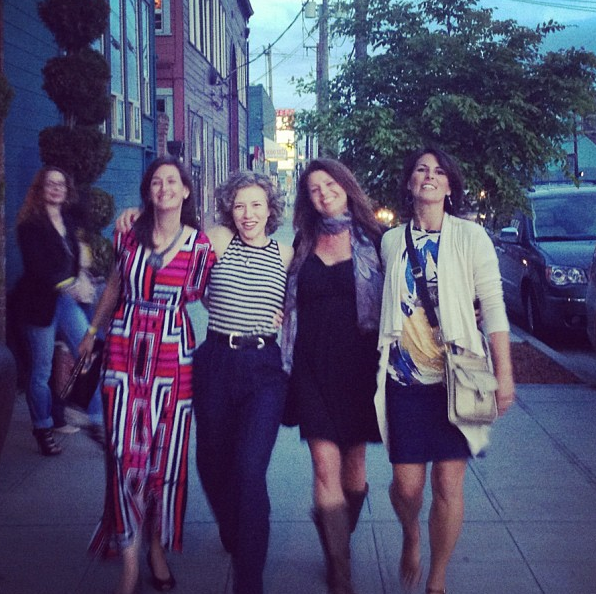 Blogher Food 12 in Seattle.  Coryanne, Sara, & Sandy can't wait to see you next week! Good times!(I know this picture makes you wanna sing sha-meO-sha-maZO-hassenpfeffer incorporated!)
I road tripped with my BFF Heather this week.  We kicked the kiddos to the curb at school and motored to the Ikea in Detroit. It's a 2 1/2 hour drive.  We left at 8:30 am and we were back before school got out at 3:38 pm!  That's some crazyness right thar.  Copious amounts of caffiene may have had something to do with it.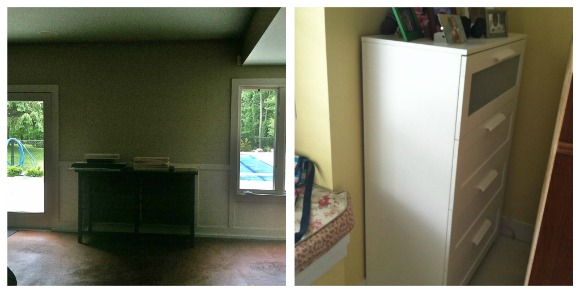 I purchased a dresser for Cece's room, and  I also bought a side table for the basement for storage and to put snacks out on for hungry swimmers.  I needed so many things for our basement kitchen that walks out to our pool area….this is where we live in the summer, and ususally I am hauling stuff up and down from the main kitchen. I think I've got my kitchen all set, no more running with knifes up and down stairs…which is not safe BTW.  As you can see I'm still not done putting the sideboard together…maybe tonight.  I live an exciting life….ikea assembly on Friday night. Woot! Woot!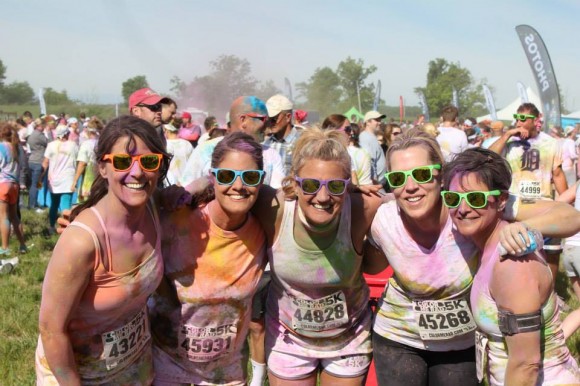 The BUCs (Babes under the Covers) a.k.a. book club girls.
Um have I ever mentioned I hate running…jogging or anything of the sort, unless it has to do with running after a Food Truck or running to catch a cab to a restaurant, or running to beat someone out at the hostess stand to get my families name in first, hypothetically speaking of course.  So what was I saying?
Oh yeah I am not a runner.  I started track in high school twice and quit twice.  Everyone makes running look so fun.  It's not.  It sucks.  Excuse my French. So well anyway I ran a 5k last Saturday.
For reals.  Hold your applause.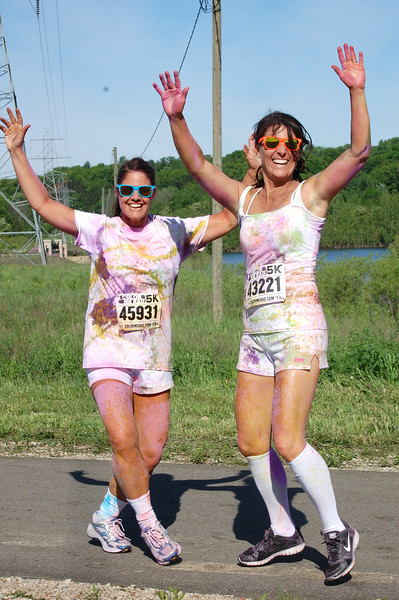 I know.  I can't quite believe it myself.  Good thing there's pictures to prove it.  So will I run another race.  Darn tootin' but that doesn't mean I liked it, I hated every minute of it, it hurt.
How did I get myself into this predicament?  To be honest…I had a few too many drinks at book club and the rest is history.  Those dam BUCs always getting me in to stuff I don't wanna do.  Plus it was a fundraising 5k for the Helen Devos Childrens Hospital, who can so no to that?!  Well normally me…but times have changed.  Apparently I'm a runner now.  Bah hahaha Ha Ha
On to the next piece of beeswax.
Guess what?  This is the best.  I have been so excited to share this with you…I can't believe I haven't yet.  I started a line of t-shirts.  Well I only have one design finished and ready for purchase, but I have lots more ideas and designs up in my noggin just waiting to be splashed across someones back.  Your back hopefully! ; )
Here's a peek….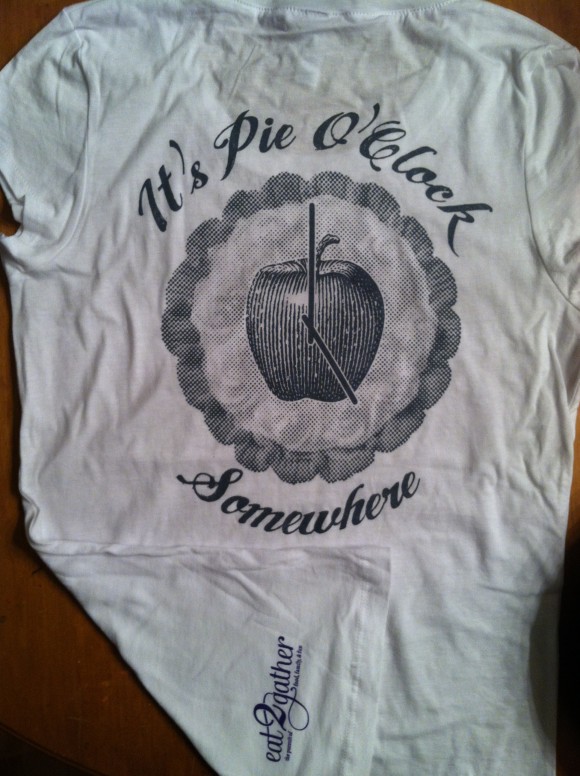 Words to live by right there…..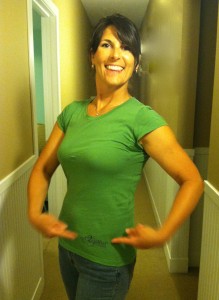 Here I'm modeling the green choice. I know I'm koo koo for coco puffs, why t-shirts? I don't know. I think they're fun. It's something I've been thinking about doing for years and I decided to just do it gol dernit.  I only have women's shirts right now, they are Bella brand which is a great length and fit, and very soft.  I love them!
The men in my life are complaining that I discriminated against them…so there will be some boy shirts soon.  Maybe with a different design.
Come back Monday for the chance to win one and here more about my crazy t-shirt ideas!
 GIVEAWAY: TODAY I am giving away a whole bunch of goodies from Pure Michigan Agriculture.  This is just a few of the items that will be in the goody bag!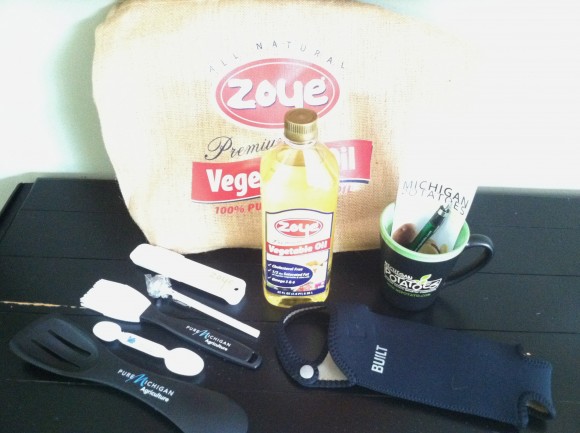 The only catch is that you must live with in delivering distance, let's say the greater Grand Rapids area.  This bag is heavy and would be costly to ship, so if you don't mind me paying you a visit.  Leave a comment below answering the following question:
What is your favorite pure Michigan summer activity?
I will draw a winner at random Wednesday June 5!
So that's all for now folks.  Have a great weekend!
Sheila