Soup-a-palooza couldn't have landed on a better day! After a crazy weekend of driving all over in horrible weather and then the last two days spent in Med Centers or Dr. offices because my son did a number on his arm snowboarding. I am ready for a warm bowl of soup, my blankie, and a good movie!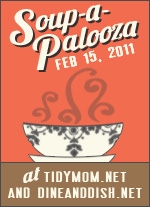 Kristen at Dine and Dish and Cheryl at Tidy Mom have put together Soup-a-Palooza for your Soup eating pleasure!! Bloggers and non-bloggers alike can head on over to either Kristen or Cheryl's blogs and reap the benefits of Soup Lovers Everywhere! The last I checked there were 118 soup recipes posted! You can also share one of your favorite soup recipes and be entered to win prizes from Bushes Beans, the Hip Hostess, Pillsbury, and Westminster Crackers!
I had planned on sharing one of favorite soups recipes with you, but well… as I said, life kinda got in the way. So I ended up sharing two previously posted recipes. Do you remember these?
I could only post two at Soup-a-Palooza…but here's another soup that I've shared with you, that you might like.
I hope you enjoy and maybe even share a recipe of your own!
SOUPS ON!