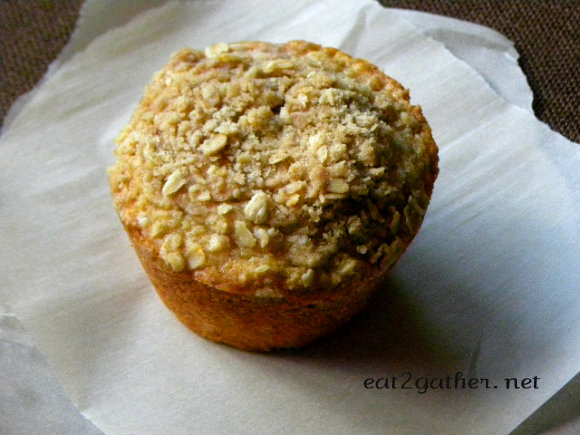 Have you ever eaten something that you can't stop thinking about it?  One of my somethings are these Oatmeal Breakfast Muffins.  Years ago Ken and I went Up North skiing, we stayed at a little motel that served a continental breakfast. They served us the most wonderful array of  scrumptiously colossal muffins.  I nicknamed our hostess The Muffin Maven.  She would seriously have 5-8 varieties of delicious muffins out every morning.  Of course, I had to ask if she would share her recipes.  Much to my excitement she obliged me with a cute little hand made muffin cookbook, for freeeee.  The Muffin Maven said it wasn't' the first time she'd been asked.
So here is my dilemma…16 years later, I can't find the cute little pink muffin cookbook!  And I have had a hankerin' for the oatmeal muffins now for about 10 years!  The straw that broke the camels back was the fact that my littlest has a hard time eating breakfast.  She likes oatmeal, but it takes her awhile to eat it and she can't get it down before school.  She is able to wash down baked goods if they are moist….we have some textural hypersensitivity issues going on in our house in the AM.  So I decided to try and recreate the Oatmeal Muffin in the attempt to get her to eat breakFAST!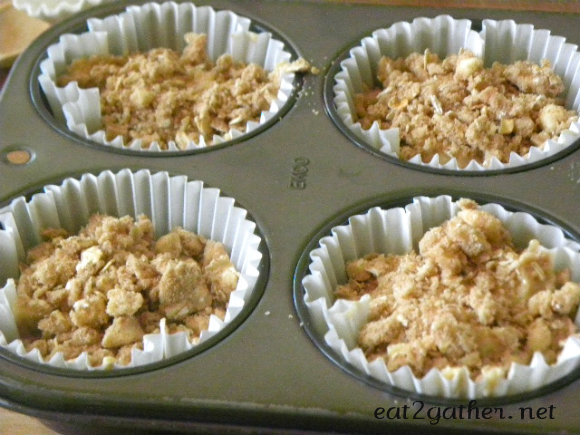 After digging through a few cookbooks and combining a few recipes and ideas this is what I came up with.  They are even better than I remember them!  Not too sweet, very moist, a hint of cinnamon from the crumble topping, the perfect breakfast muffin!  You don't even need to get out your mixer, you can whip them up in a bowl with just your spatula.  There is something about using an old fashioned spatula that makes recipes more comforting….don'tcha think?  Plus a spatula is much easier to lick than the beaters from my mixer!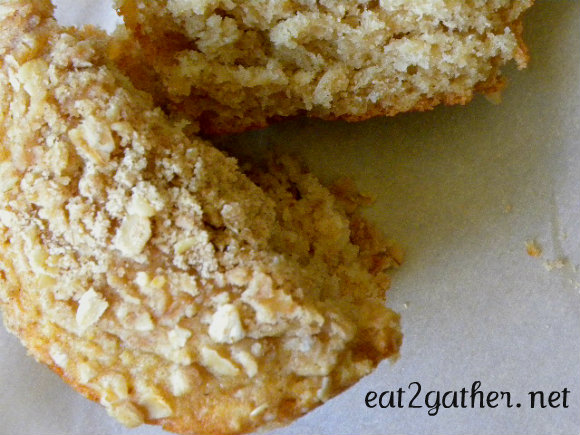 [print_this]
Oatmeal Breakfast Muffins
makes 12 muffins or 6 large muffins
1 cup Oatmeal, (old fashioned)
1 cup Buttermilk
1 Egg, lightly beaten
1/2 cup Brown Sugar
1/2 cup Vegetable Oil
1 cup Flour
1 teaspoon Baking Powder
1/2 teaspoon Baking Soda
1/2 teaspoon Salt
Cinnamon Streusel Topping
1/2 cup Flour
1/2 cup Brown Sugar
1/2 cup Oatmeal
1 teaspoon Cinnamon
1 stick Butter
dash of salt
Preheat oven to 350 degrees.
Muffin: Mix oatmeal and buttermilk together in bowl and let set for 10 minutes. In large bowl whisk together, flour, baking powder, baking soda, and salt. Back to oatmeal buttermilk mixture, add in one egg lightly beaten, brown sugar, and vegetable oil combine well. Make a well in dry ingredients, pour wet ingredients into flour and fold together with a spatula until just combined.
Streusel: Combine flour, brown sugar, and oatmeal, and cinnamon, cut stick of butter into dry ingredients until you get a consistent crumble topping.
Spoon muffin batter into paper lined muffin tins, cover top of batter with 1 tablespoon of streusel topping, be generous. Bake at 350 degrees for 18minutes or 22 minutes for large muffins.
[/print_this]
I think they would freeze well too…they haven't lasted around here long enough for me to give freezing a try, but I bet they would freeze wonderfully.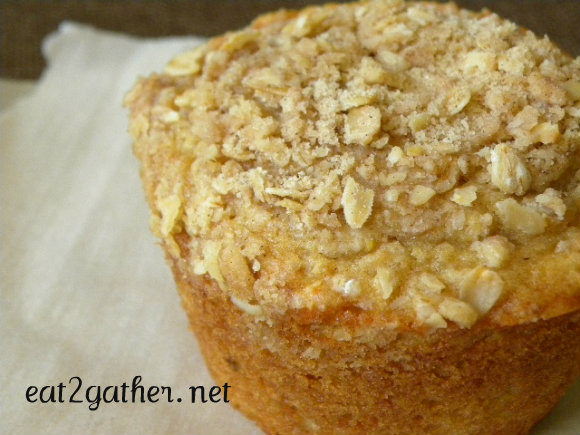 Now go whip yourself up a batch of Oatmeal Breakfast Muffins,  grab a cup -O-joe, and call it a day!