The New Year is almost here, ya know what that means?  New years resolution time, time to get organized, fitnessized, and spiritualized!! Do you make resolutions?  I as a habit do not.  I call them goals. La-tee-da-goals.   I usually try to set a few goals for myself at the beginning of a new year, for example last year I said I wanted to clean out storage rooms, closets, and cupboards; and I'll be darned if it hasn't taken me nearly the entire year, but I have cleaned out most of the closed off spaces in our home.  You know the spaces?  The ones that we (me in particular) hide my inner hoarder in.  I cleaned out my laundry room cupboards and drawers, and gave away stacks of material from my baby quilt making days, and gave away tons of scrap booking materials from my creative memory days.  It felt gouda.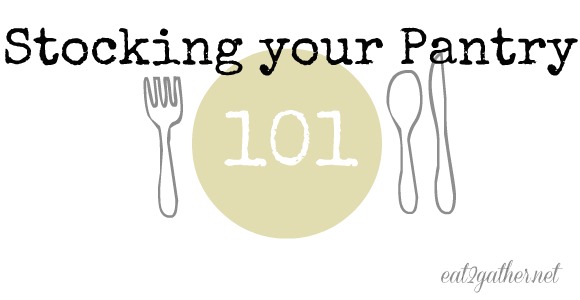 Well all that being said this year one of my goals is to keep a better stocked kitchen.  Not an over stocked kitchen.  A better stocked, more organized kitchen.   A kitchen that has the essentials of what I need to whip up food for my family.  (That's the name of an awesome food blog by the way.)   I've been looking over my recipes, and making a list of a few things that I use often; I want to keep ingredients on hand that I need so I can make dinner at a moments notice.  Of course there are always the perishable groceries like milk, eggs, fresh produce that I will need to stop into the grocery store for, and of course I will need to do some restocking, but I am confident this list will keep me organized and on track.  I made it printable so we can keep it on the inside of a cupboard or the inside of the pantry door; then there will be no problem whipping up dinner at a moments notice!
THUS getting your family around the table together more in 2o15!!  At the top of everyones 2015 resolution list should be: MORE FAMILY MEALTIME! 
What could be better than sharing a weekly meal or two (or four) with those you cherish most?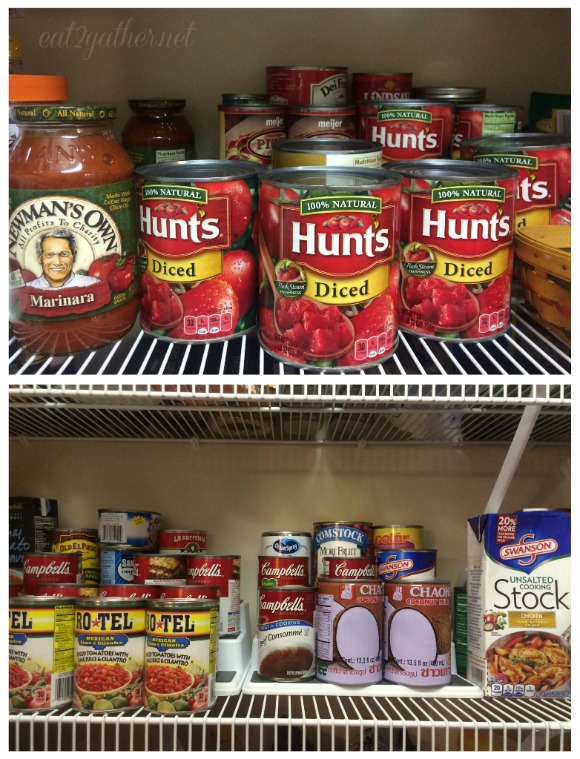 Like I said I thought through the recipes I make the most and made a list of the most common ingredients that can be used on a daily basis to whip up dinner.  You may need to make a few changes to this list or add ingredients to it that you use for your favorite recipes, but I'm confident that this list contains most of what you will need to make most everyday recipes.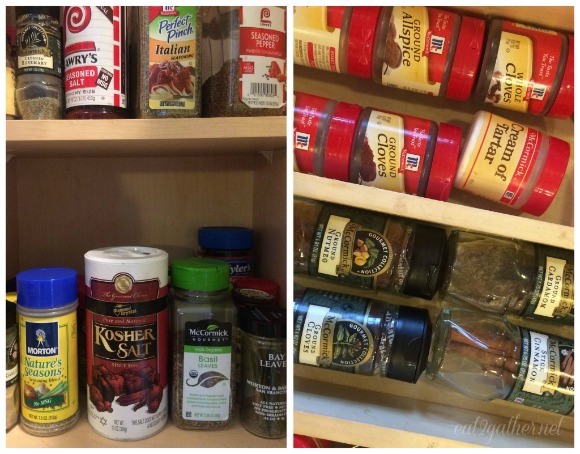 Tip: Take 15 minutes to go through your cupboards and refrigerator discarding ingredients that are out dated or that you feel you will never use (donate them to a food pantry or see if a neighbor can use them if they haven't expired), at the same time organizing your cupboards putting like ingredients together; tomato products, beans, soup, pasta/rice etc.   If you do this four times a year you will stay on track and keep a better organized pantry, and it should only take 1 hour of your time for the entire year!
[print_this]
Stocking UP!
Keeping your refrigerator, freezer, and pantry stocked so when it's dinner time your prepared to make it!
Freezer:
noodles – homemade egg noodles such as Reames brand, also cheese tortellini
chicken sausages (I like this brand)
ground turkey, and ground beef
chicken breast, bagged 2 or 3 to a bag
round steak – it's good in stew and other crock pot recipes
bacon
breakfast sausage in 1 pound packages
bags of frozen vegetables – corn, peas, stir fry medley, soup mix
fruit – for smoothies or a quick fruit crisp strawberries, sliced apples, peaches, blueberries, raspberries, blackberries
frozen dinner roll or bread dough (I like the Rhodes brand.)
unsliced Italian bread – for sandwiches, french toast (wrap tightly in plastic wrap and then in aluminum foil to avoid freezer burn and maximum freshness)
Fresh refrigerator items:
butter
milk
eggs
block cheese, it keeps longer and I can grate as much as I need
parmesan cheese
cream cheese
plain yogurt (I prefer greek style) and/or sour cream
red bell pepper – always have these on hand for recipes and snacking
green pepper
celery
carrots
lemons/limes
Pantry items:
other assorted dried noodles, lasagna, elbow, spaghetti, rigatoni
rice – I keep jasmine rice and brown rice on hand
canned beans (black, cannelloni, and pinto are my favorite)
canned tomato sauce, diced tomatoes, and tomato paste
canned pizza sauce
rotel diced tomatoes
jarred salsa – such as Pace chunky salsa
stock/broth – chicken, vegetable, and beef
jarred marinara sauce
coconut milk
chipotle peppers in adobo sauce
bread crumbs – panko (for using as a breading) white bread crumbs (for using in recipes)
yellow corn meal
evaporated milk – I like to keep this on hand to use in sauces instead of half and half
Baking Pantry Items:
flour
sugar – white, brown, powdered
baking soda
baking powder
shortening
cocoa
yeast
vanilla
chocolate chips
various nuts (if you don't use nuts up quickly you should store them in zip-loc bags in your freezer)
oats – old-fashioned and quick oats
sweetened condensed milk
instant coffee
syrups – corn, maple, molasses
honey
Storage Produce:
potatoes
garlic
onions
Spice cupboard:
salt and pepper
allspice
bay leaves
cayenne pepper
chili powder
cinnamon
cloves
cumin
curry
garlic powder
ginger
Italian blend
nutmeg
oregano
paprika
red pepper flakes
rosemary
season salt – I prefer Mortons Natures Seasoning
thyme, ground
turmeric
Essentials:
various oils – vegetable oil, olive, sesame
Worcestershire sauce
Dijon mustard
ketchup
hot sauce
vinegars – white (distilled) , balsamic, red wine
peanut butter
barbecue sauce
hoisin sauce
soy sauce
mayonnaise (real mayonnaise)
jam/jelly – apricot, strawberry, grape
red curry paste
pop – I hide cans of Dr. Pepper, and ginger ale in my pantry for certain recipes, if I don't hide them my kids will find them and drink them!
[/print_this]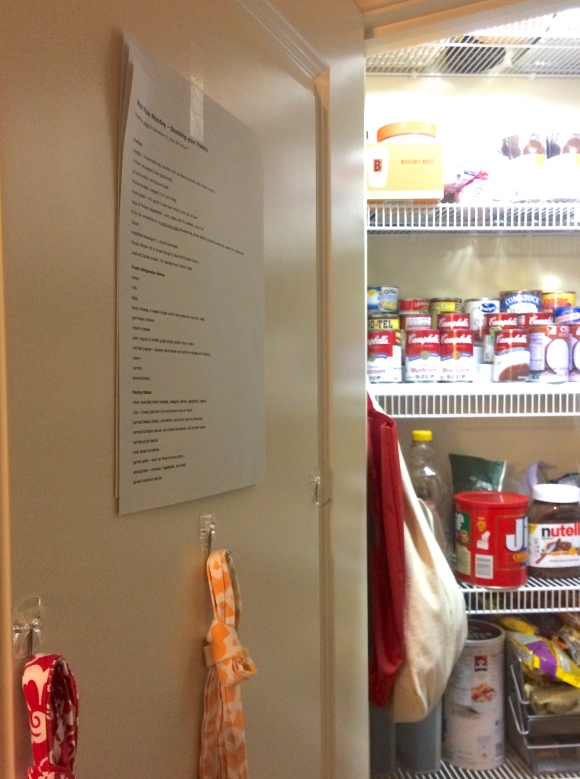 Tip: Taking a few extra minutes to make an organized grocery list will save you time in the grocery store and put money in your wallet.
This may seem like an overwhelming list of ingredients, but I guarantee if you take this list and go through your food storage areas and start taking inventory of what you have you'll be surprised at what you already have and how little you need.  Having the basics on hand will help you get dinner on the table, guaranteed!
Hoping this list is helpful in your pursuit of family mealtime!
Sheila