This easy cheesy lasagna recipe can be made in one pan for a larger family, such as mine, or split in to two pans, eat one and freeze one for later!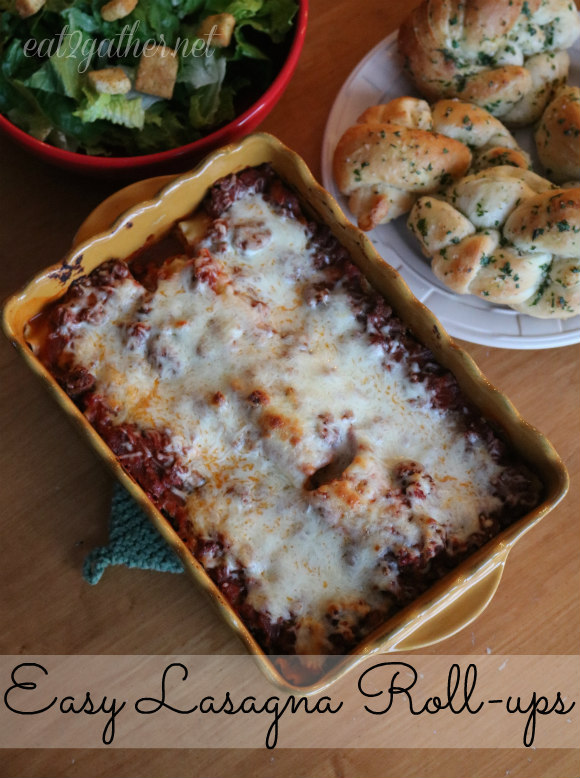 I have posted a few lasagna recipes in the past.  This one is my kids favorite.  I've probably said that about the others as well.  Face it we just like ourselves some lag-zag-nah round here!  But honestly, this one IS our favorite.  The sauce is simple, there's not too much cheese but just a enough, and well the little roll-ups are just plain cute!
Easy Lasagna Roll-ups are basically a spin on my moms lasagna.  I grew up eating lasagna made with cottage cheese, cripes I never even heard of ricotta cheese until after I was married!  If you are used to using ricotta cheese and for some reason the idea of cottage cheese in lasagna freaks you out, get over yourself and give this a try!  You would know the difference if someone didn't tell you.  Plus if you are trying to keep grocery costs down or you are on a tight budget cottage cheese is more cost effective and has less fat than ricotta.
Get started by cooking your sauce, and boiling your noodles.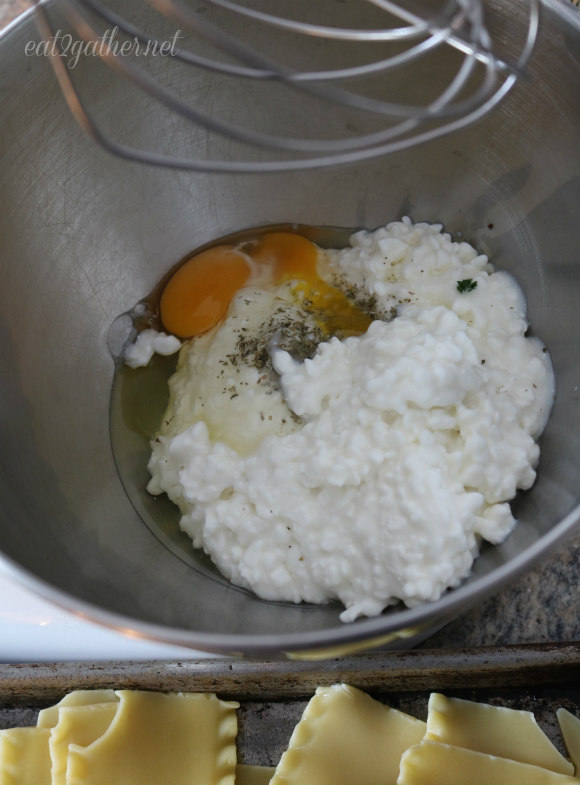 Combine your cheese mixture.

Don't let this step scare you, if you pretend you are rolling p a sleeping bag that has eggs in it, you will do just fine, in other words roll lightly, no need to squish the guts out….
Cover bottom of pan with sauce, and place roll-ups seam side down in pan.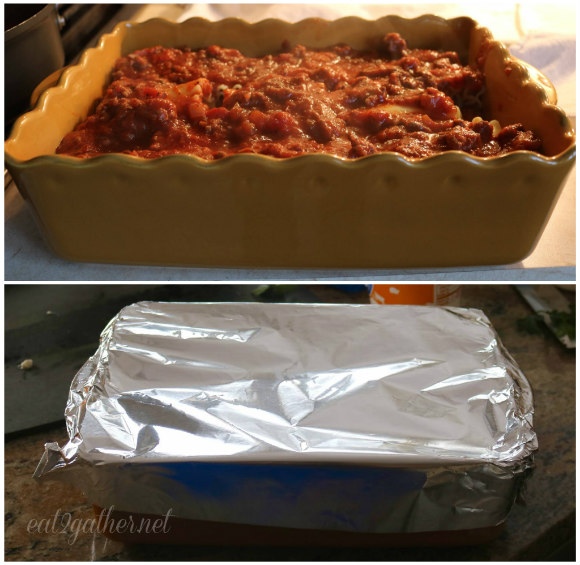 Cover noodle roll-ups with sauce, cover pan with foil, place in preheated oven and bake for 30 minutes.  Remove and sprinkle remaining cup of cheese over the top and return uncovered to oven to bake for remaining 15 minutes.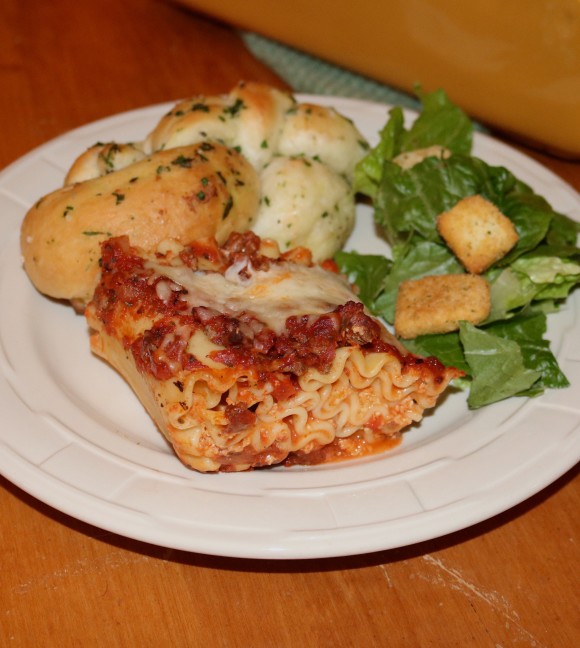 [print_this]
Easy Lasagna Roll Ups
serves 6 with leftover (or can make two pans for 4, eat one, freeze one for later)
level: intermediate
kid friendly: kids could definitely get involved with prep of this meal with adult supervision
prep time: 15 minutes
cook time: 30 minutes for sauce/ 45 minutes for baking
12 cooked Lasagna Noodles
24 ounce container small curd, low-fat Cottage Cheese
2 cups Italian Blend shredded cheese (save one cup for topping lasagna)
2 Eggs
1/2 teaspoon Italian Seasoning Blend
1/2 teaspoon Salt
Sauce:
1 pound lean ground Beef
1/2 cup chopped Onion
1 finely minced Garlic Clove
1 tablespoon Italian Seasoning Blend
1 24 ounce jar favorite meatless Spaghetti Sauce
1 28 ounce can Crushed Tomatoes
1 tablespoon Sugar
1 teaspoon Salt
pepper to your taste
Preheat oven to 375 degrees.
Sauce
1. Brown meat with onion and garlic, when meat is no longer pink add in 1 tablespoon of Italian Spice Blend saute for a few minutes longer.
2. Add jar of spaghetti sauce, crushed tomatoes, sugar, salt, and pepper to pan bring to a low boil, stir to combine ingredients and flavors, turn stove down to low, cover pan, and allow sauce to cook for 20-30 minutes.
Noodles
3. While sauce is cooking you can be cooking the lasagna noodles. Cook noodles in large pot of boiling salted water for 6 minutes, remove noodles to a baking sheet and lay flat.
4. In a mixing bowl blend together cottage cheese, eggs, 1 cup of the shredded cheese, 1/2 teaspoon of Italian herb blend, and salt until starting to look frothy and its well combined. About 2 minutes.
Assembly
5. Ladle sauce into bottom of a 7×11, 9×13, or if making two meals from this recipe use 2 square 9×9 baking pans.
6. Lay noodle on a flat surface, such as a cutting board, spoon 2 tablespoons of cheese mixture down the middle of lasagna noodle starting at the end closest to you gently roll noodle up like a sleeping bag, do not press as you roll or the cheese will squish out. Place each roll up into pan with the seam side down.
Ladle sauce over noodles to completely cover (you will most likely have some sauce left over). Cover with aluminum foil and bake at 375 degrees for 30 minutes, remove foil and sprinkle remaining cup of cheese over the top, return to oven uncovered and bake for another 15 minutes or until cheese melts and starts to brown.
Serve with a side salad, and garlic bread!
Enjoy!
[/print_this]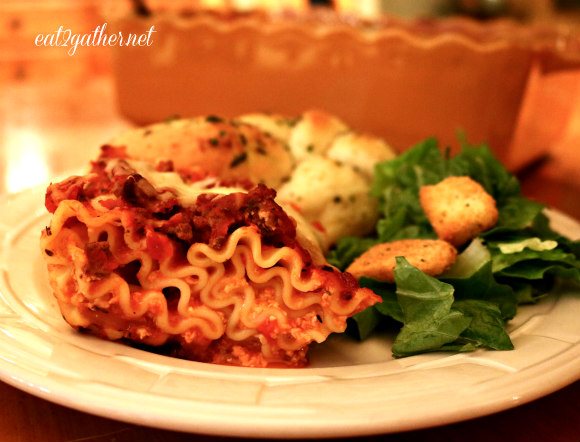 My family is not typically a lover of leftovers, but this they will eat two nights in a row!  What are some of your favorite cost conscience recipes?  Please feel free to share in the comments!
Peace, love, and cheesy lahzagnah!
XO, Sheila
Disclaimer:  I am proud to be an ambassador for the United Dairy Industry of Michigan.  Thank you for helping support Eat2gather by supporting your local dairy farmers!