I am not a DIYer, well let me clarify.  I do DIY, but I do not do it well, nor do I enjoy it.  I'd rather be in the kitchen making 80 pies or a feast for 50 than painting walls, or refinishing furniture.  I have done both of those, I also have sewn quilts and done other crafty things, but it's not my everyday self that does those sort of things.  I need to be in "a mood" er sumthin' like that.
We've been in our home 12 or maybe it's 13 years this month.  There are still empty walls, and projects unfinished. That inexpensive carpeting that we were going to replace with hardwood after 3 years is still there, and I still haven't found the perfect area rug for the rec room floor.  Oh it's all just too overwhelming!
The funny thing is my sister can throw a house together in 48 hours flat.  Make it look like she's lived there for years.  She has a gift.  She can also sing like a bird too.  How come she got all the good talents?  Life is so unfair. I'm just thankful she's willing to help me with my lack of vision for interior design.  Or maybe it's my easily distractable tendencies that are more the problem, I'm easily thrown off course when shopping for "house stuff".   Am I right Carla?
Recently I arm wrassled my sister, she lost, and I made her help me get some empty spaces filled in my home.  (I did get the strong talent…if that is a talent.)  We set a date, and with iPhone photos of empty walls in hand we set out to find some things to fill the empty spaces.  My seestor will tell you keeping me on track was like keeping a kangaroo on a leash.  I'm a spazatron.
So let me introduce you to my empty walls.  Just a few of them.  There are many more.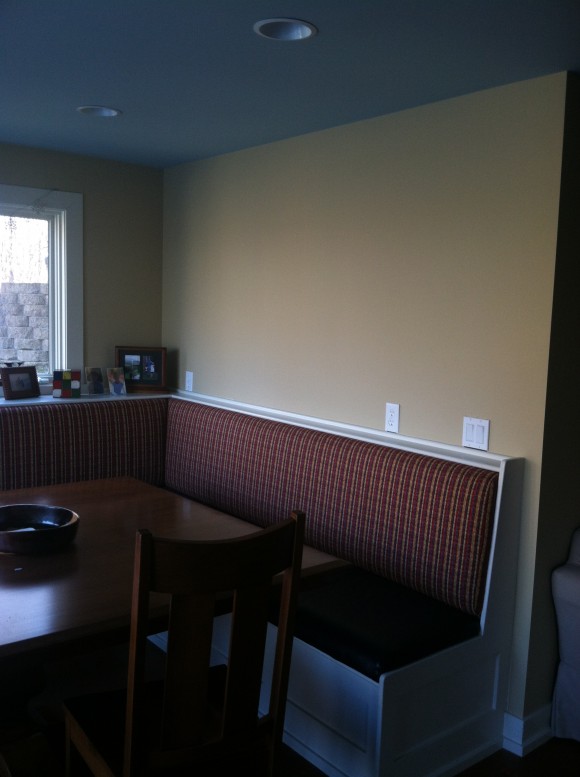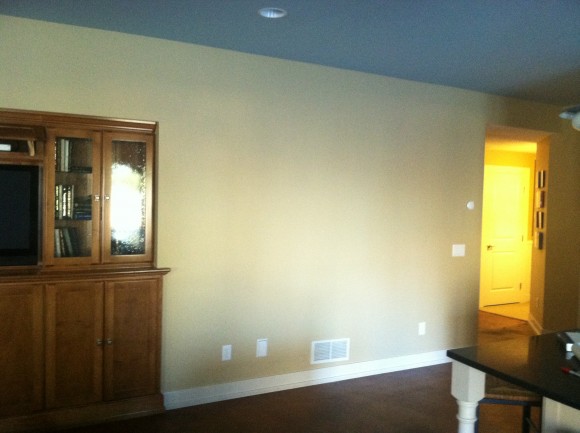 These walls were empty too, but my luverly sister walked into Kens office and saw these beautifully framed photos  leaning up against the wall and was like WHAT THE freaknog!!  What are these doing here, when you have empty walls all over this house!!! And well much to my joy and embarrassment they were hung in 30 seconds.  BAM job done.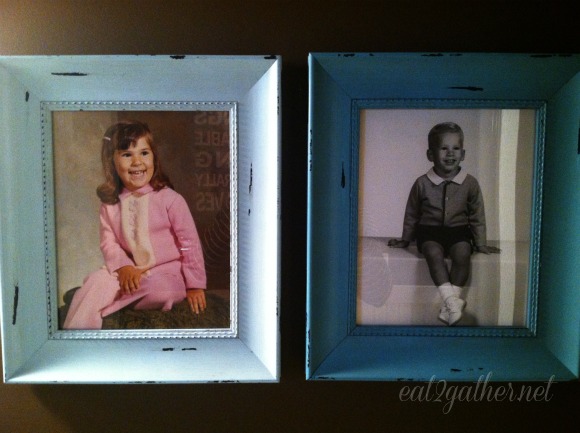 Who are these cutey patooties?  Well the one in the Jacki O suit is moi, and the dapper Dan would be Kenny.  Don'tcha just love the green shag carpeting I'm sitting my cute rumpus on?  Egads Ma no wonder I got pneumonia…the good Lord only knows what critters were lerking in that shag.
Well the pics are hung, we were sure cute, and my immune system has never been better.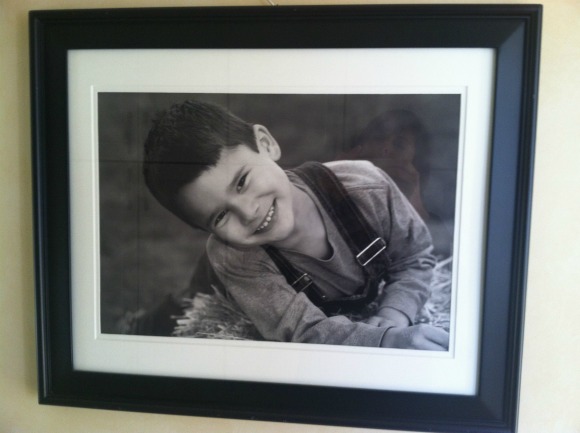 Noah, farmer Noah.  This used to be hanging in the pediatric wing of the hospital in our town, but when they renovated the hospital they took it down, and we asked them for it…hey it was just sitting in a closet in the hospital, might as well sit on the floor in Ken's office for a few years!  Finally rescued this is a favorite photo of mine, and now I get to pass it everyday on the way to my bedroom.  🙂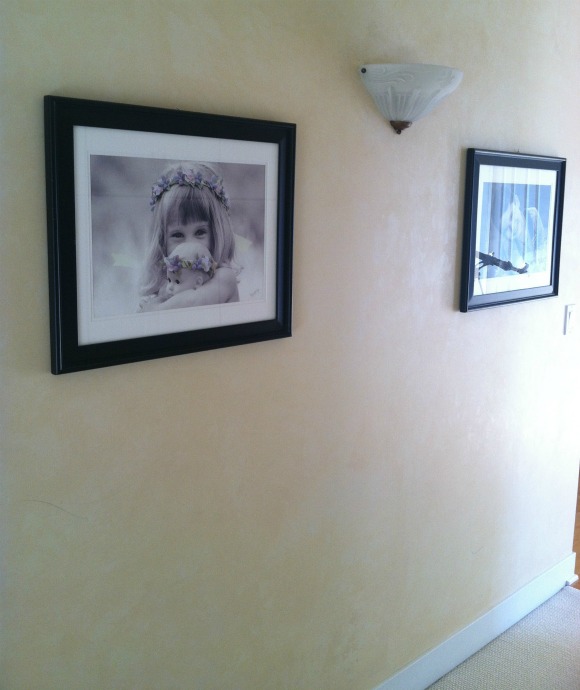 Same story for this picture of Ainslie with her American Girl doll.  My heart aches for those days.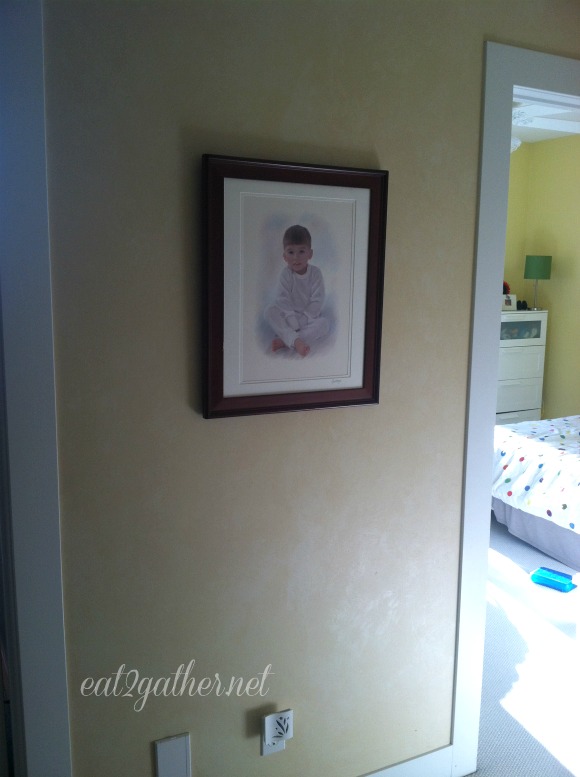 Once again same story for this picture of this cheeky monkey.  Luke….bestill my heart.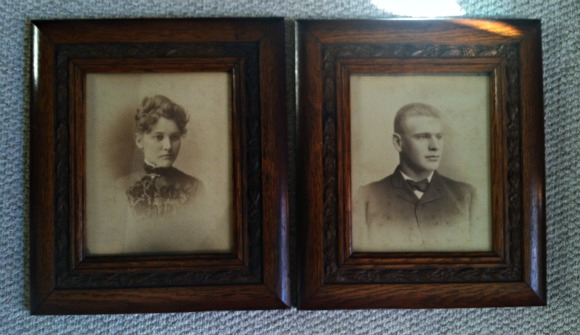 I've yet to hang these pictures of Kens great grandparents.  The frames are made of hard oak, and have no hanger thingy's  (like my diy-ees?) on the back of them.  So I need to figure that out and get them hung on one of the leftover empty walls.  Aren't they lovely though?  Handsome folks!
So then the "big" project was to get a whole bunch of old and newer family photos framed and hung on a wall.  But what wall?  Carla and I went through the pictures, and she advised that I purchase (which she helped me do) frames in all varying designs but in black.  Then she left me…..to do my homework, she said she'd be back in a week and we'd hang the pictures.  This is called intervention people.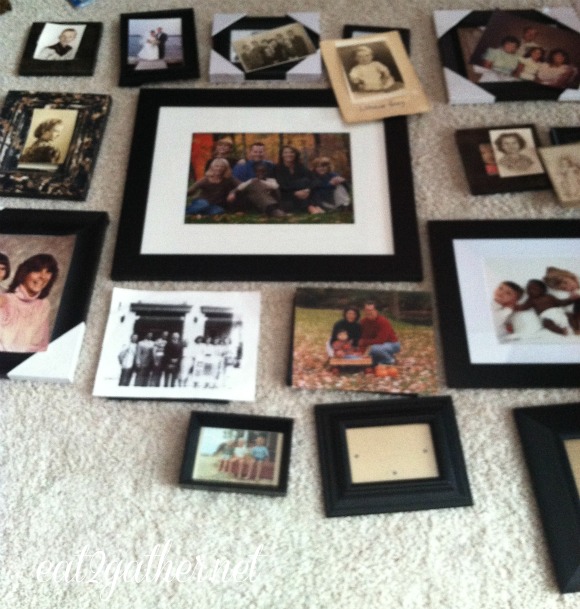 The photo is fuzzy, but you get the idea.  Of course I let the frames sit around for 6 days and about 12 hours before my sister was shed-jeweled to return I went into freak out mode and started unpacking them and getting pictures in the frames.  Did you know my middle name is procrastination (at least for things I don't care to do….like DIYing, mending cloths, cleaning out cupboards, and the list goes on).  So this is the beginning of the process.  Do you notice the linear arrangement that I'm starting to put together?  Making sure edges line up and one nice square is formed with all the photos are finally hung.  Did you know my other middle name is obsessive compulsive linethingsupinperfectrows lady.  When I hang a picture or a photo I get out every type of measuring device, stud finder, and level and then I make fifty measurements and when I finally (after 2 hours) get one 5×7 hung and it's 1.222 millimeters off and I can't sleep at night.  This is why I have bare walls.
So then my seestor arrived and this happened in about 15 minutes.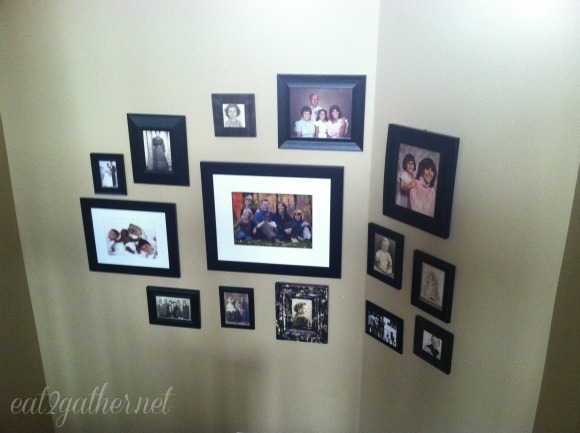 Apparently pictures do not need to be perfectly aligned and level to look great on a wall.  Take the one that you want to be the focal point and start hanging from there.  Voila!  Empty wall filled.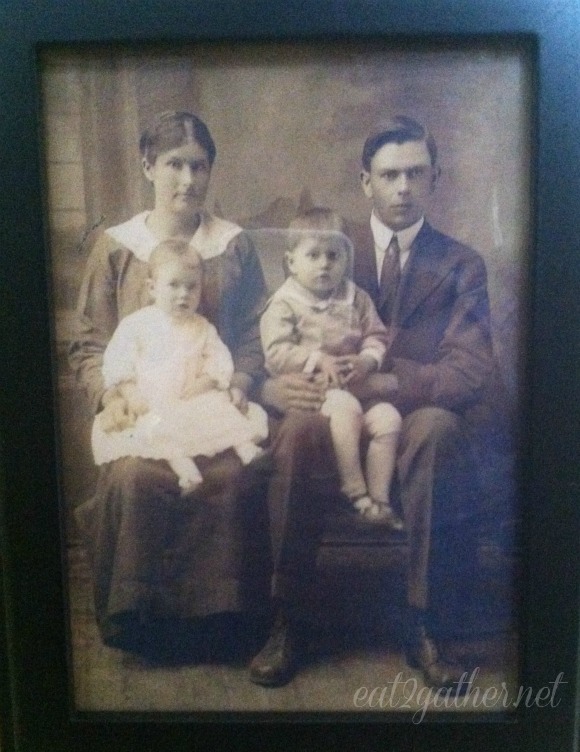 This wall happens to be all my family photos back as far as my great great maternal grandparents.  I have to go through this process again with Ken's family photos.   This photo is (correct me if i'm wrong…mom) my great great grandparents with my mom's Grandpa Ainslie on their lap.  These people are who my oldest daughter are named after.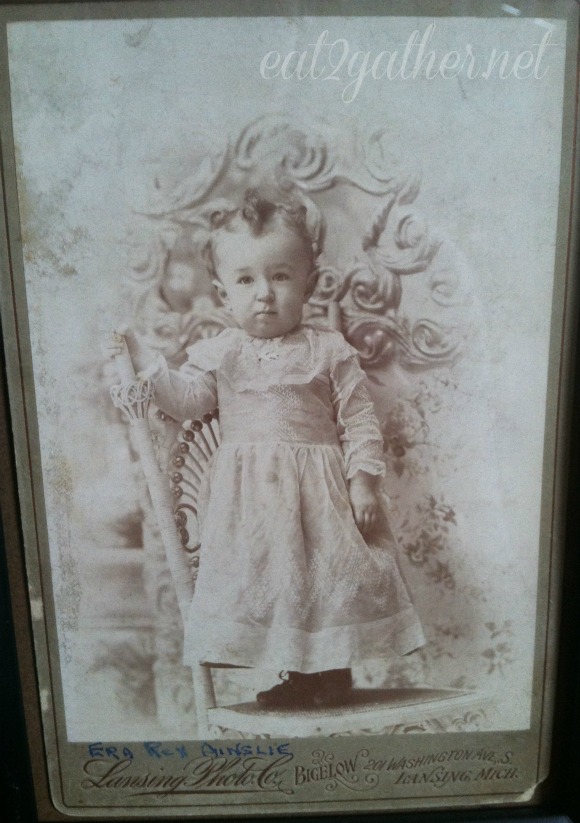 This is great Grandpa Ainslie.  Cute little whippersnapper.  Have you read the book Mrs. Peregrine's Home for Peculiar children?  Ummmm yeah, I think this photo was in that book.  This kid is levetating, is he not?!  Or maybe he just has one leg….hmmm maybe he was in the original Wizard of Oz.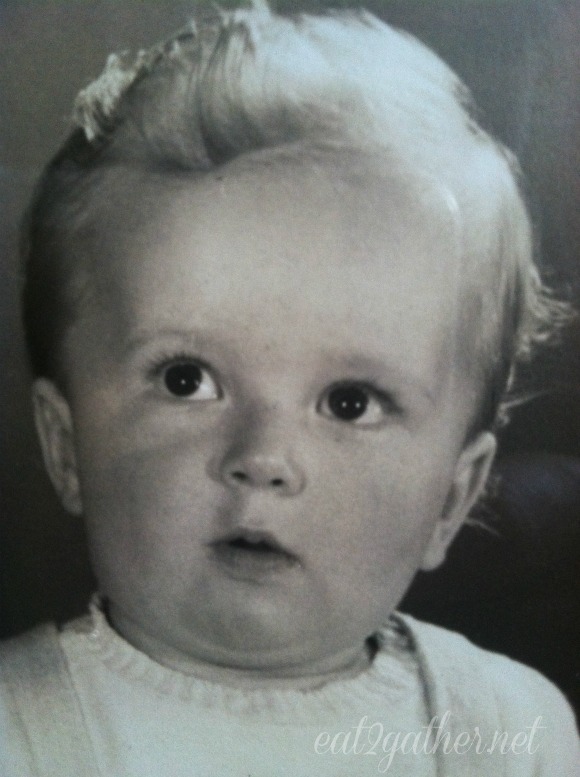 This would be my moms brother Lonnie when he was a wee one.  He was the fill in for the Gerber baby when the Gerber baby was having a colicy day.  JK.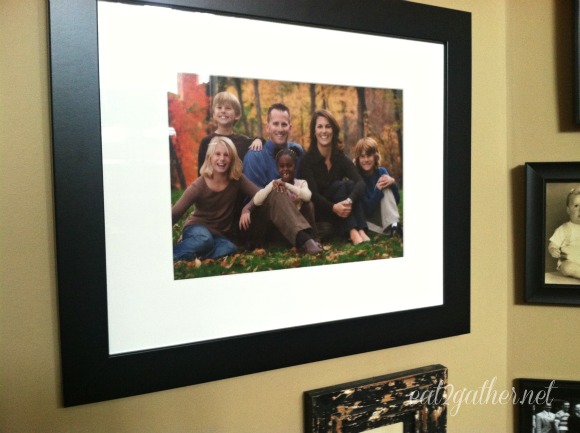 This pic was taken 6 years ago.  It's my favorite family picture of us.  It's taken in our back yard.  We are all laughing, because we left Jack inside, and he was freaking out that he wasn't out there with us and everytime we looked up at the house his desparate pathetic face was in another window whining and crying.  Don't judge me we tried to have him in the photo but he was such a spaz we locked him in the house.  Needless to say he was bummed on many levels, mainly because we were outside laughing at him locked inside. (In case you are wondering Jack is our golden retriever, lest you think we left a child out of the picture!)
My kids were not happy that I put pictures on this wall.  Why?  Because in the words of my 14 year old "how am I going to bounce the ball off the wall and into the basement with out knocking a picture off the wall?" .  Um yes I might just be raising a pack of untamed beasts.  I should have put pictures on walls earlier I guess so they didn't think walls were for bouncing balls off, instead of displaying the finer things in life!
I have a few more spaces that I can't wait to show you how my up and coming designer phenom seestor transformed.
Till next time….
Signed the Decorating Diva 😉