Everyone needs a quick and easy chili recipe.  I guarantee this chili recipe will become your goto chicken chili recipe!  This recipe has won the chili cook-off multiple years, and frankly when Cathy gave me the recipe I was flabbergasted at how easy it is.  I swore she was leaving something out, she's not.  I made it.
It's super easy and award winningly scrumptious!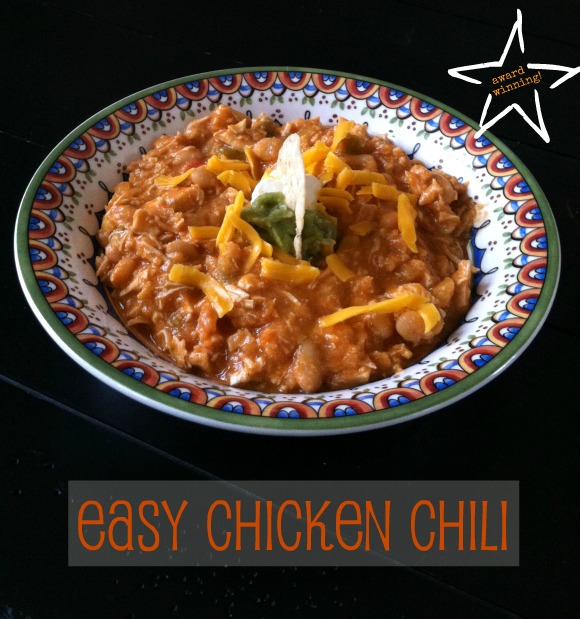 The Chili Cook-Off story that has gotten the most press in our home and well really in our community of friends is the year that Wendy's Chili nearly won the prize for best all around chili.  That year we had nearly 20 chili recipes entered with three categories to win in,  Best Overall, Most Original, and Spiciest Chili.  I was inside away from the hub-ub  tallying up all the votes to see who had won, when my good friend Suzy came in and said "in all good conscientiousness I have to tell you that #2 is mine and if it happens to win, I can't take the prize.".
"What!!  Why??"
It in fact #2 was winning in the best overall chili category.
Because she confessed, " it's Wendy's chili!!!!".
[insert my eyes popping out of my head]
[now insert hysterical laughter!!! hyena like laughter! from me]
Oh my goodness!  My gal Suze and her family had played a prank on us all, and in the course of their prank they nearly won the whole shah-bang!  She was mortified.  I thought it was the best ever!!  Wish I would have thought of it actually.  She also confessed that they had been super busy and she had not had time to make chili so I think she said her son suggested they just do the drive through at Wendy's get a bunch of chili dump it in slow cooker and show up! Ba ahahaha! Gotta love a smart- _ss kid.
So today to commemorate the best Chili Cook-Off prank ever I'm giving away five $10 Wendy's gift cards! 

Yeh you heard me!! FIVE $10 Wendy gift cards. See details below. 
What does any of this have to do with Cathy's Chili?  Nothing.  I do have to say that I never dared try Wendy's Chili before that day, truth be told it made me a little leary…like what could they be hiding in there.  But honestly it's pretty darn good….like Chili Cook-off Winning good!
But not quite as good as Cathy's Easy Chicken Chili.  Cath said that this recipe actually came from another mutual friend of ours Beth, and that Beth needs to get creds for this chili, but we call this Cathy's Chicken Chili in our house, and I know Beth with understand so I'm sticking to the title of Cathy's Easy Chicken Chili.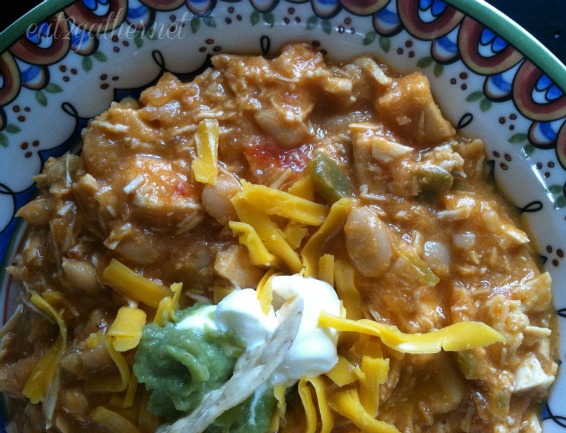 What's the best prank you've ever pulled on someone or had done to you?  Please keep it clean this is a family friendly food blog 😉
[print_this]
Cathy's Easy Chicken Chili
feeds a crowd
8 Chicken Breasts, cooked and cut into cubes
48 ounces of jarred Salsa
16 ounces cubed Pepper Jack Cheese
48 ounces Great Northern Beans (don't drain)
2 tablespoons Cumin
Mix everything together in a slow cooker and cook on high for 4 hours or on low for up to 10.
Note: Cathy says that she usually cooks the chicken and cubes the cheese the night before and then she just throws everything in her slow cooker in the morning and lets it go! It's really that easy!
Serve with Frito chips, tortilla chips, shredded cheddar, and sour cream.
Enjoy!
[/print_this]
OFFICIAL Rules:
Answer the question from the body of this post  in the comments for a chance to WIN one of five $10 Wendy's Gift Cards!  
One comment per person purdy please. Peoples who live within the walls of my home are not eligible for entry.
**ONE extra bonus entry allowed for sharing 😉 It's nice to share.  If you share this giveaway on your facebook, twitter, or pinterest accounts copypaste the url in the comments for a second chance to win!
This contest will close Friday, November 22, 2013 at midnight EST. This giveaway is open to US Residents 18 years or older the winner will be selected random.org and will be notified via email. 
I will announce all the winners from Chili Cook-Off Week Saturday November 23, 2013.
Ya'll come back now ya'hear!