31 days of Meals 4 Sharing: 10th reason for Sharing- MOVING
You still have 3 days to enter to win a 12x12 Cafe Mount Print of
       your choice from 

REDLETTERWORDS

!!  ENTER to WIN
                           HERE!!!!
We've already talked about sharing a meal with a new neighbor, but I didn't talk about the neighbor that is moving out.  When a neighbor moves it can be hard.  Especially if you have become close with them.  Emotionally you may want to step away because it's difficult to see them go.  Or on the other hand you could be clicking your heals over their departure….whatever your feelings are you should put them aside and show your love and support.
Moving is alot of work. Oh my goodness when we moved to to the home we are in now I vowed I would never move again.  We had moved, and built three times; and I had also popped out 3 babies, all in 5 years!  We were kookooKAchoo!  Off our rockers…spinning in circles…when I look back at pictures of me during those years, I think "who is that lady".  It was one of those seasons in our lives that I am not quite sure how we made it through.  The neighbors we left behind were always so helpful and gracious to us in those crazy times.  We were very thankful for them.  They are all still near and dear to our hearts.
Have you had a neighbor move recently?  What kind of a send off did you give them?
Here are a couple ways you can bless a neighbor as they move on to their new digs: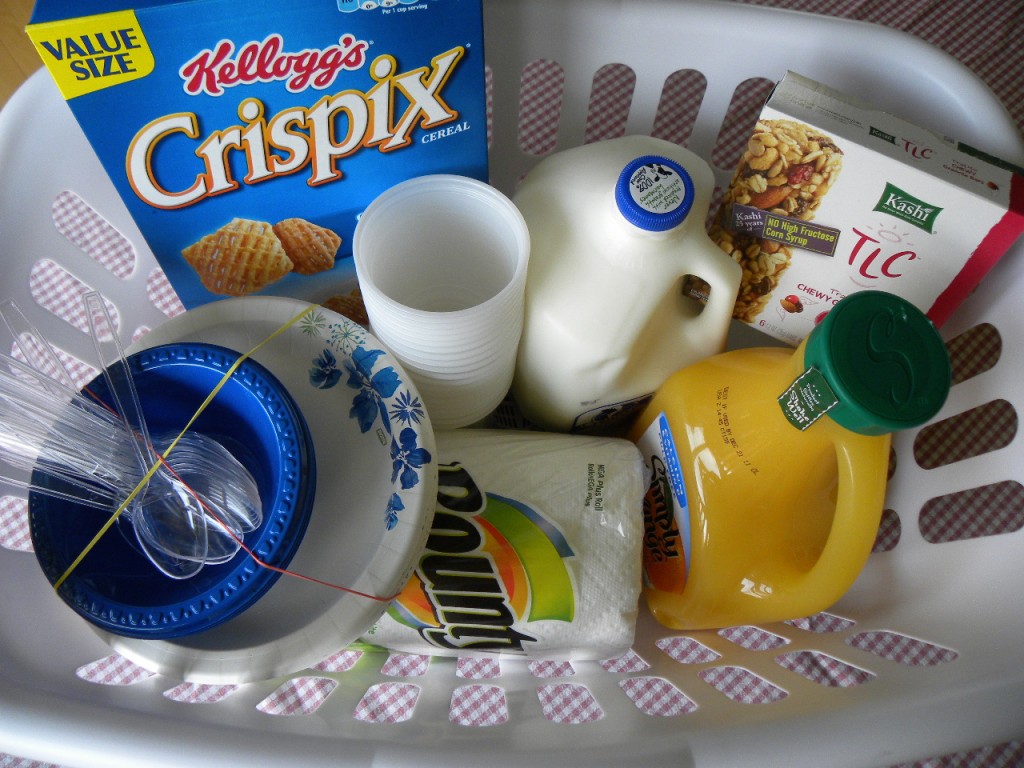 Care Basket: If you have ever moved you know how it is when you are trying to empty out your refrigerator and your cupboards so you don't have to transport alot of food.  But then when you arrive at your new place the fridge and cupboards are bare, and everyone is starving! Send them on their way with a breakfast/snack care basket. I actually didn't even do any special shopping for this.  I took one of our extra laundry baskets, and added a box cereal, milk, orange juice,  and a box of  granola bars.  Then I added in some disposable dishes and paper towel so they don't have to worry about finding their dishes.
The addition of some home baked muffins or banana bread would put this care basket over the top!
Have you had to move?  Did your neighbors reach out to show you they cared?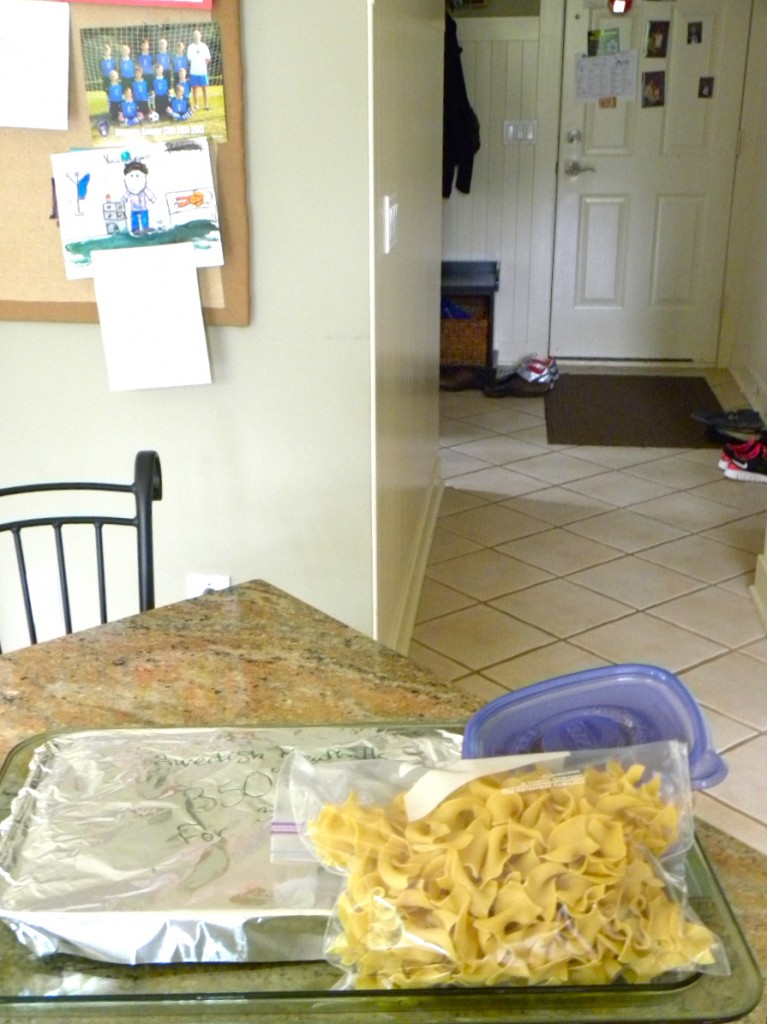 Meal: This is a meal waiting on the edge of my kitchen counter, to be shared.  Of course when your neighbors set sail to their new stomping grounds sending them off with a meal, that they can break their new oven in with, is always a good idea!  Depending on how far they have to go you may want to freeze it so it stays cold for them.  Or pack it in a styrofoam cooler.
Gift Cards: This would be a great way for several neighbors to get together and give the "old neighbors" a proper send off.  You could give them a gift card to a restaurant chain that you know they like and will have close to their new home.  That way they can use the card at their leisure once they move in.
4 the Caffeine addict: If they love coffee chances are, if they are like me, they won't even pack their coffee pot.  That thing will be riding shot gun with them on the way to their new hacienda!  This simple care package will make it easy for them to plug in the pot and get the java flowing as soon as they arrive.   And who doesn't need a new dish towel our two right?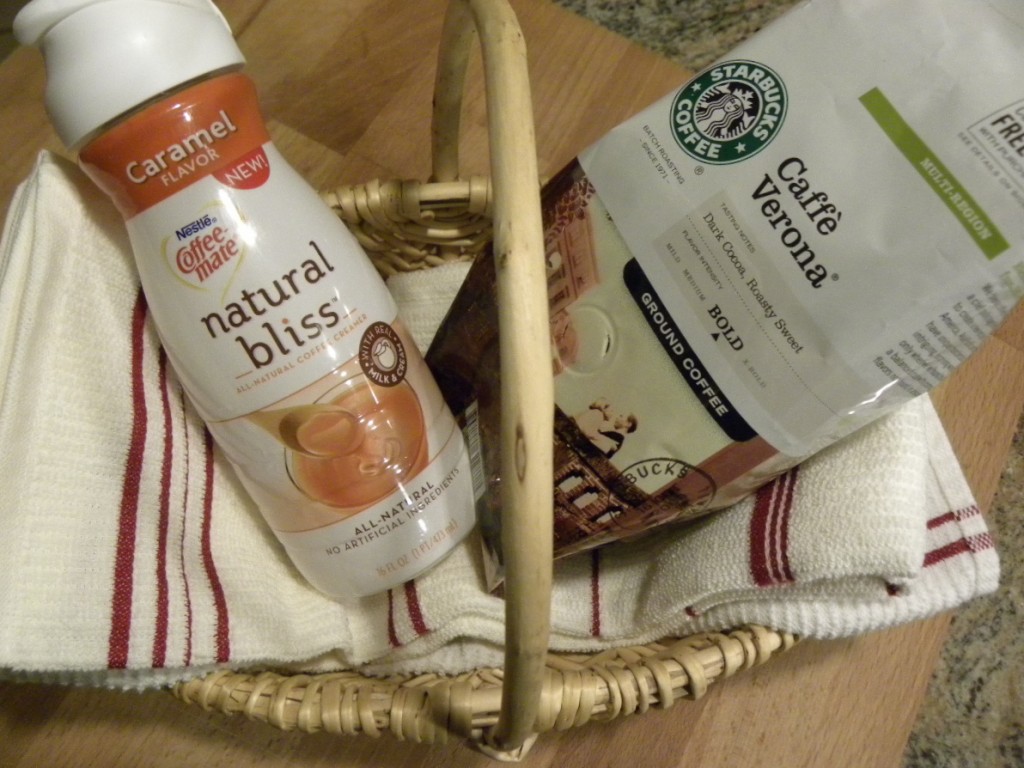 I pray that you can set the bar high in your neighborhood, quietly and graciously of course,  for how to be welcoming and hospitable to neighbors as they come and go.
Neighbors have a way of bringing out each others true colors…..what are yours?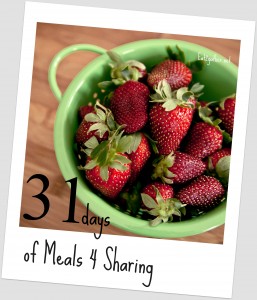 If you have a blog and have been following my 31 days of Meals 4 Sharing and would like to share it with your readers,  purdy please GRAB the above button from my sidebar!
Only three more days left in October…….the Meals 4 Sharing will be a topic I will continue to write about regularly.
Is there a topic related to meal sharing that you would like me to write on, or one I could elaborate on?  Let me know I'll see what I can do!
Hugs!
Sheila
If you are just joining 31days of Meals 4 Sharing here's what you've missed…..
Day 1~ my Heart for Meal Ministry
Day 2~ "I'm not comfortable with bringing someone a meal"....
Day 3~ Reasons 4 sharing a meal.
Day 4~ Quick Easy Apple Sauce
Day 5~ Organizing a Meal Schedule
Day 6~ #1 reason -No reason at all!
Day 7~ #2 reason 4 sharing a meal - Baby...baby....baby..oooo
Day 8~ Chicken Supreme
Day 9~ It doesn't have to be home cooked to be a Blessing
Day 10~ partnering 2 SHARE a meal
Day 11~ Dare
Day 12~ #3 reason Hostess Meal
Day 13~ #4 reason Back 2 Work
Day 14~ Chicken Salad - the perfect meal 4 SHARING
Day 15~ Containers
Day 16~ reason #5 illness/injury
Day 17~ (#6) Loss & an update on BwoB JOPLIN
Day 18~ bring your NEW neighbor a meal
Day 19~ Swedish Meatballs
Day 20~ #8 reason 4 sharing-last minute dinner invitation
Day 21~ Holiday Giving
Day 22~ Pumpkin Gingerbread
Day 23~ Chicken Fontinella
Day 24~ Redletterwords GIVEAWAY
Day 25~ Meat and Potatoes
Day 26~ reason #9 Teams & Teachers
Day 27~ go2 Meals 4 Sharing