Velata Fondue dip into Heaven!
I am a self proclaimed fondue queen, so when Stephanie from Velata contacted me to try out a Velata Fondue warmer, I was all over it!!
Let me just give you a little background into my fondue expertise, erh-hmm tap tap tap…is this thing on?  Ok, well anywho  I LOVE FONDUE!  All types, and sorts, and sizes of fondue, but especially chocolate fondue.  I personally own 4 fondue pots…maybe 5, and a chocolate fountain.  I know it's a little over the top.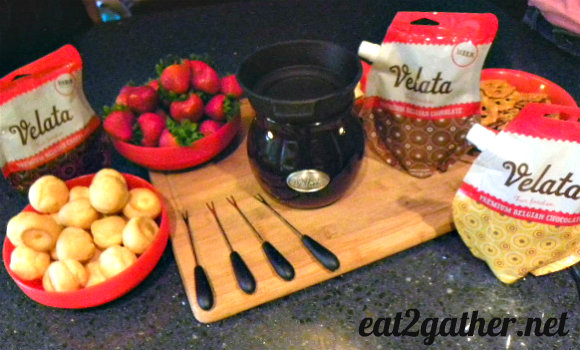 Velata sent me a Velata Warmer of my choice and 3 chocolates, Caramel Milk Chocolate, Dark Chocolate, and Milk Chocolate.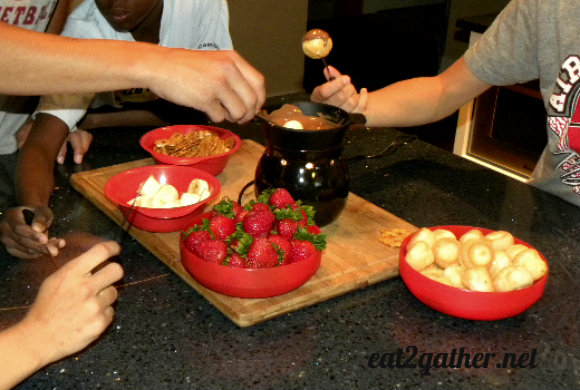 I let my staff of professional taste tester do their job.  They are a skeptical bunch, not easy to succumb to new fangled fonduerie.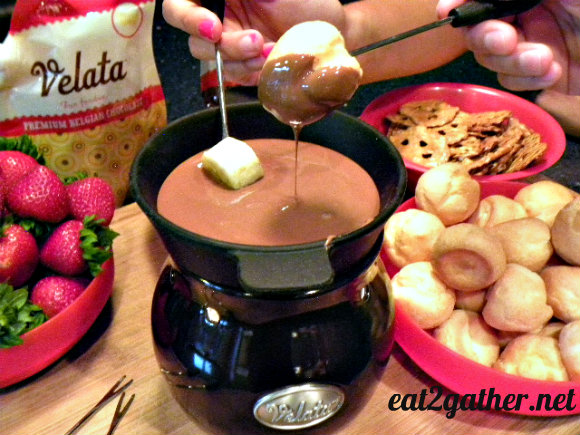 They dipped, and dipped, and dipped some more, I refilled the bowls of strawberries, cream puffs, bananas, and pretzels.  Not a words was uttered, highly unusual behavior from this bunch.  However, there was ample smacking of lips, and oohs, aahs, and yum yum yums.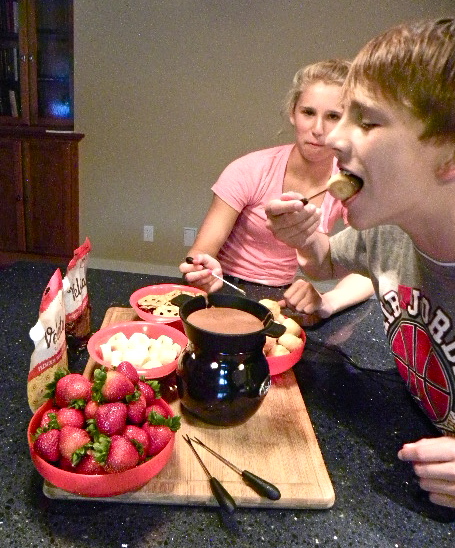 I have to admit, I was skeptical….this cute little pot seemed too good to be true.  So easy!  I simply plugged in my sleek, little Velata warmer…..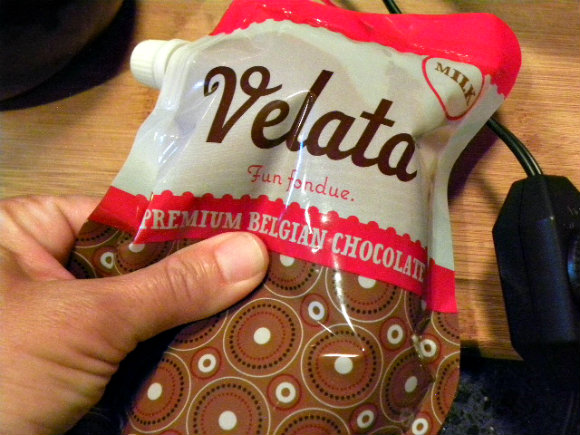 Popped the bag of fondue chocolate in my microwave for 1 minute, squished it around to make sure all the chocolate was melted and there weren't any lumps.
I twisted off the cap!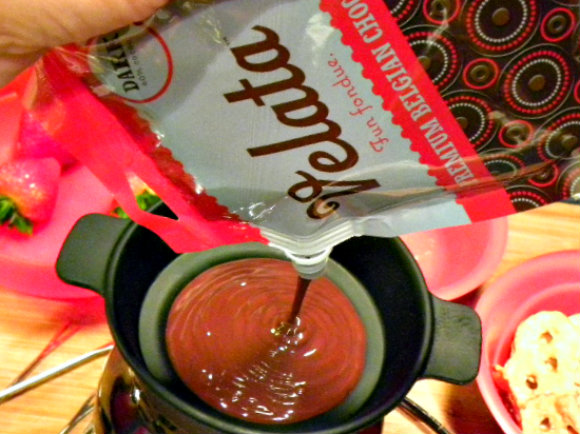 And emptied the smooth, creamy, chocolaty goodness into my warmer.  No double boilers, no adding oil, or melting chocolate into a bowl, and then scraping it into your pot.  Just heat, squish, and squeeze!  Then let your fondue soiree begin!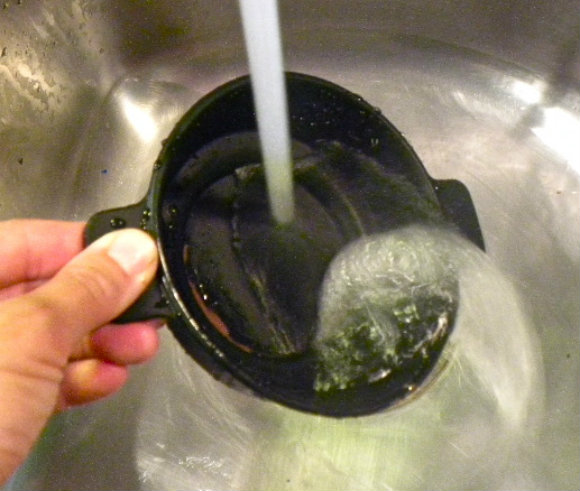 When you've come to the end, the clean up is quite frankly so easy, it's a dream!  For one thing there won't be much chocolate left, because you  and your guests will want to practically lick every last drop of this creamy decadent chocolate out of the warmer, but even if there is all you need is hot water and a tiny bit of dish soap!  All clean and ready for the next round of chocolate!
What was our favorite flavor??    Velata searched for the world's most perfect, blow-your-mind chocolate, and they found it in (where else) but Belgium — the world capital of fine chocolate.  They found the perfect chocolate with the purest ingredients and the velvetty smooth consistency.
We loved all 3, but my kiddos…or I mean professional taste testers preferred the Milk Chocolate.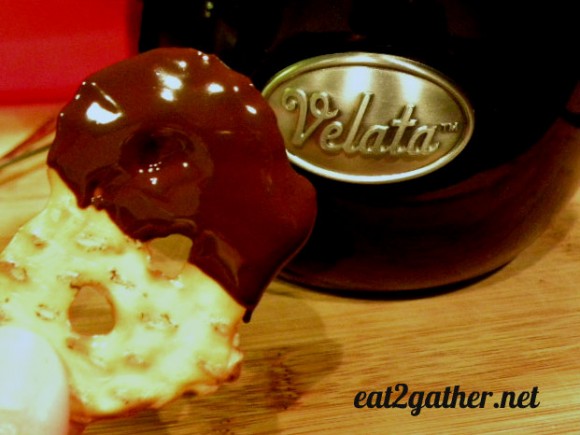 I on the other had could have ran away and eloped with the Dark Chocolate!
I hope you know that I am not one to gush about products just to gush about them, or just to get free stuff.  I honestly do not need more stuff in my life.  I never ever would share a product if I didn't absolutely LOVE it!  And I absolutely love my Velata Fondue Warmer.  My only complaint is that I think I need alotta (more) Velata.  The warmer was doable for the 6 of us, but two warmers would have been perfection.  We could have had two flavors going at one time!  The Velata warmer is perfect for 2-4 people.
How does it work?   Perfect chocolate needs a perfect melt! Velata invented a patent-pending silicone dish heated by a light bulb in a hip, fun, smart fondue warmer. There is also heat control on the cord to control the heat of the bulb which in turn effects the melt of your chocolate.  So easy, no lighters, no open flames, or sterno pots burning out or burning too hot.
What else can I say about this little wonder?  You need 1 or 2, actually 3 would be quite lovely!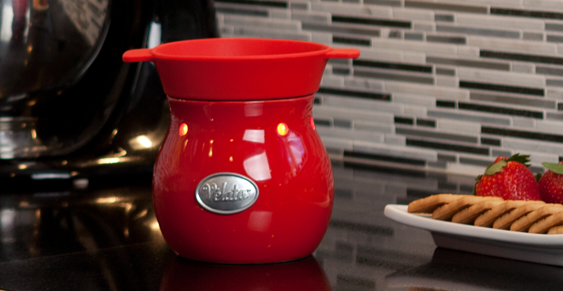 Choose a sleek warmer from the individual collection.
Or choose from 6 fun colors in the Curve Collection.  How festive are these?!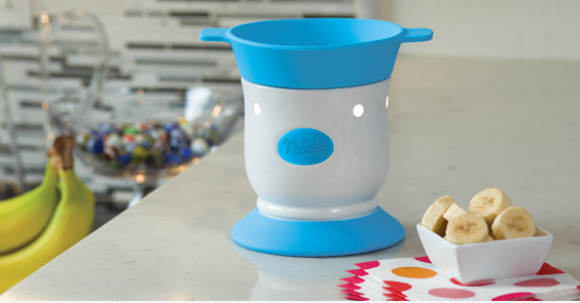 Or how about this sleek warmer from the Pedestal Collection? Also comes in 6 great colors!
Really what you need to do is give everyone in your extended family a different Velata Warmer as a gift, and then when you all get together you can have a fondue party!  The Velata warmers are so easy clean, and store nicely in their box.
My motto is:  Have fondue pot will travel.
No fondue pot would be easier to travel with than this one, believe me I have traveled with my fondue pots…no lie.  Remember I have 4 fondue pots and a chocolate fountain already.  Ask me how often I actually use them.  Once or twice a year I get them out for my family.  I don't use them more because often I am too lazy to make the fondue, make sure I have the sterno pots, and the the clean up, especially with the fountain it's painful.  I will definitely be using my Velata more frequently.  Velata Chocolate Fondue the easiest dessert treat ever!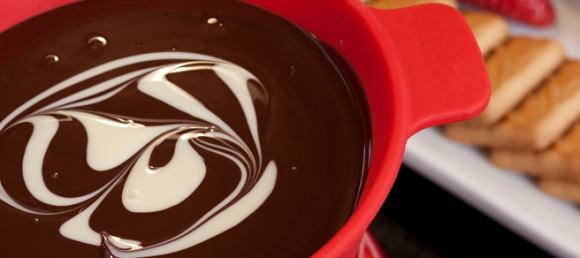 The chocolate choices are also quite wonderful, and only $7 a bag, that's just a little more than a bar of the finest chocolate, and you're getting 8 ounces of premium Belgium Chocolate for dipping!
I hope you are drooling all over yourself right now and craving chocolate fondue, because I am.  I think maybe I will get this baby out for breakfast, mmmm now there's a new twist,  chocolate fondue for breakfast!  Dip your waffles, toast, english muffins, cinnamon rolls, and donut holes, in chocolate.  OH MY GOODNESS!  I just came up with the best idea ever right here and now!!!
Velata Warmers, Premium Chocolates, and accessories can be found and ordered through the Velata Website.
Take a minute and check it out!  Then come back here and tell me which pot and what chocolate you is your favorite!
Thanks for stopping in!
Sheila