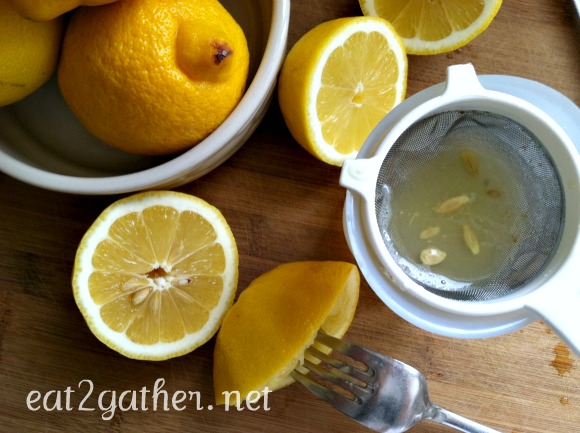 Lemon Bars make me weak in the knees.  What's not to like?  Sweet, tart, buttery, bright, all the flavors a freezing cold dreary stormy Michigan day needs.  I will say I am somewhat of a Lemon Bar snob.  The crust needs to melt in your mouth, a buttery slightly salty shortbread, covered with a generous layer of custardy sweet and tart filling topped off with an extravagant snow storm of powdered sugar.  That's the way I like my Lemon Bars people, take it or leave it!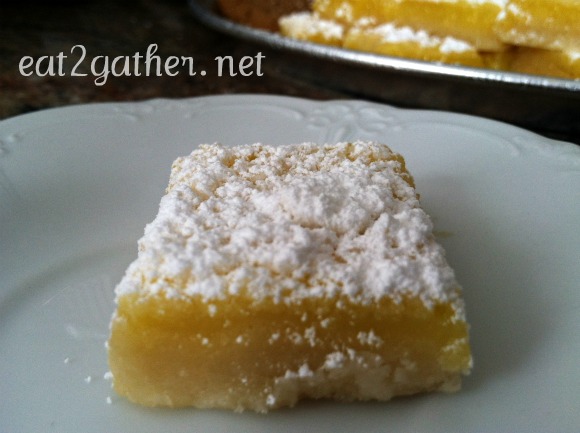 I also prefer to cut my Lemon Bars in smaller 2 inchish sized squares, none of this squares the size Colorado stuff!  Lemon Bars are delicate, not monstrous.  Take two or three if you are feeling particularly frisky!  But refrain from cutting them into pizza sized squares. Thank You.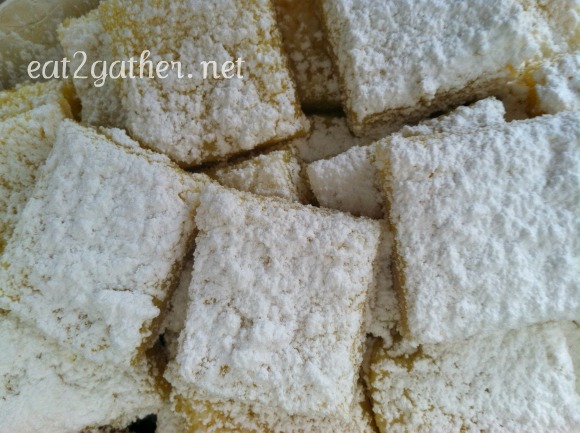 I'm not sure when my love of Lemon Bars began….I don't really recall having them as a kid.  Who know's?  But I do know this, I can eat a whole dang pan of these bars!  No lie.  Just like brownies.  If I'm making them I need to be taking them (hey that rhymes…I'm a poet and I didn't know it!) somewhere.  Sharing is a form of self preservation, or at least an attempt to be able to get my jeans on the next day!
[print_this]
Lemon Bars
approximately 24 bars
Crust:
10 tablespoons Butter, room temperature
1/2 cup Sugar
2 cups Flour
1/2 teaspoon Salt
Filling:
4 Eggs
1 Egg Yolk
1 1/2 cups Sugar
1/4 cup Flour
1/2 teaspoon Baking Powder
the Zest of 1 Lemon
1/2 cup freshly squeezed Lemon juice (about 3 lemons)
Powdered Sugar for dusting
Preheat oven to 400 degrees.
Crust:
Beat butter and sugar together in mixing bowl until creamed. Gradually add in flour and salt. Mixture will be crumbly. Pour into 9×13 baking pan. Press crust down evenly into the bottom of  a 9×13 pan. Bake at 400 degrees for 10 minutes. Remove and turn oven down to 350 degrees.
Filling:
Beat eggs and yolk together with sugar until fluffy and light yellow in color. Combine flour and baking powder gradually add to egg mixture, continue to beat on high drizzling in lemon juice. Add in zest give mixer a few more turns. Pour filling over hot crust. Pop back into 350 degree oven for 25-30 minutes or until filling no longer giggles when pan is moved.
Remove, let cool, and dust heavily with powdered sugar.
Sit back and partake in a wonderful thing!
[/print_this]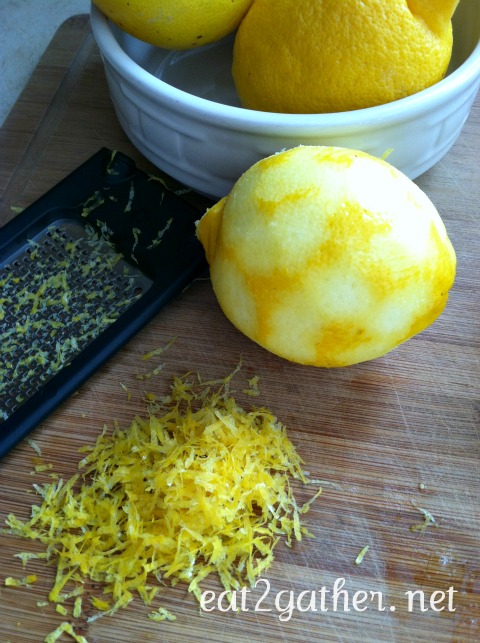 I have a confession: I always feel a bit sad for citrus after it's been zested.  It just sits there so pathetic.  "Like Oh Ma Gah she just stripped me zest clean off…I feel so naked and exposed."  I know it's weird. If you want to leave now I would not blame you.  But it's true.  I have even been caught apologizing to the poor little um…thangs.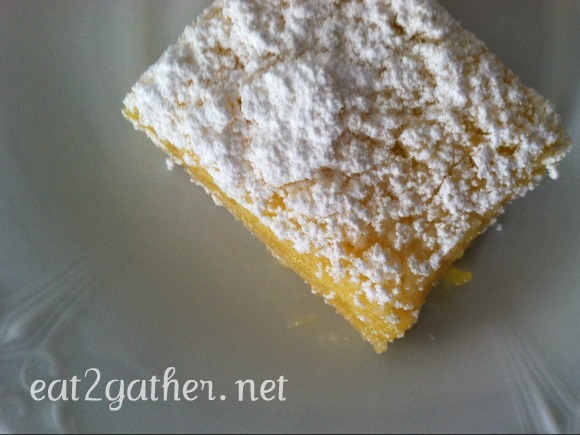 Ok enough of my idiosyncrasies with citrus…hope you take the time to brighten up your day with Lemon Bars!
Luvya, Sheila