Pumpkin Spice Donut Muffins
If you have been hanging around here this week you know I have been trying to keep things real. Letting you know a little about myself. Here is something you should know. I love pumpkin. Pumpkin pie, pumpkin cookies, pumpkin spice lattes, pumpkin donuts, pumpkin soup, pumpkin muffins, whipped pumpkin hair mousse, pumpkin flan….just call me Bubba.
There's a farm not too far from my home that makes a mean pumpkin spice donut that just makes me want to do run. I absolutely despise running, but by golly if I had to, I think, I would run all the way to
Post Family Farms
to get me one of their donuts. Unless, Big D felt sorry for me, in that case I would just stay home and let her bring me a box of them.
If you missed the story about how Big D thought we were going to have to put our dog Jack to sleep and brought me pumpkin spice donuts then just take a minute and go back to
that day.
The picture above is my own creation, inspired by the Pumpkin Spice Donuts at Post Family Farm and The Pioneer Woman's French Breakfast
Puffs.
I used Ree's puff recipe as a home base and came up with these marvelous morsels.
Take a look at that. Now if that isn't something that makes you salivate…well then you need to go see your doctor, because your saliva glands must be malfunctioning.
I told you I was still trying to keep it real with you. The day I made these muffins I also made cinnamon rolls (4 dozen) and banana chocolate chip muffins. So this is what my kitchen island was looking like right about an hour into all that.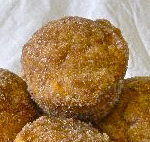 Print Recipe
Pumpkin Spice Donut Muffins
Equipment
hand or stand mixer

spoon, whisk
Ingredients
31/2

cups

all-purpose flour

4

tsp

baking powder

1/2

tsp

baking soda

1

tsp

salt

1/2

tsp

ground cinnamon

1/2

tsp

ground nutmeg

freshly ground if possible!

1/4

tsp

ground ginger

1/8

tsp

ground cloves

1

cup

granulated sugar

2/3

cup

Crisco shortening

butter can be substituted, however the texture may be altered

2

large eggs

1/2

cup

buttermilk

may need 1 extra tbsp if batter is too thick

1

cup

canned pumpkin

no spices added, and unsweetened
Cinnamon Sugar Coating
2

sticks

butter

melted

11/2

cups

granulated sugar

1

tbsp

ground cinnamon
Instructions
Preheat oven to 350 degrees.

1. Add sugar, shortening, to mixing bowl, blend until creamed, and fluffy. approximately 3 minutes, taking time to scrape sides of bowl

2. Add eggs one at a time, blending well after each.

3. Add pumpkin to shortening sugar mixture. Mix until smooth. Batter may look broken or curdled at this point, its ok everything will be fine. Make sure to scrape down sides of bowl.

4. Mix remaining dry ingredients together in a large measuring cup or mixing bowl. (flour, baking powder, baking soda, salt,cinnamon, nutmeg, clove, ginger)

5. Measure out your buttermilk into a pourable container.

6. Next alternate adding the dry ingredients and buttermilk to the pumpkin mixture. Add a little flour, then buttermilk, mix, repeat until each is incorporated. Mix until all ingredients are incorporated well, but do not over mix.

7. Prepare muffin tins by greasing them. I use Pam Baking Spray, spray each tin well. Or you can take a little bit of shortening on a paper towel and spread around in each tin, being careful to get all the corners. (this is how my mom always has done it) I use a standard 2" muffin tin for this recipe.

Fill tins 2/3 full.

8. Place muffin donuts in preheated (350) oven for 22 minutes. You can check them at 20 minutes by inserting toothpick, if it comes out clean they are done. Mine have always needed an extra couple minutes, thus the 22 minute time frame!

While muffin donuts are baking melt butter in a medium sized dish and mix sugar and cinnamon in another dish.

As soon as you take these out of the oven, tip them out on to a making sheet. As soon as you can handle them start the coating process.

9. Coating Process: take muffin and roll it around in butter so it completely coats but doesn't soak up too much butter, then dredge butter covered muffin in to the cinnamon sugar mixture. set on a cooling rack or a baking sheet. Repeat this process until all muffins are coated in butter and sugar.

I try to keep one had for butter, and one hand in the sugar. It is a bit of a messy process but so worth it!
Notes
Note: If you do not have buttermilk on hand, you can easily make your own by adding 1tbsp of white vinegar to 1 cup of milk, stir, and let set for 5 minutes before using. 
Scraping down sides of bowl until everything is fully incorporated.

Letting muffins cool just long enough so you can handle them(30 seconds), set up this scenario for the coating. Melted butter in one dish, and mix the cinnamon sugar in another and set a cookie sheet close by.
Take muffin and dunk it in to the butter, make sure it takes a dip in the butter, you want it completely covered so the sugar will stick.
Take out of butter and dredge immediately in to the cinnamon sugar. Make sure the muffin is completely coated with sugar, no bare spots.
I have to say I am really, really sorry, because after you make these muffins, your family may find you in a corner somewhere totally bonked out on these things. Covered in crumbs, eyes glazed over, mumbling…pppuumkinnn..puuuummmkin..spICE, mama, dada.
Hey, I told you I was tryin' to keep it real. Well, just in case you wondered if I had some sort of special light box or something to take pictures in, not that my pictures are professional or anything. I don't! There is nothing professional or photo shootish about my food photography. I just have friends that stop in because of the mind controlling muffins. They stop by to make sure I am holding it all together….and well maybe to get a fix for themselves. This would be Dee. See that glazed over look in her eyes? That's the look. The muffin mind controll look.
Hi Dee! Thanks so much for stopping by and helping out. Dee is crazy busy these days check out what she's been
up to
. I really do think the mind controlling powers of the muffins drew her in. She was hollering from the garage, "WHAT are you baking?", before she even came in the house.