Moroccan Coconut Chick Pea Soup served over Brown Rice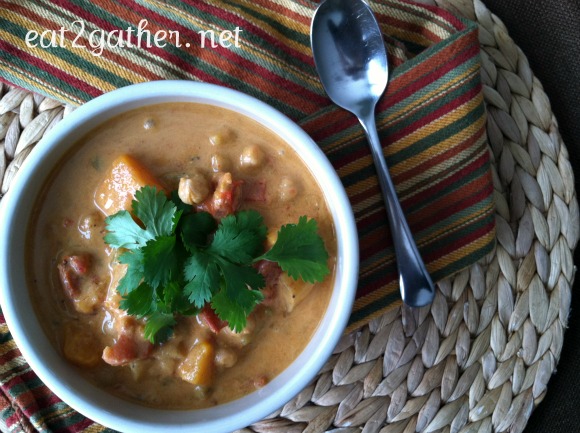 I recently had the opportunity to bring a family from our community a meal.  Meals were set up by a mutual friend through the Take Them a Meal website.  Which is awesome because it gives all the specifics of what the family can or cannot eat, there dislikes etc.  It stated that they do eat chicken but for the most part they eat mainly vegetarian meals.  We often eat meatless meals too, but honestly it's nothing I would ever bring to someone.  It's usually thrown together last minute type meals.  So I asked my sister if she had any ideas because they often eat meatless meals, she told me to look on her healthy meals pinboard…so I did!  I chose this recipe because my Seestor had noted that it was easy, and one of her new favorites.  That's just what I needed!
It did require a trip to the grocery store for a few ingredients that I did not have, but that's no big deal!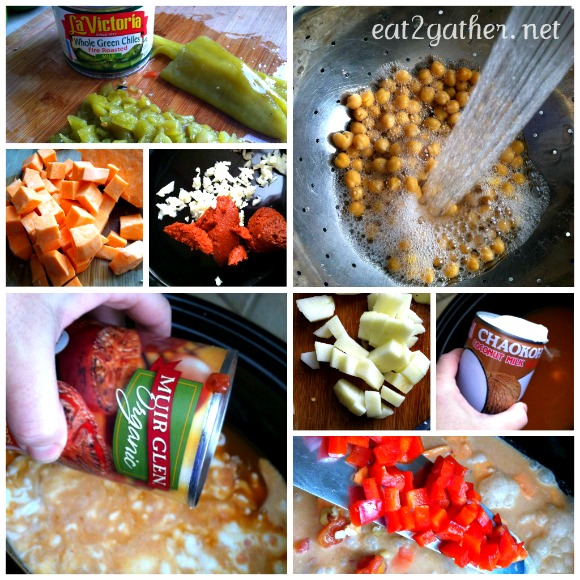 And it literally took minutes to throw together!  It made my house smell delicious!  I gave it a taste and decided that I would definitely needed to make this recipe for my own family the very next night!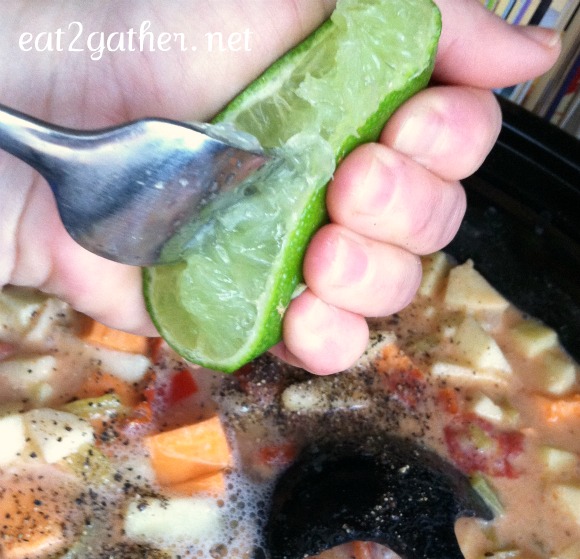 The flavors of curry, coconut, sweet potato, and lime are just what the doctor ordered.  Isn't it beautiful?!  Perfect meal to brighten up a cold drab winter day. My family loved this meal…well everyone except my boys…they were like where's the chicken, this needs meat!  Boys!  Can't live with um, can't live with um…er I mean with out um ; )  You could eat this soup as is.  You wouldn't need to serve it over rice, but that's how my family likes to eat any recipe with curry in it so that's how I served it!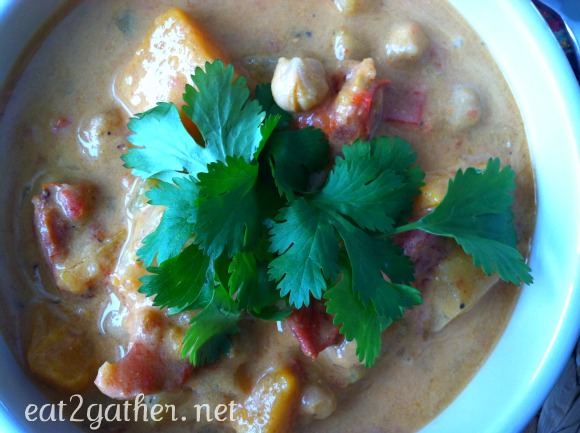 I hope the family I shared this with loved it as much as we did.  I will definitely be making this again!  I literally threw all the ingredient in a crock pot and let it cook on low for 6 hours.  It was that easy!!  The LINK to the recipe can be found below in the Meals 4 Sharing Menu, as well as the links to the other goodies I delivered to my friends.
Meals 4 Sharing Menu
Moroccan Coconut Chick Pea Soup (from the Gluten-free Goddess website)
served over Brown Rice
Minnys Chocolate Pie (because it was noted that the girls love chocolate!)
Do you have a favorite Meatless Meal?  I would love to know what it is!  Feel free to share the link or the recipe in the comments below.
Have a great weekend!
Sheila