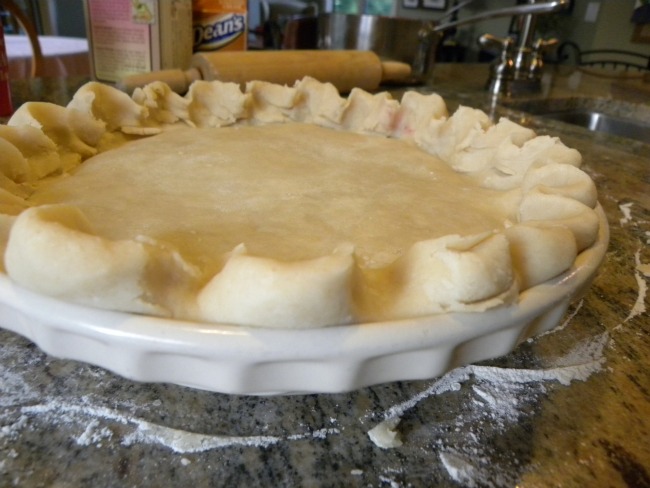 A Pie is only as good as it's crust…polka dot period!  You can fill a crust with all sorts of deliciousness, but if that crust is not delicious unto itself well then why take the time to fill it?  In my opinion, and I have quite a few opinions about pie, you might as well bake the filling with out a crust, if you're not going to take the time to do the crust right.
There are countless recipes for pie crust.  With egg, without egg, some call for vinegar, some with sugar, some without; butter, lard, shortening, or oil.  Cookie/Shortbread Crust.  Pastry Crust.  Graham Cracker Crust.  Heavens to Betsy there are a variety of crusts.  Today I'm talking about the pastry type pie crust.
Does making pie crust scare you? Do you make your own pie crust or do you buy it?
What is scary about making pie crust? Is it the time factor…the mess factor…plain and simple the "ain't never done it before" factor.
Anytime I come across a blog post about pie crust I am all over it.  I want to see how "they" do it.  I've found most pie crust recipes to  be very similiar.  But every once in a while I come across a "scary pie post".  I'm not going to name any names or point any fingers,  I'm just saying…let's not make this into rocket science people…ANYONE can make a homemade pie crust.  It's easy.  Literally as easy as 1, 2, 3!
My recipe has been handed down from my grandma, to my mom and now to me, but to be honest it's really nothing special.  It's really simple,  if you can remember flour, shortening, ice water, you're good to go. Halves.  1 cup flour, 1/2 cup shortening, 1/4 cup ice water then, sugar, salt, vinegar.  If you can remember the first three ingredients are halved and then  1 teaspoon sugar and half teaspoon salt…..give the ice water a dribble of white vinegar.  See it's so easy you won't even need to look at a recipe.  You can store this one away in your noggin!  Just remember if you do flub it up, it's cheap ingredients it's not like your throwing a Filet Mignon away or anything.  If it doesnt work the first time, you try, dump'er in the garbage and try again!
[print_this]
Pie Crust
2 crusts
2 cups Flour
2 teaspoons Sugar
1 teaspoon Salt
1 cup Crisco Shortening
1/2 cup Ice Water + 1/2 teaspoon White Vinegar (vinegar can be optional, if you don't have it leave it out)
Using a pastry cutter or a food processor blend flour, sugar, and salt.  Incorporate shortening into flour with pastry cutter until mixture is a oatmeal to pea sized consistency.  Sprinkle ice water with vinegar over the flour mixture.  Do this gradually you may not need the whole amount of water.  Take a fork and gently pull crust together, do not over work the dough.  Bring it together with your fingers, pat into two discs, wrap in plastic wrap and store in the refrigerator for 30 minutes or up to a week.  You can also freeze the dough up to 3 months.   Make sure the dough is wrapped in plastic wrap and then store in Zip-loc bags for freezing.
[/print_this]
When I make crust I usually make a few.  So I have them on hand.  You never know when you will need to whip yourself up a pie!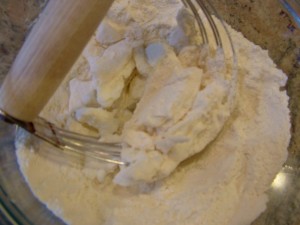 Here's where you start.  Mix flour, sugar, and salt together in a bowl, add in shortening, cut together with a pastry cutter.  If you have a food processor and you would rather use it, please be careful not to over process, if you break it down too finely your dough will be tough.  You want your mix to be of a pea or oatmeal sized consistency.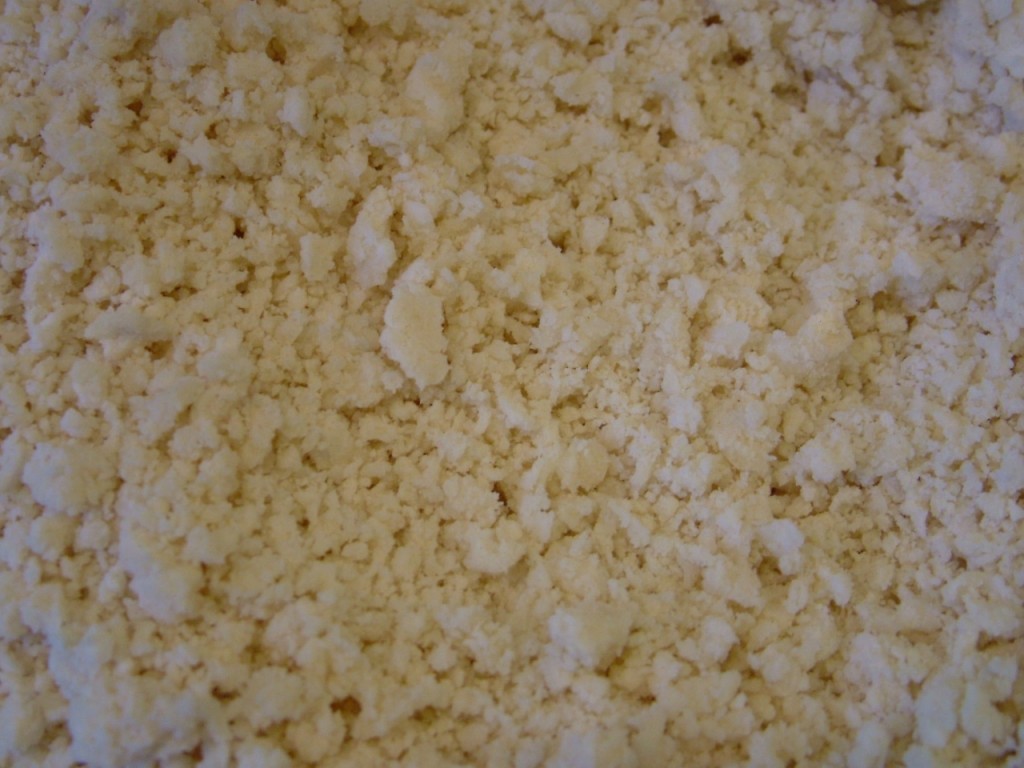 See how there are some bigger pieces and some smaller that is how you want it.  The small will help hold crust together but the larger pieces contain more fat and that will give your crust a nice flaky texture.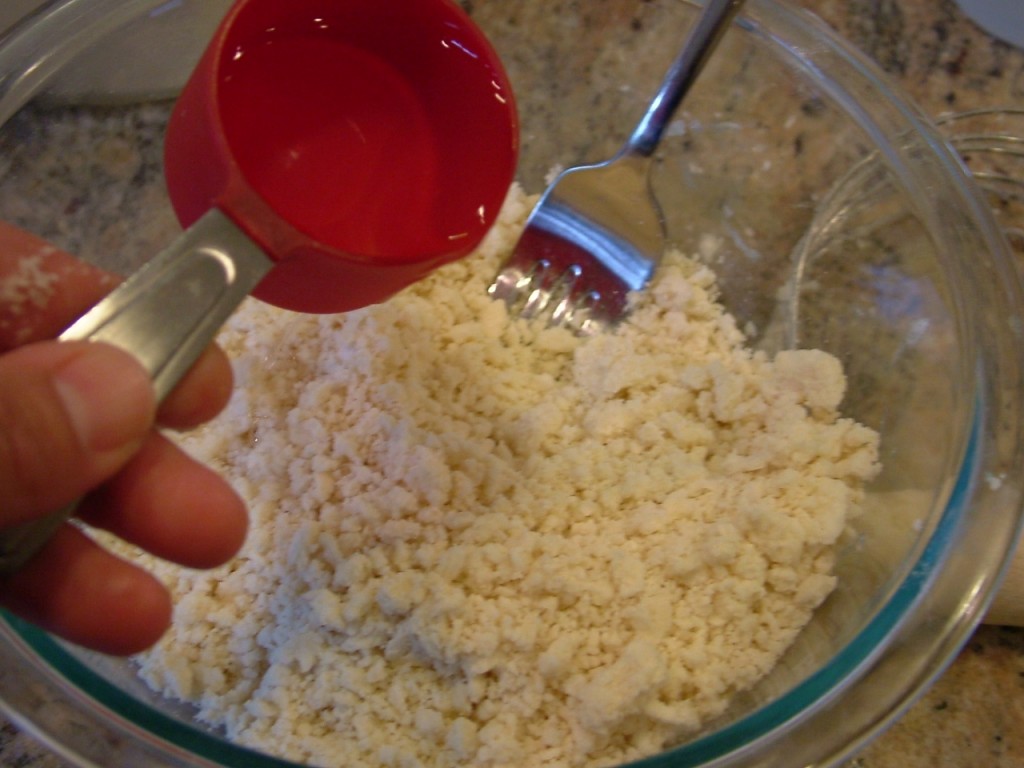 Next sprinkle the ice water over the flour mixture.  I actually put ice in my water and fish it out before sprinkling.  You want really cold water.  The vinegar does something to the gluten strands, something about acid and fat and well anyway it makes your crust flakier.  But if you find you are plumb out of white vinegar then you could use lemon juice or just leave out the acid all together.  It will be fine.  I promise.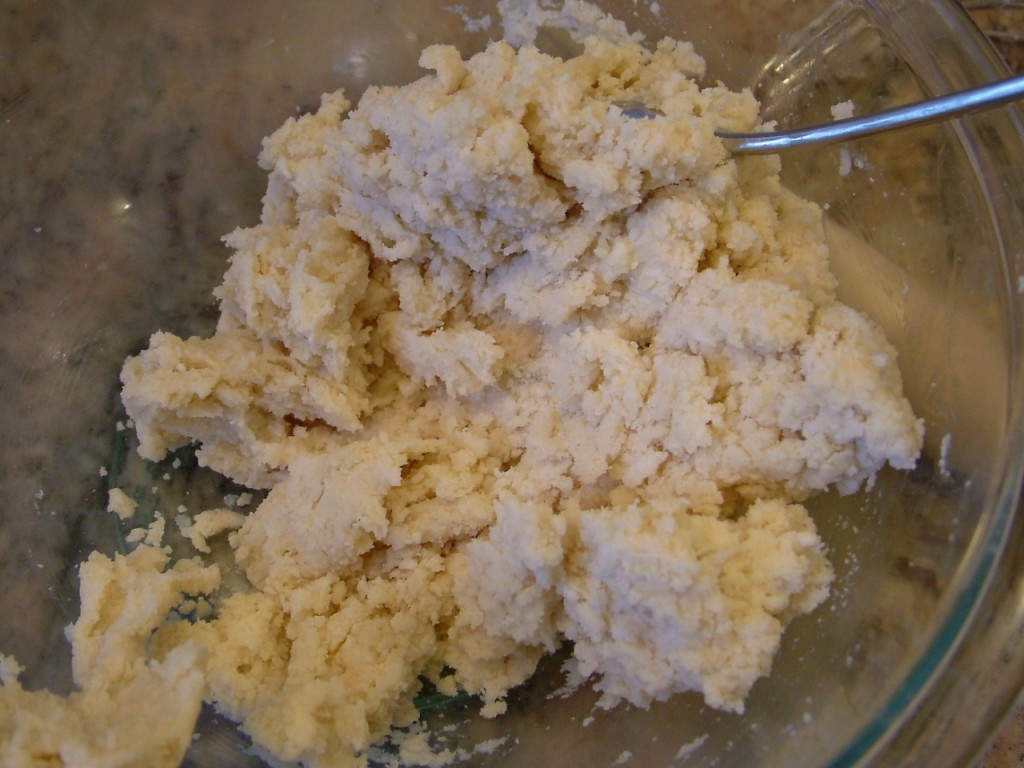 Use a fork and gently pull the dough together.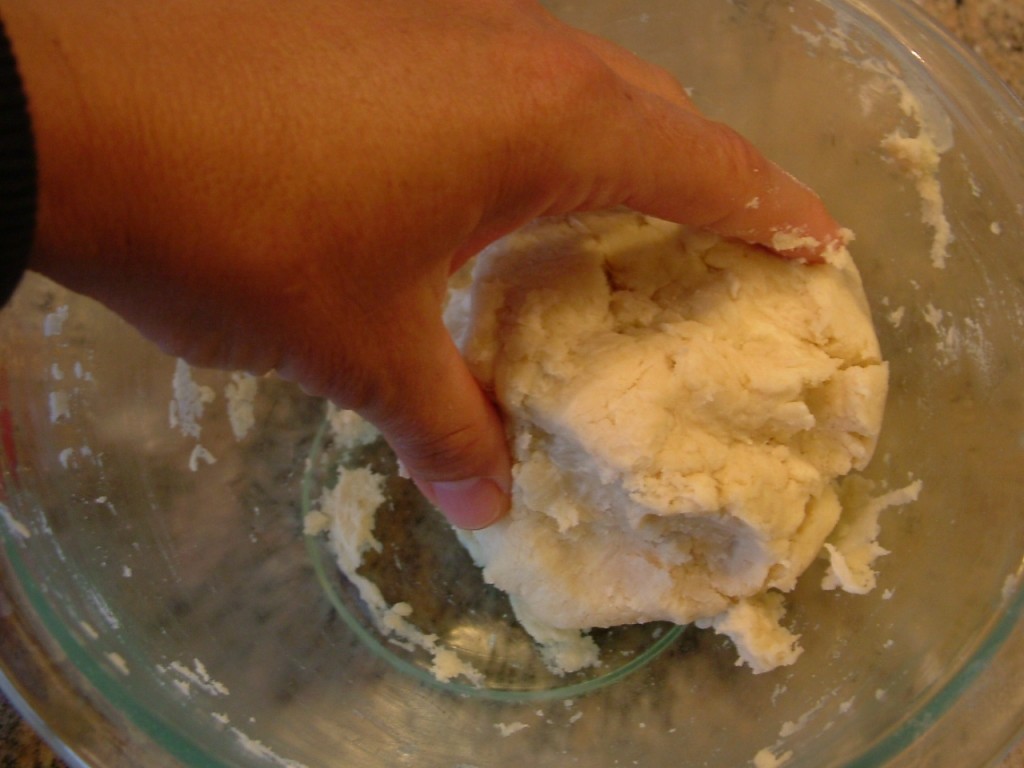 No kneading necessary, this is not bread dough.  After pulling dough together with a fork, use your hands to bring the dough together in a ball and flatten it out into a disc. Your hands are warm, and will melt the fat in the dough, so don't fuss with it too long.  Form into a disc and wrap dough tightly in plastic wrap, pop it in the refrigerator for at least 30 minutes before rolling out.  If you are pressed for time then do whatcha gotta do, and start making your pie.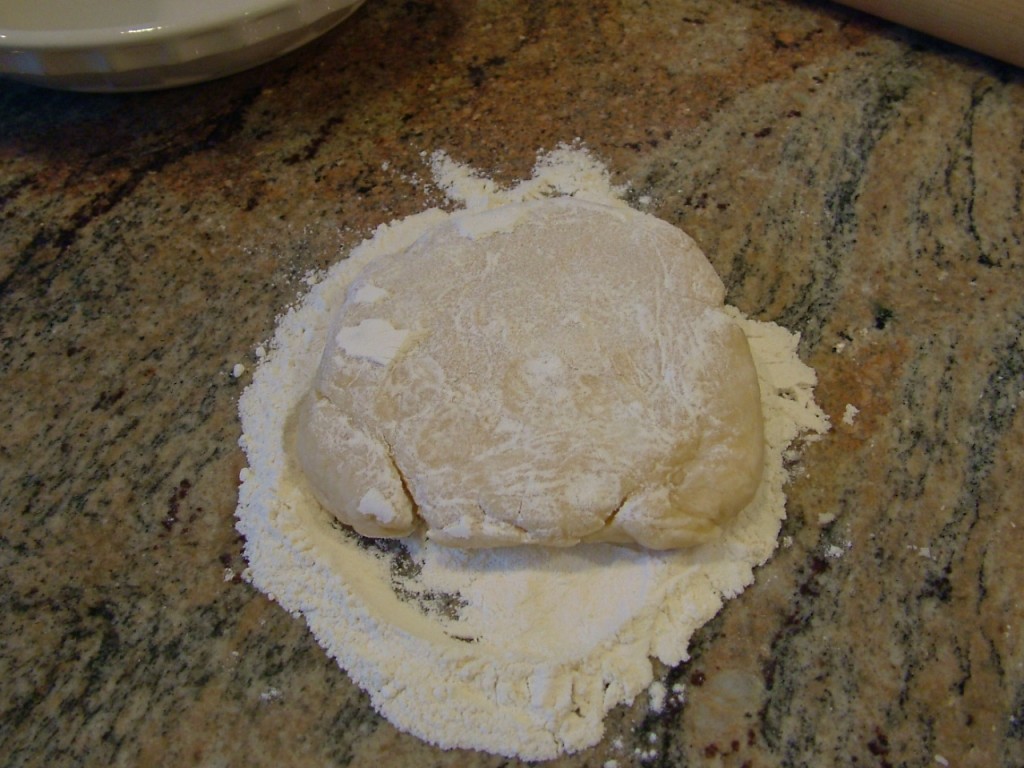 Ready to roll out your pie crust, be generous when flouring your countertop.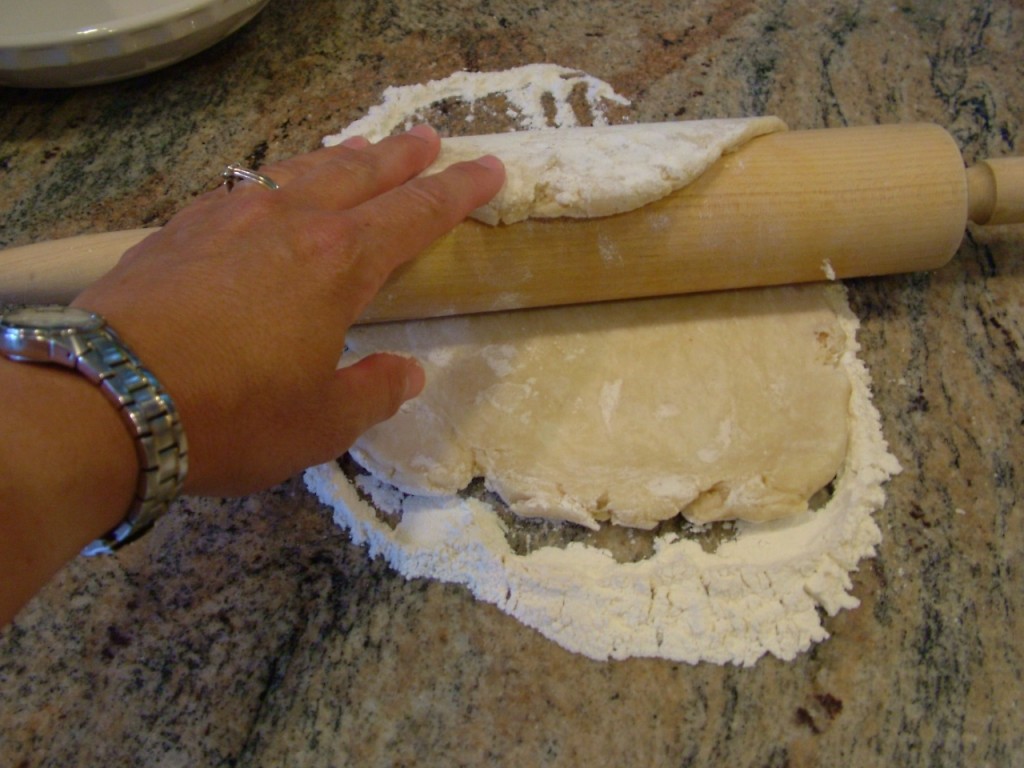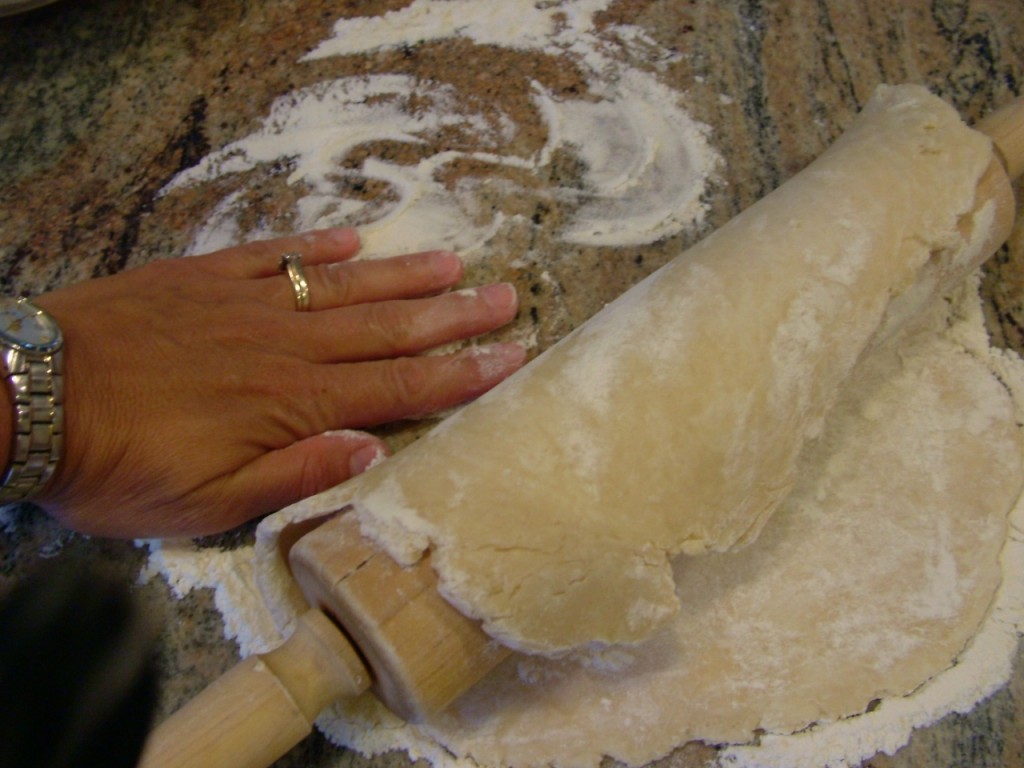 Move your rolling pin, after each roll, to get a different angle, this helps roll dough into a circular shape.  You may have to lift up dough and scatter flour underneath, so the dough doesn't stick to countertop.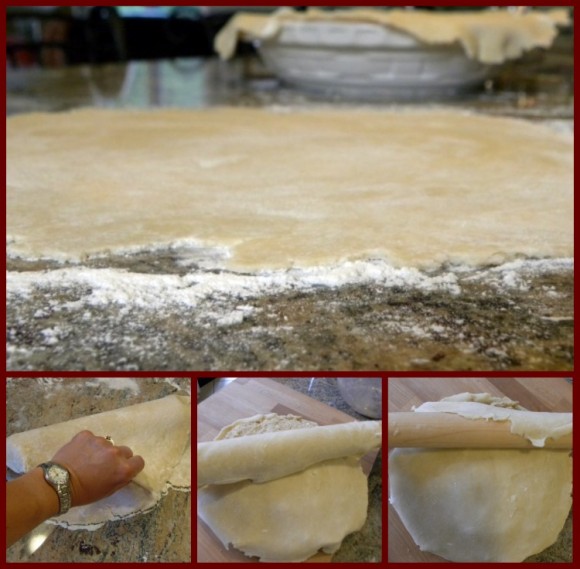 When your dough is rolled out, drape it over your rolling pin and lay it in pie plate or over pie filling.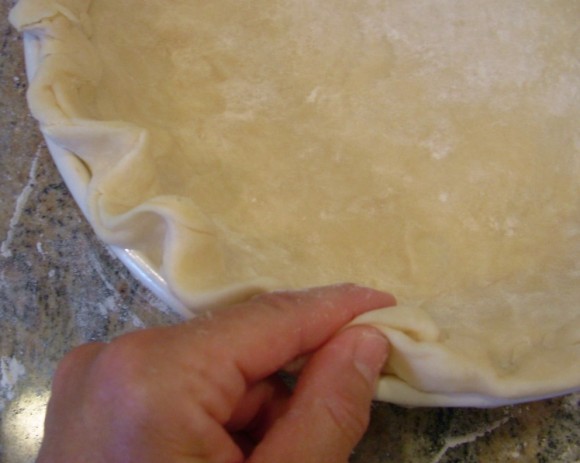 If you are making a crust that requires one crust, trim dough so it hangs over edge of pie pan by one inch or so, then fold in and give it a nice crimp.  Everyone has their own pie edge style. Make it your own!  If this is a double crust pie, fill and lay top crust over the filling, now seal the dough together by folding  the crust inward, not under.  Folding inward will help direct any juices back into to the pie.  Although if you are baking a fruit pie it's always a good idea to bake your pie on a cookie sheet to avoid run over onto your oven floor.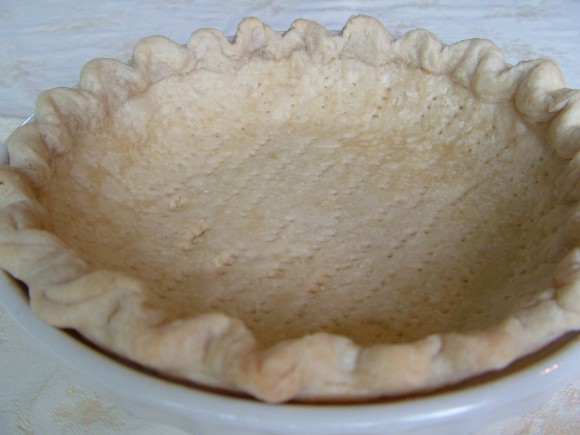 A prebaked pie crust needs to have holes poked in it before baking.  Otherwise it will slide into a large lump of crust in the bottom of your pie plate.  I also cover mine with foil to keep it from over browning.  There are also things like pie beads that you can pour in the bottom of your crust, dry beans work too, or you can mold tin foil into to bottom.  I demonstrated this way back when, here.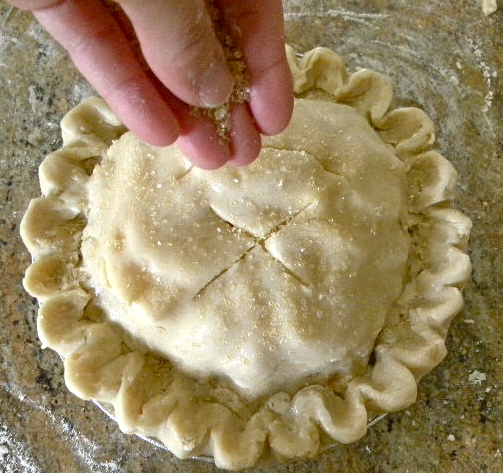 If, I'm doing a double crust pie I like to brush the crust with milk and sprinkle with course sugar granules.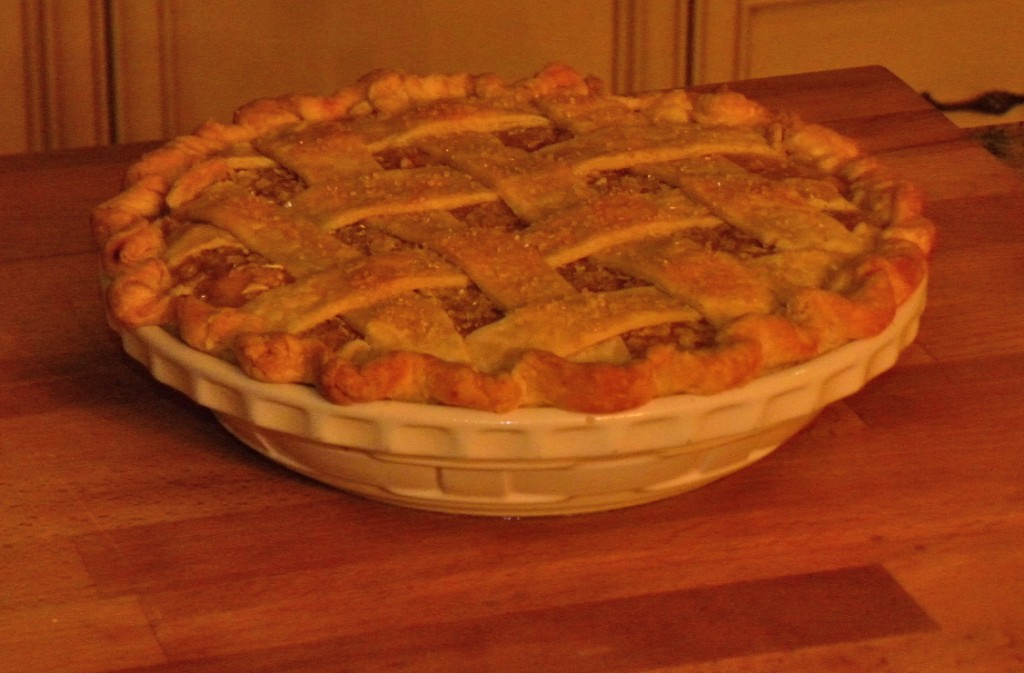 This is my lattice crusted Peach Crumble Pie.  Feel free to get fancy with your crust.  I usually don't get too fancy with my pies.  But I may show you few fun ways to fancy up your pies later in the week.  I don't want to give away all my tricks today.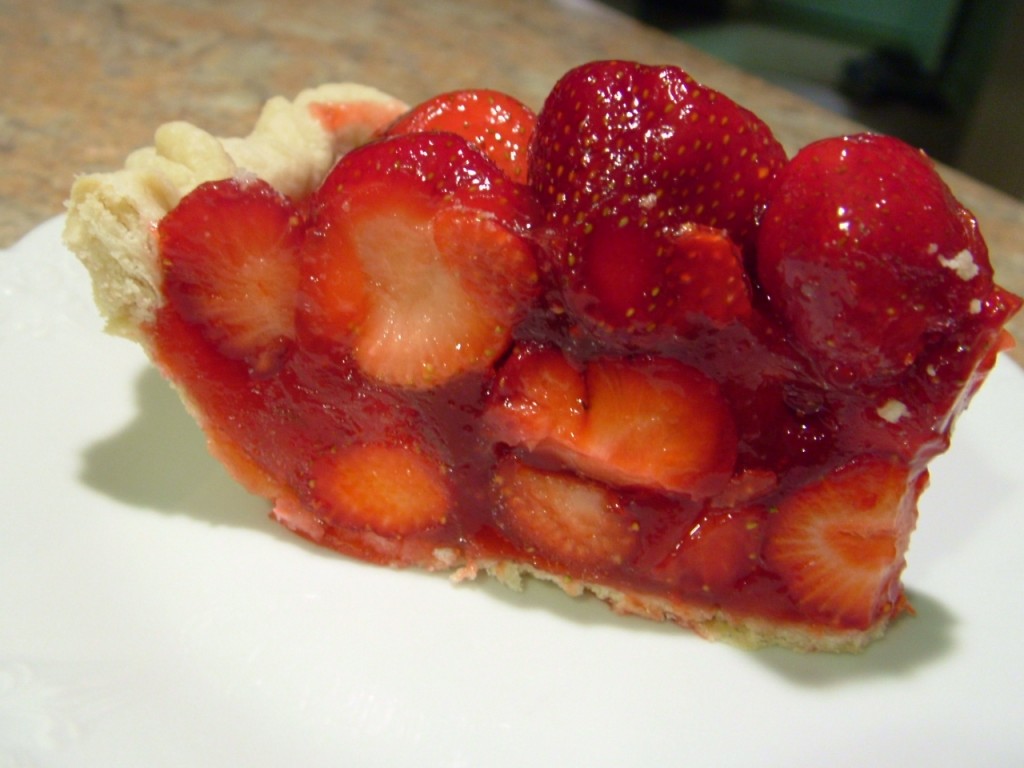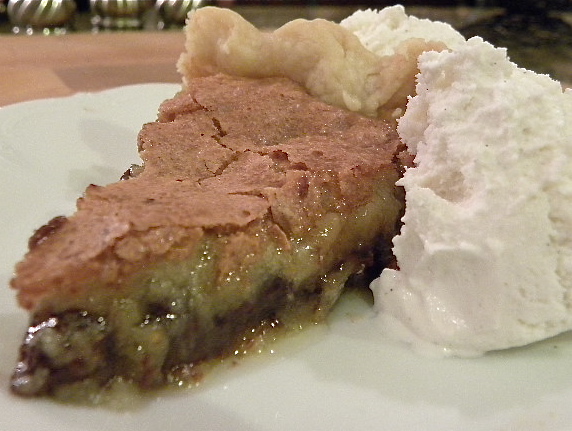 However you fill your pie this crust is no fail.  I have literally made it a thousand times, or more.  Follow the above instructions and you too will be filling your pie hole in no time…did I say pie hole?  I meant pie crust…the pie hole filling comes after the filling of the crust.
Ya'll come back now ya hear!