31 days:: #3 reason Hostess Meal
I have to admit I have never been on the giving end of this reason for sharing a meal. But when I was on the receiving end it was a sweet surprise.  I was literally flabbergasted!….when my friend Karen surprised me with a Hostess Meal after a dinner party that I had given.
My sweet Seestor Carla and I at the inaugural Cowgirl Dinner Party.
Two years ago while cooking through The Pioneer Woman's  Cookbook, I threw a Cowgirl Dinner Party for a few lady friends.  It was in the dead of winter in Michigan, we were all in much need of a night out….all feeling a bit couped up!  It was a HIT!  Now it's a tradition…..and although I LOVE doing it, it does consume my life for a day or two before the party.  So this year after the party, when my good friend and fellow PW lover went out  to her car, at the end of the night, and returned with a basket full of goodies, I was dumbfounded.  I just didn't know what to say!  I knew that for the next couple days I was going to want to feed my family Cheerios, and/or left overs.
The fact that Karen had the forethought to bring us a meal was a ginormous blessing.
She brought a Breakfast Casserole and super yummy Chocolate Chip Muffins that my kiddos devoured in one fell swoop!  They're like vultures those four!
Everybody brings a bottle of wine, or flowers, but DINNER FOR THE NEXT DAY!  Yowza!  Now that's a good one. And if you are one that doesn't find yourself at home in the kitchen, and quite frankly making someone a Hostess Meal would not be your choice as a hostess gift, I think a gift card inserted into a card with a note of appreciation would be a blessing also!  However…….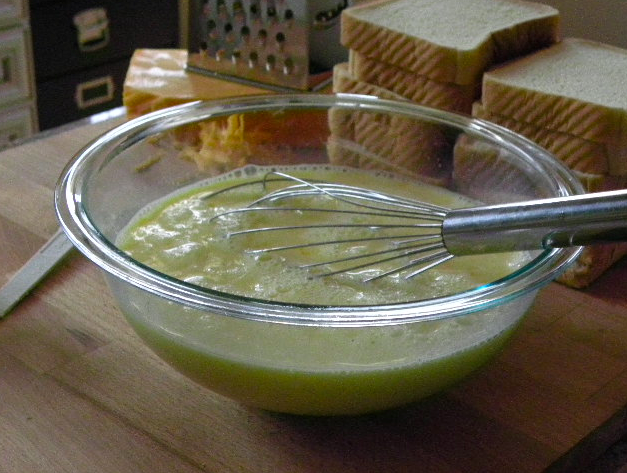 Breakfast Strata is really super easy.  Even if you are not at home in your kitchen, I know you could do it!  You can find the easy peasy recipe for my Sausage Breakfast Strata here, the recipe for my Banana Chocolate Chip Muffins HERE.
There I just made it easy for you!
I bet giving a Hostess Meal to the hostess, of your next dinner party,  will floor her!  Just like it did me.  It was one of the greatest acts of kindness ever to come my way, because the next day when I was a little fuzzy from too many Maple BaconTini's, and I was sloshing around in my stretchy pants; the fact that I only had to turn on my oven and pop the casserole in for dinner was aaaAAmaaaZING-ga!
Hey guess what I've got a Meals 4 Sharing Grab Button!  Yeah!  I would be forever grateful if you snatched it an put in on your blog to share my 31 days of Meals 4 Sharing series!
Or if you like this button shoot me an email and I get send it to you.
Thanks for stopping by!
Hugs,
Sheila