Sandy is the winner!! Sandy said "snowball cookies!!! have to make them every year! 

"  I will be contacting you shortly!  Next Wednesday there will be one more fantastical giveaway so y'all come back now ya here!!?
—————————————————————————————————————————————————
Ever have one of those weeks where everyday seems like Thursday? I have so much to do this week! The kids will be off school for two weeks and I need to get my Christmas plan in place. All the details, the shopping, wrapping, and then come the birthdays BAM, BAM first son number 2 will be 15 then son number 1 will be 18!!! EIGHTEEN. I am going to have an 18 YEAR OLD. [insert old lady emoji] For some reason, the Christmas season snuck up on me this year. Literally like a BOO! Christmas is a week away. How did this happen??
Ok enough about my time challenges. I have another GIVEAWAY for you this week!!  I'm super excited to be giving away….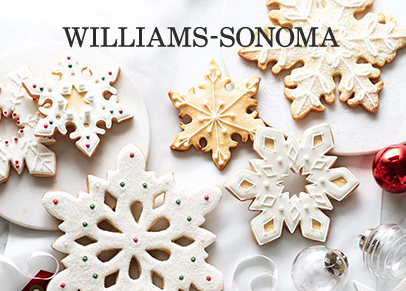 a $50 Williams-Sonoma Gift Certificate.  
I love this store!  It's like my candy shop.  Even if you're not excited about kitchen gadgets and cookbooks, there is something for you here, I'm certain of it!!  OK I'm going to make this easy for you, just answer the question below in the comment section.
My favorite Christmas treat is ____________________ !!!!
Official Rules and Regulatory stuff:
Only one entry per person.
Winner must be 18 years or older.
Must enter by 12 noon EST Friday, December 19, 2014.
(Because I will be sending this gift certificate out via e-gift card you can be any where in the world you want to be to win 😉 How do ya like them apples?!)
Best Wishes and Butterfly Kisses! Sheila
PS I loved all your answers for last week Wednesdays giveaway.  Sounds like we all just want to be surrounded by those we love on Christmas! I'm with you being with family and friends is my favorite part of the holidays, and well the food 😉
Disclaimer: this is not a sponsored post, this giveaway is simply from me to you! Mwah! XOX