Where was I? Oh yeah! Cooking through Ree's Frontier
Did you forget that I've been cooking my way through The Pioneer  Woman Cooks ~ Food from my Frontier? I didn't. I've been plugging along. The Holidays got me a little behind, but I'm getting there. I have 6 weeks to make the goal of cooking through the whole cookbook. Phew…it's been quite scrumptious journey to say the least!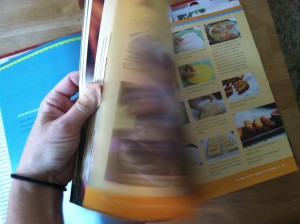 About once a week I opener up and say "Hmmm….let's see, what should I cook next?".  I have to admit I let a few things slide that I should have made during the summer months like Gazpacho. Gazpacho in the dead of winter in Michigan is going to be tough…can you freeze that and eat it in the summer?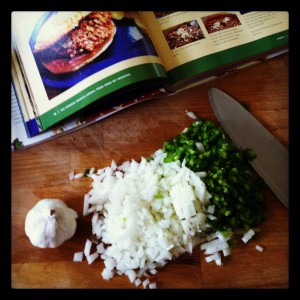 Ree's Sloppy Joes were scrumptious, but I have to admit to altering the recipe to suit my families tastes just a teensy bit.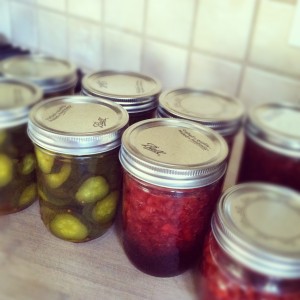 I grew up helping my mom can.  She canned everything but the kitchen sink I swear!  I totally took all the work she did for granted.  Canning is an amazing way to preserve produce at it's finest.  I usually always make Strawberry Jam but had never canned pickles.  I will be doing a quadruple batch next year.  Everyone loved them.  I gave a few jars away and we've eaten all but one jar that I am hoarding in the back of my pantry for a special day.  Ree's Sweet Lime Pickles are the best sweet pickles I've ever tasted!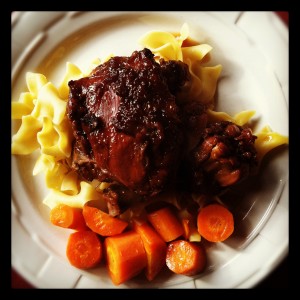 Honey Plum Soy Chicken could make a regular appearance at our dinner table with no complaints.  Everyone loved it.  In the words of my father, "Tasty and toolicious!".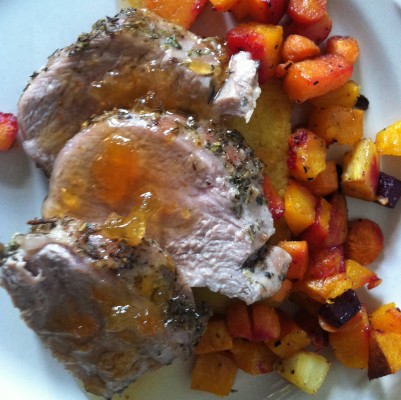 Herb Roasted Pork Tenderloin

It was like a regular restaurant in my kitchen plating up this meal.  Cornmeal Cakes, Roasted Vegetables, Pork and sauce…dinner is served!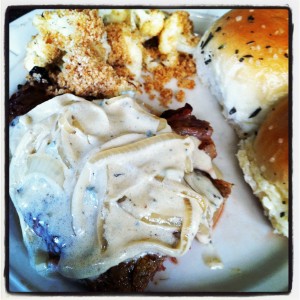 Forgive me if I have shared some of these delectable recipes with you already.  Rib-eye Steak with Onion-Blue Cheese Sauce.  Perfect birthday food for that special man in life!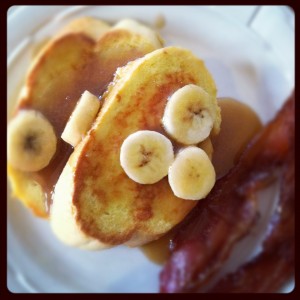 PW's Banana Foster I decided to serve it over french toast.  It is now one of my kids favorite breakfasts.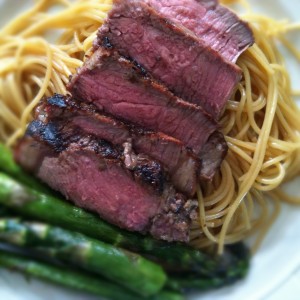 Sesame Beef Noodle Salad
I'm getting all cornfused because I share all my #cookingthrureesfrontier pictures on Instagram so sometimes I can't quite remember if I only shared it  there or on the blog too!   And well yes I could go back and drag through my other posts, but well frankly I'm too lazy.   The Sesame Noodle Salad is a hit with the Johnsons!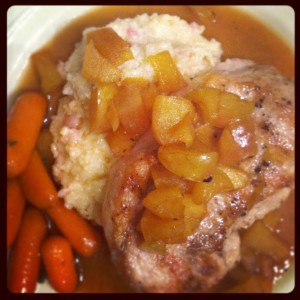 Pork Chops with Apples and Grits is a meal fit for a king?  Did I mention the grits are full of bacon, cheese, and cream?  Oh yeah baby that's what I'm talking about.  My kids went off their rockers for the grits.  "Why have you never made these before?!"   Well dear children I'm trying to maintain my girlish figure that's why!    Ree this meal was simply delish!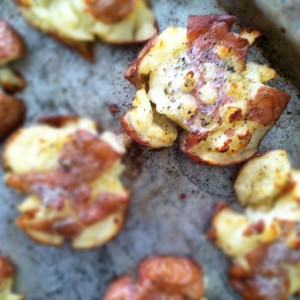 Crash Hot Potatoes….a.k.a smashed taters in our house.  Genius I tell you simply genius!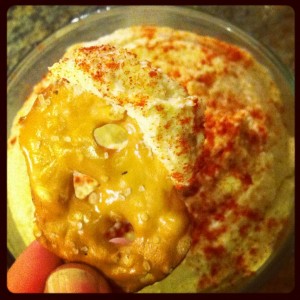 Hummus.  I forget how easy hummus is to make.  I love Ree's addition of cayenne pepper.  That's why I love that girl she know how to add a little spice to life!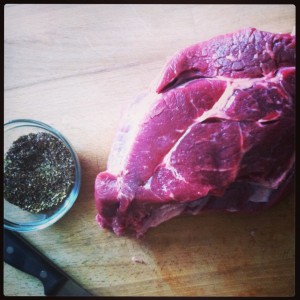 This right here people is the beginning of a very wonderful thing……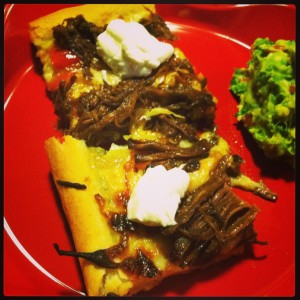 Carnitas Pizza.  My new favorite pizza.  BBQ Chicken was my favorite.  Now it's this. Drop Dead Delish!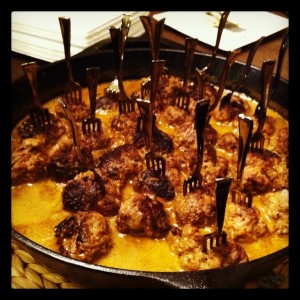 As you know I have a certain someone in my life that I love dearly…with all my heart in fact that dislikes garlic and mustard.  Two of my favorite flavors.  Suprisingly this coo coo pants loved these Whiskey Mustard Meatballs.  I whipped them up for friends and served them along side my Cheese Fondue.  It was a perfect pairing!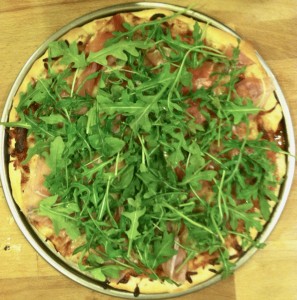 Fig Prosciutto Pizza, even the men in my life admitted to the loveliness of this pizza.  I didn't even get to finish it off with Parmesan cheese before it was eaten…next time.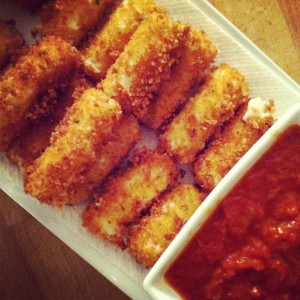 My son said these Mozzarella Sticks were the bomb.  (That's a good thing, in case you wondered.)  I will admit to grumbling under my breath while making these on New Years Eve for a passle of teen age boys.  They are a bit labor intensive….I am not a lover of breading things.  I am a lover of eating things that are breaded, however!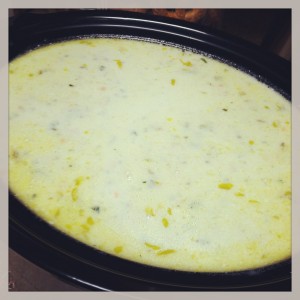 I made Cauliflower Soup for Kenny's office luncheon.  It was a huge hit…the only problem was I didn't make enough!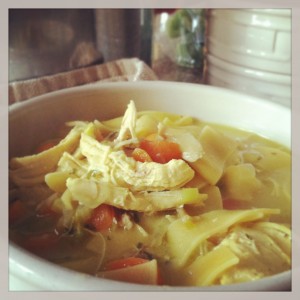 Hearty, comforting, perfect for a cold winter day Chicken and Noodles is uber scrumptious.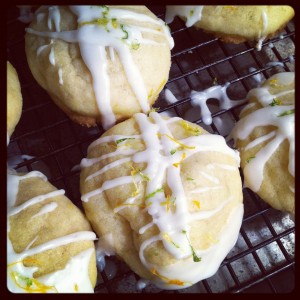 P-dubbs Citrus Butter Cookies are just not right!  They should be banned from the internet, and cookbook world!  Sinful that's what these cookies are!!!  (I also brought these to Kenny's office.  Another hit with the staff!)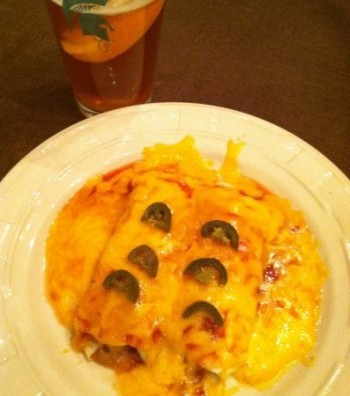 Now I make homemade burritos, but they are not this easy!  Ree's Beef and Bean Burritos are easy, spicy, and scrumptious.  We could eat these once a week, but we love Mexican food around this house…..Mmmmm man I want this plate right now!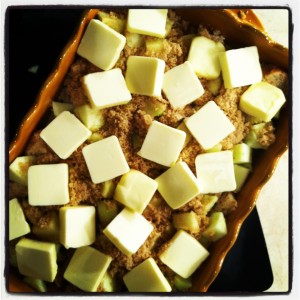 Apple Brown Betty made with whole wheat bread, apples, and lots of butter.  I had my doubts about this recipe.  It seemed really odd to me.  But of course it was amazing, and extremely low cal too!   NOT!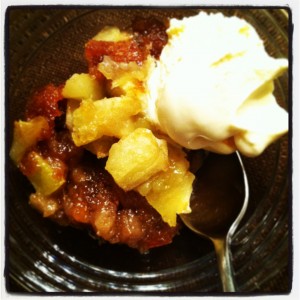 I started my diet after I had my second helping of this delectable treat.  This recipe is also from way back in the day on Ree's site, 2008 wow that is old in blog years!  Tried and true  that's what Apple Brown Betty is!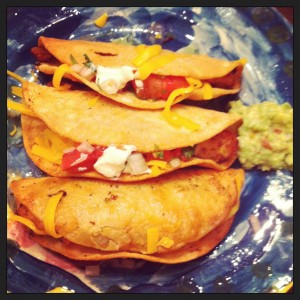 My family did back flips for Ree's brothers Fried Chicken Tacos.  Completely life changing.  One of these babies and you will never be the same.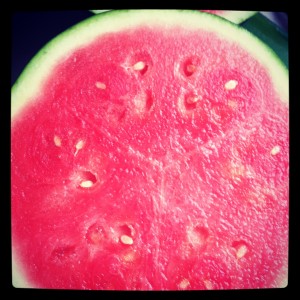 I was worried about pulling off the watermelon recipe in the middle of winter……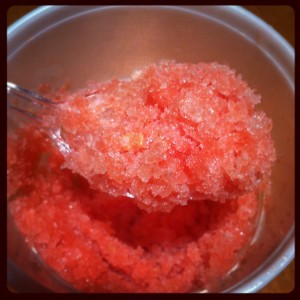 but have no fear!  Watermelon Granita was the perfect low-fat recipe to curb our sweet tooth after eating the Carnitas Pizza and loads of chips and guacamole.  This granita was so easy, and could easily be done with other fruits.  I am definitely going to have this in my refrigerator all summer long for a refreshing pool side treat!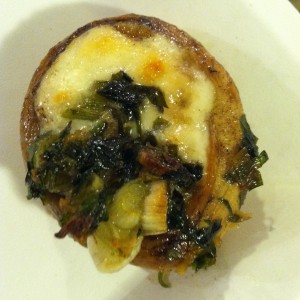 Forgive me P-dub this photo does not do your Brie-Stuffed Mushrooms justice.  Super easy and mouthwateringly delicious.  They were gone in the blink of an eye!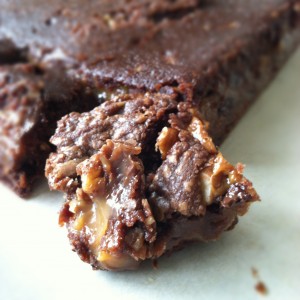 Yap these were named correctly!! One bite and I was naked….emotionally that is.  Chocolate, caramel, salty, chewy, whats not to like?  These brownies will knock you naked or at least knock your socks off!!!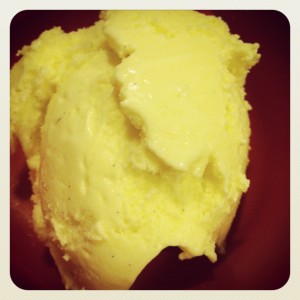 Oh and you might want to have some homemade Vanilla Bean Ice Cream on hand to help wash the brownies down with.  Nothing is better than homemade ice cream!

So there you have it!  I think I've got you up to date on my cook through.  How many recipes do I have left?  Twenty-four recipes to go.  At the end I'll be giving you glimpses of each of the last recipes, and I'll give away a copy or two of The Pioneer Woman Cooks!  
Have you been following along on Instagram?  If you're not on instagram you can catch me on Facebook and Twitter!
Thanks for joining me!  Cheers to P-dub and her scrumptious cookbook!
Luvya, Sheila