Taco Pie [#EggoWaffleOff]
I was selected by Kellogg to promote
The Great Eggo Waffle Off Contest
Please know that what I have shared is in all honesty 100% my opinion.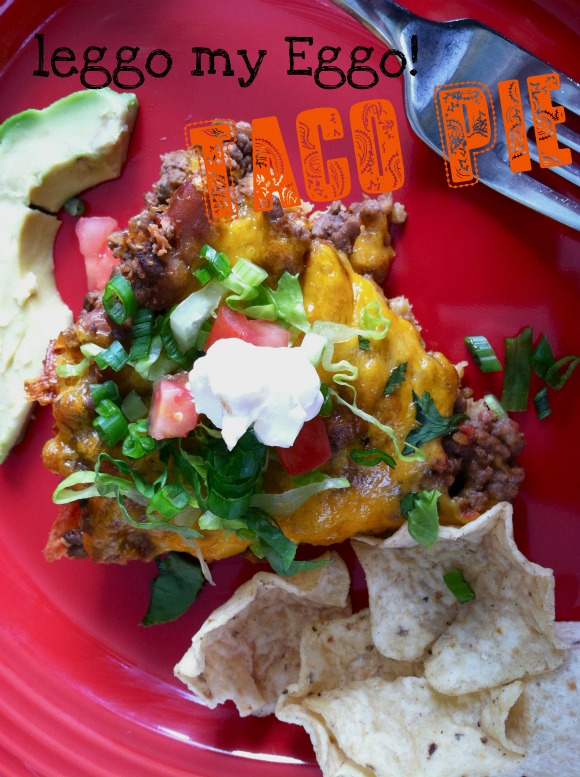 Have you heard of The Great Eggo Waffle Off  contest?  Here's you chance to WIN BIG!  Which one of your waffle creations will you enter?
Enter your recipes in the The Eggo Waffle Off Contest.
 The
Grand Prize is $5000
for the winningest recipe! There are also
t
wo $2500 prizes
and
10 finalists
will win a years supply of Eggo products!!!
I'm here to INSPIRE you to think "out of the box" the waffle box that is!!  
Gather around the toaster to discover just how delicious and rewarding your Eggo recipes can be!  Join me this week as I share with you my "out of the box" inspirations for Eggo Waffles!
Hopefully my recipes will inspire you to use Eggo Waffles in ways you never thought possible!!
Mexican food is my families favorite, so I knew I had to come up with some way to work a Mexican dish into our Eggolicious Week!  I thought churros, tacos, tostada….then my son said mom why don't you ever make taco pie anymore?  Voila!  That was it.  So the next day I served my family Eggo Taco Pie for dinner.     It was a hit.  They all agreed they like it better than my old recipe.  Wow!
Eggo Taco Pie is so easy I'm sure you have everyhting you need right in your refrigerator and pantry.  Here's how: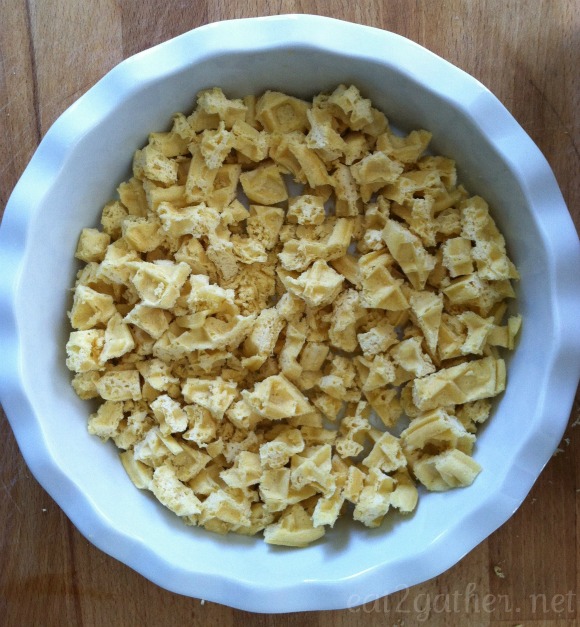 Preheat your oven to 425 degrees. Cut up 5 Eggo Homestyle Waffles (they can still be frozen) layer them in the bottom of a pie dish, place them in oven for 15 minutes.  While the waffles are baking you can move on to the next step.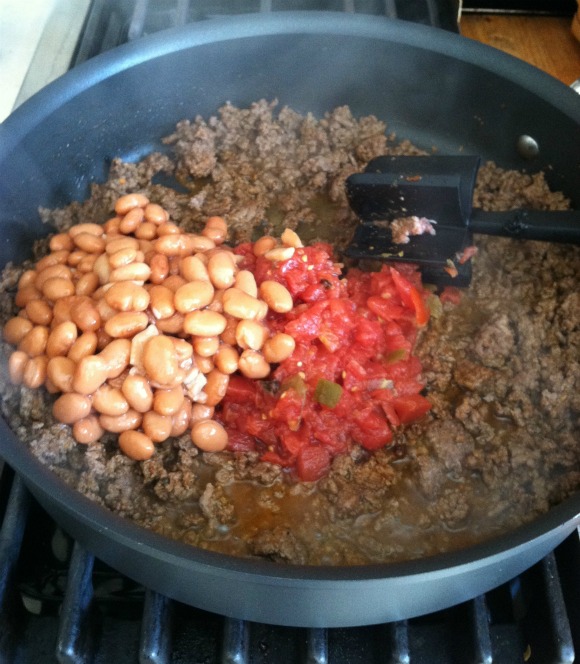 Brown 1 pound of lean ground beef in a skillet, add in 1 tablespoon taco seasoning (more if you like), 1 can of pinto beans drained, 1 can of original rotel tomatoes.  Simmer over medium-low heat, use your spatula to break up the beans a little bit, this will help thicken up the filling.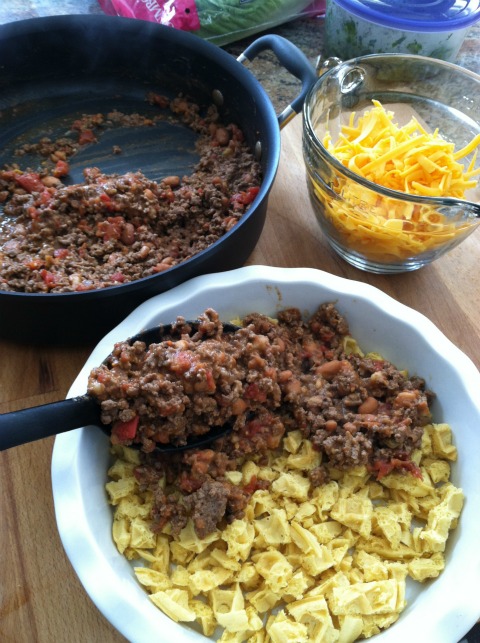 Next spoon the meat mixture over the waffle layer.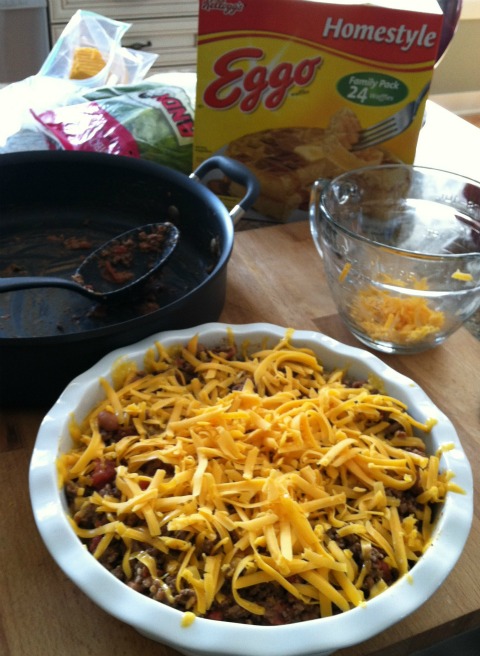 Spread 1 1/2 cups of shredded cheddar cheese over meat. Place back in 425 degree oven for an additional 15 minutes.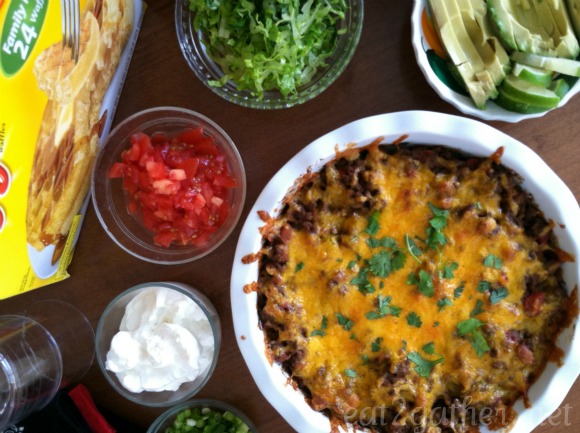 And there you have it!! While your taco pie is baking you can cut up your taco toppings and have your kiddos set the table. It's a thirty minute meal!
Your kids will never believe they are getting to eat Eggo Waffles for dinner!!
Do you have your creative juices flowing thinking of all the wafflicious recipes you can use Eggo Waffles in??
LIKE  the Eggo Facebook you just may get to see one of my recipes featured on there or better yet yours!!!
Contest details are HERE!! 
[print_this]
Taco Pie
serves 4-6
5 Eggo Homestyle Waffles, cut in to small pieces
1 pound lean ground Beef
1-2 tablespoons Taco Seasoning (I prefer Trader Joes Brand)
1 can Original Rotel Tomatoes
1 can Pinto Beans, drained
1 1/2 cups shredded Cheddar Cheese
taco toppings: chopped onion, tomato, lettuce, avocado, cilantro, sour cream (whatever you would top your taco with)
Preheat oven to 425 degrees.
Chop waffles into small pieces. Mine were still frozen when I chopped them. Place waffle pieces in a pie plate place in oven set timer for 15 minutes. While waffles are in the oven brown the ground beef add in tomatoes, drained pinto beans, and taco seasoning let simmer and reduce, use spatula to break up large pieces of meat and break up beans. When waffles are done remove meat from stove top and spoon over waffles, cover with cheese. Place back in oven for 10-15 minutes or until cheese is bubbly and starting to brown.
Cut into 6 pie shaped pieces and serve with taco fixings.
Enjoy!
Note: If you happen to have leftovers its even better the next day!
[/print_this]
What's your families favorite way to eat Eggo Waffles?
The Great Waffle Off contest Rules can be found HERE.
This is a sponsored post on behalf of Kellogg and The Great Eggo Waffle Off.  All opinions expressed are my own.