A few weeks back on a gorgeous Autumn day I had the pleasure of taking a drive 45 minutes south-east of my home to Alto, Michigan!  I'd love to share with you what I discovered!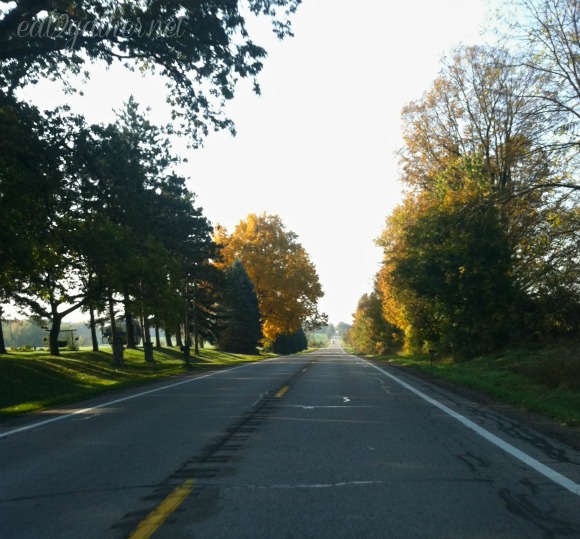 I love nothing better than a drive through the countryside on a sunny Autumn day!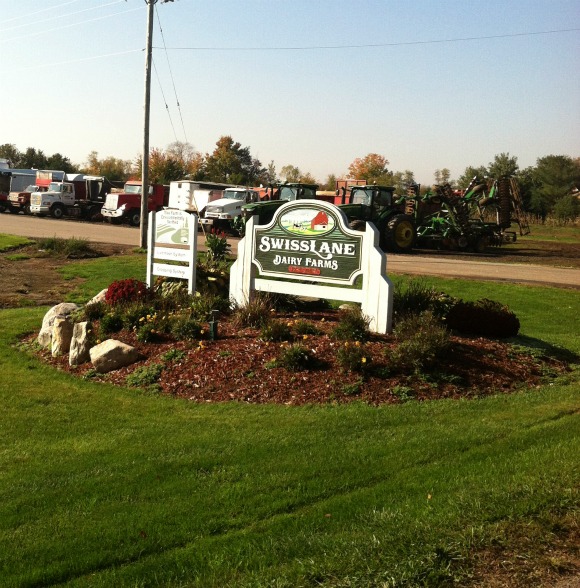 My destination this day was a 4th generation dairy farm owned and run by the Oesch family.   Several other local bloggers and I had been invited by the United Dairy Industry of Michigan (UDIM) for a tour of  Swisslane Dairy Farm.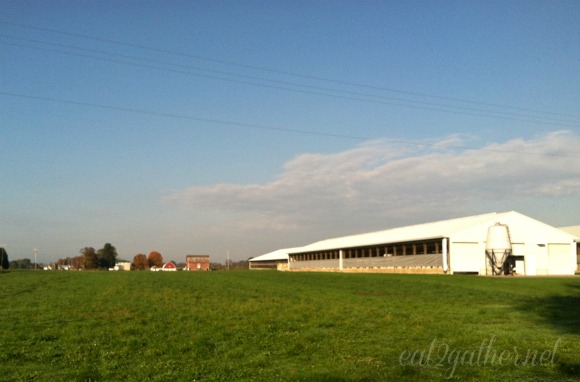 As farms continue to disappear from the landscape, it's important that we take the time to understand where our  food comes from. SwissLane Farms is committed to educating the non-farming public of West Michigan about life on a large, modern, family farm by engaging them in interactive and enjoyable experiences through their Dairy Discovery tours.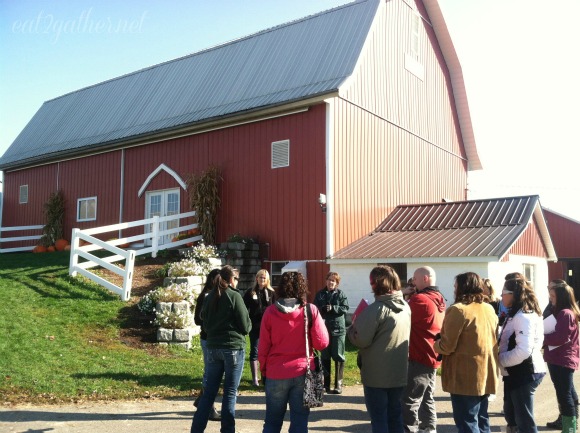 Let me share with you what I learned!!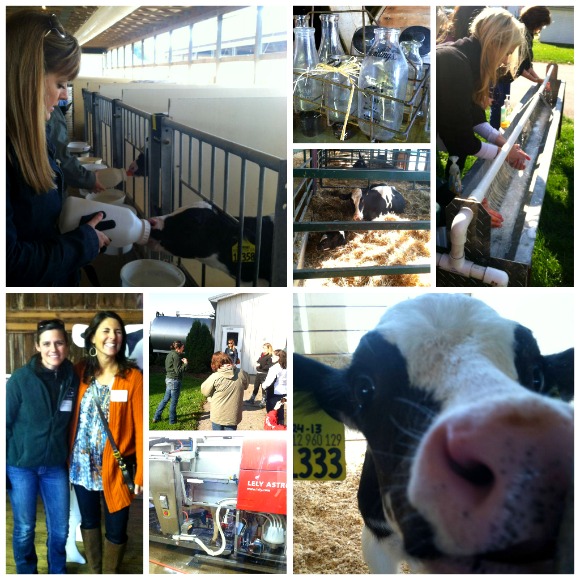 Our tour guide was Annie the great great granddaughter of the original farmer (Fredrik Oesch).  Did I say SwissLane is a 4th generation dairy farm run by Annie Link and 27 other family members of the Oesch family and that they all live within two miles of the farm?  Despite the fact that Swisslane is considered a large farm or CAFO it feels very small.  Swisslane  milks 1,300 cows with a herd total of 2,700 cattle. The farm continues to grow, as does the family.   The dreams of a young man (Annies great great Grandfather) from Switzerland remain alive and are being passed down through generations. This is not just a farm or a business Swisslane is the Oesch family heritage!
I love it!! This is real America people!!
Q:What is a CAFO?  I had heard the word used many times in a derogatory way, so after touring Swisslane and seeing the excessive attention and love they put in to taking care of their cattle I was shocked to hear Annie say that they were a CAFO.  A: CAFO = Concentrated Animal Feeding Operation is the legal description for a large farm.  Many CAFO started as smaller farms that grew over the years to support additional family members who wanted to stay on the farm, 98 percent of all the dairy farms in Michigan are family owned and operated.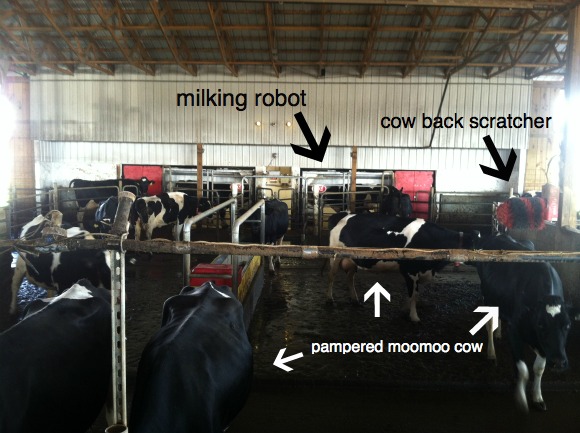 Annie, our tour guide, is the calf manager and event organizer for her family's farm.  Annies has a contagious enthusiasm for educating others about how technology benefits their farm and agriculture.  She took us on a hayride around the farm and out to their newest barn where they have four robotic milkers.  You really have to see it to believe it!  It may sound strange, and detached but honestly the care these cows are given is unbelievable.  These are pampered moo moo cows for sure.  Rubber mats to walk on, temperature controlled building with misters, back scratcher massagers…sheesh I wanna be a cow at SwissLane.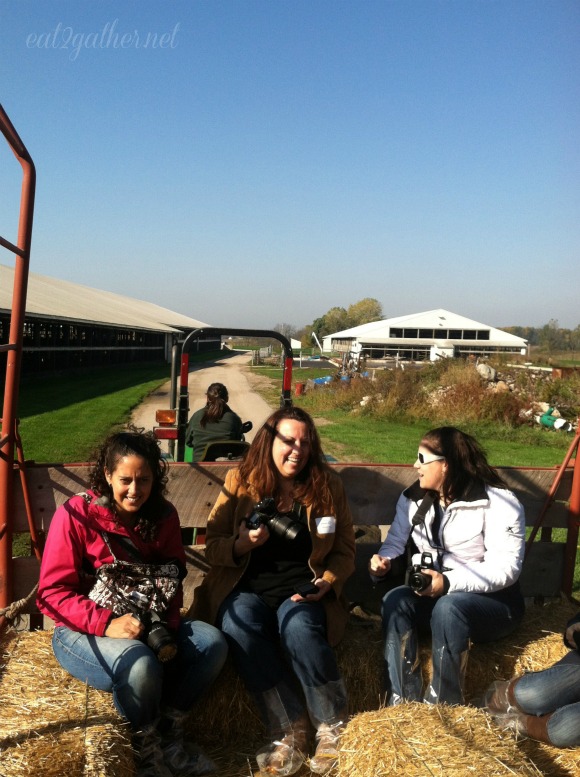 Our hayride adventure!  Megan are you having fun yet?   We were very thankful that there was a break in the rainy weather.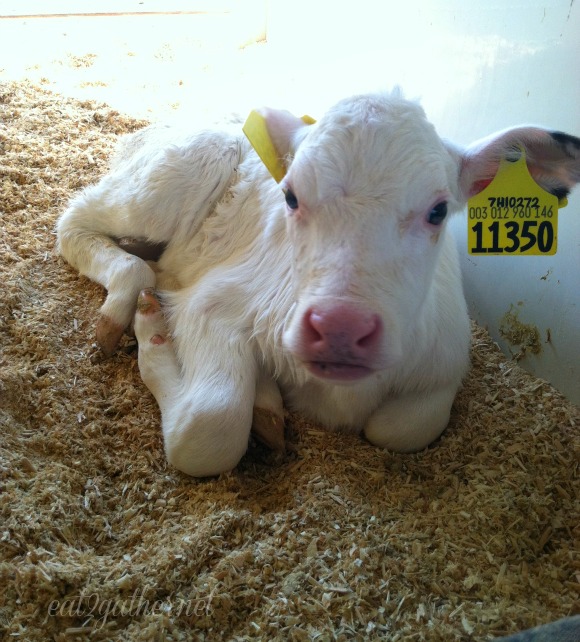 If you are a Michigander you can rest easy knowing that the milk you drink is of the highest quality.  Our farmers are held to very tough standards!  Michigan is also a surplus state, which means that we produce more milk than we can use so our milk is shipped to other states that cannot produce what they need.  This also means, unless you are purchasing some fancy fru fru milk, the milk you drink is from a local family owned and operated farm!  Music to my ears 😉
What questions would you have for Annie if you were on the dairy farm tour with us?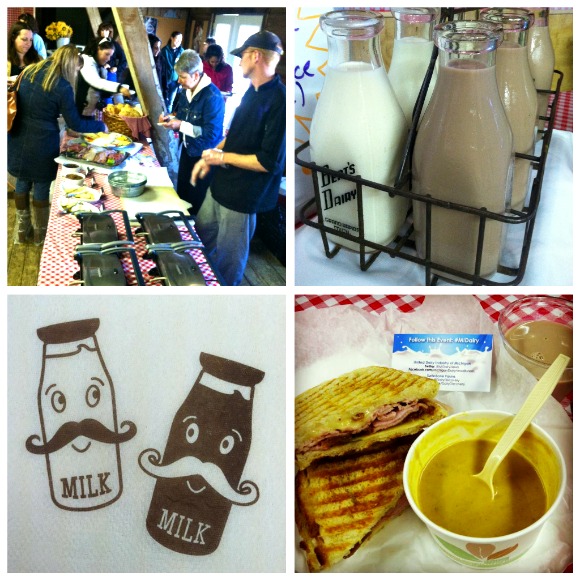 At the end of this beautiful Autumn day our minds were full of all we had learned but our bellies were empty.  Lucky for us when we arrived back to the "teaching" barn there was a beautiful lunch set up for us.  We were given an array of cheeses, cold cuts, and other tasty toppings so that we could each create our very own panini that was then pressed and brought to our table!  If you are looking for more ways to get dairy in your diet, check out the UDIM website for recipes.
NOW THE GIVEAWAY DETAILS!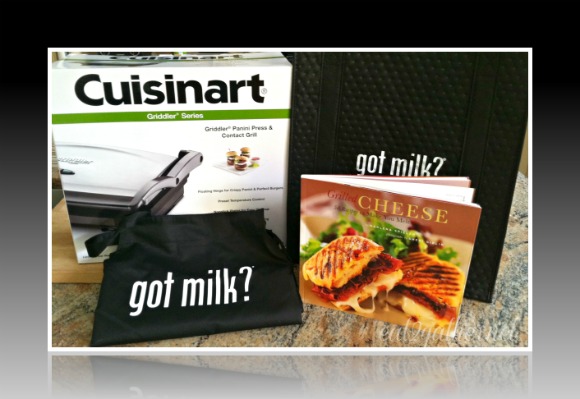 I am very thankful to the UDIM for asking me to be a part of this trip and for graciously giving me an extra Gift Package to give to one of my readers!!  That's YOU!
GIVEAWAY INCLUDES:
1 Cuisinart Griddler Panini Press
1 Got Milk cooler bag
1 very shiek and stylish Got Milk Apron
and 1 copy of the Grilled Cheese 50 recipes to make you melt! Cookbook
To win all you need to do is answer the question asked in the body of the post  in the comments.
Additional BONUS ENTRIES will be given for:
1. Liking or following UDIM Facebook page, and Pinterest Board then letting me know with an additional comment below.
-in addition if you share this post on your facebook page or tweet about it leave the URL to it in the comments for another entry.
– also is it possible that you don't follow Eat2gather on facebook, twitter, or Pinterest yet?  Well get on it!  let me know you did in the comments below for even more chances to win!
Giveaway Ends Tuesday November 12th at Midnight EST, WINNER will be announced with a luscious panini recipe on Wednesday November 13, 2013!!
Best of LUCK to you all!  Sheila
Disclaimer: I also received a gift package and a small amount to cover travel expense.  I was not paid to write this post. I have shared with you what I experienced, as always all opinions are my own.