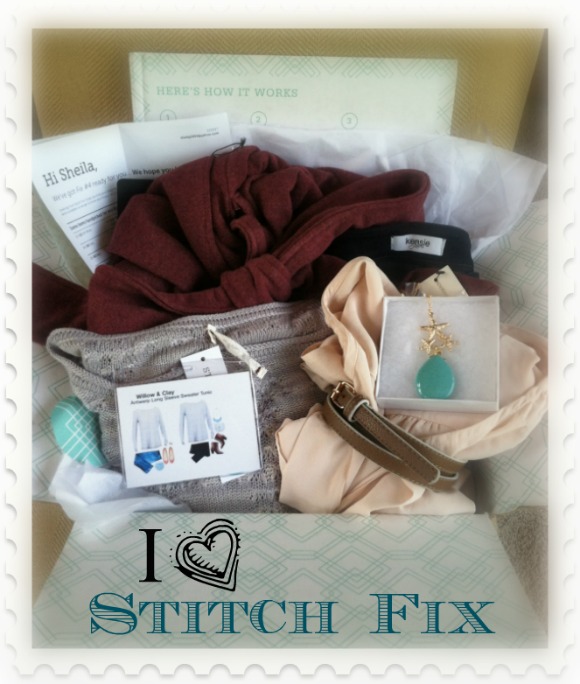 Confession: I do not enjoy shopping for myself.
I find shopping for cloths frustrating and time consuming.  Actually I love fashion, I appreciate nice cloths, shoes, and jewelry, but I DO NOT I repeat I do not appreciate the process of getting it in my closet or on my bod!  I want a fashion Genie to show up in my closet and show me how to put it all together!  When I shop for cloths I get overwhelmed.  I find many cute items, but what to pair it with, how to accessorize?? Calgon take me away!!  I have never been one to shop online, I'm picky about how things fit, and how fabric feels, and usually I end up sending everything back which is a royal pain in the patootey.  I basically am a pain in the patootey when it comes to shopping for myself!
A few months back this friend  friend shared on facebook about her style Genie, it sounded too good to be true….so I convinced my friend Heather to try using "the Genie", she loved it!  Well the rest is history because now I have my very own style Genie too!!
Pshhht…seriously now folks..I don't really have a Genie, but I have found the next best thing…Stitch Fix!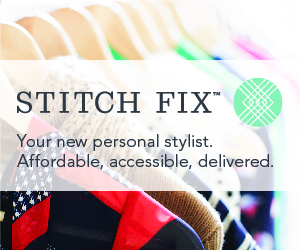 Please know I have not been asked by Stitch Fix to share nor am I being compensated in anyway. I am sharing about this purely for the fun of it, and because it is just too darn awesome to keep all to myself!!!  As always all opinions are my own. 
So what is Stitch Fix…
What does getting "a fix" mean?  Well, let me tell you…
Stitch fix is a personal styling service.  You tell them your style, size, and budget preferences by filling out a quit online questionnaire, and they send you a package of stylish and very fun goodies to try on at home!  It only takes a few minutes to sign up and complete your style profile. If you are on Pinterest and have a "my style" board this is a great way for your stitch fix stylist to "get" your style, so make sure to share the link to your style board when signing up.
What does it cost?  It costs nothing to sign up!  However there is a $20 styling fee with you order, this fee will be applied as a credit toward anything you keep from your shipment (even if it's just one piece) AND if you happen to love everything you get 25% off your whole order!!
Shipping?? Returning stuff I've purchased online is a huge pet peeve of mine.  I hate doing it.  But Stitch Fix couldn't make this part easier.  Your box of goodies comes with an addressed bag,  just toss what you dont' want to keep back in the bag, pop it in the nearest mailbox and Voila! it's done!  You do have a time limit of 3 days to get it back in the mail, and you will need to go on line and let them know what you are keeping and what you are sending back, but seriously this takes 30 seconds max.  If this seems too easy to be true.  It is. It is TOO EASY!  That's why I love it.
What's not to love?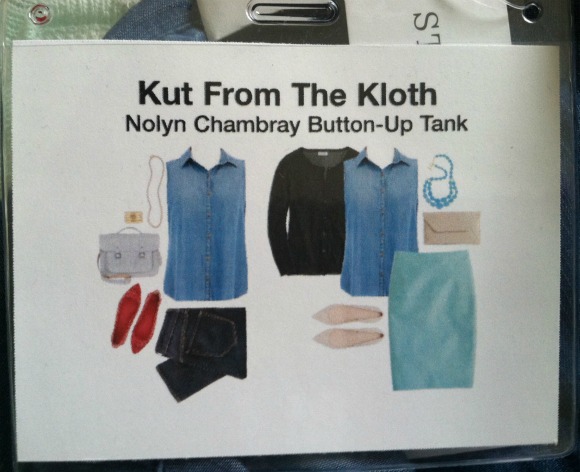 Not only am I not running all over town looking for cute, in style, quality cloths that fit me, but I am not standing in my closet in bewilderment as to how to wear the very cute piece of clothing I just purchased.  Stitch Fix sends a card with each piece of clothing that shows you what and how to wear it.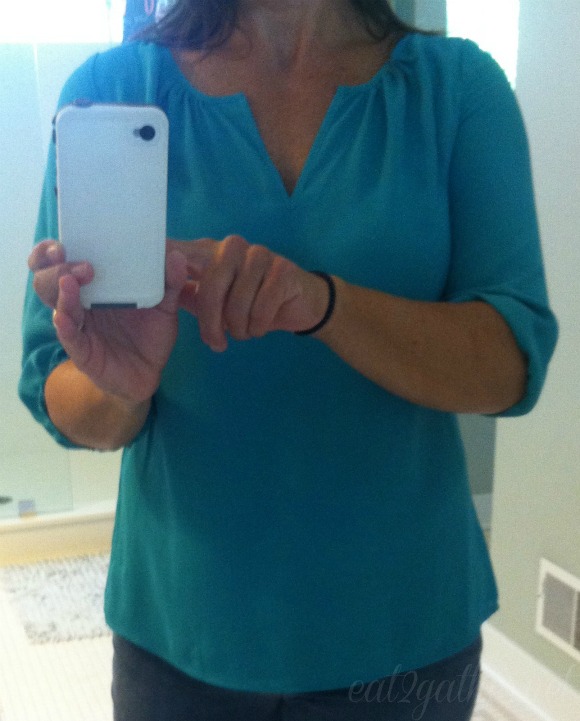 Another dilemma I have is for the life of me when I'm out shopping I can't remember what I have in my closet that might go with the new cute garment I've found….well with stitch fix I am in my closet…problem solved!  If you have a special event coming up, be sure to tell your stylist so they can tailor your fix to what your upcoming needs are!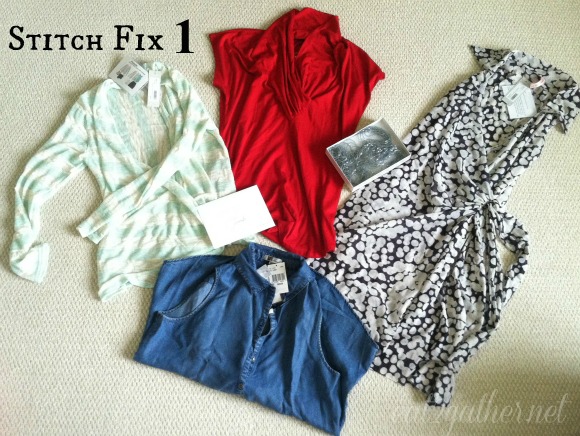 I have received 4 "fixes" to date.  My first fix I sent everything back.  Not sure why…the cloths were cute, I told you I'm picky.  The red top I loved but I knew that it would show perspiration…and I perspire like a stuck pig most days…so I had to send it back.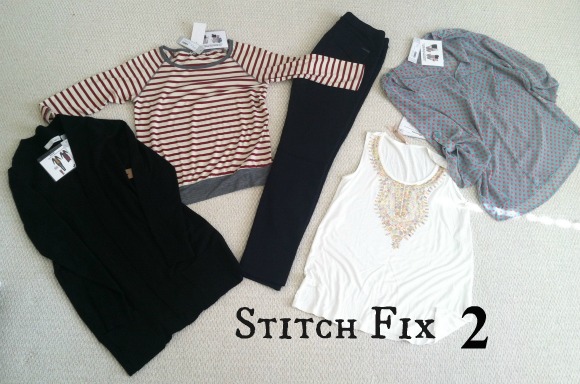 The second fix I kept three out of five pieces.  I loved them all, but the two tops on the right didn't fit…dang arms chubby arms!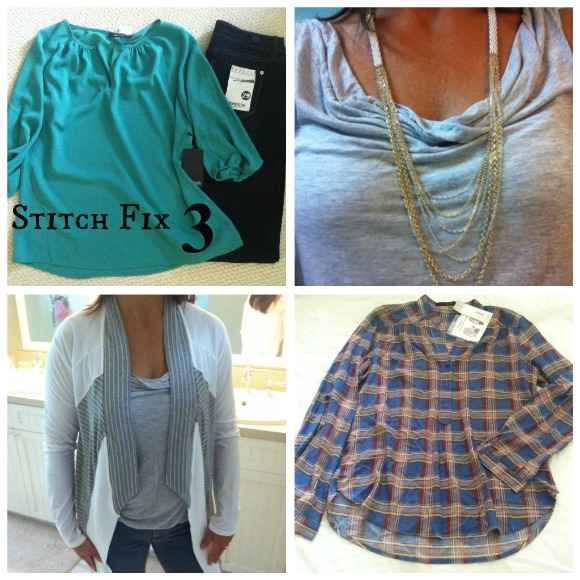 The third fix I kept a necklace.  I loved the two tops, but for some reason they were tight on my arms 🙁 so I sent them back.  And well the cover-up er um I thought it made me look like a sumo wrestler.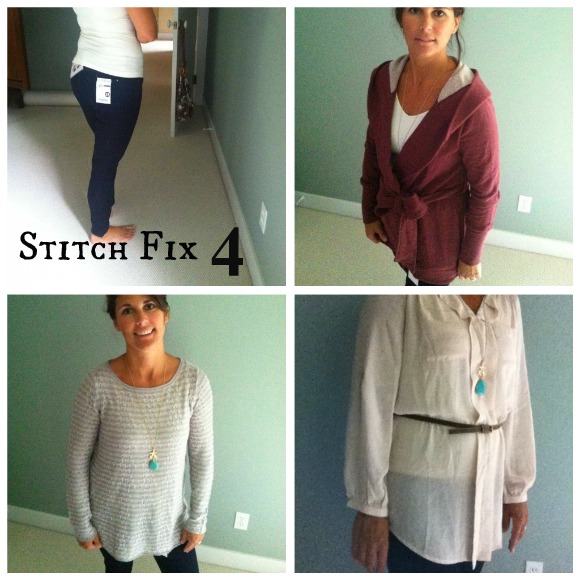 Fourth fix is still in the deciding phase.  Aren't you glad I put make-up on and did my hair for these pictures?!  I'm just keepin' real people.  I'm keeping the jeans they were like buttah!  The maroon wrap, tight on my short chubby arms again!  I love the grey sweater…so soft, and cozy.  I'm debating on the belted tunic….whatcha think??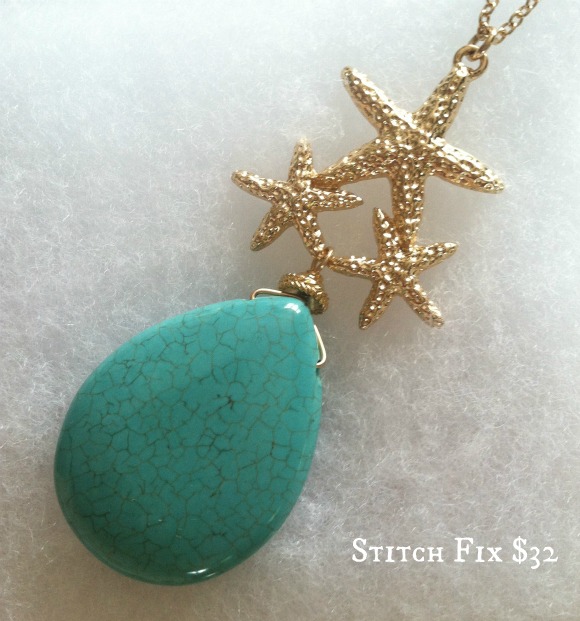 I love that I've received a piece of jewelry nearly every time!  Accessorizing is a huge fashion stumbling block for me, too many choices I just can't figure it all out!  I usually will get a piece I like and wear it with everything, whether it works or not…I'm goofy that way.   I love this piece.  It's a great price point too.  Not sure if I'm keeping it, but I do like it.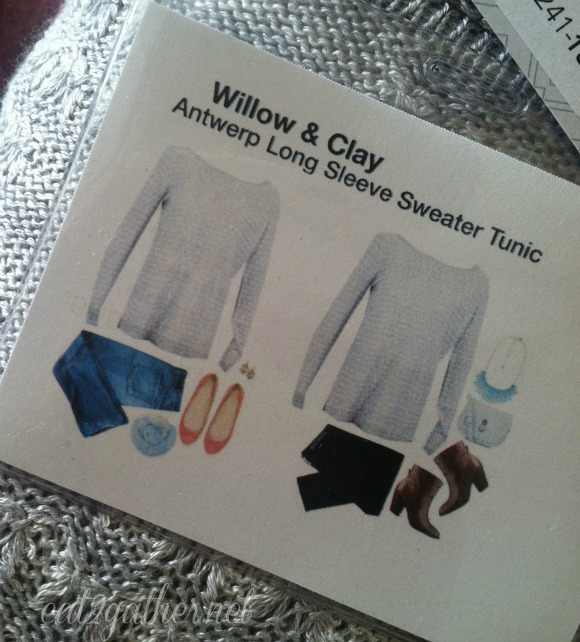 So far I've kept four items from my first three fixes…you may think that is not a great percentage, but I got four new items, and three cards showing 6 ways I can wear them and I never left the comfort of my home! Does this mean I won't shop for clothing at the mall anymore?  No!  I most definitely will still go shopping, but because of the ideas that Stitch Fix has given me I will be more focused on what I need, what I have, and what looks good together!
Because I am so excited about Stitch Fix….
I'm giving away one $100 StichFix Gift Certificate!
Yes I said one hundred bucks!
Sign up for you first fix  Here. 
I would love to hear about your experiences with Stitch Fix!! 
Don't forget to follow me on Instagram so you can see what the style Genie brings me next!
XOX, Sheila
P.S. Stitchabod VanFix will you marry me? (That's the Genies name….in case you wondered.)
PP. SS. This giveaway was sponsored by Eat2gather LLC.
Reader Interactions