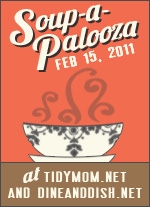 My family loves Thai food. We have our favorite mom and pop place that we go to every now and then, and we pretty much get the same thing every time. They have this soup on their menu, that we always start our meal with. After eating the soup from
Bangkok Taste
100 times, and attempting it at home 25 times, I think I finally got it right. Theirs is still better, but this is a close second. It will warm you up from the inside out on a chilly Fall day.
Spicy Thai Soup
ingredients:
2 chicken breasts, sliced into thin strips
1 can coconut milk
2 tablespoons red curry paste
3 tablespoons butter
1/4 cup shallot sliced thin
1 tablespoon Sriracha hot chili sauce
1 cup mini bella mushrooms sliced thin
1 cup oyster mushrooms trimmed and sliced
1/2 cup julienned carrots
1 red pepper sliced
2 Roma tomatoes diced chunky
1/4 cup cilantro leaves rough chopped
2 limes juiced (1/2 cup lime juice)
3 cups chicken broth
This soup can be made very quickly if you first prep all your veggies and chicken. 10-15 minutes prep time and 10-15 minutes cook time. If you are quick you could have dinner on the table in 20 minutes. We like to eat our soup over white rice. So if you do too, then you might want to get your rice going, then start in on the soup and your dinner will be done all at the same time!
I apologize for the picture of sliced chicken that looks like brains….just wanted you to see how I cut it up. Thin strips, you want it to cook fast. If you prefer vegetables only well, then no problem leave the chicken out, or if my picture just totally grossed you out and now you never want to eat chicken again, I understand and I am very sorry.
1. melt butter in pan, add shallots, saute for 2 minutes
2. whisk in the red curry paste, cook for a minute longer
4. add chicken strips, bring to a low boil and cook until chicken is white and cooked through. Add 1 cup of broth at this time.

5. now add mushrooms, carrots, and pepper, bring to low boil, cover pot and let cook/steam for 2-3 minutes.
6. Remove cover and add remaining 2 cups of broth and whisk in the hot chili sauce…if you don't like spicy, then you may omit this sauce. WIMP.
Let your soup simmer for a few minutes.
7. Add tomatoes, cilantro and lime juice. Turn off heat. Cover pan.