Smoothie & Shake Round-UP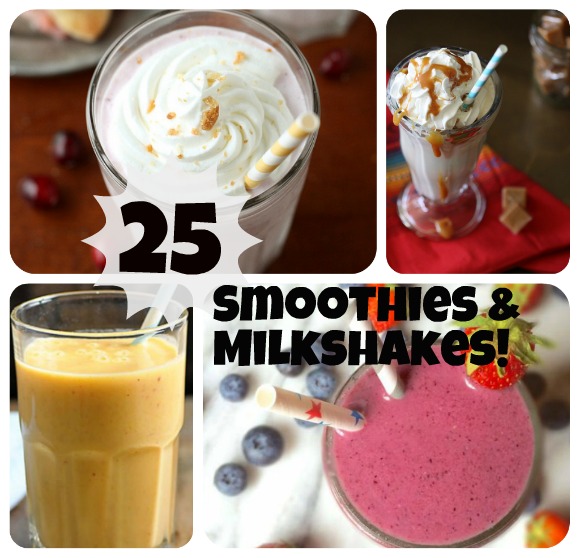 I'm been scouring the web for the smoothies and milkshakes that my kiddos would love.  Not just because I want to make them drinkable treats, but because my oldest two had their wisdom teeth removed today.  Yes, you heard me right.  I took two teens to the oral surgeon today and they both had four teeth removed, and thanks to these ridiculous HIPPA laws I could not take any photos or video to share with you how hilarious they both were post surgery.   Or share with anyone for that matter.  By the time we walked out to the office the funny stuff had really all happened and the nasty stuff was just beginning.  Poor kiddos.  All in all the rest of the afternoon went pretty well, they both layed low and slept.  I made them tomato basil soup, and they ate sherbet, and I made them a smoothie, which was hard to drink because they can't suck from a straw yet, or they might suck the sockets out or something er another.  We really don't want any sockets sucked out, so I think I will hold off for a day or two to start whipping up smoothies like a boss.
However in the meantime I thought I would share with you what I found.  I only chose smoothies and milkshakes I thought Noah and Ainslie would love.   I saw many more that looked divine.  Man there is a whole world of smoothies out there….sheesh who knew?!  And milkshakes dang, July is National Ice Cream month so there is no shortage of ice cream and milk shake recipes on the world wide web.
Ok without further ado, here is what I have to share with you!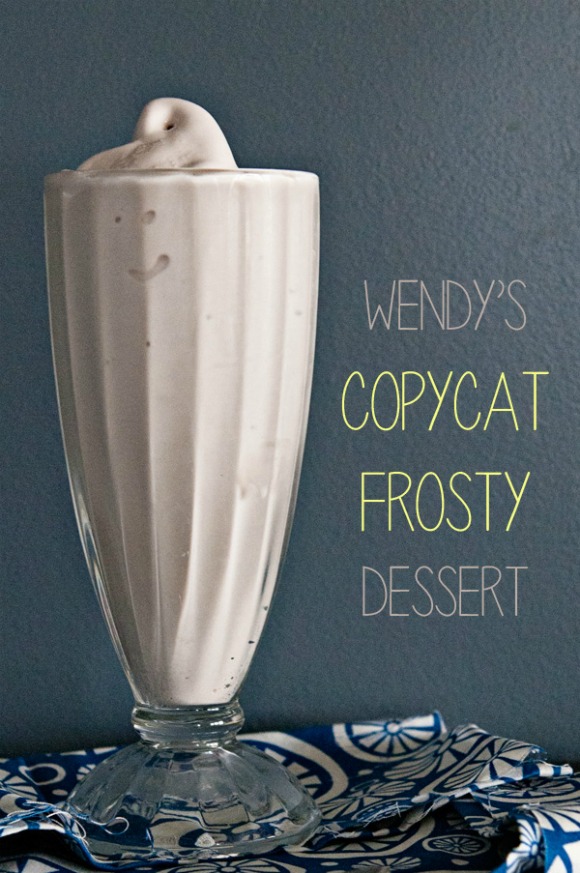 Wendy's Copy Cat Frosty from my friend Kristen at Dine and Dish
Shamrock Shake (McDonalds Copycat) ~ Creme de la Crumb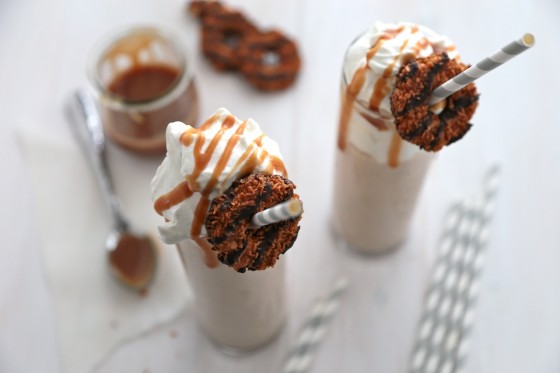 Megan of Country Cleaver's Samoa Cookies and Cream Coconut Milkshake looks too good to be true!!
Pumpkin Pie Milkshake from Mom on Time Out you can be sure I am going to make this loveliness!
Java Chip Milkshake from Inside BrewCrew Life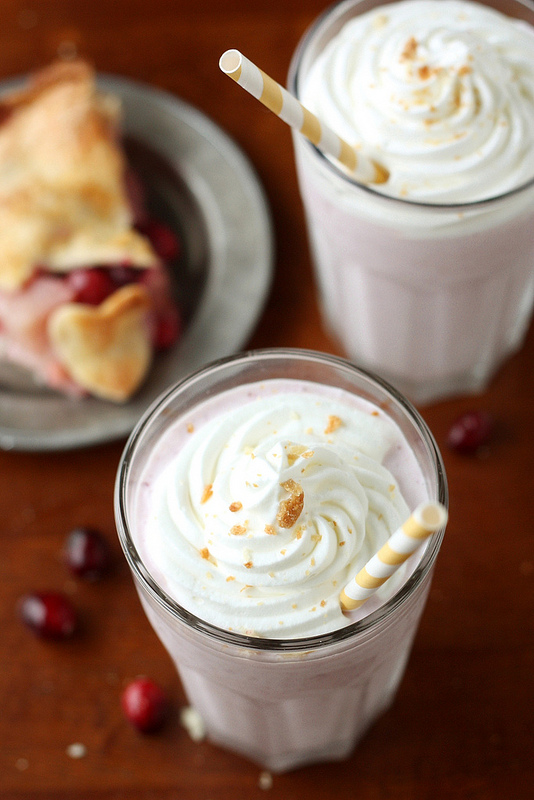 And you know how we all love pie….Hokey Smokers look at this Any Pie Milkshake from Completely Delicous….come to Momma.
Double Chocolate S'mores Milkshake ~ Nutmeg Nanny
Monkey Milkshake ~ Around my Family Table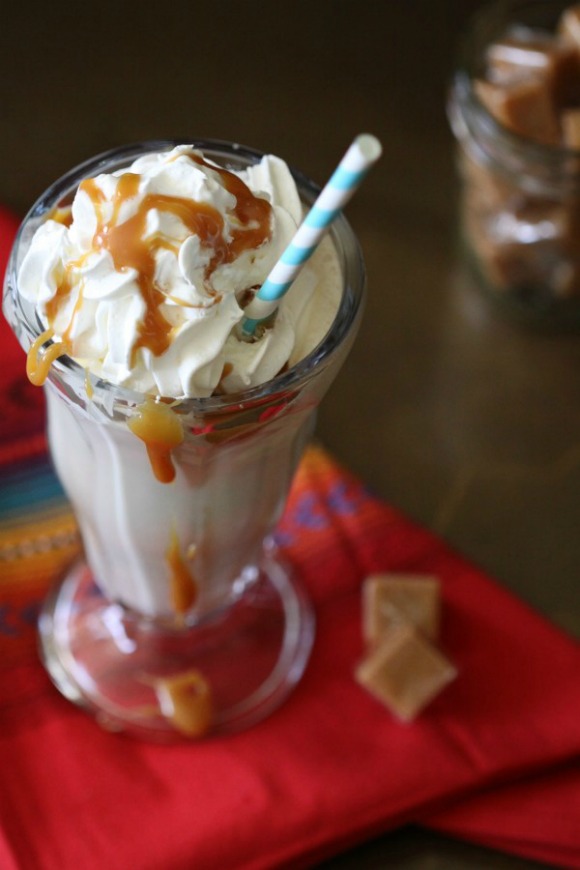 The Dulce De Leche Milkshake from my gal Lauren of Climbing Grier Mountain looks heaven-LY!  Wouldn't you agree?
Cafe Johnsonia ~ Roasted Pineapple Coconut Vegan Milkshake  Not sure if this is a milkshake my kids would choose, but I'm pretty sure they will love it!
This one is from me!  So easy to make anytime of year.  Your kids will love the tasty magic of Frozen Hot Chocolate!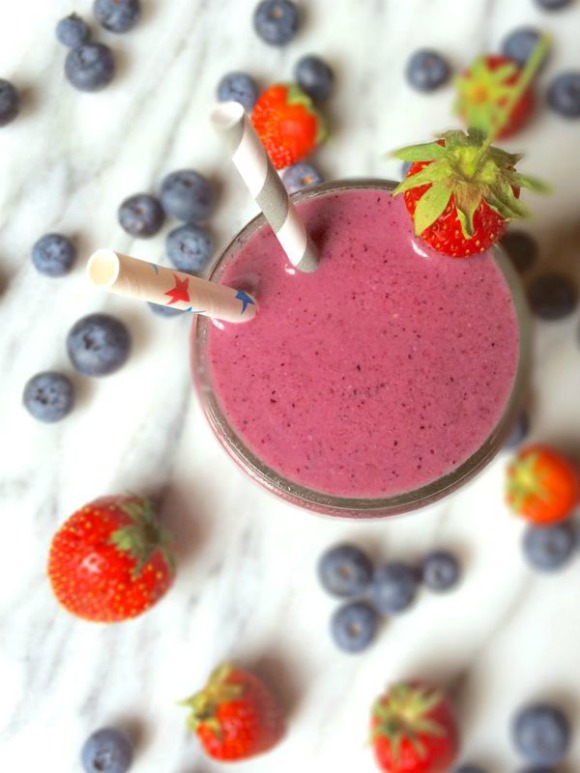 And from, The Lemon Bowl,  the reigning self-proclaimed Queen of the Smoothie I have a few slurpalicous smoothies for you!  I am always teasing Liz about being the queen of the smoothie, and honestly she cracks a few smoothie jokes at her own expense …she really needs her own smoothie truck so she can deliver them right to my door!  Pictured above is her PB&J Oatmeal Smoothie. 
Raspberry Applesauce Smoothie ~ The Lemon Bowl
Salted Chocolate Oatmeal Smoothie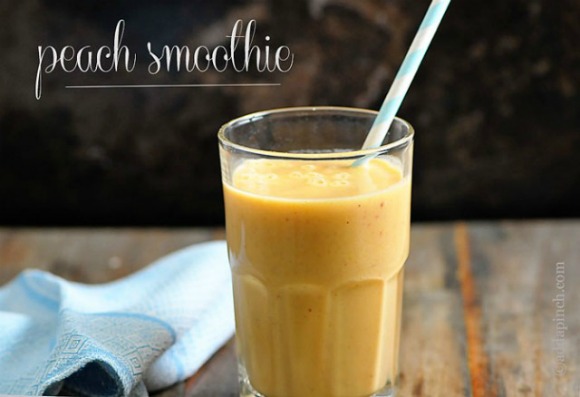 Who could resist this  Peach Smoothie from Robyn at Add a Pinch? Not I!
Breakfast Smoothies from The Pioneer Woman Mwah!
My kiddos love peanut butter.  I bet they would love this Peanut Butter Chia Seed Smoothie from The Roasted Root.
Yummy Healthy Easy ~ Healthy Easy Mango Protein Smoothie 
Strawberry Kiwi Smoothie from Fifteen Spatulas
Lava Flow Smoothie  (Cream of coconut, pineapple juice and strawberries, I be slurpin') ~ Around My Family Table
A Cedar Spoon is also quite the Queen of Smoothies! Here's two from her collection. ~ Strawberry Banana Oatmeal Breakfast Smoothie &  Coconut Mango Smoothie
Oh my there you have it 25 Milkshakes and Smoothies!  My Vitamix is going to burning the midnight oil this weekend!  Have you had your wisdom teeth  out?  Anyone in your home have theirs out recently?  Any good anesthesia stories?  I will tell you both of my kids were so funny in their own way. I'm going to be giggle about it for weeks.  I think they are both pretty chill, and the heart monitor confirmed it, it kept going off because they were so relaxed about the whole thing.   My son was practically flat lining and that's hyper for him!  Ainslie couldn't decide if she wanted to laugh or cry afterwards….I could relate with her, this is how I've pretty much felt everyday since I turned 40.  I think it's called hysterical, they were for sure hysterical!  Well I should go and perform my nursely duties, it's pain meds and sherbet o'clock!
Have a great weekend!  Sheila