I love receiving books as gifts, I love giving books as gifts.  I love books! Especially cook books!  So, to say I'm excited to share my friend, and fellow MichiGALnder (just made that word up, a gal from Michigan is a Michagalnder) Laurie McNamara's cookbook Simply Scratch is a complete understatement!  I'm like freaking out over here!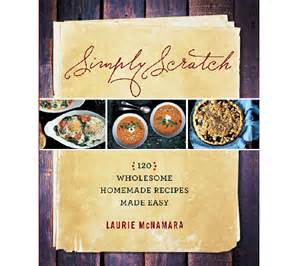 I first met Laurie in Austin, Texas at a blogging conference.  Laurie was actually the first person I met at the airport, and we shared a cab ride to the condo that we were to share with several other blogging babes.  That condo turned out to be not quite the amazing deal we all thought it would be, but the weekend turned out amazing despite the less than four star accommodations and so many fun stories are still in circulation as a result! #condocurse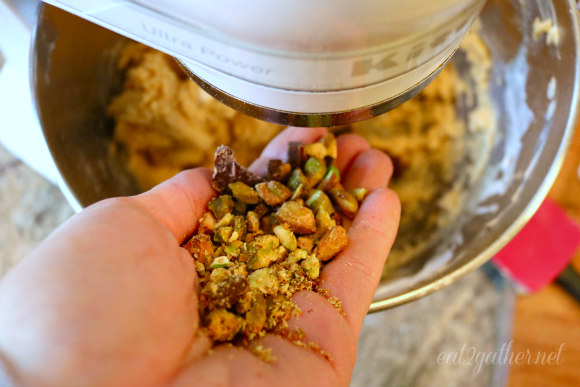 Laurie's blog is amazing!  Her recipes work, her photos are beautiful, what you see is what you get, and I love that about her!  I chose to make her Salted Pistachio Dark Chocolate Chunk Cookies as my first recipe.  Um Yah….you are going to want to add these to your holiday and everyday baking, one word….addicting.  I had never added pistachios to cookies.  Why? Why?  I'm not sure, because pistachios and dark chocolate are perfection!!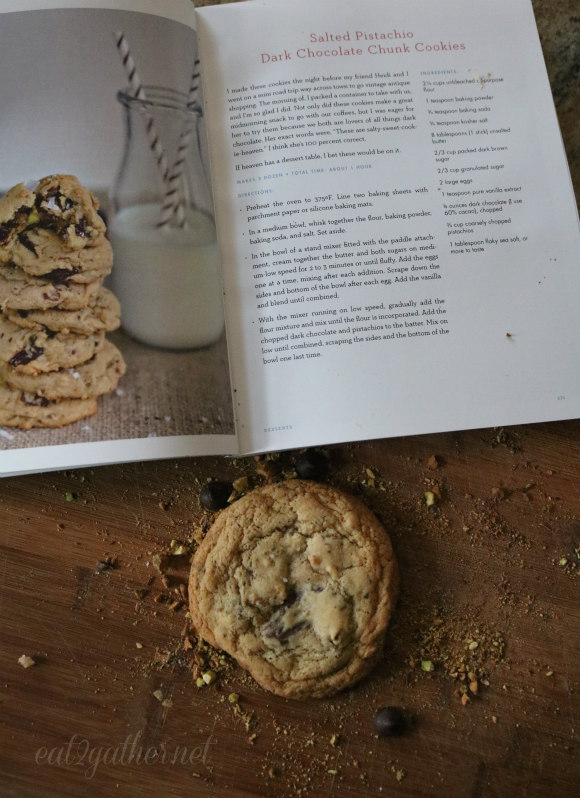 I'm not sure if I've told you but I do a little bit of catering on the side, so quite often my family comes home to every surface covered with goodies, that they are not allowed to eat.  The day I made these cookies my kids busted through the door and moaned "please tell us we can eat these cookies!!!".
Yes, they are for you my dears!!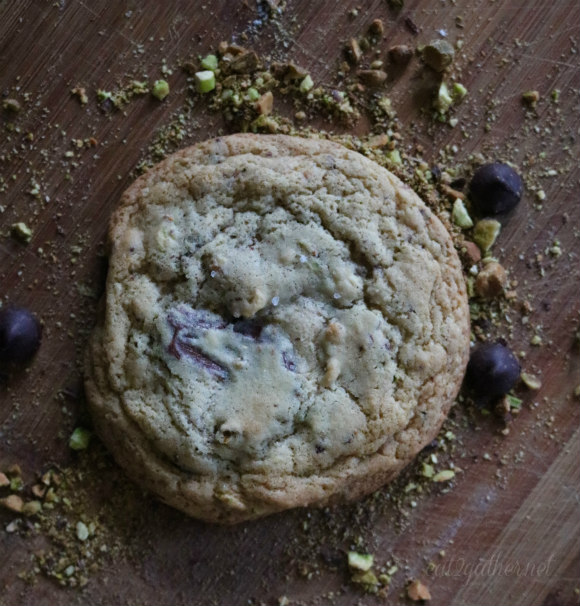 The whole batch, except for the few I snuck into baggies for the next days lunch, were devoured!  Laurie has been so kind to let me share the recipe below, may I suggest you make them…like today!!
[print_this]
Salted Pistachio Dark Chocolate Chunk Cookies from Laurie's new cook book!
I made these cookies the night before my friend Heidi and I went on a mini road trip way across town to go vintage antique shopping. The morning of, I packed a container to take with us, and I'm so glad I did. Not only did these cookies make a great midmorning snack to go with our coffees, but I was eager for her to try them because we both are lovers of all things dark chocolate. Her exact words were, "These are salty-sweet-cookie heaven." I think she's 100 percent correct.If heaven has a dessert table, I bet these would be on it.
Makes 3 dozen • Total Time: about 1 hour
INGREDIENTS:
2¼ cups unbleached all-purpose flour
1 teaspoon baking powder
3/4 teaspoon baking soda
3/4 teaspoon kosher salt
8 tablespoons (1 stick) unsalted butter
2⁄3 cup packed dark brown sugar
2⁄3 cup granulated sugar
2 large eggs
1 teaspoon pure vanilla extract
4 ounces dark chocolate (I use
60% cacao), chopped
3/4 cup coarsely chopped pistachios
1 tablespoon flaky sea salt, or more to taste
DIRECTIONS:
Preheat the oven to 375F. Line two baking sheets with parchment paper or silicone baking mats.
In a medium bowl, whisk together the flour, baking powder, baking soda, and salt. Set aside.
In the bowl of a stand mixer fitted with the paddle attachment, cream together the butter and both sugars on medium-low speed for 2 to 3 minutes or until fluffy. Add the eggs one at a time, mixing after each addition. Scrape down the sides and bottom of the bowl after each egg. Add the vanilla and blend until combined.
With the mixer running on low speed, gradually add the flour mixture and mix until the flour is incorporated. Add the chopped dark chocolate and pistachios to the batter. Mix on low until combined, scraping the sides and bottom of the bowl one last time.
Using a 2-tablespoon scoop, scoop out the cookie dough onto the prepared baking sheets, spacing the scoops an inch or so apart. Sprinkle them with a small pinch of sea salt.
Bake the cookies for 8 to 10 minutes, rotating the baking sheets halfway through. Let the cookies cool slightly, 2 to 3 minutes, before using a spatula to transfer them to a wire rack to finish cooling.
[/print_this]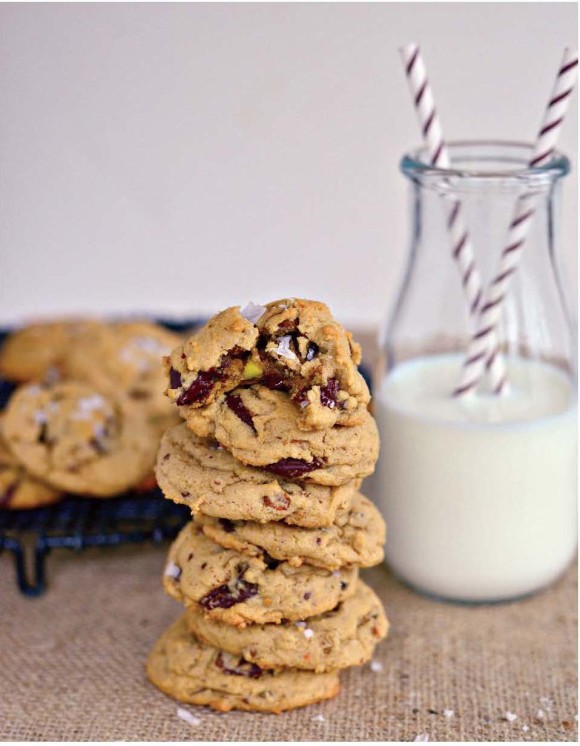 If you're looking for the perfect gift, for really anyone in your life, may I suggest that you get them this cookbook?!  Here's the link to all the places you can find it online or in a store Simply Scratch.  
Stay tuned…life is busy but I'm hoping to get a few more sharing type posts up soon!!  Favorite cookies, favorite gifts for that hard to buy for person/teenager in your life, a few of my favorite pins, blogs, and snap chatters.  Are you done shopping?  Lord help me this Saturday my seestor and I are hitting the pavement and getting-er-done!  Finishing our shopping.  Wrapping it all up and wah-bam calling it a day!
Be sure to check out Lauries book and blog!
XO, Sheila
Disclaimer:  I was not paid to share this cookbook with you.  Laurie and I are really friends, she did give me her cookbook as a gift, however I would have shared this post regardless of the fact that she gifted me her book!  I hope you love it as much as I do!