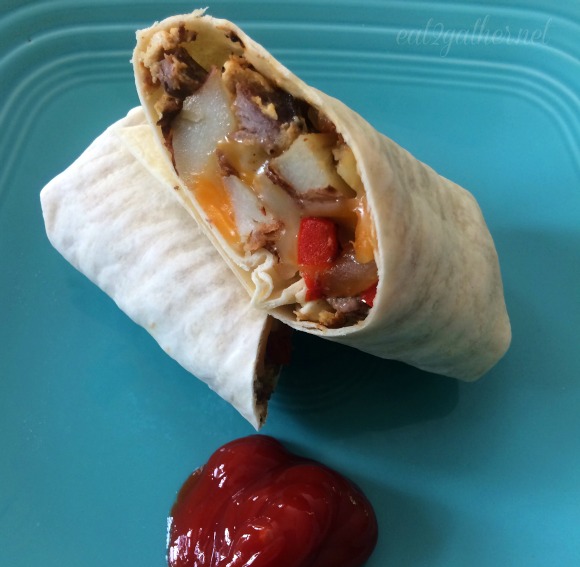 Summer is here!!  Finally.  Summer for our family means time spent with friends around our pool, or at the beach enjoying all that the beautiful state of Michigan has to offer!  This also adds up to many hours around the grill.  One meal we never eat in the winter but often partake of in the Summer months is STEAK and POTATOES!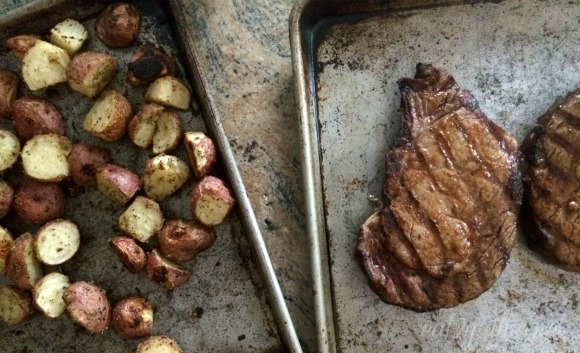 (Dontcha love my well seasoned pans?)  Steak on the grill.  Red potatoes roasted in the oven.  Add a simple salad and VOILA!  Summer eating at it's finest!
I'm not sure about you, but I always make too much food.  There is always a few potatoes and like half a steak left over.  I hate to throw it away.  Instead I've come up with this easy breakfast recipe to use up the leftover steak and taters.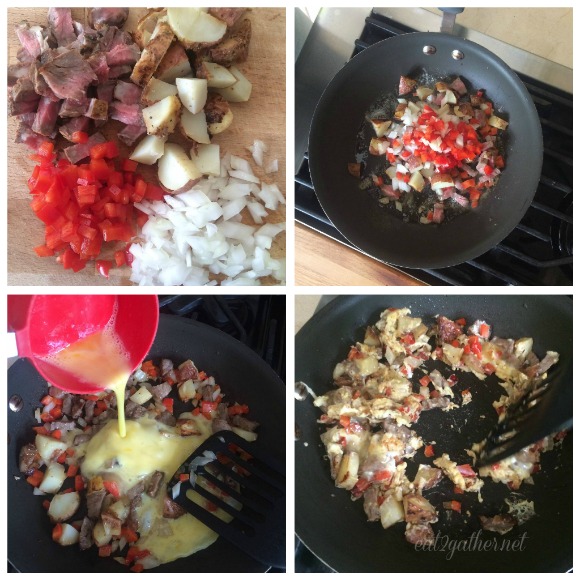 Cut up leftover steak and potatoes into small cubes, chop up some onion and if you have red or green pepper chop that up too.  Throw it in a skillet with a dab of melted butter and start sauteing.  Whisk one egg with a splash of milk and drizzle over the skillet, mix ingredients around with a spatula until egg is cooked.  You can add salt and pepper if you like, but I think the seasoning on the potatoes and the steak have enough flavor.
Now assemble your burritos.

Divide scramble in half and spoon into the middle of two tortillas, lay a slice of cheese or sprinkle with grated cheese, roll up. (Roll up method: fold one side in and tuck in the sides as you continue to roll away from you ending with the seam on the bottom.)    Wrap in foil until ready to eat.  These are easy to keep in the fridge for a day or two then pop in the microwave (with out foil) to warm.  Honestly potato and steak breakfast burritos never last around here.  I need to start making enough steak and potatoes so I have leftovers to make a meal out of these, so my kiddos don't fight over them.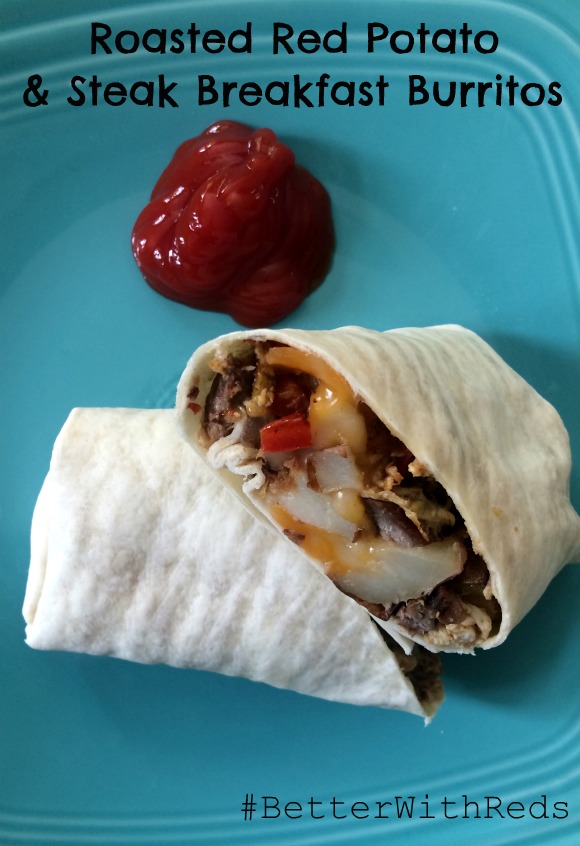 How do you use up your leftover roasted potatoes?  I'd love to hear your ideas!  Comment below!
Black Gold Farms asked me to participate in a Summer Potato Week and to share a scrumptious original recipe with you using red potatoes!   I use red potatoes all the time in my cooking, so saying yes was a no brainer!  Red potatoes are versatile and easily used in a variety of ways as a hot side dish, cold salad, or toss in soups and stews.  The possibilities are endless! To celebrate how delicious and versatile potatoes are in summer cooking, Better With Reds is offering you the chance to win a Summer Prize Pack! Scroll to the bottom below the recipe to enter!  
Don't miss #BetterwithReds Twitter Party on Wednesday June 4th from 8:00 pm to 9:00 pm CST. Follow along with the #SummerFoods for some great recipes and fun prizes (such as a $100 Sur la table gift card, potato swag bag, $50 Amazon gift card). I hope you will join us!
[print_this]
Roasted Red Potato & Steak Breakfast burritos
makes 2 burritos
1 tablespoon Butter
1/2 cup chopped leftover grilled Steak (any cut)
1/2 cup diced leftover "Roasties" (roasted Red Potatoes)
1/4 cup chopped Red Pepper
1/4 cup chopped Onion
1 Egg
splash of Milk
2 slices Colby Jack Cheese
2  Tortillas, burrito size
Melt butter in a small non-stick skillet, add steak, potatoes, red pepper and onions to the pan saute' until onions and pepper are soft about 3 minutes. Whisk egg with a splash of milk, drizzle over steak and potatoes. Using a spatula move ingredients around in pan until egg is completely cooked. Turn off heat. Place two burrito sized tortillas on cutting board place a piece of cheese in the middle of each tortilla. Divided burrito filling in two and spoon on top of cheese. Fold sides in, then fold one side toward the middle and roll up burrito tucking in towards middle as you go, leaving seam side down. Wrap tight in aluminum foil until ready to eat. Serve with ketchup, steak sauce, or srirachi sauce.
Enjoy!
[/print_this]
Connect with Better with Reds/Black Gold Farms on-> Facebook, Twitter, & Pinterest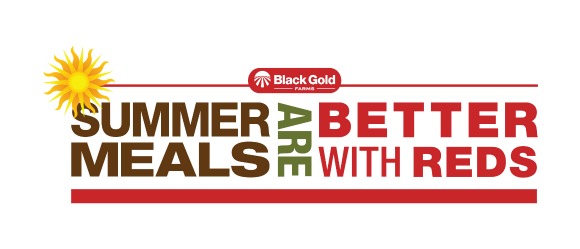 Take a minute to check out the other Potastic Bloggers that are participating!
A Farmgirl's Dabbles
Food Faith Fitness
Big Bears Wife
Mother Thyme
Hip Foodie Mom
Katie's Cucina
The Country Cook
Army Ranger Mom
A Zesty Bite
Mrs. Happy Homemaker
Disclaimer:  I was provided with the potatoes to make this recipe.  I have also been compensated for my participation in this giveaway with Better with Reds. All opinions, ideas, and recipes are my own.
**potastic = fantasic+potato 😉 ie. fantastic potato bloggers!