Are you getting the idea that I love doing giveaways?!!
Today I am so very excited to be
GIVING AWAY
One Cafe Mount Holiday print from

RedLetterWords

!!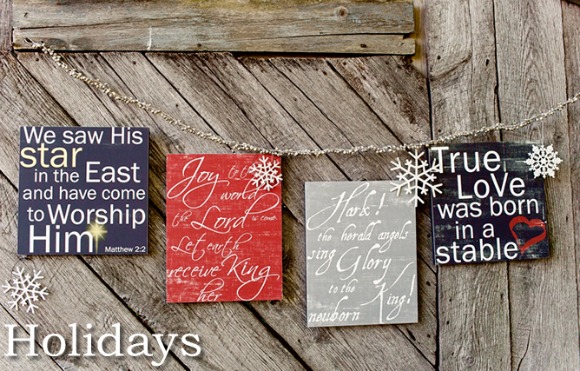 I really want to spend about 20 minutes of your time telling you how much I love RedLetterWords, and UrbanSoul, and what a very amazing and beautiful person the creator of this art is….Dee.  I heart Dee.  BUT I know you are all super busy, so I will just cut to the chase.
GO! GO NOW! Pop over to RedLetterWords and take a look at all of Dee's art.
Oh well…here are just a few of my Christmas favorites……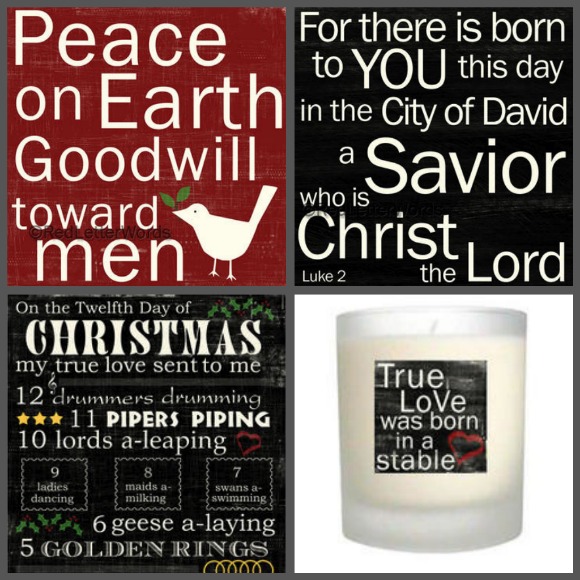 Here's is what I have new on a wall in my kitchen this year…..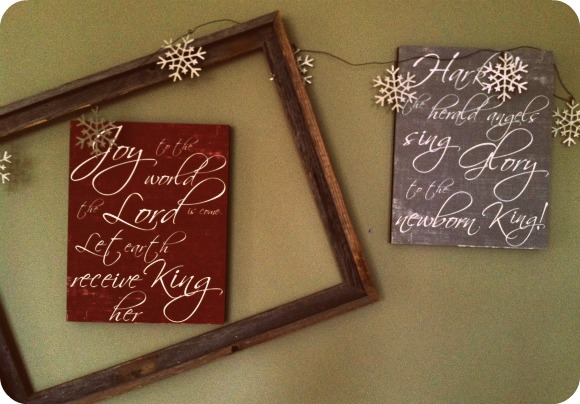 I'm not super confident in my decorating skills, but I love these prints!!!!
RedLetterWords also has gallery wrapped, and custom art prints that are beautiful.  And the candles are the perfect gift, in scrumptious scents!  Then there are her greeting cards and fabric….OH my endless luverlyness let me tell you!

STOCKING STUFFERS!!! are these not adorable?! 5×5 cafe mount prints.
PERFECT for that special someones stocking, or tied to the top of a gift, or tucked in a basket of goodies….seriously!
Who can resist?! Not I said the fly.
OK enough already! I said I wasn't going to gush…but I couldn't help myself.
ENTER TO WIN: One 11×14 or 12×12 Cafe Mount RedLetterWord Holiday Print
Answer this question….
What is your favorite Christmas Song?
Rules:
~ One entry per person (unless you choose to do bonus entries)
~ Deadline is Monday December 17 at noon EST.
~ Sorry, once again I can only except entries from within the U.S.
Bonus entries!!!
1. Like Eat2gather's Facebook page. (come back and let me know in the comments)
2. Follow Eat2gathers Tweets. (come back and let me know in the comments)
3. Like RedLetterWords Facebook page. (come back and let me know in the comments)
4. Follow RedLetterArts sweet Tweets! (come back and let me know in the comments)
5. SUBSCRIBE to Eat2gather via email, let me know you did in the comments! (pssst It's easy, over there in the sidebar above 'current favorites' enter your email, and every time I post something new you will be notified in your email box!  It's handy dandy!)
And as always remember it's nice to share!!! Retweet.  Share on Facebook…those are just nice neighborly things to do 😀