The WINNER  of the Breakfast for Dinner GIVEAWAY is….. Krista F.
Krista the J.M. Smucker Company & Power of Family Meals Campaign will be contacting you!
Thanks to everyone who entered!  I know you will only be blessed by taking the PLEDGE!  It's not too late to still take The Pledge to #Disconnect2Reconnect !
=============================================================================================
Helping others gather family and friends around the table at meal time is a passion of mine.  I love to help families find ways to easily reconnect at meal time around the table.  One topic that I don't think I have chatted about is disconnecting around the table…..and by disconnecting I don't mean on a personal level I mean on a digital level!  In order for us to reconnect with each other around the table we need to disconnect from our devises.  I know first hand how difficult that can be.  But I also know when my family has their phones or other devices at the table we are not sharing what has gone on in our day, or other important information that families need to share with each other.
Have you heard of Power of Family Meals Disconnect to Reconnect?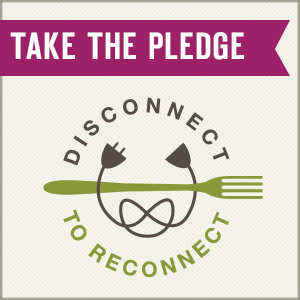 We have never had the television on during family meals, that's not to say that we never eat while watching t.v., just not during family dinners.  More recently however with the kids getting older, and me being the social media maven that I am (insert laughing so hard your crying emoji) the thing that distracts us most at the dinner table is our phones.  Our phones have become part of us, especially my kids they just can't put the dern things down!  Well then there's me I am usually trying to get a shot of dinner for E2g, then I leave my phone laying on the table and a text, or tweet comes through and of course I take a look.  Such a bad habit! I recently realized how out of control this has become, so Ken and I made "no phones at the table" rule, but even then we have times that dinner is rushed and we do not enforce the rule.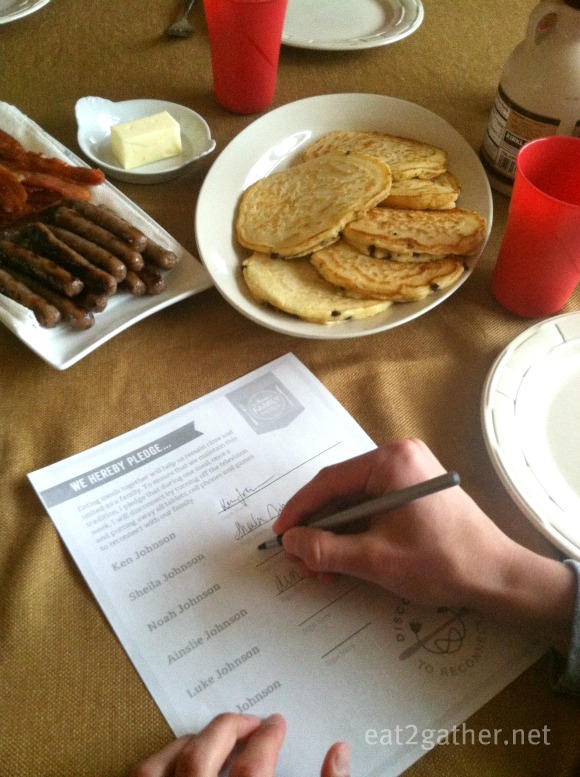 So when the J. M. Smuckers Company contacted me and asked if I would like to promote Power of Family Meals Disconnect to Reconnect I was like I'M THERE!!! Disconnect to Reconnect is a movement encouraging families to disconnect from their devices and reconnecting at the table for at least one meal, once a week or more.  Families can take the pledge to disconnect to reconnect HERE.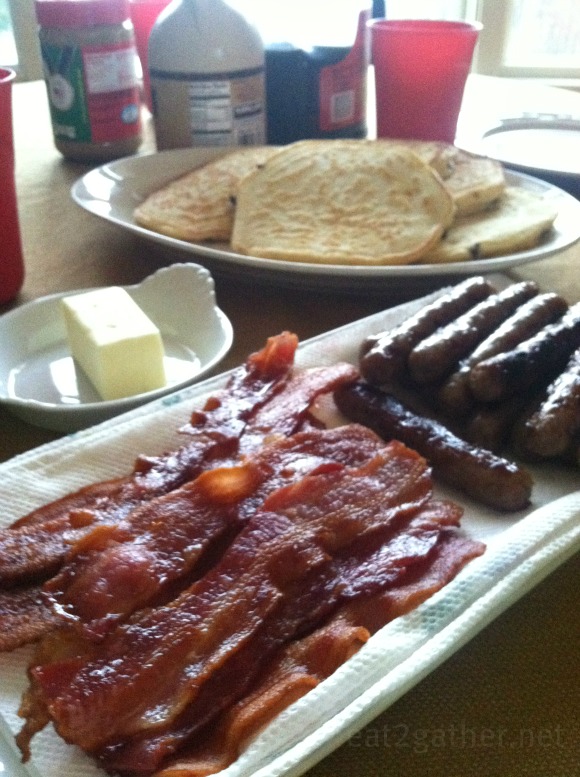 One of our all time favorite family meals is to have breakfast for dinner.  It's the dinner that pleases everyone, and I almost always have everything on hand to whip up breakfast for dinner…or if you rather brinner!  Pancakes or waffles, scrabbled eggs, bacon, sausage, there are so many options and they all get my family run to the table.  It's the winning brinner option!  That's why I'm so excited to offer you this giveaway from Smuckers!  One random winner will be selected to win this Breakfast for Dinner prize package so you can create your own brinner, disconnect, and reconnect around the table!
I hope you join my family in taking the pledge to disconnect to reconnect around the table for at least one meal a week.  Let's help family mealtime go viral!!
Just look at all the amazing items you get if you win!!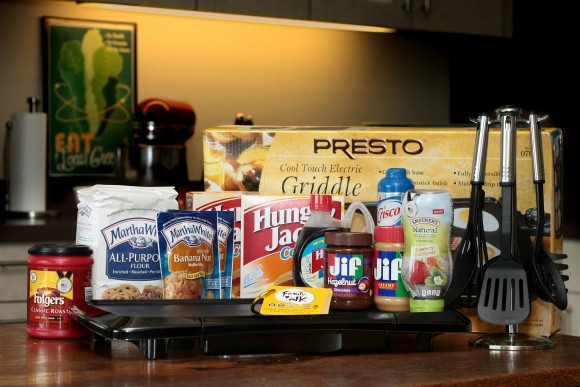 The Breakfast for Dinner Giveaway includes:
 Presto Jumbo Cool Touch electric griddle
7-piece kitchen utensil set with stand
Family Talk conversation game
Smucker's Strawberry Natural Squeeze jam
JIF Creamy Peanut Putter
JIF Chocolate Hazelnut Spread
Folger's Classic Roast
Hungry Jack Breakfast Syrup
2 packs Hungry Jack Complete Pancake and Waffle Mix
2 packs Martha White Banana Nut Muffin Mix
Crisco No-Stick Cooking Spray
Martha White All-Purpose Flour
Here's how you can ENTER TO WIN.  CONTEST IS CLOSED
– Visit the Power of Family Meals and take the Disconnect to Reconnect pledge and leave a comment here saying you did so.
For additional entries:
– Tweet Disconnect to Reconnect Giveaway using #Disconnect2Reconnect and leave a separate comment below saying you did so.
– Share giveaway on Facebook, make sure to leave a comment letting me know.
– Pin this post on Pinterest and leave a separate comment below letting me know you did.
A total of 4 entries per person are possible!  Be sure to leave a separate comment for each entry.
Giveaway rules and regulations……
– Entries will be accepted until Monday, April 28, 2014, Midnight EST.
– Winner be randomly selected the following day and contacted via email. Winner will have 72 hours to respond to email to claim prize, before another winner is chosen.
Giveaway is open to US residents 18 and older. 
 The J.M. Smucker Company has compensated me to promote its Power of Family Meals campaign as always all the opinions shared are my own.