Wow! It has been quite a Summer! But I will tell you all about that AFTER…I announce the winners of my "Summer isn't over yet" giveaway.
Drum roll please…….
Thanks Luke.  Lukes my third child who drives us all bonkers with his incessant drumming, but for this it was put to good use…again I say thanks Lukey-two-shoes.
With out further ado, I announce to you the Grand Prize winner:
Heather says:
Love Just a Girl…such a pretty colour. Have had a great summer with the kiddies. Glad to see you back. The new blog is beautiful 

The Grand Prize consists of a few things I picked up this Summer as I was gallivanting around Michigan plus three luverly bottles of Piggy Polish.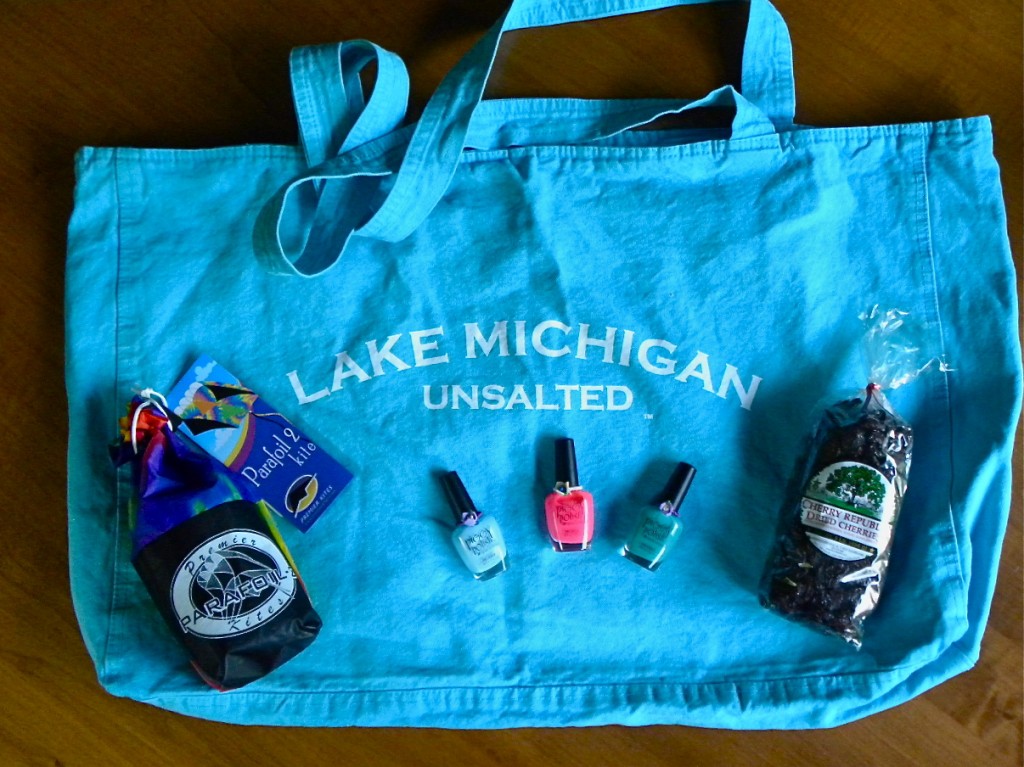 The Canvas Beach Bag is from Marushka of Grand Haven.  You can't even order this bag online people, so you will be the envy of canvas bag lovers everywhere!  It's huge too, you will be able to fit at least 4 beach towels plus a bikini or two in there!  An easy to use Parafoil Kite from the Mackinaw Kite Co. in Mackinaw City.   I also included a 1 pound bag of dried Cherries from The Cherry Republic in Glen Arbor.
The three wieners of Piggy Polish are:
Krista says:
Welcome Back!!!!! I have missed you. I like "I Lilac that way", "Tickled Pink" and "Your Blue-tiful"
Jenifer Bement says:
My two favorites are Summer SOLE-stice and Blue-Ty Call.
Great giveaway my friend! Love me some polish! I like you on FB and now follow you on twitter!
Heather, Krista, Jennifer, and Jessica of Kitchen Belleicious Thank You so much for commenting to win, and sharing this giveaway with your friends.  Shoot me an email giving me your full name and mailing address and I will send your prizes out faster than you can shake the sand off your piggy toes!
Thanks Julie for generously giving me Piggy Polish to giveaway!  The piggies of the above winners will be forever indebted to you.
So now if you care to hear about my gallivanting I will share with you a few of the highlights of my summer.  If my memory serves me right, I have not left the state since April….my brain is kinda like that these days, "out to lunch".  I can't remember where I've been, who I've talked to.  It's ridiculous!  So I will do my best to remember all the details…
The very first adventure took place in the "pinky" of Michigan, Glen Arbor.  I could write a whole book about Glen Arbor, Michigan, but I will show restaint and hold back.  I LOVE GLEN ARBOR!  Whoops……  We Michiganders are also very proud right now because Sleeping Bear Dunes, which is just outside of Glen Arbor, was voted the most beautiful place in America! I've done my share of travel and I have to agree there is no place like it in all the world.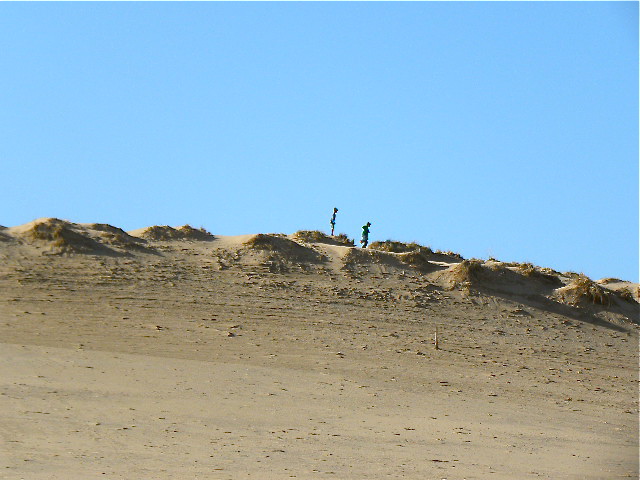 Although my pictures don't really do it justice…really no pictures do.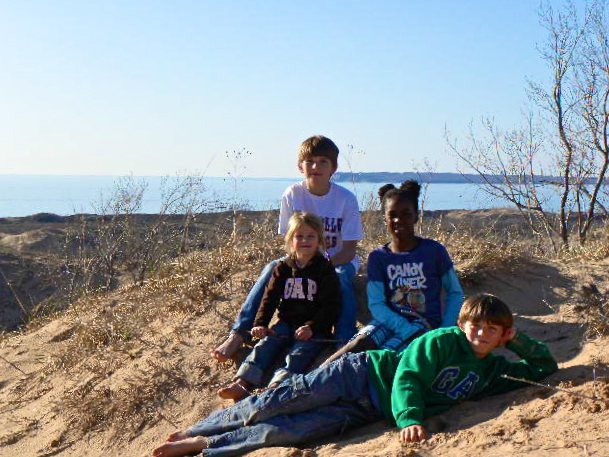 Finally at the top of the dunes you can look out over Lake Michigan and if you turn around you look out over the beautiful Big Glen and Little Glen lakes.  Stunning!  We took our friends visiting from France.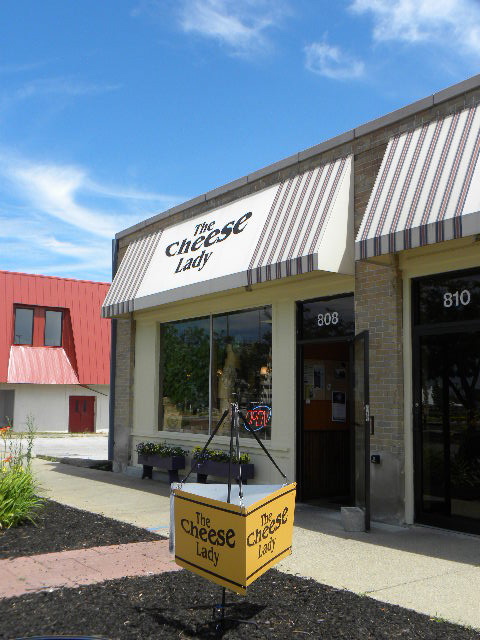 I discovered The Cheese Lady in Muskegon.  Needless to say I made a few trips out to visit her.  My life will never be the same……nor will my pant size!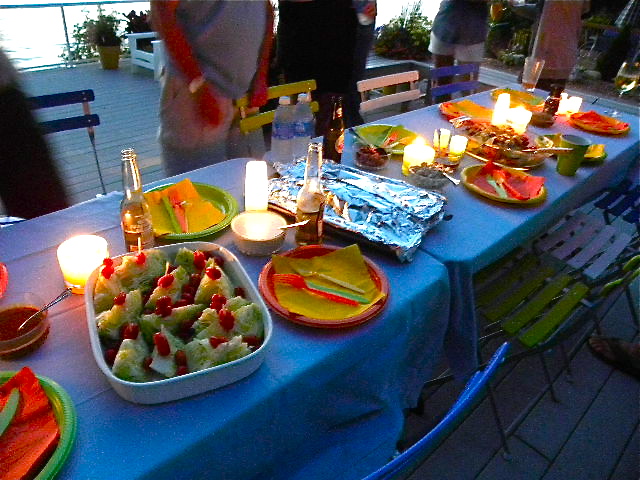 Ken and I enjoyed a wildly extravagant weekend with friends at their lakeshore home in Holland.  It was so much fun we forgot we had homes, and jobs and kiddos….we never wanted to leave.  Kenny had to pry my hands off the railing of the porch on Sunday, and carry me over his shoulder to the car while I screamed, " I don't wanna go home, who are you, put me down!".  It was not purdy.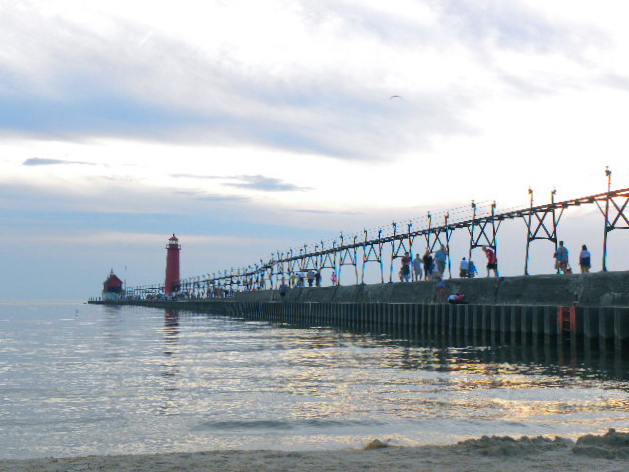 I also spent a week in Grand Haven with my littlest and Big D and her girls.  Big D's husband was out of town for work, my husband was on a youth group trip to Colorado with our oldest three so we rented a little house in Grand Haven.  We brought our bikes and biked everywhere, it was fantastical.  I heart Grand Haven!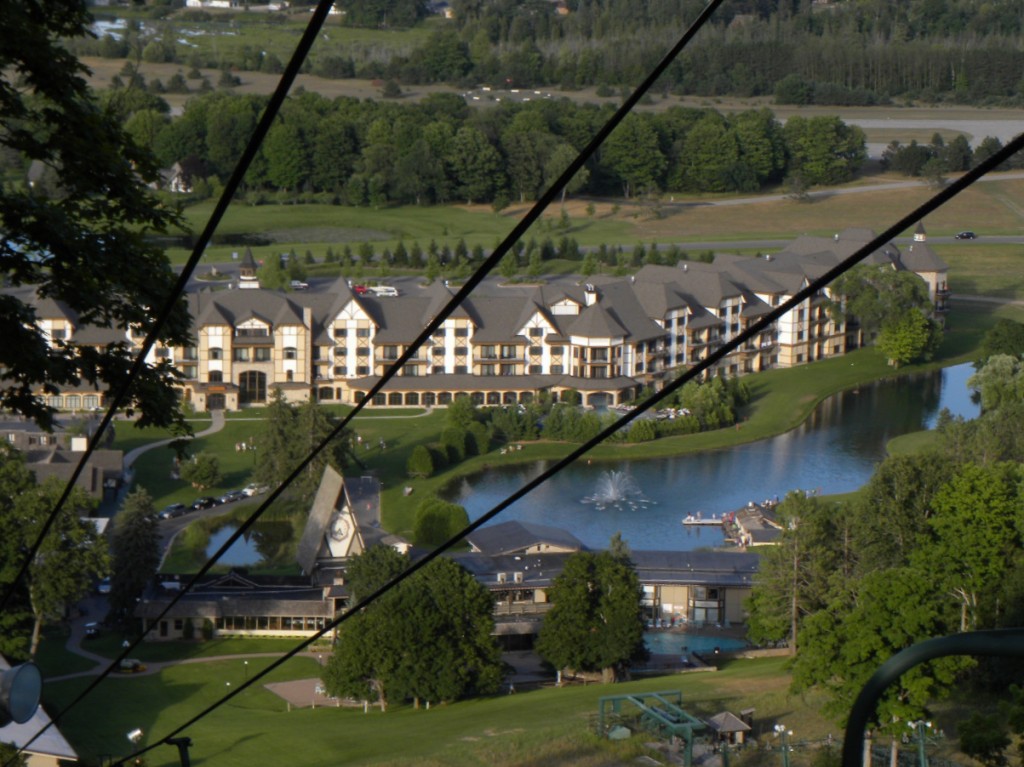 Boyne Grand Mountain Resort and Spa
Did I mention my husband started a new position?  Same work place, new job.  He's been working ALOT.  I have never been one to sit around and wait for fun to happen, and Kenny has never been one to hold me back, so I packed up our kiddos and I headed up to Boyne City with out him.  (I think he was relieved to have a some peace and quiet around here.)  I would highly recommend staying at the Grand.  It was beautiful.  They have an amazing water park, with a surf simulator, a stocked fishing pond, a huge indoor outdoor pool, and lots of great restaurants.  The Boyne Grand Mountain Resort is also a short drive from Petosky, Harbor Springs, and many other beautiful little towns where you can shop, eat, and go to the beach.
While staying at the Boyne Grand Mountain Resort, we took a few day trips.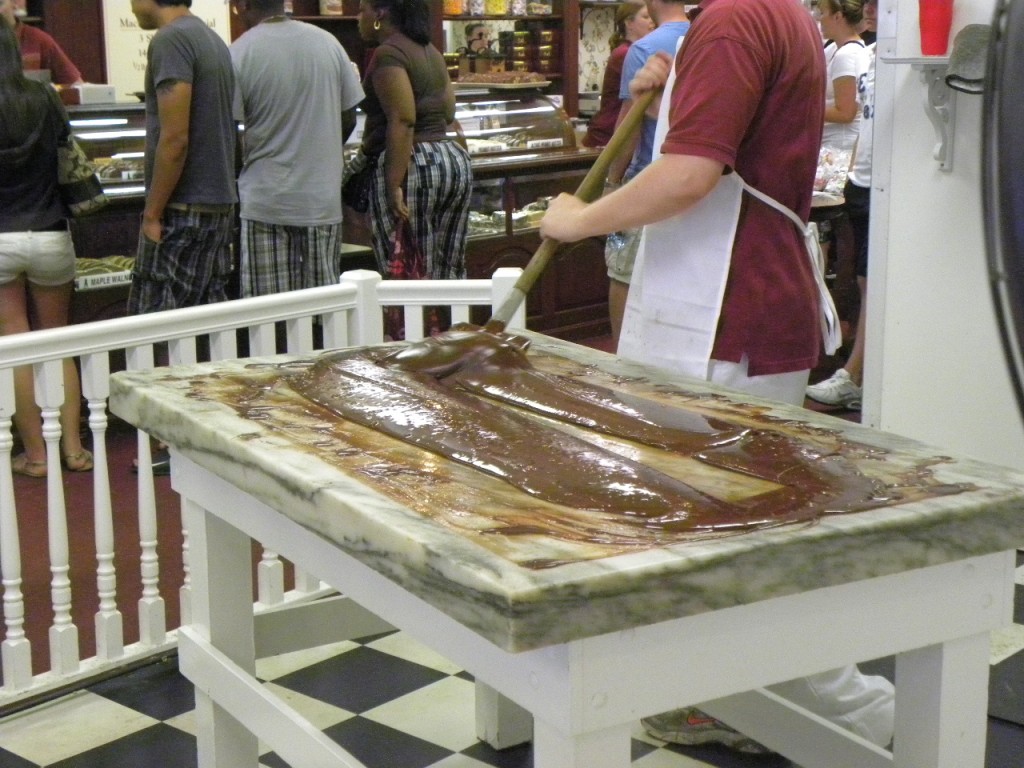 Any guesses where we ended up? You got it Mackinac Island! Fudge Central USA. It is literally a crime punishable by death if you leave Mackinac Island with out having eaten some fudge. My personal favorite is Ryba's. Ryba's also has the best caramel corn on the face of the earth!  I bought some to give in the grand prize, but errr-umm I ate it all.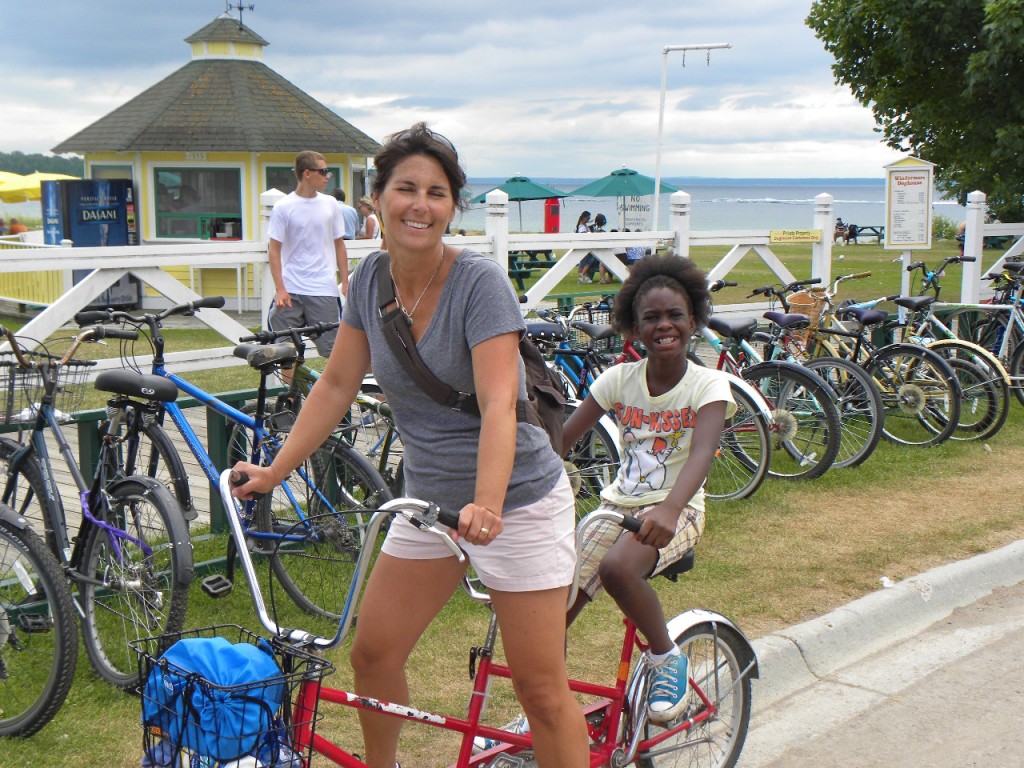 The only way to get around on Mackinac Island is by foot, horse, or bike so we rented the most up to date and high tech bikes available…well not really, and biked 8 miles around the island.  Cece insisted that her and I ride tandem.  If you have never riden a tandem, I would advise against it.  Especially if you have a strong willed child on the back, and three older children in the lead thinking that it's the Indy 500 race.
This was the end of our race.  I think I was saying a silent prayer, that went something like this, "thank you Lord for returning me to the bike rental place in one piece, thank you Lord that I didn't die when I hit that log stick and my basket and all it's contents went flying into the street, thank you Lord for fudge, caramel corn, white fish, and Chardonnay."  The end of the prayer made me smile big and cheesy.  What my son did not photograph was my jumping off the tandem bike from H E double hockey sticks and kissing the ground for all the Fudgies to see.  I do embarrassing stuff like that.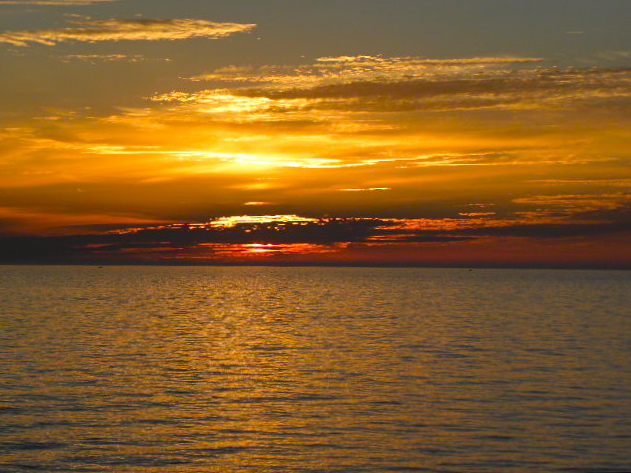 I never ever, ever tire of these here in West Michigan.  Beautiful sunsets nearly everyday of the year.  Ahhhh sigh.  You truly have not fully lived until you have visited The Mitten State.  No lie.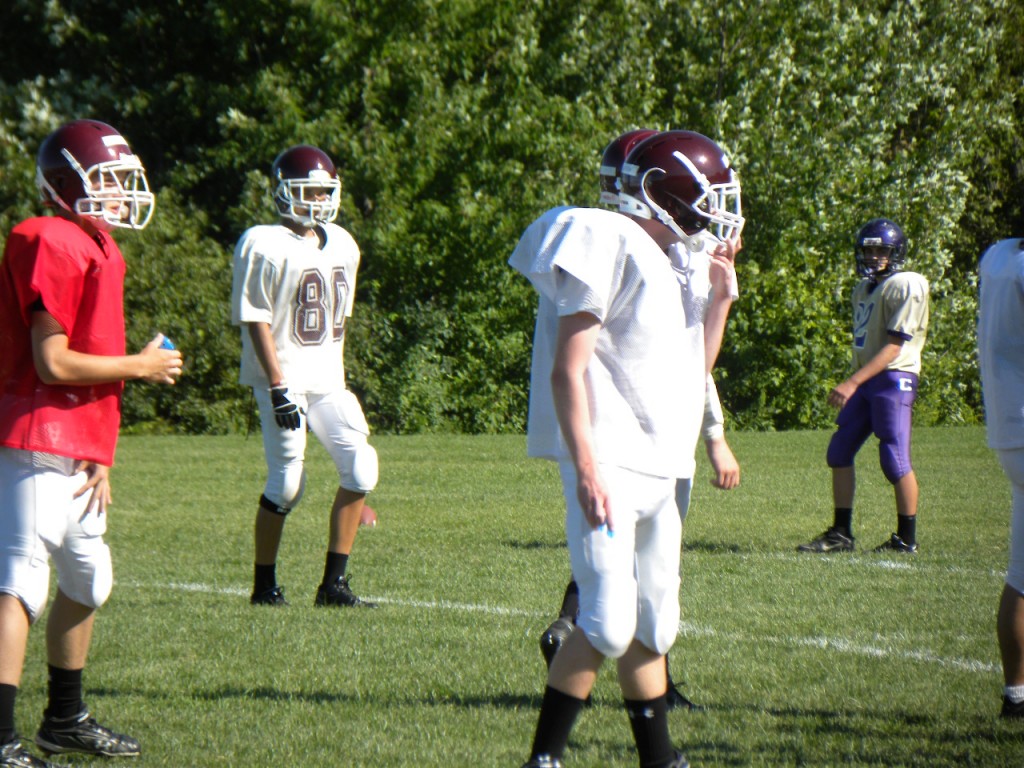 But now football has started, and volleyball try-outs are on the horizon.  The first soccer tournament is on Labor Day weekend.  So even though we still have all the amazing adventures of Michigan only a short car ride away, our life has gotten busy again with the business of sports and school activities.  I'm glad I took a little blogging break and enjoyed my kiddos and the surrounding areas this summer.  I do have to say I really really missed blogging.  It's good to be back!
Luv Ya,
Michigan Momma
If you are wondering the Pure Michigan council doesn't have a clue who I am.  They are in no way shape of form compensating me to tell you how wonderful our state is.  Nor are any of the other towns, or businesses I told you about in this post. Amen.