My my how time flies!  It seems like only a few week ago, but seriously the Grand Rapids Fresh Blogger Tour took place a few months ago already!  We had just returned from Spring Break, in Florida, and I was so tired from the long drive home but nothing was going to keep me from joining fantastic bloggers from across the Mitten!  The culinary tour focused on fresh dairy foods, and made in Michigan products, there was no way I was going to miss that!
Won't you join me as I remember this great trip?  Come on let's go!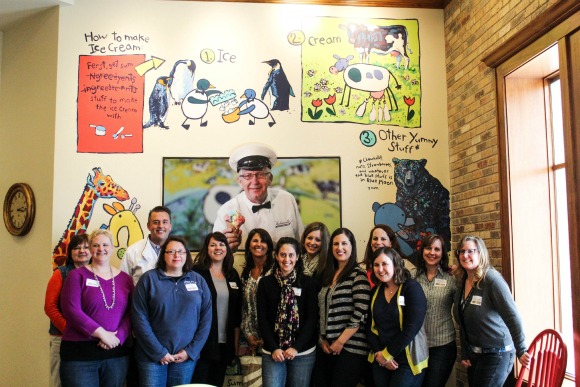 First stop Hudsonville Creamery & Ice Cream Company!   First I have to tell you that I have been eating this ice cream my whole life, growing up we always had a blue one gallon carton of Hudsonville vanilla ice cream in our freezer.  Needless to say I was a teensy weensy bit geeked that I got the privilege of going behind the scenes to learn the history and care that goes into making Hudsonville ice cream.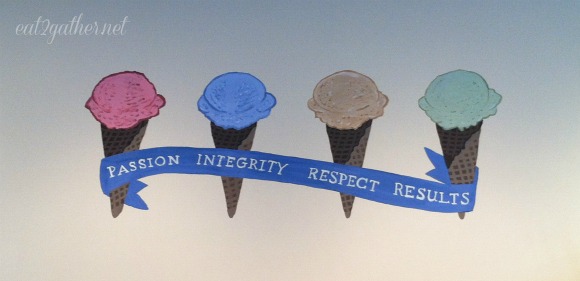 Hudsonville Creamery started out in 1895 making butter, then in 1926 transitioned to making only ice cream.  Hudsonville Ice Cream is the number one selling regional brand of ice cream in Michigan.
5 things I learned on my tour of Hudsonville Creamery & Ice Cream Company
1. The 1/2 gallon containers that are neither square or round are called scrounds.  I love that word.  Scround. Scround.  I'm a little scround myself!
TIP: store your scrounds upside down and your ice cream will stay fresher longer!
2. Milk source for Hudsonville Ice Cream is 100% Michigan milk, it comes from 9 family owned farms that are within 40 miles of the plant.
3. Hudsonville Ice Cream is a true ice cream mix not a dairy dessert.
4. The company is a small scale, 40 employee company, everyone pitches in just like in a family.  One shift runs five days a week. Hudsonville Ice Cream Company employees work together as a team, this is not a company it's a family!
5. 47 of their flavors are gluten-free!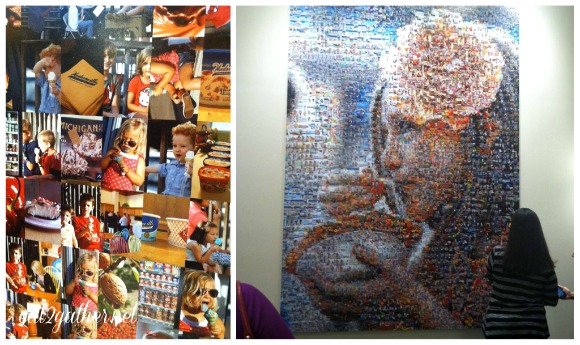 I loved this collage of people eating ice cream that hangs in the lobby.  On the left you can see the many photos, then on the right you see how they make up one lovely photo of a girl enjoying a bowl of Hudsonville Ice Cream!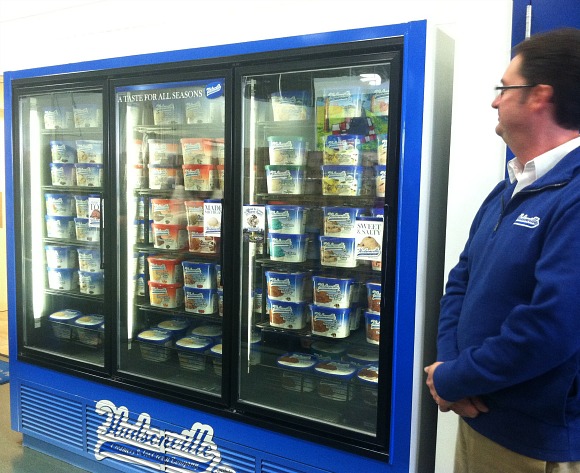 We got to learn some of the marketing behind how ice cream is placed in your grocers freezer.  Nothing is placed in the case willy nilly, every flavor has the perfect spot…in my belly!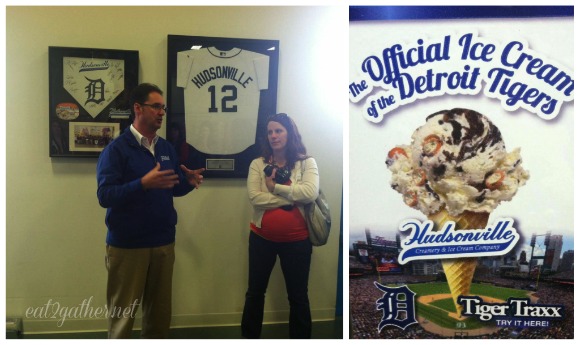 The official ice cream of the Detroit Tigers!  Tiger Traxx consists of creamy original vanilla ice cream loaded with orange salty pretzels baseballs and a thick fudge swirl!  Home Run!  The baseball team actually came into the plant this year to assist in making their flavor.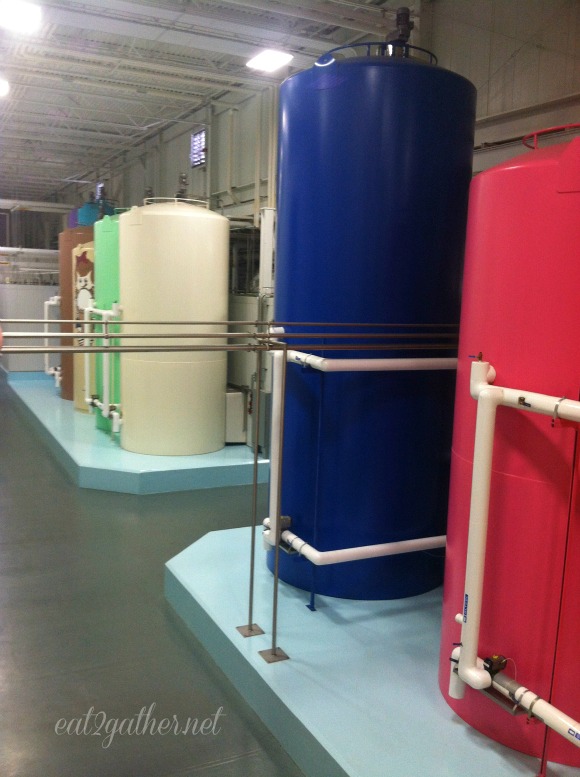 Is this not a happy place?  I felt like I was in the ice cream plant version of Willy Wonka.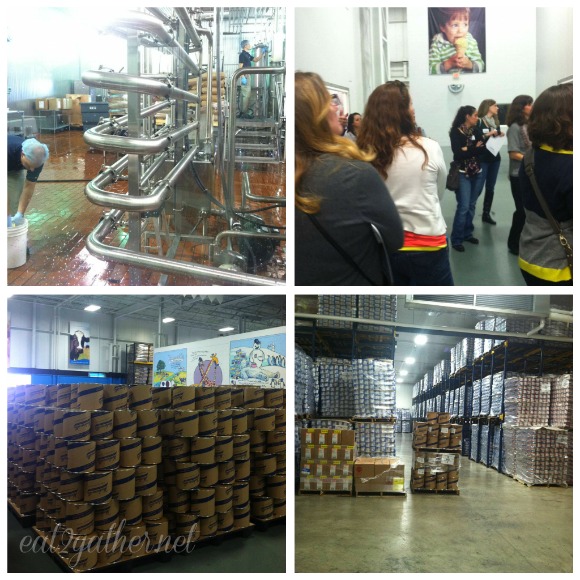 Nothing was off limits to us, we got to see it all; from the mix masters mastering their mix to the sub-zero freezers we experienced every part of it!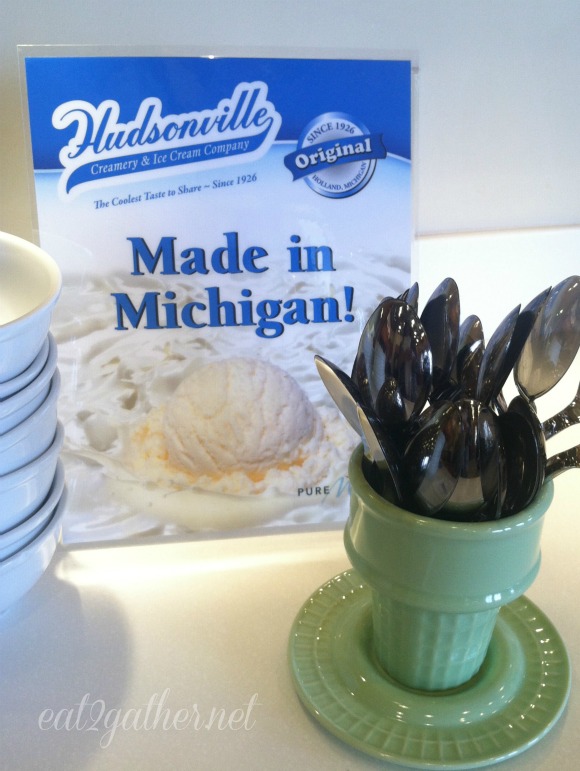 Then we got to eat it!  Unlimited ice cream for lunch, well and an array of delicious deli sandwiches and salads.  I ate ice cream….till it was coming out my ears!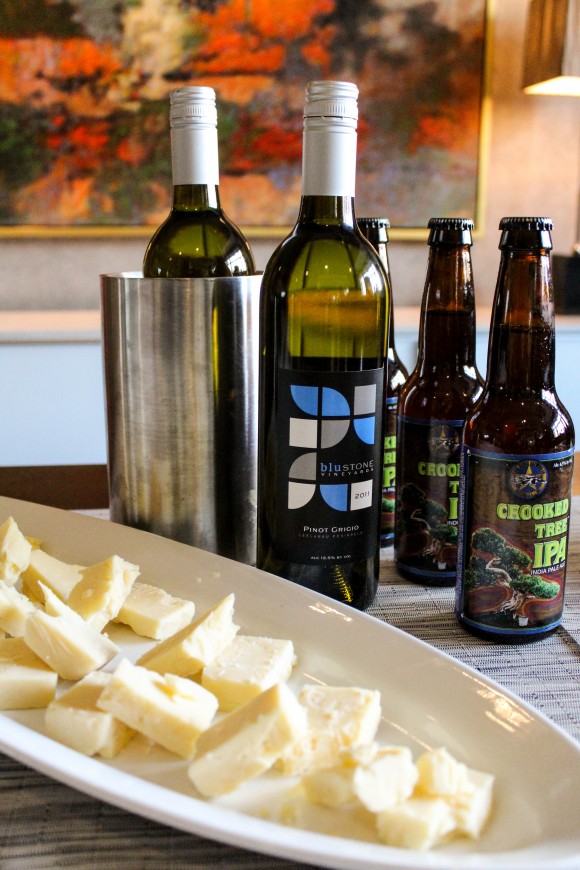 The trip could have stopped right there and I would have been happy as a cow out to pasture, however there were many more experiences to be had!  From the ice cream plant we headed to downtown Grand Rapids for a Michigan Cheese, Beer, & Wine pairing at the Reserve with chef Mathew Green and Fred Bueltman of New Holland Brewing.  We also had the chance to meet Linda Jones from the Michigan Grape and Wine industry Council.  If you have never been to The Reserve in downtown Grand Rapids, for a pure Michigan experience you really must give it a try!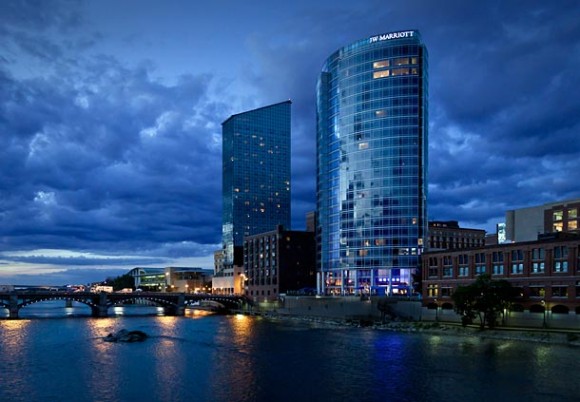 After such a lovely day we got to head back to our rooms at the amazing JW Marriot on the banks of the Grand River, just a few steps from The Reserve.  We had the evening to do as we wished.  Which for me meant a lovely walk through down town Grand Rapids and dinner with Kenny.  If you've never been to Grand Rapids, Michigan you really MUST come visit!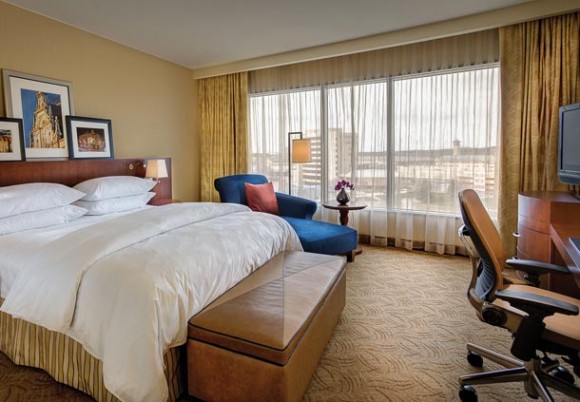 The next morning bright and early the lovely Dianna Stampfler from Promote Michigan was giving a tour of Grand Rapids, but I  because 1. I live in GR and pretty much know it like the back of my hand and 2. do you see this comfy posh room I got to have all to my lonesome…not much could make me leave the comfort of this beautiful room, even the city I love!
After a lovely breakfast and a chance to mingle we were whisked off to…..
Are you ready for this?
Our very own Kitchen Stadium Iron Chef Challenge with the JW Culinary Team.  I could hardly contain my excitement.  They split us into 2 teams and each team was asked to create two courses using at least three dairy ingredients and other fresh seasonal ingredients, and when it was all over we got to eat all of our food for lunch!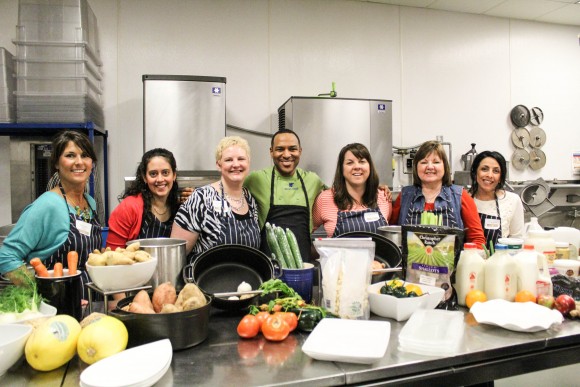 Me, Megan, Wendy, Sarah, Cathy, and Staci were my lovely team mates!  Chef Steven Couch (who by the way has been on the Food Network's Grocery Games.  Did you see him?  I've been hoping to catch his episode!) was our fearless leader!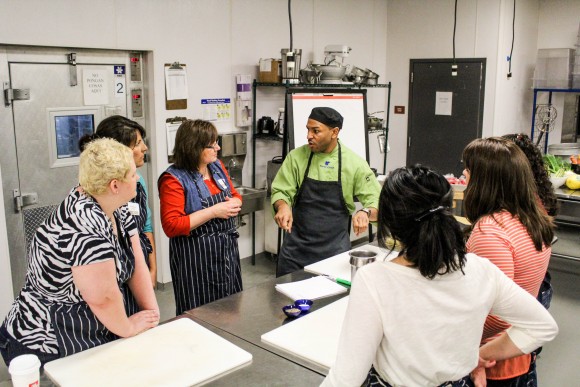 We had to come up with a sushi appetizer, and a main course using at least three dairy items!  While we were conducting our Kitchen Stadium Challenge the JW kitchen was in full swing for Six-one-Six restaurant as well as all their meeting and conference facilities, needless to say it was a very busy kitchen.  I loved every minute of it!  The hustle.  The bustle.  It was awesome!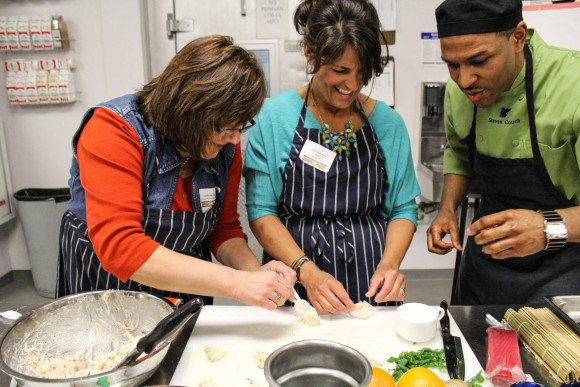 This would be Cathy McCune and I getting tips on how to wrap a winning wonton by Chef Steven.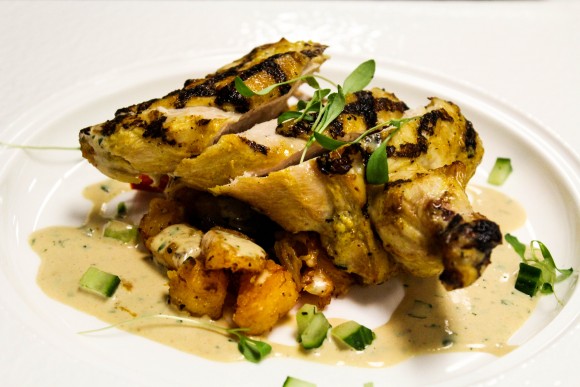 Our teams' main dish – Yogurt marinated chicken breast served over fried butternut squash, roasted onions and peppers with a cucumber salad and a saffron and cilantro cream sauce.
And the best part!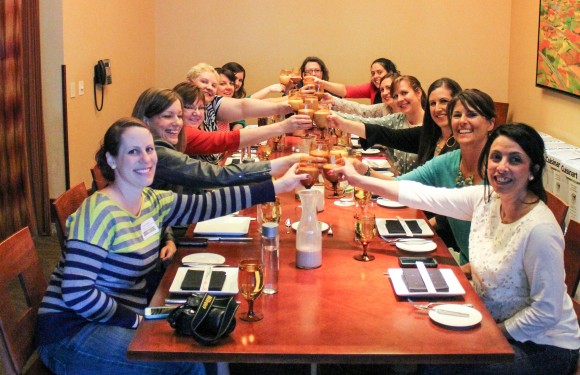 Enjoying the fruits of our labor together at the table!
The Fresh Blogger Tour was a culinary adventure!  I loved every minute of it.  You can't put a price on the opportunity to reconnect with old friends and meet new!  Be sure to take a minute to give some love to the great Michigan bloggers linked up below by visiting their blogs!
For up to date dairy news and healthy recipes be sure to
FOLLOW the

United Dairy Industry of Michigan

on
Pinterest ~ Facebook ~ Twitter
and check out the Milk Means More website for great recipes and information on Michigan dairy.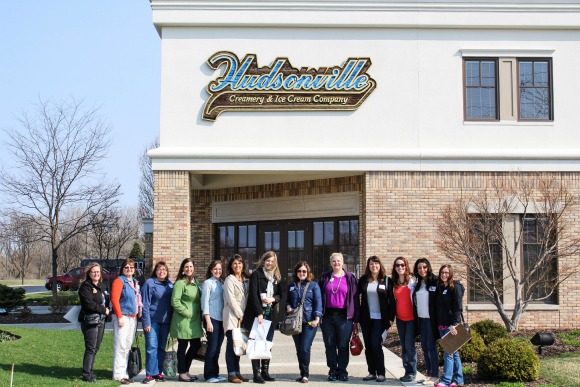 From left to right:Dianna Stampfler ~ of Promote Michigan, Cathy McCune (from McCune dairy farm in St. Louis, Mi.), Deb Thompson ~ Just Short of Crazy, Liz Della Croce ~ The Lemon Bowl, Kirsten Kubert ~ Comfortably Domestic,  Me, Rachel Gurk ~ Rachel Cooks, Lori Yates ~ Foxes Love Lemons, Wendy Hammond ~ Wholistic Woman,  Sarah Bates ~ The Chef Next Door,  Lauren Weber ~ Mrs. Weber's Neighborhood,  Staci Garcia-Nagel and Amy Viselli from the United Dairy Industry of Michigan , and Megan Gundy ~ What Megan's Making (not pictured)
Disclaimer: Many thanks to the United Dairy Industry of Michigan for sponsoring this wonderful trip.  As always everything that is written is 100 percent my own opinion!   
(Photo Credits for all but a few of the photos used in this post go to UDIM.)