ANNOUNCING the WINNER  of the Eggo Prize Basket full of Eggo brand goodies is D Schmidt!!
I am so excited this week to be working with Eggo as a Chief Waffle Officer!  As an officer we were asked to come up with 7 original recipes using Eggo waffles.  Snacks, breakfast, lunch, dinner, and dessert!  I hope my recipes will inspire you to come up with your own recipes using waffles.  Enter  your amazing Eggo Waffle Recipes here at the Great Eggo Waffle Off for a chance to win $5000!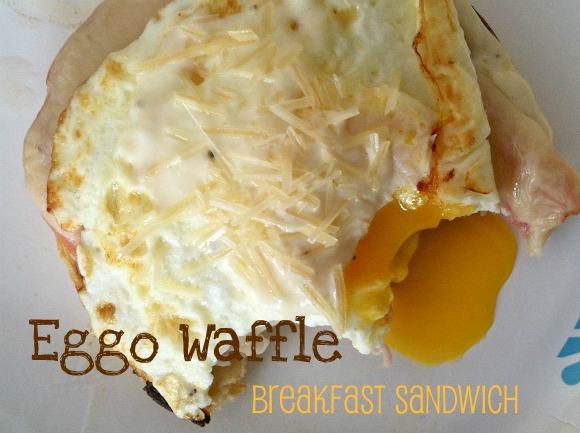 I need your help!  What to name this breakfast sandwich!?  It's too scrumptious to simply call it
Breakfast Sandwich.
It needs a name…a waffly scrumptious name!
TODAY enter to win a PRIZE basket full of amazingly fun Eggo products!  All you need to do is help me name this tasty and toolicious breakfast sandwich!  See details below!
Here's how I  made this delicious open faced sandwich.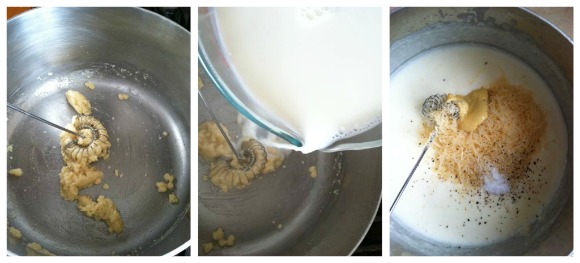 Melt butter in saucepan, whisk in flour.   Heat 2 cups of whole milk in microwave, whisk warm milk in to butter/flour continue to stir over medium-low heat until sauce is a smooth thick consistency.  Add in Dijon mustard, parmesan cheese, pinch of nutmeg, salt and pepper continue to cook and stir continually. (if sauce seems too thick add a splash of milk)  Combine until cheese is melted and sauce is smooth and of a thick creamy gravy.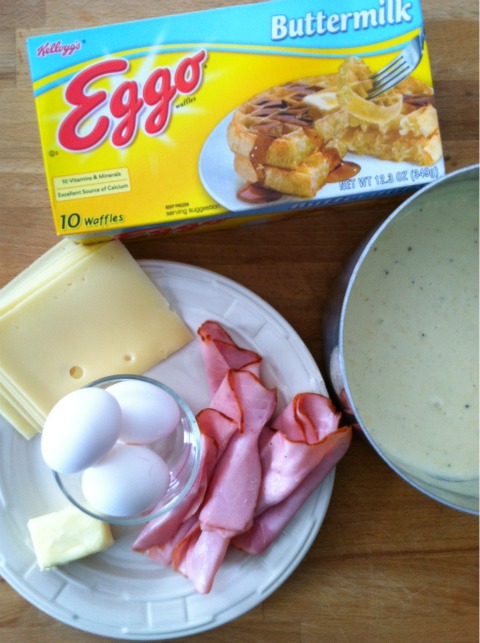 The players.

Toast four Eggo Buttermilk Waffles, spoon a generous ladle of sauce over waffle, layer with a piece of ham, a piece of cheese, then pop under broiler for 1 minute or until cheese starts to melt and gets bubbly, remove and add an egg cooked to your liking on top!  We prefer over easy.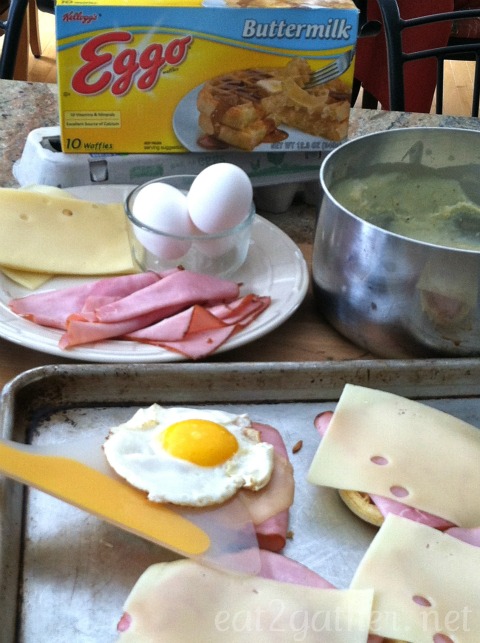 At this point if you are a saucy person like myself you can spoon more sauce on top of your egg, and add a sprinkle of Parmesan cheese and sink you chompers in to this Oh so amazing breakfast sandwich.
So what will you name this sandwich??  
[print_this]
Breakfast Waffle Sandwich
serves 4
4 Eggo Buttermilk Waffles
4 Eggs, cooked to your liking, (we prefer over easy)
2 tablespoons Butter
3 tablespoons Flour
2 cups Whole Milk, warmed in microwave
1/2 teaspoon Salt
1/4 teaspoon fresh ground Pepper
pinch of Nutmeg
1/2 cup grated Parmesan Cheese
1 tablespoon Dijon Mustard
4 slices Swiss or Gruyere Cheese
4 slices Virginia Ham
~In sauce pan melt butter, whisk in flour, mixture will be thick and crumbly continue to whisk for 30 seconds or so.  Slowly pour warm milk into saucepan whisking until sauce is smooth and starting to thicken, aproximately 2 minutes.  Add in salt, pepper, nutmeg, Parmesan cheese, and Dijon mustard whisk to combine cook over low heat for an additional minute or two.  If sauce seems too thick add a splash of milk.
~Turn broiler on HIGH
~Cook eggs to your liking, scrambled, over easy, poached, sunny side up. We prefer over easy.
Sandwich Assembly: Toast waffles, place waffles on baking sheet, spoon sauce over waffles, place a slice of ham over sauce, lay a slice of cheese over ham. Place under broiler until cheese starts to melt and get bubbly. Add egg to the top; if you like add a sprinkle of Parmesan cheese and more sauce!.
Great way to start your day!!
Enjoy
[/print_this]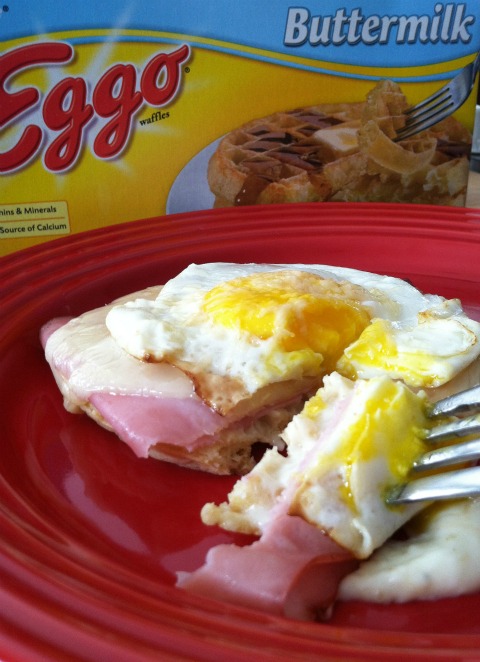 My girls and I loved this breakfast sandwich….MMmmm it was perfect in every way!  My boys not so much, they're no fun!  No sauce, for them…the sauce is what makes this sandwich! Oh and of course the perfectly crispy buttery foundation that the Eggo Buttermilk Waffle provides.  Good stuff polka dot period.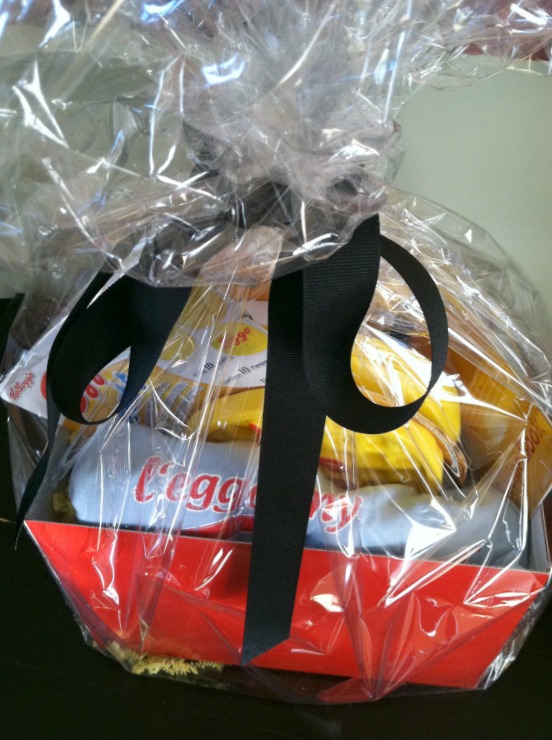 ENTER TO WIN!!!
A gift package full of "can't live with out" Eggo brand Waffle products and goodies provided by Kellogg & Eggo brand.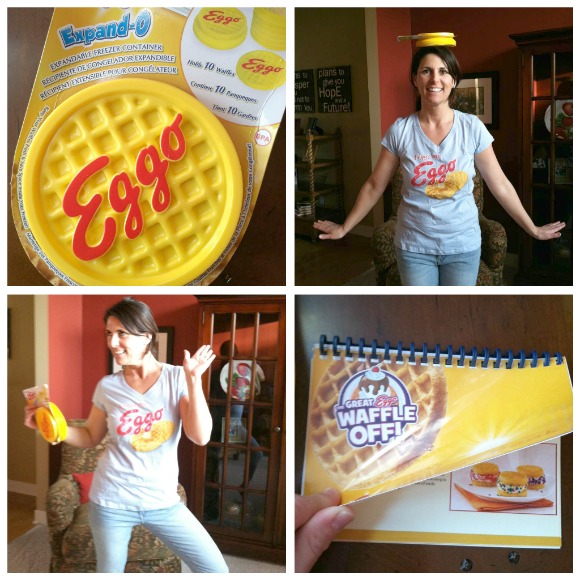 You will get a super fun and useful Eggo Waffle Tote..LOVE!  An Eggo Expando waffle holder for your freezer, no more open boxes and waffles falling out all over your freezer, you can store a whole box of waffles in this baby.  A lovely syrup container that your kids (or husband) will think is the bomb-diggity…mine did.  Also included is an Eggo Recipe Book
ENTER TO WIN:
Leave your fun unique and wafflicous name for my "breakfast sandwich" in the comments.
Winner will be chosen at random via random.org number generator.
I can't wait to see what you come up with!!
EXTRA ENTRIES:
1. Like the Eggo Facebook page…come back and let me know in the comments that you did.
2. Follow Kellogg  on Twitter, make sure you let me know in the comments that you did.
3. Tweet  Name this sandwich from @E2gather for a chance to win a prize basket full of #EggoWaffleOff goodies from @Kellogg_US  https://www.eat2gather.net/?p=6454  (remember to come back and let me know you did in the comments)
4. Share any of Eat2gather's Great Eggo Waffle Off posts on your Facebook, tag me, and let me know in the comments that you did.
Rules and regulations:
~One sandwich name entry per person.
~ 4 additional entry
~ Contest will end April 7, 2013 at Noon EST.
Eggo Waffle Off contest Rules can be found HERE.
This is a sponsored post on behalf of Kellogg and The Great Eggo Waffle Off.  All opinions expressed are my own. I was selected by Kellogg to promote The Great Eggo Waffle Off Contest.  Please know that what I have shared is in all honesty 100% my opinion.