This giveaway is the best ever!! I can't think of any other kitchen appliance that I use more than my Kitchenaid Mixer!
That's why I'm so excited to be GIVING one away!!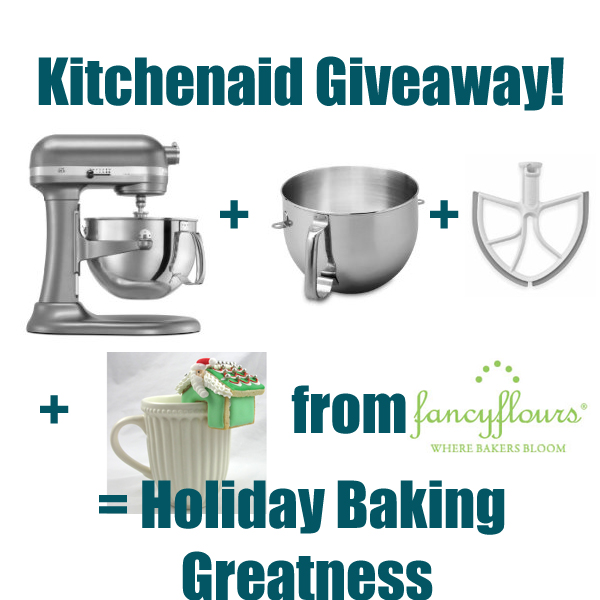 This is not just any ol' Kitchenaid Mixer,  but a 6 quart Artisan Mixer with an extra bowl!  Dang this is way nicer than the one I use everyday!  You could be the one lucky winner!   And that's not all, if you win you will also get a beater blade and a set of  mini gingerbread house cookie cutters from Fancy Flours!  How awesome is that??!!
This giveaway sweepstakes has no affiliation with Kitchenaid, instead these amazing companies and bloggers are sponsoring this giveaway:
Bloom Designs Online, Sweet Dahlia, Paige Simple Studio, Party Patisserie, Fancy Flours, Sunny by Design,Sweet Threads Clothing Co, Paisley Petal Events, Best Friends for Frosting, Catch My Party, A to Zebra Celebrations, Tikkido,    A Zesty Bite, Mother Would Know, The Hopeless Housewife,  This Mama Cooks!  On a Diet, Mexico in my Kitchen, Cooks & Books & Recipes, and me here at E2g 😉 Check them out!!  I'm very honored to be working with these creative bloggers.
ONE LUCKY WINNER will receive a Kitchenaid 6 quart Artisan Mixer, an extra bowl, a beater blade, and a set of mini gingerbread house cookie cutters from Fancy Flours.  I couldn't live with out my Kitchenaid mixer. How nice it would be to have an extra bowl!  Imagine not having to wash the bowl in between making the cake  and mixing the icing?  How awesome and convenient is that?!!  Like a dream! OK and lets talk about this beater blade–oh, what can I say about the genius of the inventor of the beater blade?  If I ever meet him or her I'm going to give them a giant smooch!!  It's a beater that scrapes the sides of the bowl for you.   Is that ingenious or what!! Love this gadget!
Enter below now!  This sweepstakes is open to anyone in the United States.
The Winner will be chosen at 10pm PST, Monday, October 7th.