The WINNER is Winnie!  "I love the red ones. What a great shop!"
Winnie come claim your prize my Darlin'!! Let me know if you would like 8 red napkin swags or if you want to change your mind, you can do that 🙂  The sooner the better, The Hip Hostess wants to get you your gift before Christmas.
Thanks everyone! Please stand by for the next  GIVEAWAY!
The Holidays come but once a year and what better way to dress up your table than a set of stunning Napkin Swags from The Hip Hostess!  I love how versatile and beautiful these napkin swags are.
The Hip Hostess is giving me 8 Napkin Swags,
Winners Choice, to give away!!!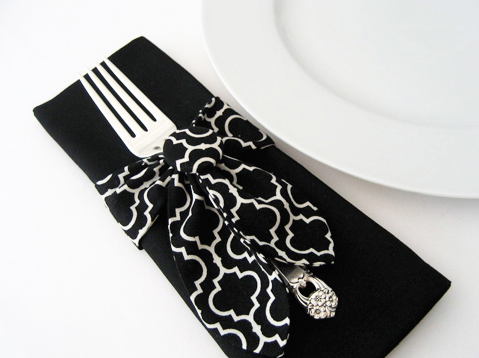 Can't you see these on your table this Season! Simply beautiful!
A soft alternative to the standard napkin ring… Napkin Swags are a fresh & versatile way to add a splash of color to your tabletop & give ordinary napkins a touch of couture!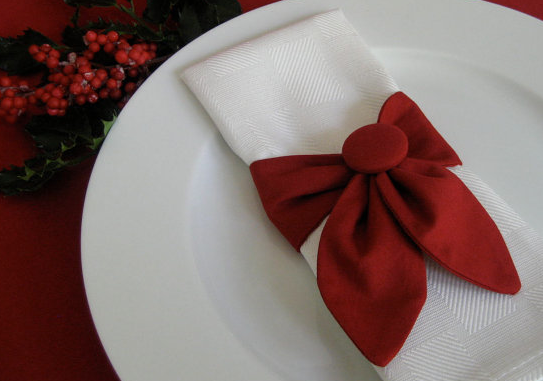 I love everything Hip Hostess.  I have 50 aprons, but the only ones that get any wear are my Hip Hostess aprons.  Why?  Because she pays so much attention to detail!  Seriously she thinks of everything.  And the same goes for her napkin swags.
Hip Hostess attention to detail:
~Button with attached clear elastic band makes it easy to adjust the width to fit a variety 
of napkin folds.

~Remove button before washing. Machine wash delicate or hand wash.

~100 % High Quality Cotton, makes them easy to care for and to iron.

~because they are fabric they are also easy to store.
OH one more reason you gotta love these super swanky napkin holders is the price! What a great gift for that special someone. Four Hip Hostess Swags for under $20!!!

AND did I mention that there are a bounty of colors to choose from?!  It would be fun to mix and match a plain with a pattern, I think.
TO ENTER: Take a minute to check out THE HIP HOSTESS ETSY STORE & come back and answer this question, in the comments,  for a chance to WIN!
What color napkin swag would match your Holidays decorations?
Do you like to mix and match or stick to a monochromatic color scheme?  Reds? Greens? Blues or purples?
More CHANCES to WIN!
1. Like Eat2gather's Facebook page. (come back and let me know in the comments)
2. Follow Eat2gathers Tweets. (come back and let me know in the comments)
3. Like The Hip Hostess's Facebook page. (come back and let me know in the comments)
4. Follow The Hip Hostess's sweet Tweets! (come back and let me know in the comments)
5. SUBSCRIBE to Eat2gather via email, let me know you did in the comments! (pssst It's easy, over there in the sidebar above 'current favorites' enter your email, and every time I post something new you will be notified in your email box!  It's handy dandy!)
6. Tweet this giveaway using this quote:  "Get your swag on (the table) & Enter to WIN! GIVEAWAY from @TheHipHostess #giveaway #win @E2gather".
Only a few Rules: 
~This giveaway is limited to residents of the US. Sorry The Hip Hostess only ships within the US at this time.
~Deadline is Wednesday , December 12 at midnight EST
Head over to  The Hip Hostess's site and check out all her amazing styles.  So awesome for

Christmas Gifts

!!! ORDER now and enter promo code: 

HOLIDAY FREE 

and get free shipping on all you Holiday orders!!