THE WINNER OF THE PINK LEMONADE SHEATH APRON from 
The Hip Hostess is: #50 Melle you are the winner! Melle said that she
 would wear her apron to make a salad.
Melle if you could shoot me an email telling me your full name and mailing address we will get your beautifully hip apron of to you in a jiffy!
Thanks so much to The Hip Hostess for sponsoring this GIVEAWAY! Please know that all the opinions in this post are my own, and that I only giveaway items that I use and love.
I'm an apron wearer. I love my aprons. Aprons cover a multitude of sins, plus I can stash my stuff in the pockets. (Pockets are essential to my sanity.) I have a drawer full of aprons. BUT my favorite apron is my Hip Hostess apron! I love it!
So today because it's Spring, because I'm going on a road trip to Florida with my fam-bah-lee, because my blog got a fresh new look (did you all notice?).   I'M GIVING AWAY this apron from the Hip Hostess!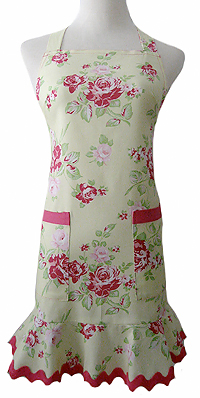 GASP!  I know isn't it beautiful! I want!  I want!  I want! It's the Hip Hostess Sheath Style ~ Pink Lemonade.
Spring has Sprung! Isn't it gorgeous?!
One of the many things I love about my Hip Hostess apron is the attention to detail.  Notice the lines, the beatutiful fabric, the adorable trim.  I can be in my black stretchy pants and black t-shirt, no make-up, pig tail in my hair, but when I throw my Hip Hostess  apron on I feel like a princess!
A few things I have to have in an apron are:
long ties, to wrap around and tie in the front
pockets for all my stuff…phone, towel, scissors, chapstick
nice fit around my chubba middle (confession: my aprons have become a security blanket for my post 40 weight gain.)
wash and wear (I hate to iron, so I need to be able to yank it out of the dryer and put it back on with no fussin')
My Hip Hostess apron has all of these things PLUS it's gorgeous, chic, and it makes me feel like a million bucks!  Did I say that already?  It's worth saying twice…it make me feel like a million bucks!
Recently, I found out the creative ladies behind The Hip Hostess were from Michigan!  This made me love them even more, not that I'm partial to Mitten folks or anything….well Ok I am.   I tweeted back and forth with HH and found out she lives in Northern Michigan, which is quite nearly what living in heaven may be like!  (Pssst…. that's a secret between you and me…cause us Michiganders wanna keep that a secret.)
I had a little chat with "the Hip Hostess" this week.  It was so fun getting to know her a little better.  Here's what I found out: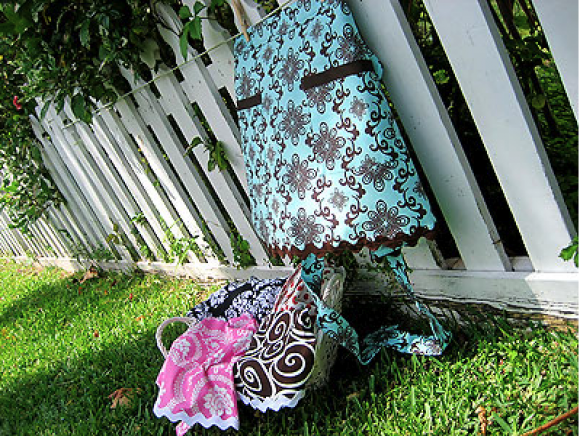 Hello!  I'm so excited to share you with my readers! Thanks for this great GIVEAWAY.  I love to sew too…I'm not very good at it, but when I have time I like to dabble in it.  When did you start sewing and who taught you?
My Grandmother started teaching me to sew when I was about 10. The first thing I sewed was a dress for my Barbie doll, though it looked more like a sack. My grandmother was the "Martha" of her time. Not only sewing everything from wedding gowns to drapes, but she also ran a home based cake decorating business, she hand painted china, and could wallpaper a room like a pro! She was a stickler for detail and impeccable quality in everything she created. I like to think I inherited  that from her. I have the sweetest memories of all the time we spent together. 
Ahh (poopy lip) that gives me a catch in my throat, thanks for sharing those great memories of your grandmother. She sounds like a she was a special lady.  I you definitely inherited her creativeness and attention to detail!
I know that your business started sort of by accident after you made your newly married daughter an apron, her friends loved "the hip" little apron, and started requesting them.  Do you actually wear your aprons? Which style do you like to wear?
Actually, I wear the Cafe Style around the house most days, it's such a handy way to stash my stuff.  When I'm getting down to the serious business of cooking it's always the Sheath Style.  I'm a messy cook and definitley need all the coverage I can get. 
Me too!  I love my Cafe Style for everyday, because my stretchy pants don't have pockets….you know.  I also can tend to be on the messy side, I wipe my hands on my apron non-stop, or hang a towel out of one of the handy dandy pockets.
So, now I know you wear your fabulous fashionable aprons, and you said you do cook.  Do you like to cook or is it just a necessity?
Yes! My best days are spent in the kitchen! I have a French Mother-in-law, which at first was quite intimidating.  (me: GASP!….I would say so! lip bite) Over the years, I've picked up so many of her tips and techniques.  I can whip up a salad out of just about anything with her simple French Vinaigrette!  Now that we are empty nesters, I can get so creative with cooking.  My husband is a captive audience to everthing I cook and I no longer hear, "but I don't like that!".
Living on the shores of Lake Michigan, we have a flurry of guests come Summer, which means I'm the "hip hostess" for most of the season.  Nothing makes me happier than having my friends and family all under one roof and at one table for a a few days.  I think sharing a meal together is such an important traditon and a wonderful way to reconnect.
OH we are soul sisters!  Although I love cooking for my family I do get tired of the whining from my kiddos, it's hard to please everyone, but I always please my husband..erUmmm….well, you know what I mean.  And having family and friends around the table never gets tiring.  You mentioned cooking, but do you like to bake?
Baking? I can't bake my way out of a pastry bag! It's a skill I have yet to master.
OK so you teach me how to whip up a salad from nothing and I'll show you how to how to whip up a pie from anything!  Deal?!
How involved are you in your business since it's gotten so recognized….I mean you where on the Today Show for heavens sakes!
I'm a mistress of all trades. The aprons are all my original designs.  Designing and developing the finished product is truly a labor of love for me.  I want my aprons to be not just trendy "flash in the pan" but timeless elements of feminine tradition, that will serve my customers well for years to come.  I collaborate with my daughter on fabric choices.  We don't always agree, but we always seem to come to the right conclusion and I think it's an advantage to have the perspective of two generations.
I sew all the aprons in my Etsy Shop, it's a great venue for my custom orders and one of a kind aprons.  I do have some fabulous sewers for the aprons on my website, but when the inventory gets low, I'm off to my creative cave to stitch up more!  I personally take all the orders, package and ship them.  I like to get orders out within 48 hours, because I know when I order something myself, I want it now!
Hip Hostess I know from experience your attention to detail does not stop with the sewing of your creations!  When I received mine in the mail, I let out a squeal at the packaging.  Everything about it was beautiful, right down to the mailing label!  I knew that the contents of my package had been put together with much love and care.
It has been so fun getting to know you better…whatcha doin next weekend?  Wanna hang out? OK sorry, I know you're a busy lady, maybe someday our paths with cross in the real world.  Right now I want to show off a few of your luverly aprons that are on my wish list.
Sunday Picnic in the Cafe Style…..LUV IT! With my white capries and a blue t-shirt, perfect for the 4th of July!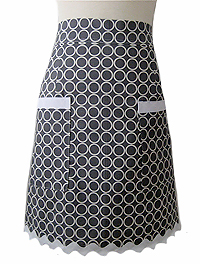 Grey Martini~Demi Style apron.  Neutral, perfect for everyday or whipping up cocktails for a dinner party.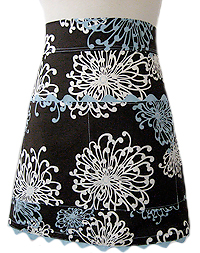 Mocha Bloom ~ Cafe Style.  I'm partial to the Cafe Style Hip Hostess apron. What I love about this one is the fabric design.  It would camoflage my every growing middle perfectly!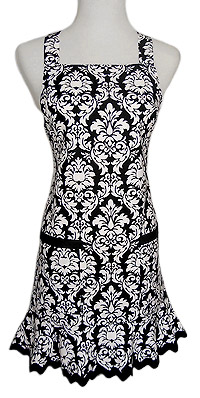 Gasp! Black a la mode ~ Sheath Style.  This and the Pink Lemonade are on my Mothers Day gift list.
Are we in agreement?   The Hip Hostess aprons are simply divine!  What a perfect gift for the Mothers Day, Birthday, Wedding Shower, new Mommy….because you know a new momma needs pockets and something to make her feel purdy while she's busy being domestic!
For a limit time The Hip Hostess is offering readers of Eat 2 Gather a 15% discount, just enter the Promo Code: E2GATHER and you will receive 15% off your entire order!!!  
Who in your life wouldn't love a Hip Hostess Apron!  If you really want to make her feel special give her a one of a kind custom apron from the Hip Hostess Etsy Shop don't forget the promo code: E2GATHER for your 15% discount. 
So now for YOUR CHANCE TO WIN!  This gorgeous Pink Lemonade ~ Sheath Style apron.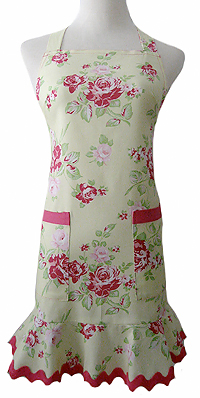 ENTER TO WIN:
1. Answer the following question in the comments for one entry to win the above Hip Hostess creation:
Would you rather whip up a salad or bake a batch of cookies in your Hip Hostess apron?
Extra entries:
1. Head over  over to The Hip Hostess (she also got a "new look" recently, for her website), come back and let me know in the comments which apron you would love to have.
2. Like my Eat 2 Gather on Face Book. Come back and let me know in the comments.
3. Like The Hip Hostess facebook page, come back and let me know you did in the comments.
4. Share this on Facebook or Twitter, come back and let me know you did with a link in the comments.
That gives you 5 chances to be eligible to win!
 RULES  and regulations…..
-One entry per person, for answering the above question.
-One entry per above noted extra bonus entries.
All entries must be made in the commenst below before Midnight EST on April 1, 2012.…no Foolin! I will announce a winner April 2.
May the odds be ever in your favor!