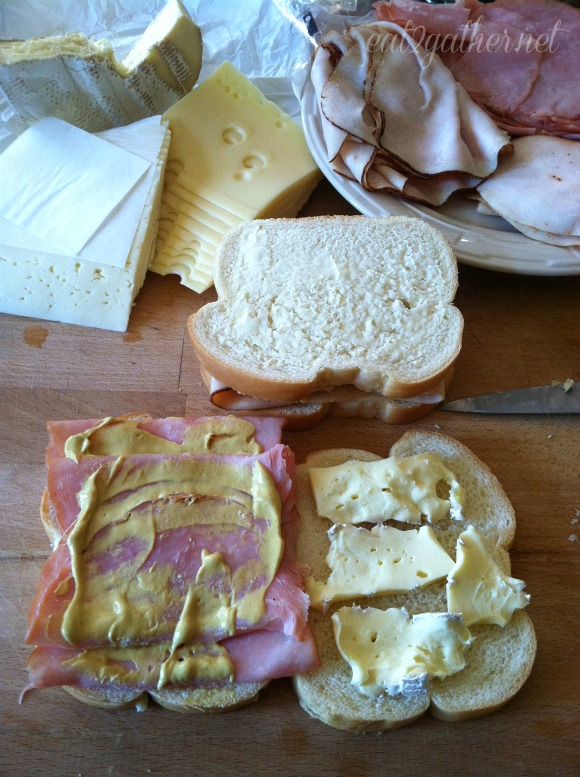 Lightly buttering the outside of a sandwich and pressing it between two hot surfaces until the cheeses melt and the outside is crisp and toasty makes any ordinary sandwich into a masterpiece!!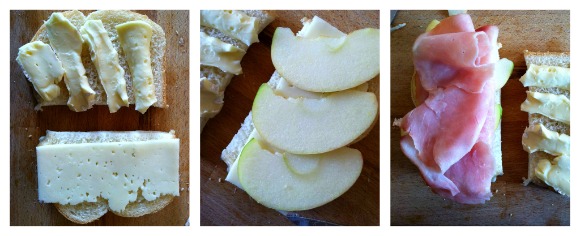 I'm a sucker for a good ham and cheese sandwich.  Creamy cheese, salty sweet ham, buttery toasty bread, it's simply the perfect comfort food!!  Oooo golly then dunk it in a bowl of tomato soup MMmm MMm good!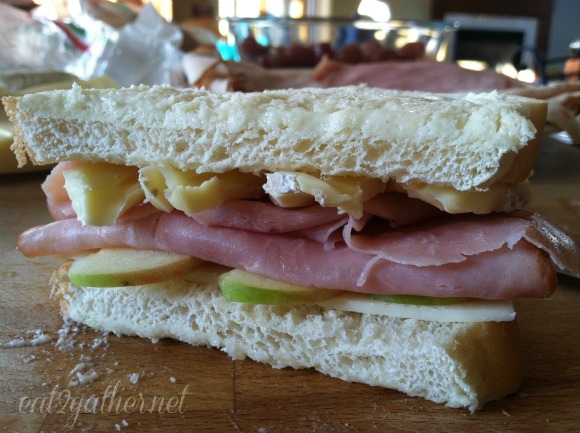 We have been having so much fun with our new Cuisinart Panini Press, making every possible combination of grilled sandwich.  My absolute favorite is ham, cheese, and apple polka dot period no more no less it's the best!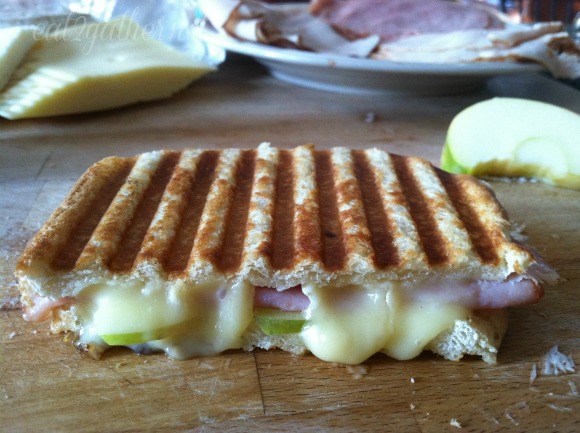 Feel free to make this your own!  Change up the cheese, add a little honey mustard sauce, use turkey instead of ham….go CRAZY!
[print_this]
Ham and Cheese Panini
2 slices of Italian Bread
1 slice of Havarti Cheese
Brie
4 slices Honey Roasted Ham
thin slices of Apple
1 tablespoon Butter
Butter one side of each of the pieces of bread, lay bread butter side down on a cutting board. Cover one piece of bread with thin slices of brie, and the other piece of bread with havarti cheese. Place thin slices of apple on one side, place slices of ham on the other side. Carefully bring both sides together. Place on a preheated panini press, close press on sandwich and allow to cook for 4 minutes or until cheese has melted and bread had browned.
Enjoy!!
[/print_this]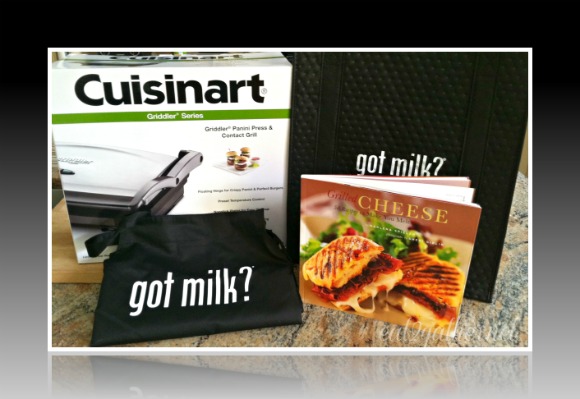 Are you needing to know if your the winner of the Cuisinart Panini Press package is??  Is the suspense killing you?!
Could you be the lucky ducky?!
Well if your name is Jessie C
Well then……you are the lucky ducky!
Jessie C  please email me your full name and mailing address and I will have my friends at the United Dairy Industry of Michigan send you your winnings!
For more great dairy recipes go to UDIM website!!
Thank You UDIM for allowing me to do this really fun giveaway!!
And thanks YOU all for stoppin' by! XOX, Sheila
P.S. In case you're wondering how I pick the winner I used random.org.  It randomly generates a number for me!  Jessie C was 22 out of 92 comments….well obviously 😉