Granola Chocolate Chip Bananas Foster #EggoWaffleOff
I was selected by Kellogg as a Chief Waffle Officer to promote
The Great Eggo Waffle Off Contest
Please know that what I have shared is in all honesty 100% my opinion.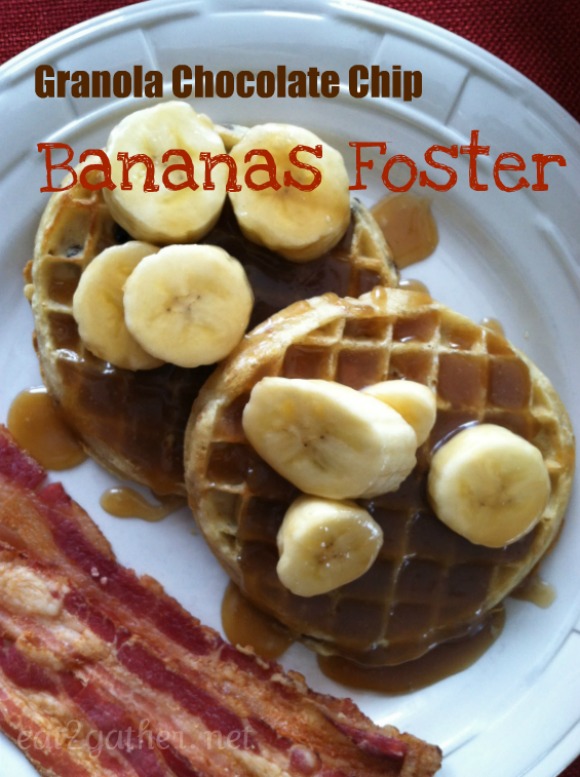 I couldn't resist sharing one of my boys favorite breakfast toppings.  They love this buttery caramel banana filled topping on french toast, pancakes, and Eggo Waffles!  Saturday morning is a big breakfast morning for my family.  If we don't have any sporting events to rush off to I always make a breakfast spread, and this easy topping makes breakfast extra special!
How do you like to top your Eggo Waffles?
Enter your favorite Eggolicious recipe for a chance to win BIG!!
It doesn't need to be fancy or complicated, only original and scrumptious!!
What are you waiting for?  Enter to WIN now!
The Grand Prize is a check for $5000! 
Two 1st place prizes for $2500!!
Ten finalists will win a years supply of Eggo products!!!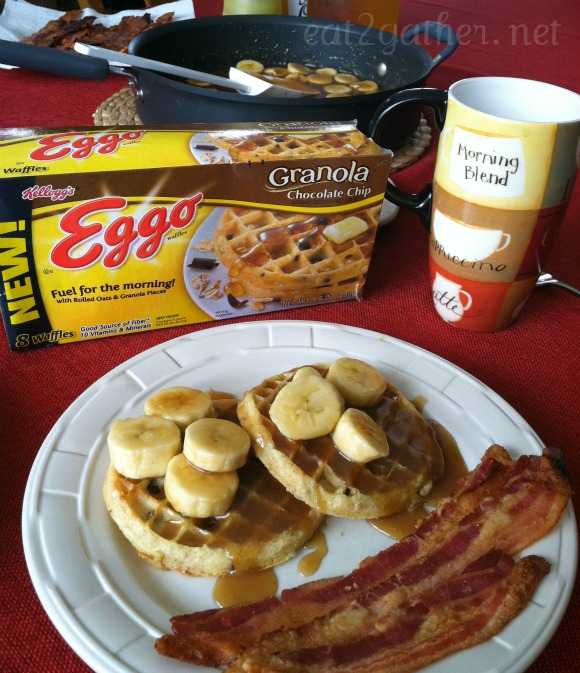 Banana Foster Topping is quick and easy!  Give it a try your kiddos will go gah-gah for it….especially if you drizzle it over Eggo's Granola Chocolate Chip Waffles!

In a skillet melt butter, and brown sugar together.  Whisk until smooth and let bubble for 1 minute, whisk in half and half, vanilla, and salt.  Continue cook at a low-boil for 1 more minute.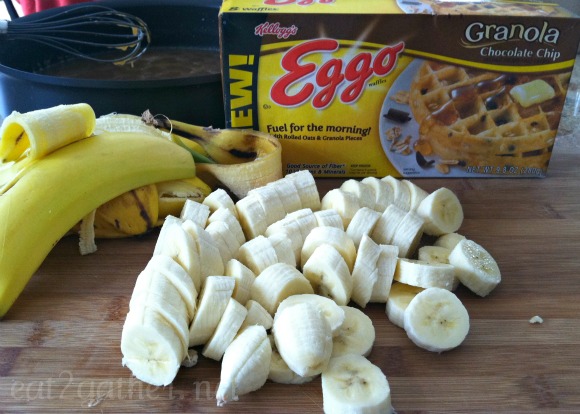 Slice 3-4 bananas.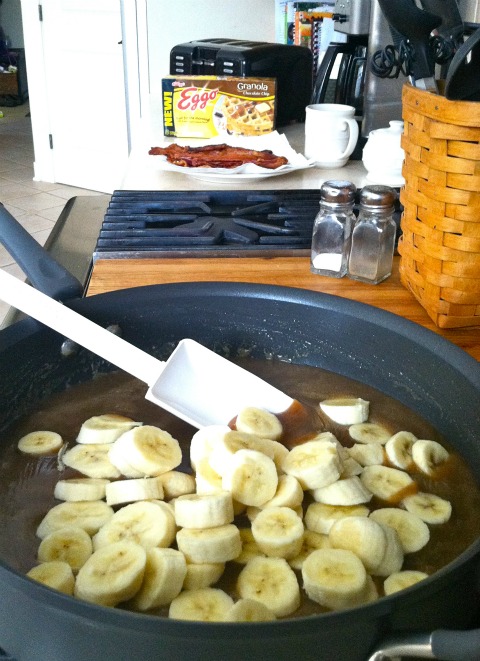 Toss bananas in the hot caramel and continue to cook for another 30 seconds, carefully folding bananas in to the caramel.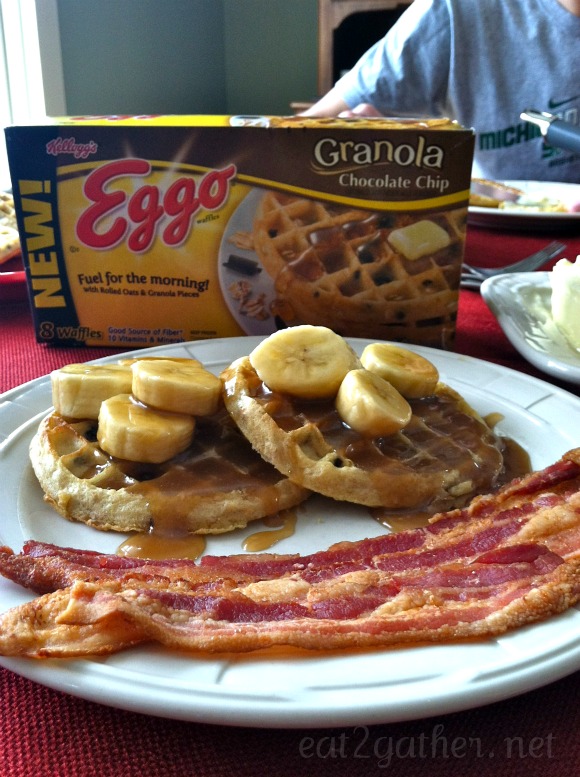 Voila!!! That's it, in 5 minutes you've got yourself an amazing and versatile topping for your Eggo waffles!!
[print_this]
Bananas Foster served over Eggo Granola Chocolate Chip Waffles
1 box Eggo Granola Chocolate Chip Waffles
3/4 cup Butter (1 1/2 sticks)
1 1/2 cups Brown Sugar
1/4 teaspoon Salt
1/2 cup Half and Half
1 tablespoon Vanilla Extract
4 Bananas, sliced
Over medium heat melt butter in a large skillet, add brown sugar whisk until smooth let bubble up. Add half and half, salt, and vanilla to the pan whisk until smooth. Allow to simmer for 30 seconds add in bananas toss to coat. Serve over toasted Eggo Granola Chocolate Chip Waffles.
Variation: Banana Foster can also be served as a topping for ice cream, making this a great dessert option. Scoop ice cream on top of waffle ladle on the caramel sauce with bananas and you have dessert.
[/print_this]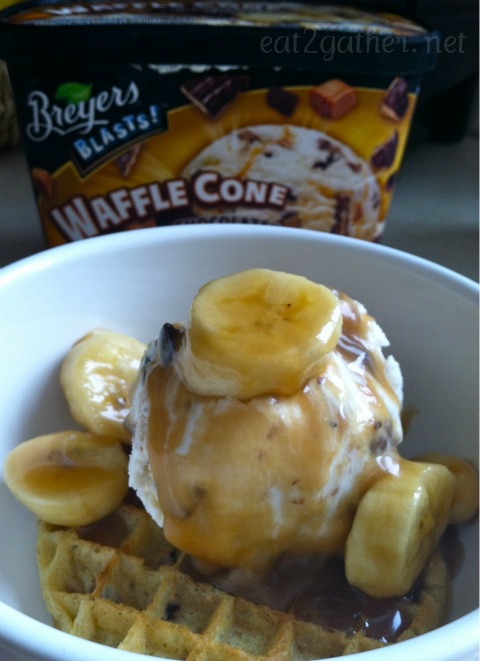 Here's a twist on dessert!! Granola Chocolate Chip Waffle Sundae!  If you want decedent, top a Granola Chocolate Chip Waffles with Breyers Blasts Waffle Cone Ice Cream ladle bananas foster topping on for an out of this world sundae.  
I have had such a great time coming up with recipes using Eggo brand waffles this week.  I have to tell you in all honesty my family eaten Eggo waffles by the grocery cart full for years, so when Kellogg asked me to be a Chief Waffle Officer I could hardly believe it!  Every recipe I've shared this week is a recipe I can honestly say  I would make my family again and again!  I will never look at Eggo waffles as only for breakfast again.  I can't wait to share tomorrows recipe with you!  It is surprisingly delicious and until my family was all done I never told them they were actually eating waffles for dinner!  See you tomorrow for the last Eggo waffle recipe of the week.  Guess what cuisine I chose to incorporate waffles in to for my last recipe…Mexican, Asian, Italian, Indian, Creole, Tex-Mex, Swedish…whatchathink?
Don't forget to LIKE  Eggo and Breyers Facebook Pages!!
This is a sponsored post on behalf of Kellogg and The Great Eggo Waffle Off.  All opinions expressed are my own.