Google Reader going bye-bye
Google reader is going AWAY.
Gone baby gone gone gone………
As of today GOOGLE READER is gonna be gone, as in NO MORE, buh-bye, Adios Amigos, Auf Wieder Sehen!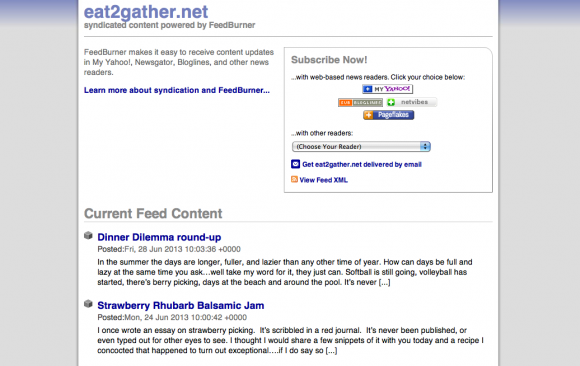 So what does this mean?  This means if you follow Eat2gather using Google Reader as your RSS feed I sure would hate to lose you or for you to lose me!!  For some reason unbeknownst to me Google Reader is de-activating as of July 1, 2013 so you need to find another reader to migrate your feed to.  I moved all the blogs that I read/follow to Bloglovin.  But you could also use Feedly, or any of the other options that are given when you click on the cute little RSS button at the top of my blog…it's the last one on the right…find it?  There ya go 😉
In addition to switching over to a new reader, you can always, and probably should SUBSCRIBE to Eat2gather via Email….this way you will NEVER (so long as you check your email) miss a new recipe or posting from E2g!!!
MAY I also SUGGEST…. as long as I'm pushing my blog here  you LIKE me on FACEBOOK, find me on TWITTER, Google+, PInterest, and INSTAGRAM this way you will never ever miss one of E2g's recipes, hot news, giveaways, photo's or musings.
And that's the truth phthththtthpth!