Congratulations to Mary Beth Elderton!  Winner of a 12×18 Maple Butcher Block from McClure Tables.
_____________________________________________________________________________________________________________________________________________________________________________________________________
McClure Tables is giving away one of their
beautiful heirloom quality
Maple Butcher Block cutting boards!!
The WINNER could be YOU!  Easy entry see details below!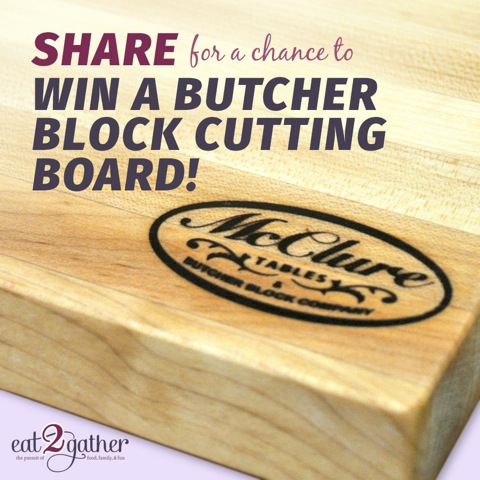 I have teamed up with McClure Tables for this loverly GIVEAWAY!
Did I say it's handcrafted in Michigan?  Made in the Mitten!  I get excited about made in the USA, but when I see made in Michigan I get oddly geeked!  Especially when I get the chance to do a GIVEAWAY for such a wonderful product!!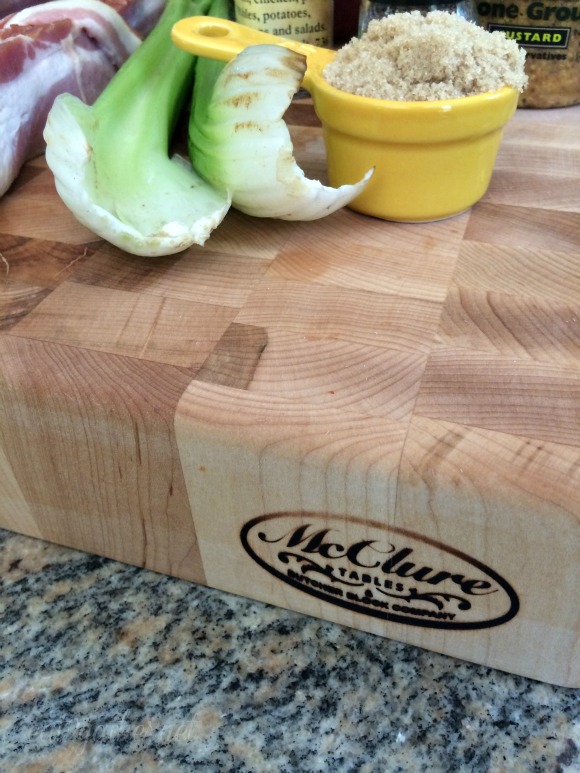 The McClure's business is primarily shuffleboards, however they also specialize in high end countertops and butcher blocks made from beautiful woods like maple, hickory, cherry, and oak.  To see them all take a peek HERE.   This VIDEO will give you all the details why the McClure's decided to take their business for a ride on the culinary side!
Just a few details concerning the butcher block you could WIN!
– One 12 x 18 inch solid hard maple cutting board with natural oil finish.
– 2 flat surfaces for chopping, slicing, cutting, dicing, and more!
– It is much easier on your knives and is a great alternative to plastic.
– Won't harbor bacteria.
– Hand wash and oil regularly to keep your butcher block cutting board beautiful and food safe!
– It's going to look spectacular in your kitchen!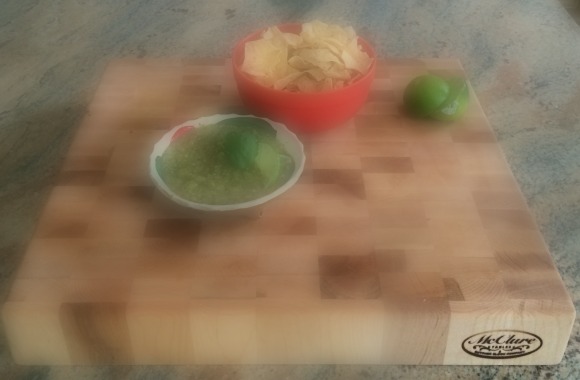 Wooden cutting boards have been proven to be safer than plastic when it comes to  harboring dangerous microbials.  They also are easier on your knives than marble, or plastic cutting surfaces, which can dull the edges of your knives very quickly.  And this cutting board is so darn pretty you won't even want to put it away!  McClure Table's Butcher Blocks and Cutting Boards are show pieces.  I use mine for prep, but then I clean it off and turn around and use it as a platter  for appetizers.  It also makes a beautiful back drop for a cheese and meat appetizer.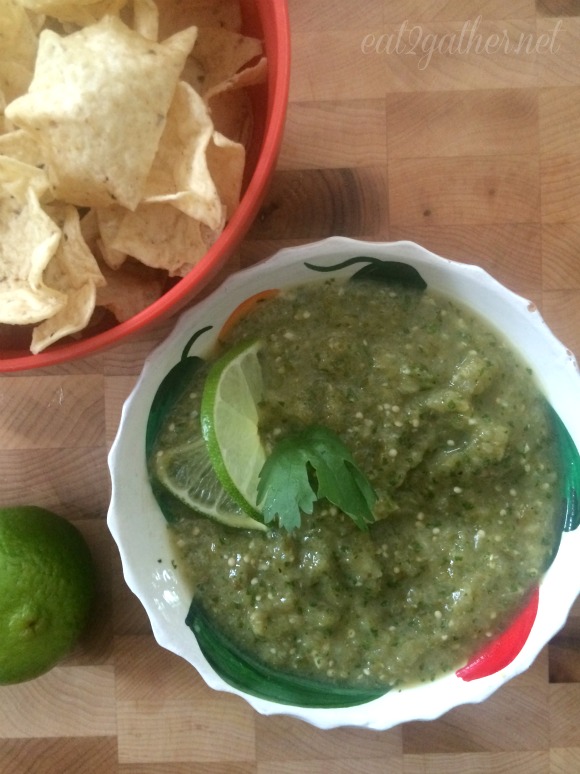 Since I received my butcher block I have used it to make so many great recipes; I can't wait to share them with you!  Like this Salsa Verde recipe!
Contest Expired
GIVEAWAY RULES & DETAILS for winning a handcrafted 12 x 18 inch solid maple butcher block:
You must be 18 years or older to win and reside in the U.S.
1. SHARE this post on your Facebook timeline.  Using the photo at the top of the post, or you can go on Eat2gather's Facebook page and reshare to your timeline for a chance to win! Stop back here and leave a comment letting me know that you shared.
That's it!  One thing that's all you have to do to WIN….however if you're one of those over achiever types here are a few more things you can do to earn extra chances to win!
1.  Leave a comment below answering this question:
What is the first recipe you would make using your McClure Butcher Block?
2. LIKE the McClure Table Facebook page, come back and leave a comment letting me know you did!
Deadline is Friday September 5, at 6pm EST, ONE lucky fan will be selected at random and announced as soon as possible!
P.S. sign up for the
E2g newsletter
and get winner announcements and updates right to your email!
Disclaimer:  I did receive a butcher block cutting board in return for hosting this promotional giveaway.   Seriously I am so excited for  the chance to give this amazing heirloom quality butcher block away to one of my readers!  If I thought the product was less than fantastic I would not have accepted the gift or promoted the product.  Amen.