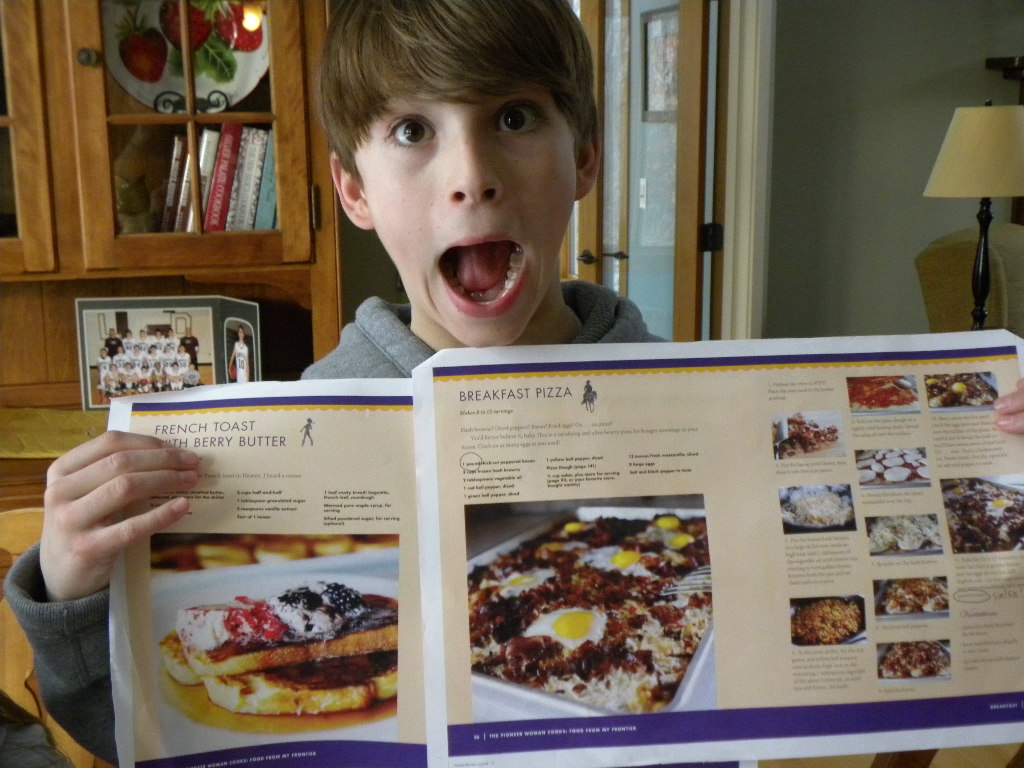 My kiddos were just slightly excited about me receiving Ree's recipes. It's an adventure for them, right now any way. My the end of the last PW cookbook cook through they had all sorts of not so purdy names for Miss Ree. And lots of whining about why we had to try new things. I am spreading it out over a longer period this time, so as to not overwhelm anyone.  Poor kiddos, having to endure such a horrific thing as to eat through The Pioneer Womans cookbook.
Today I'm going to share with you a some eggspecially delicous recipes from The Pioneer Woman Cooks~Food from my Frontier.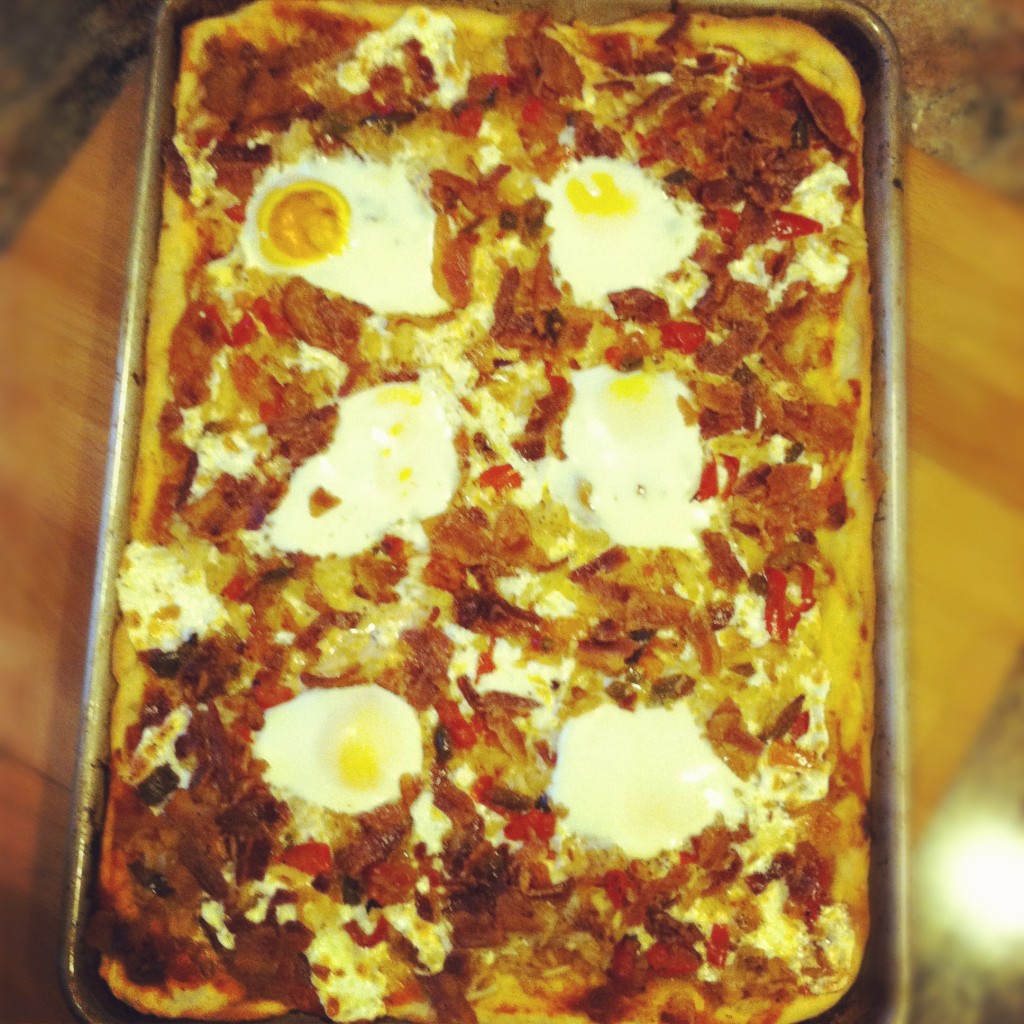 Breakfast Pizza.  This recipe raised a few eyebrows from my family.  Especially my husband, as he hovered over me while I cracked the eggs on top of the pizza.
"Hmmm never saw a pizza like that….."
It was delicious! Everyone crinkled their noses but once they had a bite, they went back for seconds.  I will say that when, and if you make this make sure to not over cook the eggs.  That is unless you like hard yolked eggs.  We are a over easy bunch here so the fact that the yolks were not runny was disappointing.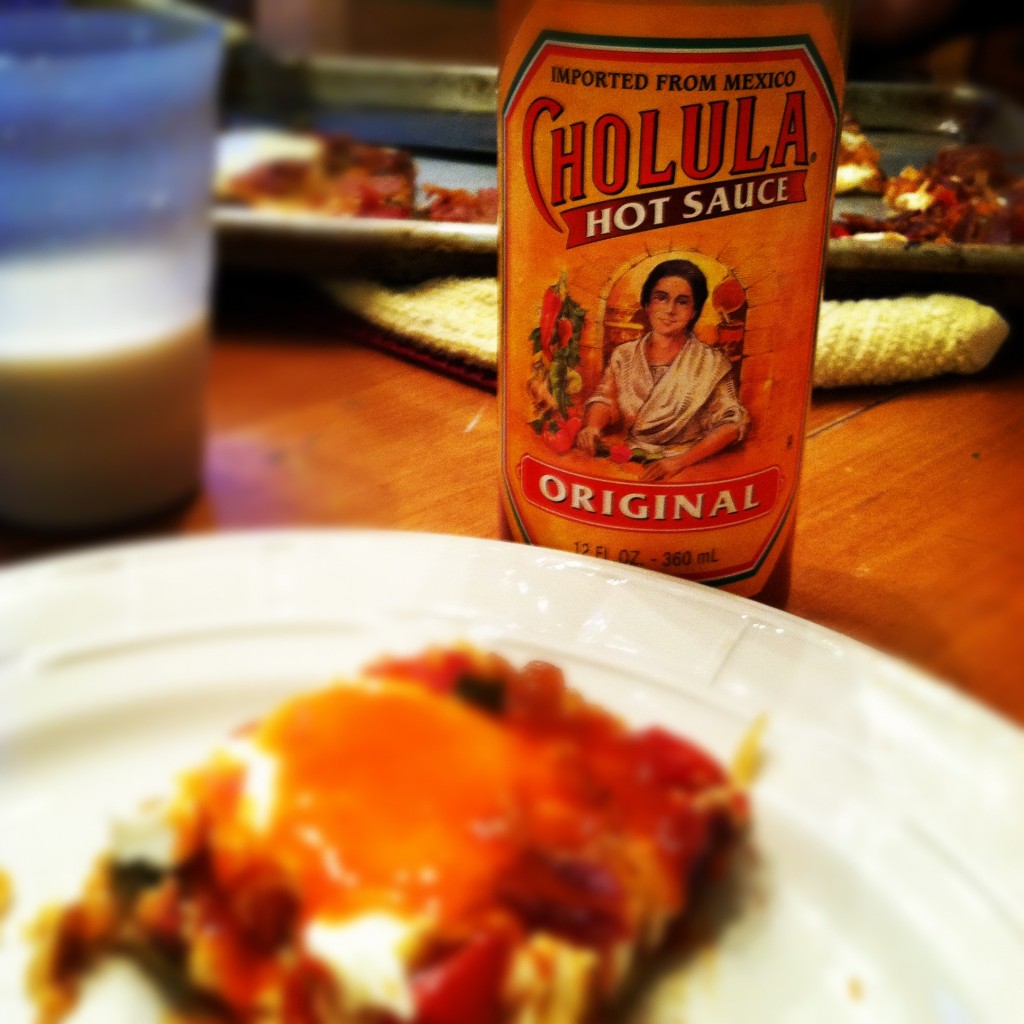 My second son, otherwise known as Hotsauce, smothered his breakfast pizza in Cholula, not because it needed extra flavor, just because that what this kid does.  Oh yeh….we had the Breakfast Pizza for dinner, because well we eat breakfast at dinner time quite often!
Breakfast Pizza received a 2 thumbs up.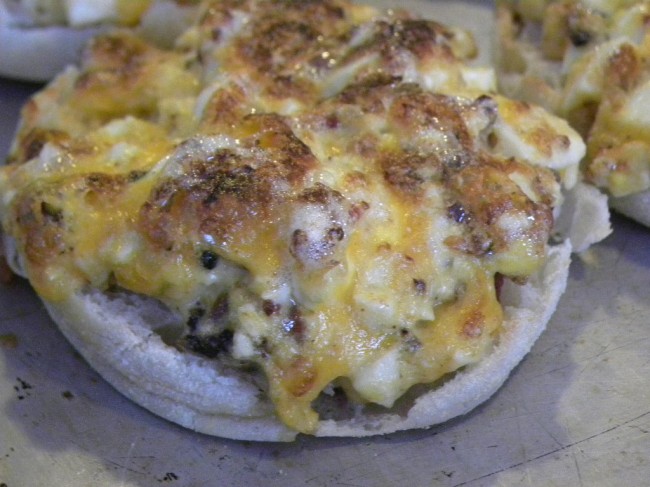 Make-Ahead Muffin Melts.  I was going to put this recipe last in this post, but I didn't want to end on a bad note.  My girls liked them, the boys spit them out.  I know bummer right.  I thought they were delicious.  If you like deviled eggs you will love Make-Ahead Muffin Melts.  They were super easy.  I think they would be great for a breakfast buffet where you had other breakfast items.  I whipped these up as a last minute dinner for me and the kids.  The boys ended up eating cereal.  Oh well, ya win some you loose some Reegirl.
Make-Ahead Muffin Melts palms flat.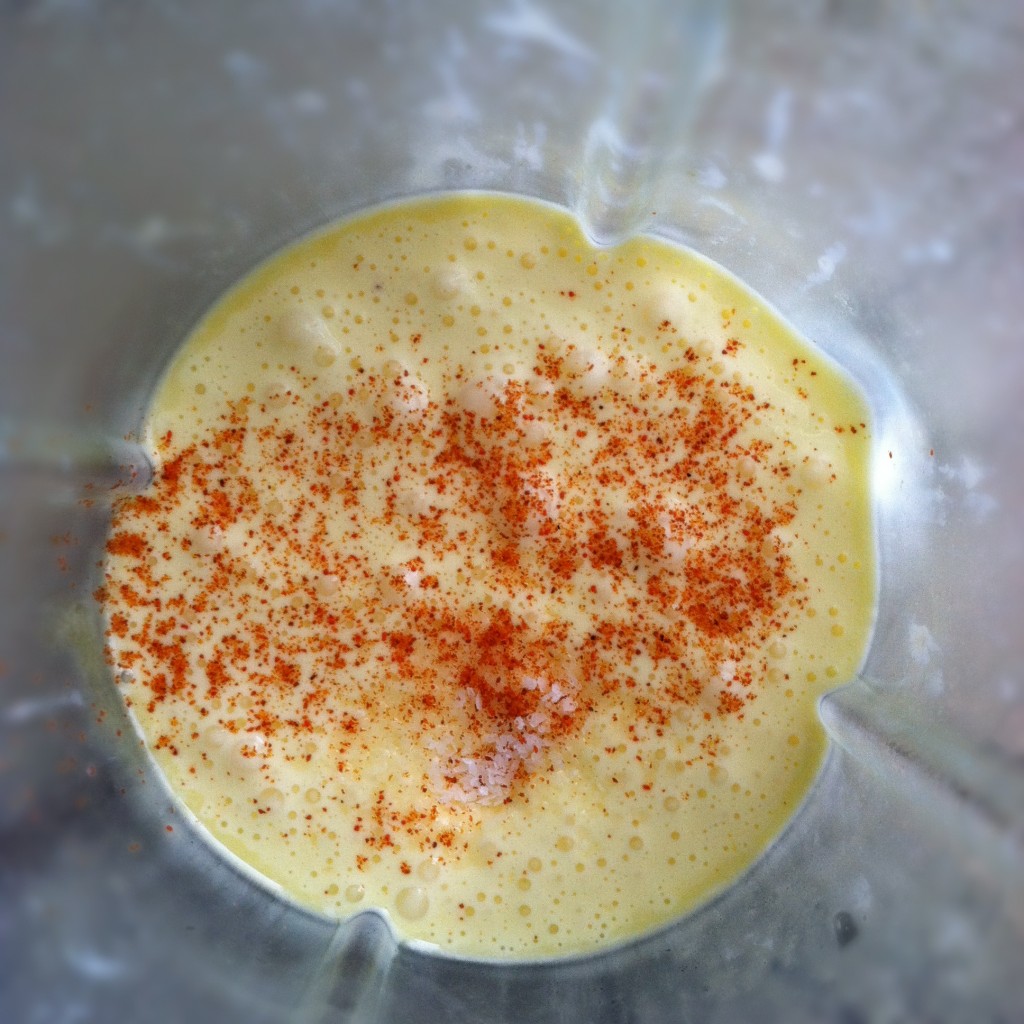 "O Happy Day Happy Day….you wash my sins away O Happy Day Happy Day….I will never be the same" or something like that.  You know that song?  I was singing it as I was making Sister Ree's Eggs Benedict.
I LOVE EGGS BENEDICT.  This right here is my favorite way to make eggs bene at home.   No one else in this household appreciates a good ol plate of benedict.  So I, in the peace in quiet of a weekday afternoon, proceeded to make myself Eggs Benedict.  It was a glorious day.
Hollandaise sauce is so simple.  I'm not sure why I don't make it more.  Oh YEH, I just remembered why, it's got about 50 bagillian calories in every bite!  Why is it that things so bad are so good?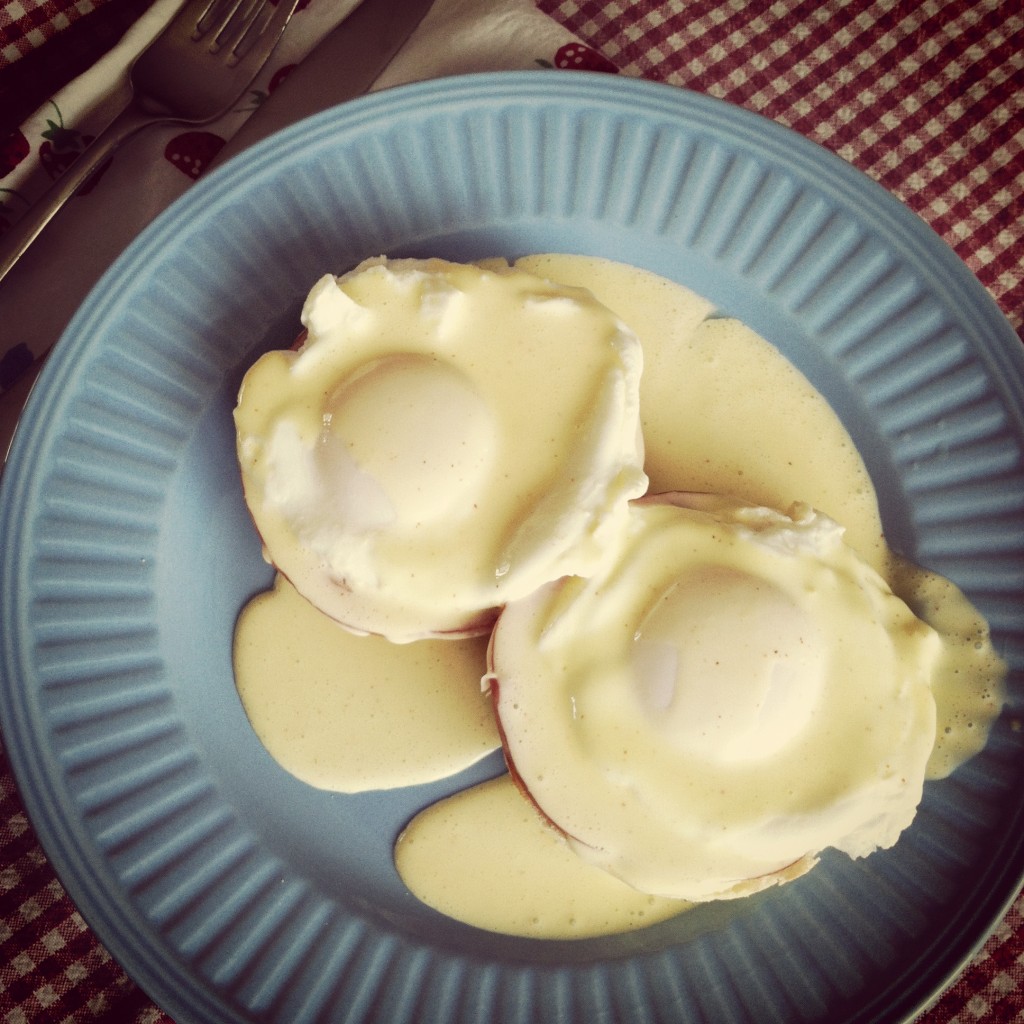 "Heaven, I'm in heaven…..fa la la la la LA ALAlaaa." I quite often sing a happy song in my head, sometimes outside of my head, when I'm eating a scrumptious morsel.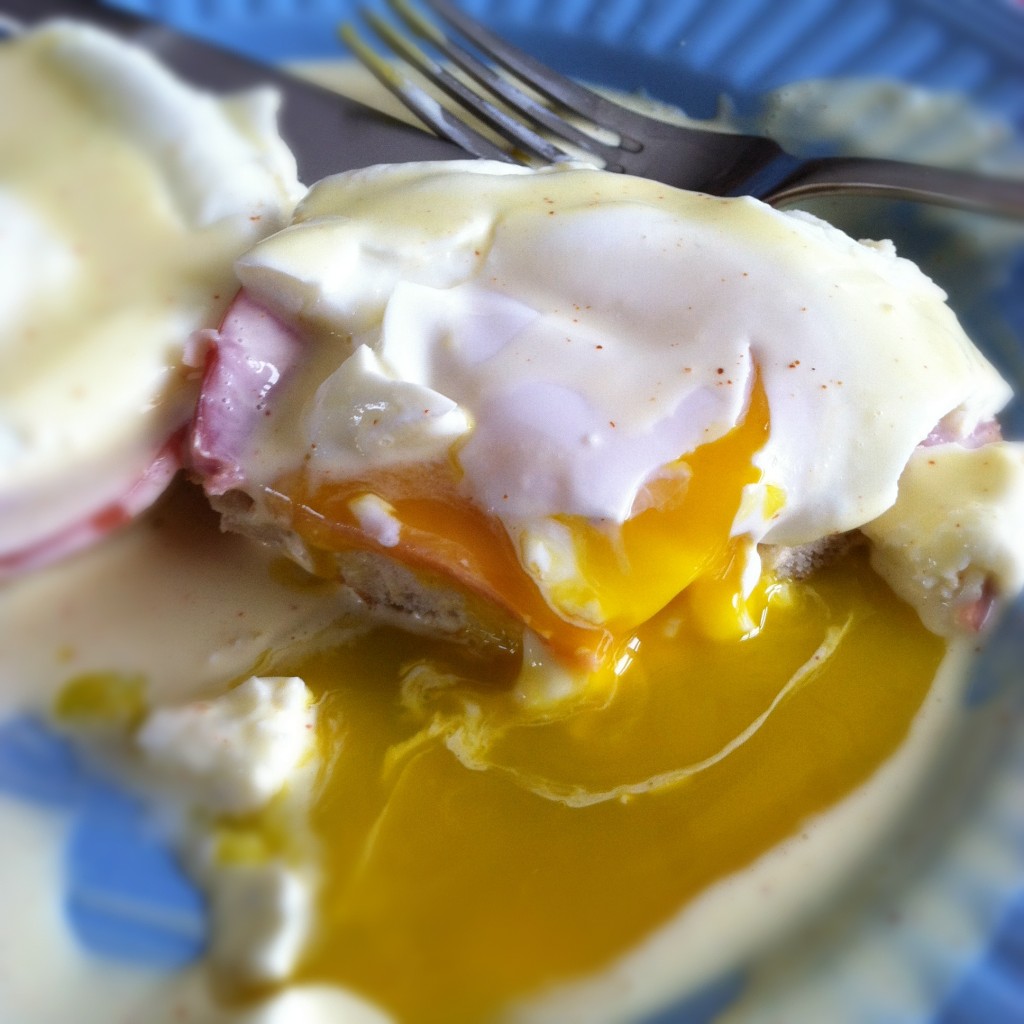 Eggs Benedict 2 thumbs WAY up from me and me alone.
So today is Leap Year, and I'm fixing PW's enchilada's.  Why enchiladas on Leap Year and not frog legs or something more leap-meal appropriate?  Well because this clan loves Mexican food, and I thought they would all leap for joy when they heard what was for dinner.  And for dessert Molten Lava Cakes from Food Networks February Chocolate Issue.  Maybe we will start dinner with dessert that will really get a leap out of everyone!  I also found some Leap Year Trivia online for some fun dinner conversation.  Tell me who started this whole leap year thing anyway?  Do you know?
What are you up to for Leap Year?  Do you do anything fun or
different?